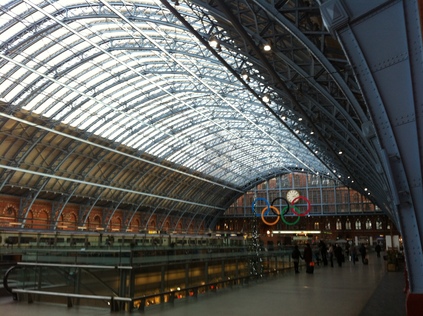 Posted in Railways on Saturday 26th November 2011 at 11:07pm
---
As the working weeks descend into a bit of a strange, stressful rut I'm once again beginning to really value these escapes. As winter approaches, railtours become sparse but cheap tickets seem marginally more plentiful, so I find myself building my own trips once again. This generally means zipping around the country, with a loose mission to cover unusual bits of line, but mostly ending up with extended coffee breaks where I can watch the world go by. In some ways I'm very easily pleased, but by others' standards Sheffield is a hell of a way to go for a cup of coffee!
Today didn't start promisingly, with the Temple Meads branch of Starbucks not open on arrival at the station. Whilst sipping hugely inferior coffee and watching the staff inside resolutely failing to open, I fired off a rather bitter email to their customer services. As I was waiting for the 07:30 this morning I was here a little longer, and the store still hadn't opened as I headed for the platform. Onto the train, which should have given me a straight-through journey to Sheffield via a diversion to Lichfield City. As I settled back, music on, I noticed the rather over-attentive Train Manager chatting generally to the carriage. Catching the end of her speech, it seemed that there was a problem with the windscreen and the unit would be swapped at Birmingham New Street. Quite why she chose to speak this monologue to each carriage in turn rather than use the perfectly adequate PA which we would all have heard, I don't know. On arrival, efforts had been made to make the switch easy, just needing to walk forward to the set in front of us. However, lots of people had been allowed to board the train before we arrived. Coupled to a problem with reservations because of the diverted route, this meant no seats for most of the people who'd booked. Some zealots ranted. I just waited, finally getting a seat just after leaving Birmingham. My ire, and my will to write a complaint letter subsided as we sped on via the Cross City Line, calling at Lichfield, then rejoining the mainline at Wichnor Junction. The first time I've done this route in daylight for a long time.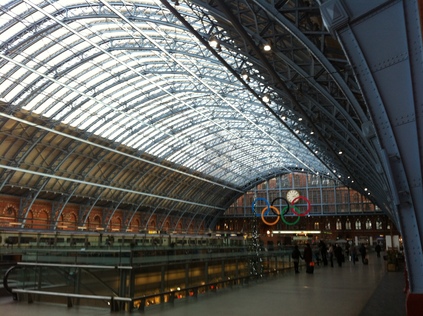 At Sheffield, I wandered out into the city and as usual took a much longer circuit to get to my coffee shop of choice than necessary. It was a bright, chilly morning up here, and finding my usual seat and watching the slightly better wrapped-up than usual population of the city wandering about was a fine way to spend an hour. Finally decided to head out into the chill, and stumbled down the hill to the station to do a bit of shopping and head for the 12:47 to London which was sitting in the bay platform 7, all ready for boarding despite being early. I planned to wander the station a bit first, but a sudden freezing shower of rain persuaded me onboard. Found a seat in First Class, and settled in for the ride down to London. Once through the East Midlands and onto the comparatively quiet Midland Main Line, I found myself dozing a bit and only really waking up properly at Luton. Enjoyed the run into London via this route immensely as it's not an arrival I've made often. Having a little more time to appreciate St.Pancras was rather good too, and I found myself wandering the upper level today rather than making a dash for the underground station. Walking around to the end of the Eurostar platforms, I realised that the main entrance arch was again open now that the hotel was complete. So, for the first time in a decade or so I headed out through this grand entrance, orienting myself by the memory of the old station - a dark, rather quiet and forlorn place with mysterious corners and grimy, forsaken spaces. It's good to see this amazing transformation, and a huge increase in services, but I do slightly miss the blackened old place, littered with trollies and silent between departures.
Down the impressive ramp and over the road for more, possibly ill-advised coffee. Then, just as the sky turned pink and the sun began to set, onto a 205 bus for the journey along the Euston Road which I've grown to love. This was the perfect time of day for it, and I had enough time not to worry about it taking a little longer than usual, as I looked for the landmarks - the mansions on top of Baker Street station, the canopy over the road at Marylebone, the beginning of the suburban sprawl as the flyover heads west and we turned south for Paddington.
The final leg of the trip home was uneventful, relaxing and a chance to finally finish Iain Sinclair's "Ghost Milk" which has dogged my travels for a while now, not being an easy read in some ways. Perhaps these trips are my very own 'grand project'? For now though, they remain a very important escape. People still think I'm fairly insane I'm sure, but they'd probably be more disturbed by my sanity if I didn't disappear around the country like this on a regular basis!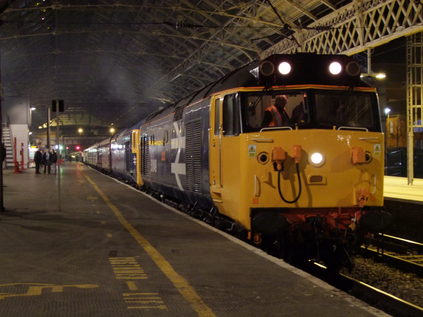 Posted in Railways on Saturday 19th November 2011 at 11:58pm
---
Yet again, this tour had already generated pages of internet debate before a wheel had turned - but for me, with a bit of a grind of a working week to deal with, I'd almost not given it a thought until yesterday when I began my wander up to Preston. But, after a comfortable night in the new Premier Inn, even the beginnings of a cold couldn't dampen the excitement. Class 50s on the mainline, into Scotland - something I'd not really expected to see with the recent history of the preserved examples of this class which is synonymous with my home area. Slogged down to the station at around 4:30am, with the sound of the engines already floating up to Fishergate as I headed over the bridge. The stock was, for the standard class folks, not the right way around - but being in the middle I wasn't too worried. Took a few quick snaps of the locos before heading for my seat. Ideally positioned beside the kitchen car for an early breakfast too, which set me up for the 700 or so miles ahead...
Just like previous winter tours which have done this route, the fog closed in somewhere around Huddersfield, just as some familiar faces joined the train. However somewhere north of York, the mists cleared and the sun came out. So, strangely, after some fast running we arrived at Edinburgh Waverley in bright winter sun to a gallery of photographers. Having focused on the 50s, I hadn't considered 57001 on the rear - now in West Coast Railways purple and fresh from an overhaul, this was a winning loco for me. As we set off in the direction we'd arrived from, a cloud of white exhaust filled the station. It seems 57001 is a surprisingly interesting example of it's class!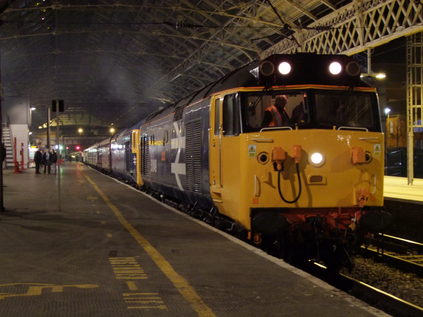 The timings for the minitour part of the day had been troublesome for a while, and here they began to become wearisome. Around forty minutes allowed for a traversal of the Suburban Lines left us waiting for ages to head for the Forth Bridge and into Fife. It was hot and sleepy on the train, and after chatting for a bit around the circle, I soon dozed off. My second visit to Fife of the year was a little less eventful than the first then. Returning to the capital for a break, we once again slogged slowly around the sub waiting for a platform in the station.
I didn't stray far, since I was feeling worse by now and the thought of a trudge into town wasn't too appealing. So shopped a bit, had a coffee and chatted to fellow passengers before assembling with the growing crowd for our train. In true Waverley style, the stock was late in, with an errant Newcraighall unit blocking the platform until after it's due time. However, once we'd struggled past the obstructive construction works on the station and onto the train, we were soon heading south into the darkness. It was a long old run back, but the locos peformed flawlessly throughout.
Winter tours can sometimes be a bit gloomy, but this was a sociable affair with some cracking locos and some fine running. It was also very probably my last trip with Spitfire of the year - it's been an interesting and unpredictable one, but again there have been some cracking trips. Here's to next year...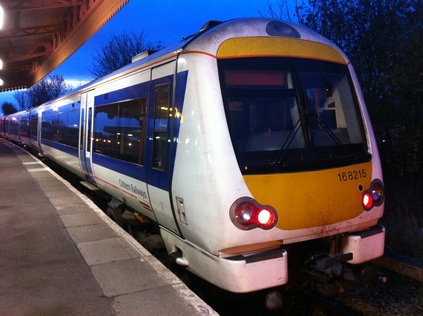 Posted in Railways on Saturday 12th November 2011 at 10:59pm
---
Over the last few weeks there has been quite a buzz about TOC-operated tours doing all kinds of interesting track - and with First Great Western soon to operate a 'Class 142 Farewell', this feels a bit like 'any old excuse' really. A more appealing prospect in traction terms though, is the London Midland operated Class 150 farewell. These stalwart units are mostly making their way down here, and as the all-new fleet of Class 172s is delivered, people are getting just a little nostalgic in the Midlands. I'd looked at the possibility of travelling on the trip, along with a number of other BLS folks, but a tricky start time meant at least one night away, so instead I decided to reverse things today and say 'hello' to the new units instead. So, armed with a West Midlands Day Ranger, I set off on a wander around the area covering track that I hadn't seen in ages - including a few surprises too!
Quickly booked the Day Ranger on arriving at New Street, and headed straight to Moor Street. I was taking a pretty relaxed attitude to today, given that there were plenty of options and a fair bit of time - but in the event a shiny new Class 172 arrived just as we entered the barriers, so we hopped on and headed for Stourbridge Junction. The units are much like their electric cousins, but have a real sense of space inside which makes them feel comfortable. At Stourbridge, a quick cross-platform move to swiftly head down the Town branch on 139002, sadly the same Parry People Mover from my last visit here a couple of years back. Stourbridge was under construction, with a new bus station being built on the site of the old one - navigated the diversions into town briefly, before heading back to the Junction. From here it was a short hop to Smethwick Galton Bridge, where we planned to head for Wolverhampton, with one eye on a very late running Arriva service from Wales, just in case it used the rare Platform 6. In the end, the next train in was Liverpool bound, so we hopped on - and with the Arriva unit apparently still running through to Birmingham we stayed on to Crewe, the northern extent of the ticket validity.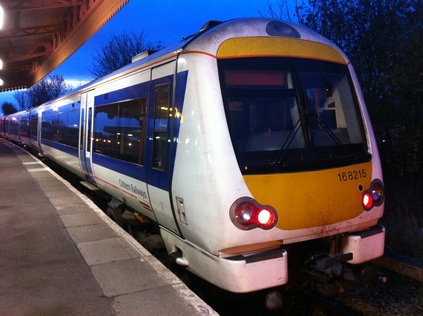 Time for an early lunch at Crewe before the 11:33 to Euston, which we covered as far as Northampton - as far as the ticket permits heading south. This was a decent length journey, if rather warm and busy journey and gave me a chance to snooze a bit having had two pretty awful nights of sleep. Over the bridge at Northampton and onto a Birmingham-bound unit. Lots of possible combinations of journey were proposed here in order to get to Stratford-on-Avon via Leamington, but none worked well - so instead we once again walked over to Moor Street to find a bit of a chaotic scene with late-running Chiltern services terminating here rather than going on to Snow Hill. This meant the next departure would be from one of the terminal platforms, which I needed - so duly waited and hopped on as far as Leamington Spa. Again, the options weren't good from here so we decided to explore the station a bit, wait a little while and then catch the terminating short working from Moor Street from one of the bay platforms. This ended it's journey in the other terminal platform at Moor Street, thus completing the set for me.
So finally, we headed back to New Street for the voyager home. I didn't spot the Class 150 tour anywhere on our journey today - but I understand it all went pretty well. However, it was really good to have a flexible, easy day out with a few interesting bits of railway thrown in. The ticket is surprisingly good value too!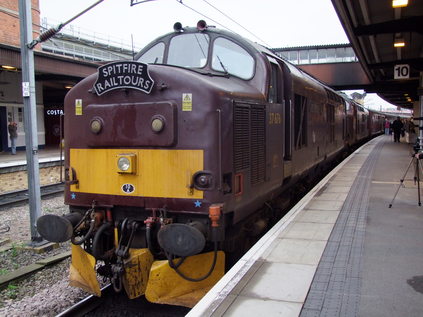 Posted in Railways on Saturday 5th November 2011 at 10:20pm
---
Who'd be a railtour promoter? As the difficult situation with timings continues, there is a huge amount of upheaval in the supply chain just now - with at least one Train Operating Company in the throes of sale, another seemingly keen to commit commercial suicide and a group of promoters which is shrinking. Some of this is an inevitable consequence of the ongoing economic mess in the real world, and some of it is about chickens coming home to roost for those who've been 'playing trains' for a while. In every case though, the great risk is that the customer loses out. That's why it's always a pleasure to do one of these essentially simple trips and see lots of people just enjoying their day out - no moans and groans, petty squabbles or public forum hissy-fits - just a couple of decent locos on a good long run.
It's also a tour from home territory - and thus one I'd always try to support. This year sporting a pick-up at Bridgwater too, the now annual "Jorvic Explorer" trip was rescheduled due to West Coast Railway Company once again overcommitting it's fragile pool of assets. For me that's a bonus as I was detained by the BLS AGM on the original date. Sadly, WCRC also seem to have worked to prevent the minitour to Monk Bretton from taking place, and amidst some very unfair stick aimed at Spitfire, the real story is far odder it seems. In any case, a quick hop to Weston on the first train saw the cafe open early as he'd heard there was a special in. He did a brisk trade in coffee and papers prior to the train arriving bang on time. On to the train, and a good breakfast before heading up the front for a chat and a cup of tea.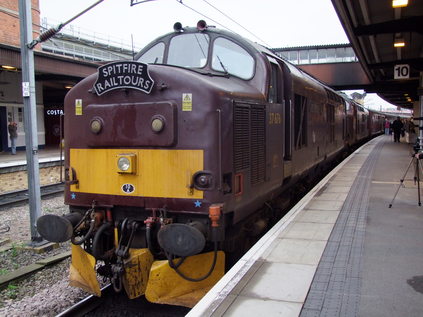 In terms of route, the trip followed the pattern set a couple of years back by this run - out via Worcester, avoiding Birmingham, the 'Old Road' to Swinton, then via Ferrybridge to York. Arriving early, there was time to wander the station a little - noting that the model railway building is being refitted as what looks like a rather fine pub - and then out into the rather grey, drizzly city for lunch and coffee. It was busy with tourists, despite being a fairly grim November weekend. Back to the station to catch up with some fellow passengers and watch the world go by before our timely departure south.
The run back will remain in my memory for a long time, as it was the first ever time Bristol Panel have let a charter train both in and out of Temple Meads before due time! Having lost a couple of minutes rejoining the mainline at Chesterfield, we had caught up very well. At Abbotswood Junction, noted we were rather early - and that we got earlier as we sped south to Bristol. It seems that a problem near Birmingham had sent everything via Worcester this evening, and consequently we were ahead of the pack. We finally rolled into Weston around 27 minutes before time - with no doubt I'd make the last train home this time!
Shorn of it's minitour, this wasn't quite the day I'd intended - but it was sociable, the locos performed well, and it was full of content punters - which any promoter is going to be pleased with these days. I hope these 'performance' issues from WCRC are solved soon - but until then, lets hope the promoters who remain serious about running railtours get the support they need from customers.