Posted in Railways on Saturday 29th August 2009 at 10:55pm
---
The last week or so has been busy and trying at work, and the very hobby which is supposed to relieve this stress has caused it's own frustrations - not least in the arrangements for this tour which have caused a few headaches for me. I can only imagine, knowing a little more now following some very open and honest communication from the tour promoter, how much bigger and more painful the headaches were behind the scenes! However, the news by the end of the week was positive - if daunting. The train would run as planned with some minor re-routing in Manchester, but the 05:15 kick-off from Huddersfield was non-negotiable. It's hard enough to explain to people why I get up to some of the rail-related oddness I record here, so I didn't much expect people to appreciate getting up at 2am for the 03:15 from Leeds to Huddersfield. I think I told most of them I was having "a quiet bank holiday weekend up north". Nevertheless, I found myself in the eerie artificial light of Leeds station with a mixed group of returning revellers and Ringway Airport bound tourists boarding the 03:15. Tempted to doze off, but then noticed we were passing through Wakefield Kirkgate and thus had taken an unusual route for a Class 185. Watched the rather forlorn shapes of stored Class 56s at Healey Mills slip by in the darkness before arriving in a cold and windy Huddersfield. The predicted staff response soon followed, with suspicion and concern where waiting in the station was concerned. Contented myself in finding a spot between the great pillars of the listed station entrance where the wind couldn't find me, and watching the last few straggling drunks drifting home. Eventually a few more passengers for the next airport train began arriving, along with people who planned to travel on the tour. So, less conspicuous now I went back into the station to find that the owners of The Station Buffet had taken pity on the crowds and were open for the sale of bacon rolls and coffee. I don't think I've ever been so pleased to hand over money - and it was hard to hide my pathetic gratitude from the bluff northern folk serving me, who'd surely have thought me a 'southern jessie'.
After a contented munch and a brief wait, a distant headlamp signalled the arrival of 47832 hauling a rake of pristine blue and grey stock courtesy of Cargo-D. The assembled crowd seemed very grateful to be on board, and we were soon away. Inside, the stock was even more impressive. Clean, comfortable and refurbished to a very high standard. Everything seemed to work - lights, PA system - all the things which seem to let down some of the older stock used on tours which could use similar care and attention to that which has been lavished on these coaches. Since we had a Mk3 kitchen car in our set, Network Rail had decided that the Brewery Curve just outside Manchester was out of bounds - a bit of a blow for me, as it effectively reduced the new track covered by the tour by 50%. Instead we climbed Miles Platting bank and reversed at Victoria station, with DRS owned 20306 and shiny, ex-works 20301 leading the train noisily onto the Oldham Loop. This rather unloved and previously ignored bit of track will soon be closed for conversion to Metrolink Tram operation, thus a number of tours are covering the line. Since there are no substantiated reports of Class 20 hauled passenger trains before, this was an equally historic event. After picking up at stations around the loop, we again briefly visited Manchester Victoria before setting off westwards to the coast.
The train made steady progress via Bolton and into Preston where a brief break allowed for a quick photograph. The weather was improving, and everyone seemed to be enjoying the sense of occasion which our unusual train seemed to be providing. While railtours are always in my experience, very pleasant and sociable occasions, there was a particular good atmosphere on board this trip. This was due in no small part to the excellent stewarding and catering which worked well. The presence of additional staff due to Network Rail's stipulations around parts of the Cumbrian Coast line could have made for a heavy and draconian feel, but the Retro Railtours team seemed to pitch it just right. Had a chance to chat with James, the organiser too, and to apologise for my email rants over the past week or so!
At Carnforth we curved away from the mainline, passing through the remaining platforms, and pausing at a signal directly outside the West Coast Railway Company depot. Lots of locomotives on display, bringing back memories of last year's excellent open day. Soon underway again, and approaching the track highlight for me - the short stretch of double track which cuts out the long curved section of line serving Barrow. A very brief section indeed, but one I've managed to miss on previous trips! At Park South Junction we were back on the single line north along the coast, hugging the edge of the Irish Sea, and passing the huge complex at Sellafield where a good number of DRS' other locomotives were in evidence.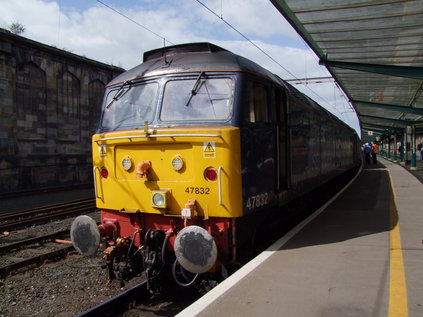 After passing through Workington, we turned inland again, and traversed the always rather long and dull section through Maryport. However, for the organisers this was perhaps the biggest headache - with clearances between the train and lineside structures, a steward is required in every coach vestibule to ensure the droplight windows are not opened. We passed the section without event, and were soon crawling into Carlisle station, passing the rather forlorn abandoned depot and the tangle of freight lines which avoid the southern approach to the station. A much briefer wait here than on my last visit - but quite a lot happening, with a brace of stabled Class 57s attracting attention and the arrival and subsequent shunting of a steam charter operated by 6201 'Princess Elizabeth'. Time also to venture out into town briefly, finding the square which had been host to a pipe band a few weeks back now hosting an international produce market. Had a relaxing wander, enjoying the decent if rather windy, weather. After some lunch, back to the station to watch the further shunting of the steam excursion alongside a passing freight, and then for our own train to head back in. As a nice touch, the locos had been reversed with 20301 now leading the pair back to Manchester. Having a chance for a good look at the loco, realised just what an amazing job had been done on it's repainting and overhaul. Despite being (as one dining car passenger reportedly told the organiser) "awkward looking engines" both were also performing extremely well scotching concerns about managing to produce a working pair earlier in the week. Soon back on board and heading back onto the coast. With a hazy autumn sun shining, the views out to sea were truly fantastic and the journey seemed to pass very quickly. Soon we were traversing the Barrow avoiding line in the opposite direction and curving back onto the West Coast Main Line. As ever, the setting sun over Hest Bank produced memorable views.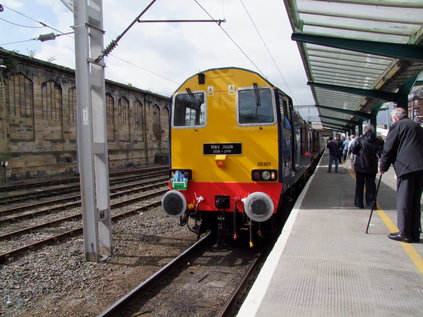 After arrival back at Manchester Victoria we once again headed onto the Oldham Loop. It was dark and wet, but the sheer racket our locos made in the quiet and rather deserted stations was worth the trip alone! There were a couple of frustrating delays awaiting other services here, and it's easy sometimes to get frustrated on the homeward leg of a railtour, but we managed to maintain our schedule falling only a few minutes behind. After arriving at Victoria for our reverse, we experienced a further hold up as the train hadn't cleared the signal and needed to pull forward. Cue lots of walking back and forth for the driver! After an impressive run with 47832 back in charge and despite a long fester at Stalybridge awaiting the platform, we made Huddersfield practially on time. As I watched the stock thunder out of the station into the darkness, and contemplated the journey back to Leeds on a busy 185 full of people doing 'The Ale Train' I realised that a day which I'd assumed would be just a pleasant jaunt with unusual engines to fill a free weekend had actually been a rather memorable railtour. In no small part this is due to the fantastic organisation and stewarding on board. As I waited to squeeze onto the train back to my hotel nearly 20 hours after leaving, I also remembered that my next railtour will also be heading this way with rather different traction and route. Lets hope that is as successful a day as this one.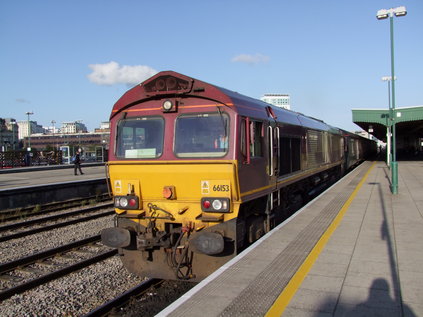 Posted in Railways on Monday 24th August 2009 at 11:35pm
---
Since it's appearance at the December 2008 timetable change, the First Great Western loco hauled diagram has been a regular performer. With only a few exceptions which can indeed be counted on one hand, this diagram has provided me with both reliable haulage and a much more comfortable journey to work. What it perhaps hasn't provided is any great variation - with a small pool of locos assigned to the work and few substitutions. However, last night gen began circulating that 66153 was on its way over from Westbury to form one end of the train. So, despite really needing to be in work a little earlier today, I waited in the rain for my usual train. The ECS working had headed down to Taunton very late - apparently due to a last ditch attempt to get an ailing 67 working - so 2D04 was correspondingly nearly 50 minutes late by the time it arrived with 66153 at the wrong end. Resolved to get out of work early and have a little trip this afternoon instead.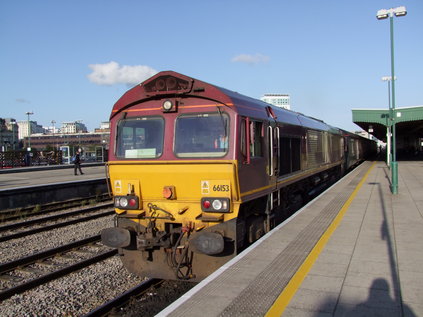 So, in surprisingly improved weather I headed for the station for the 15:25 to Taunton. The set had turned during the day, so this was again led by 67005. On this basis, decided to head all the way back to Cardiff with the train. Had an unexpected but very pleasant wait in the Welsh capital, enjoying late evening sunshine and quite a bit of activity at the station. The loco hauled set returned to work the 19:00, which I boarded and did all the way back to Highbridge.
An unexpected, but very enjoyable afternoon's travelling!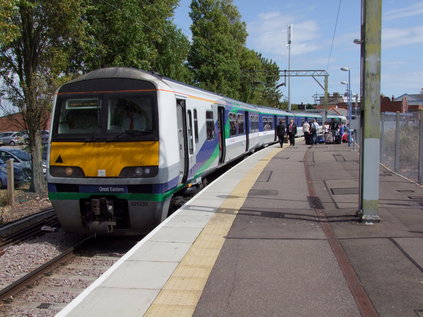 Posted in Railways on Saturday 22nd August 2009 at 10:37pm
---
It was still dark when I left the house this morning. Not pitch black, but gloomy enough to remind me that summer is drawing on, and I'll soon be travelling to work in the dark too. Today's forecast was uncertain too - which made me wonder whether the gloom was just cloud cover, with my thoughts naturally turning to a certain cricket match being played today. Today's trip took me eastwards - almost as far as one can go in that direction in fact. Essex and Suffolk are areas which I've neglected in my travels over the years, partly because historically it's not been easy to work the timetable to my advantage. More recently, it's been more about laziness and my preference for points north - and I've found myself heading east usually when there's nothing much doing elsewhere. That's unfair though, because I've almost always had interesting trips this way which have thrown up plenty of surprises. First though, the tried and tested routine of an early ride up to London. The sky brightened as we sped along through Oxfordshire and Berkshire, and as we slowed for arrival at Paddington the NENTA tour to Paignton passed with a flash of sunlight from the pristine 47760. Eager to get to Liverpool Street for a cup of decent coffee, and despite the Bishopsgate entrance being a filthy, cigarette strewn dust-trap, it was hard not to enjoy the warm August morning as the street grew busier.
At this point I realised that Liverpool Street - not usually at it's busiest on a weekend - was exceptionally crowded with younger passengers. Many of them were carrying pop-up tents and rucksacks too. It dawned on me that once again in my railway and work-addled state I'd let a bit of popular culture pass me by - this weekend saw the V festival come to Chelmsford. Wedged myself into a first class compartment on the Clacton service as soon as it was called, but this didn't stop an invasion! A busy but not unpleasant ride out of Liverpool Street followed!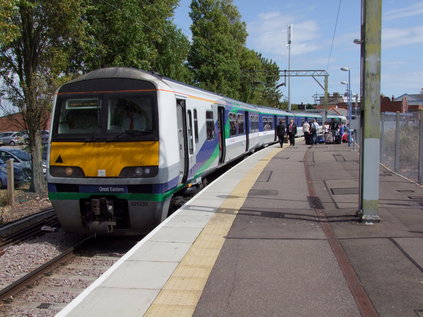 From Colchester onwards, as we took the curve away from the mainline, I was on new ground. The landscape soon changed from rolling countryside to the flat, rivulet-cracked marshes which typify the coast of Essex. As we passed Thorpe-le-Soken, where the Clacton and Walton lines diverge, the coast was visible to the south, with an impressive line of brooding wind turbines stalking out to sea. One of my fellow passengers remarked "how ugly!" as they came into view. After curving through caravan parks, we finally arrived at the impressive seaside terminus. Clacton station has much in common with other seaside termini I've visited, and these stations do somehow retain a bit of a special feeling. Despite the embarrassment of having to face the quizzical looks of the same guard who had just checked my ticket on the inbound train, it was quite fun to queue at the barrier in the old fashioned way to board the working back to Thorpe-le-Soken.
On arrival at Thorpe, a small human drama was unfolding. A multi-buggied Essex mum was wandering up and down the platform with her older offspring and an utterly foul-mouthed older woman pushing a trolley, who I can only assume was her mother. They seemed to want to board the London train I'd just left, but after putting her two older children onboard, they sort of wandered off, with the mother cursing and spitting at staff and showing no signs of boarding. In the general melee, the train left on time with two children on board, but mother and child still swearing at each other on the platform! Cue scenes of panic and lots of shouts of "My f**king babies!". The service was, the older woman claimed, "f**king criminal!". I have to say the station staff, and the guard of the following Colchester service were amazing. They quickly contacted staff on the train to make sure the children were safe, and mother was put in touch with children. A plan was formulated to reunite the family swiftly, and all was sorted in mere minutes. Not good enough for the family though, with the old crone shouting "You should be f**king ashamed of yourselves, I'm going to the f**king papers about this!" before confidentially adding to her pale and clearly distressed daughter "There ought to be some f**king compensation in this for us, love!".
After watching these events unfold under bright sunshine, which perhaps was affecting the usually more reserved British temperament, I boarded the next train down to Walton-on-the-Naze, a station which has seen a fair bit of tinkering with it's name over the years - both gaining and losing the definite article along with it's hyphens over the years. On the way, passed through the recently replaced 'gates' at Frinton. This level crossing was iconic in separating the 'nice' side of town from the 'not so nice', and was instrumental for many decades in completing the separation which the apparently somewhat stuffy folk of Frinton wished to establish from their fringe communities. A dawn raid by Network Rail saw to the replacement of these older gates with a newer model as part of the resignalling around this area. The new gates didn't appear too out of place, and indeed were much older in style than others on the line. Frinton itself appeared tired, the station a graffitied concrete shell. It wasn't entirely clear what they were trying to protect here, and from whom? Onwards to Walton, terminating in a pleasantly leafy station, sadly much reduced from it's earlier importance.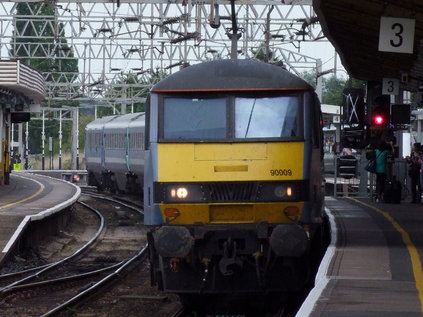 From Walton, I took the stopping service all the way back to Colchester, which allowed me to cover the other two sides of the triangle leading to Colchester Town station. The train was busy but not overcrowded, and we made surprisingly quick progress back up the branch. After a reversal at Colchester Town, we curved back onto the mainline and arrived at one of the bay platforms at Colchester. This station is rather a mess of bays, staggered through platforms and sidings, and there is a woeful lack of useful announcements or passenger information. Had a brief refreshment stop, and then realised that I'd positioned myself at the wrong platform for the service I'd planned to catch back into London! Being in no hurry, flagged the Class 360 in favour of 90009 which followed a few minutes later with an express to Liverpool Street. A much quieter mainline journey this time, with the festival revellers safely in Chelmsford. A fairly quick and efficient switch onto the Circle Line and back to Paddington for the train home.
Since a future railtour promises to cover all of the other mainline track I've not covered in this corner of the country, today was an opportunity to tick off some outlying extremities of the network. What it also showed though was that small seaside termini can be effectively turned into busy rail hubs with a good electrified commuter service. With recent word on wiring up the Great Western, perhaps this is something which local rail campaigners in my part of the world need to push for in terms of our local services too?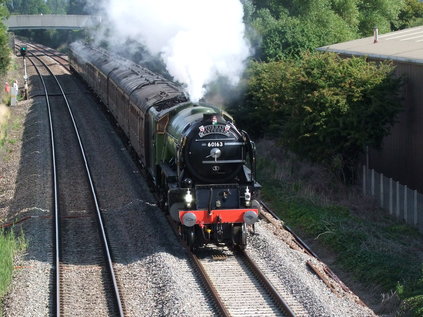 Posted in Railways on Sunday 16th August 2009 at 10:08am
---
Having taken so many shots of King Edward at Highbridge, I wasn't sure I was going to go out to watch The Torbay Express today. I had been thinking of a walk to a new photo location, but left far too little time to consider this properly. In any case, decided to shoulder my camera on the walk through Highbridge. Just before I left the house, found out that the King, seen steaming happily at Barton Hill last night, was not operating due to a brake fault. Realised it would be my duty to inform the small crowd at Springfield Road - some of whom were appreciative, others who just plain didn't believe it until they saw it!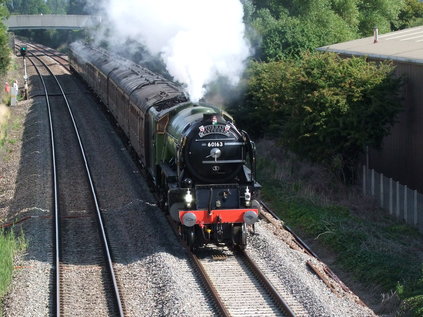 After getting a shot which was all too hasty as I'd been chatting to one of the rather more pleasant steam enthusiast couples who regularly watch here, we all trudged off - some expressing deep unhappiness and anger. As I put it to one of these folk, I wonder how the people who paid for a steam trip felt?