Posted in Railways on Saturday 30th January 2010 at 9:06pm
---
I used to be able to do late nights followed by early starts - but those days had very clearly passed as I stumbled wearily down to the station this morning feeling the effects of a friend's birthday celebration last evening. Today's jaunt was really conceived to plug a gap in what has been a rather strange January schedule - the one event of note falling awkwardly in the middle of the snowy early weeks, and the rest of the time being spent in some rather reflective wanderings around places I'd not seen in some time. Today was more of the same really - heading north and west after a couple of weeks of finding myself eastward bound - taking in Manchester and Liverpool. It was a leisurely enough schedule, and it was good to settle down and enjoy the lazy ride northwards from Bristol. The train stayed fairly quiet as we headed first for The Midlands and then pushed on via Stoke-on-Trent towards Manchester. Just beginning to feel a little more human when I received a message that my cousin was in Manchester having just arrived at Piccadilly too. So my hour in Manchester was spent in a pleasant family catch-up session on the terrace outside the station, drinking coffee to keep warm! Despite the cold, the day was clear and bright and it was good to be out and about watching the city bustle beneath. Not sure my cousin and her intended quite grasped why I was in Manchester or why I'd be heading elsewhere soon - but nonetheless it was good to catch up on unusual territory!
Took my leave and headed onto the through-platforms at Piccadilly via the moving walkway. Despite hating escalators with a searing passion, I have a childish love of their flat, stepless sibling and I enjoyed my little zoom up to the concourse perhaps a bit too much. People were certainly looking at the fat grinning loon who arrived at the top very strangely. Flagged a jammed Northern Trains unit for my Transpennine Express 185. Boarded to find first class jammed with noisy and frankly rude Spanish students. Extricated one from my reserved seat via the international language of pointing at the numbers, gesturing elsewhere in the carriage and looking angry. It worked, but secured me the scowls of the moody group of female students travelling with the former occupier of my seat. Managed to tune out the hissed, Spanish incantations and enjoyed an easy, quiet run via Warrington Central in still brighter weather as we headed for Lime Street.
My earliest memories of Liverpool are from the mid 1990s - the city was waking up from a grim recession and the paralysis inflicted by a corrupt council. It felt good, positive and forward looking. Lots was happening, and a wave of redevelopment was sweeping from the docks into the City Centre, albeit missing some areas of chronic and desperate deprivation on the way. Then, a decade or so later things began to grind to a halt. Even Richard and Judy had deserted the Albert Dock and the regeneration settled uneasily on the city centre, churning out small and poor quality shopping areas which never really seemed to open fully before they'd closed for redesign or refurbishment. So, I was surprised to find, especially in the current climate, that things have slowly begun to move again. I stepped out of Lime Street station, directed to a side exit due to works, and found view much changed. No more greasy spoon cafe, and the parade of shops from the front of the station gone (including the world's coldest second hand bookshop - which is perhaps something of a loss). The station I noticed was standing proud of the street and around it a stepped plaza was developing . The great glass sweep of the roof was suddenly fully visible, and the subtle point of the frontage now clear to see. Lime Street is a stunning station, and it was great to see it being afforded the status it deserves.
Eventually moving on after poking my camera through the fence here and there, I found myself watching a demonstration wind its way into St George's Hall. As my political views have developed and changed over the years, I found my patience for Trade Unions has suffered - but I still love to see the banners and the various public service workers unions gathered here had put on a fine display. Given my interest in this area, I decided to stay and listen to some of the speakers. A fairly high-ranking bunch of union officials had been drafted in to talk to the modest crowd about the looming election and the dark days beyond. The approach varied from simply, heartfelt pleas to protect jobs and services to full-scale assaults on Western capitalism! At one point a tiny woman carrying endless bags shambled across the square. She stopped and turned to the crowd and began to shout back in possibly the loudest Jamaican voice I've ever heard. She pointed out that none of the people up there had done anything to help her and her friends. She also pointed out that no-one speaking or watching the rally was paid as little as her, and that every single one of them was white and middle class. She was spot on in fact, and the fact proved so uncomfortable that a couple of the hi-vis vested organisers persuade the Police to move her on. She didn't go quietly but as the police women who gently escorted her past me said soothingly "You don't have to convince me love, they're a bunch of pompous windbags and you've got it right". It's hard to know whether this was a genuine sentiment or an attempt to calm down the situation, but it hit the nail right on the head this time.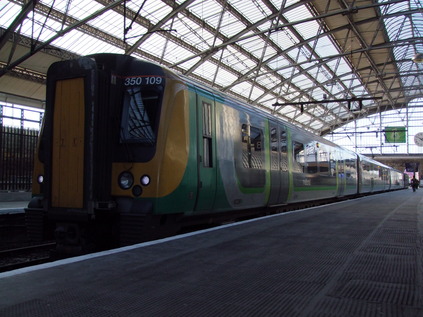 Decided on a brief walk before my journey back, avoiding descending into the crowded city centre which didn't appeal much today. Soon found myself back at Lime Street with the sun streaming through the roof. Settled in for a pleasant hour watching and listening to the station going about its business. I was feeling pretty tired and still a bit fuzzy so it was good to relax here in a spot which has served me well for this purpose over the years. Soon onto 350109 which was waiting to head back to Birmingham via Crewe. Another pleasant, bright journey - but amazed to find how much colder it was in the depths of New Street where the sun can't reach. A quick change onto the 1642 which reverses in the bleak extremity of platform 1a - possibly the coldest part of the station, and a sleepy ride back to Bristol in the warm Voyager. Today was a satisfying return to basics - a wander around the country observing - travelling for the sake of it. As the year gears up and tours and events start getting organised (and probably cancelled at short notice too) I'll end up doing less of this - but perhaps this is something to look forward to in the quiet dark days of Winter?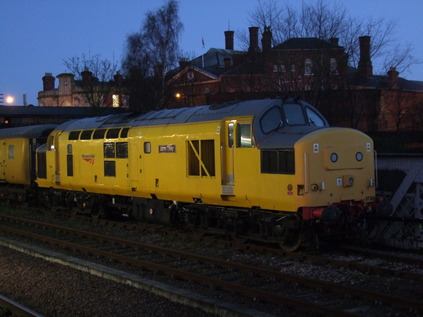 Posted in Railways on Saturday 23rd January 2010 at 10:03pm
---
After a good few years of trundling around the UK, I thought I'd encountered most of the hazards which travellers meet with these days. However, this morning convinced me otherwise. Having stayed in a very convenient hotel mere seconds from Wolverhampton station, I blearily stumbled down to reception ready to catch the early train to Machynlleth. There was no-one at reception but I didn't let this bother me, dropped my keycard into the slot and walked towards the automatic sliding doors. But they didn't. I wandered back to the desk and found a sign suggesting I press the bell for attention. I did. No-one came. So, I dug out the particulars of the hotel and telephoned. The phone chirped loudly behind the desk. Still no answer. With my keycard now out of reach I was trapped in the lobby. The minutes before my train ticked by. Eventually, a rather dishevelled looking chap arrived and unlocked the doors from the outside. He looked rather startled as I cannoned out of the building and launched myself up the stairs to the walkway leading to the station. He shouted an apology, but having no time to vent my frustration I decided not to answer. He let fly a somewhat quieter expletive, but I was now getting into my stride and didn't let it stop me. So began a very strange day on the rails!
Once at the station, there was just time to grab breakfast and a newspaper before the 06:24 arrived. There were a surprising amount of people on board - most of which seemed to be going home from a night out in Birmingham. We made good time in the dark, and I began to relax after my odd start to the morning. Eventually we slipped quietly into a dark and freezing Shrewsbury where we were due to reverse and head for the coast. Spotted one of Network Rail's Class 97s stabled beside us, but decided not to go for a shot as we'd soon be leaving. But we didn't. After what seemed like a very long wait indeed, we were turfed off the train and asked to wait for more information. The incoming service was delayed with our driver on it, so they planned to turn our train back to Birmingham and let us wait. My connection at Machynlleth wasn't particularly tight, but as the expected departure got later and later I realised I had a big problem. Talked it over with a member of staff - he was sure they'd do something for people going up the coast - a taxi maybe? But it wouldn't be them who organised it. They'd wait until we were further into the journey to decide what to do. It might be that given the disruption, the next train in two hours time was the sensible option. Almost quit there and then, but a wander into a dark cold Shrewsbury morning put me off. Back onto the station to get a shot of 97304 before boarding the unit which finally arrived around 35 minutes late.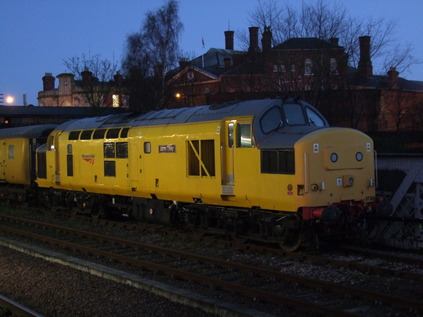 The guard on board was a little more helpful, and he explained he'd wait until after Caersws to decide what to do. He pointed out though that if it was a taxi it would take some time to get organised, so they might just hold the train. I asked him to Excess me to Aberystwyth and I'd decide what to do as we went along. Settled in to enjoy a quiet run through the hills of central Wales. A lot of snow remained on the hilltops, and there had been a hard frost. Soon at Machynlleth where the depot was shrouded in mist which stayed with us out to Dovey Junction. Here I was amazed to find the unit to Pwllheli waiting for us. Contemplated the leap to do the original plan. However, the train was now well over 25 minutes late and would turn around as soon as it arrived - I didn't have the stomach for a straight six hours of rail travel without break or refreshment. Realised that my last bit of track wasn't going to happen today, so pressed on to Aberystwyth - an unexpected second visit within a year in fact.
Aberystwyth was just getting going as we arrived. People were waiting to head back east on our train when it turned around, and the streets were beginning to get a little busy. Strolled into town, noting the Central Fish Restaurant and the National Milk Bar - two blasts from the very distant past, when I convinced myself that Aberystwyth was in the grip of some sort of authoritarian restaurant-based regime given those names. Took some pictures before getting food and coffee and settling on the chilly and misty seafront - a short curve of black sand with a dilapidated pier and mess of stuccoed hotel fronts. I was calm, comfortable and despite being way off track, strangely enjoying myself. In fact I felt fairly relaxed for the first time in a week or so, no doubt helped by a call to the Customer Services department of the hotel to vent my frustrations! Eventually returned to the station for the 11:30 train back to England. This was a little busier and I amused myself by watching and listening to the odd mixture of passengers. It's easy to forget this is a long train journey in an area where road travel isn't much fun - and there was just a hint of the romance of rail travel around today. As we climbed the easy side of Talerddig the sun finally broke through the mist and warmed the carriage. Possibly the first time I've seen the sun this year, and oddly the atmosphere of the train changed with it. At Welshpool we passed 97304 with a short rake of coaches and 97303. A pleasant wait in the sun before we set off once again towards Shrewsbury and eventually back to Wolverhampton.
As I was back a little before I'd planned to be, had a wander out into the city. It was still the rather rough-edged spot I remembered from previous visits. A match at Molineux added to the crowds, but as they began to disperse a little I found a spot to enjoy a coffee while watching people wandering about. Sent some emails planning future trips, and had a slow wander back to the station for 350125 in to New Street. A bit of a wait here for the Bristol train, which I spent out on the open-air end of the concourse watching trains - something I haven't done at New Street for a long while. Glad to be on board the 17:12 to Bristol and in the warm at last. Snoozed through the dark journey home, which was all on time until the last few frustrating minutes when we got held up behind other local services. Made the unit back to Highbridge without any bother, and was soon heading for home.
So, the last major goal in the Baker atlas remains unconquered! A strange couple of days, which ended a rather odd week in many ways. A lot of uncertainty lurks around the corners at present, so these jaunts become as ever, far more important. There is clearly something about West Wales which stills the disquiet, as my forays to Holyhead over the years have proved. For now though, I'm content to research the curious history of the National Milk Bar chain. I suppose I'm never far from some sort of conspiracy.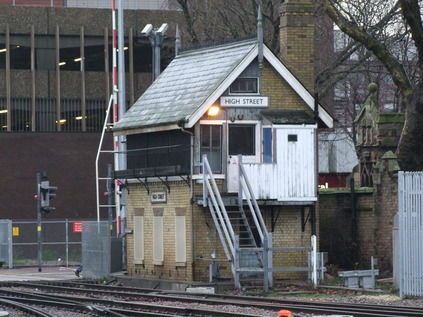 Posted in Railways on Saturday 16th January 2010 at 9:14pm
---
The end of this week has seen the world beginning to get back to normal after it ground to a halt during the protracted cold spell. Work had become commonplace once again, and despite some lingering snow on the trip to Nailsea on Thursday, I woke this morning to find a miserable rain falling. I wasn't unhappy, as this at least meant an easy walk to the station. These early in the year trips are always rather odd - nothing has quite got moving yet, and aside from the odd novelty from the December timetable change, it's become a time to visit old haunts and to get out and about despite the cold and the lack of organised events. Just as the year ended I'd booked today's trip - a fairly routine run out to Lincoln, returning via Sheffield. I hadn't been to Lincoln for about fourteen years by my reckoning - and for some reason, that trip was one of the more memorable of my jaunts - staying at a B&B at the top of a steep hill, and discovering the pleasure that a walk through a deserted city centre can be on a Sunday morning before a much diverted trip home. Of course, if things had gone to plan I'd have been here a little before Christmas on a railtour - which inspired this visit once that trip was cancelled.
Today's out and back trip wouldn't have been possible back then without a very rushed itinerary. However, I did of course aim for the early train off Highbridge as usual, and changed for the 07:00 to Birmingham which was thankfully running as planned this week. My journey up was sleepy - and I wasn't sure if this was because I'd been to the pub last night, or whether I was perhaps succumbing to a cold which has been circulating around our office. Dozed my way up to the Midlands, which made the journey fly by. Strained my eyes for the Class 70s which were supposed to be at Stoke Gifford to no avail - perhaps one day soon I'll pass by in daylight! Time for breakfast at New Street, before catching the 08:49 to Nottingham. Surprised to find football fans joining this train, bound for Peterborough. Not too busy however, and I enjoyed a pleasant dash up to Derby, a reversal and then into Nottingham with a good few locos passing during the trip. Lots more football folks at Nottingham and a sizeable Police presence too. Tried my best to look totally uninvolved in things and headed directly to the East Midlands 158 which was waiting to leave for Lincoln. My first trip on one of these much refurbished units was favourable, except for the intense heat on board. Whiled away the rather dull trip over the featureless fens listening to a young mum's talking and storytelling with her daughter. Perhaps one of the high points was the flat crossing of the East Coast Mainline at Newark, which is still a strange and rather worrying idea even now! Soon found myself crossing the High Street in Lincoln at the busy level crossing.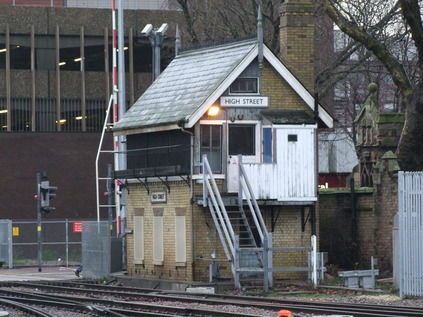 It's fair to say that this wasn't the weather for tourism, and I noted the cathedral at the top of the hill was shrouded in mist as I stepped out into drizzly Lincoln. I didn't remember the first part of the walk, but memories soon began to come back as I turned into the High Street and began to recognise landmarks. Much has changed here, particularly along the river banks, where wide vistas have been cleared and new shopping centres and walkways created. The developments have been completed in a fairly sensitive fashion, and I had a pleasant hour or so wandering in the busy city centre. Eventually retreated south of the level crossing and found the cinema I'd visited during my previous stay was now a J D Wetherspoon pub. A little research done later indicated that it had closed in 1996, and thus not long after my visit. Also noted the impressive St Mark's development. When I last visited, the history of Lincoln's railways hadn't quite sunk in - but this time a memory was sparked and I went hunting for railway relics. Managed to find a fake signal box of modern construction amidst the shops and car parks, albeit with an original BR sign for Lincoln St Marks on it wall. The station building also remained, among the new developments. Decided to head back to the station to get a much needed coffee and to find my next train. Spent a little while at the High Street crossing on my way back, watching the gates close twice in quick succession to let trains pass. Noted the closed High Street signal box too, now empty following the resignalling.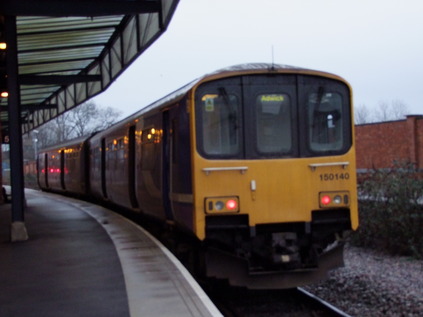 My next train departed from platform 5b at the far extremity of the station. Lincoln Central always strikes me as a sort of overgrown rural station, despite being a fairly respectable size. Found 150140 ticking over and awaiting departure for Adwick via Sheffield. Soon underway, leaving Lincoln behind and spotting the strange cabbage-like plants in the four foot which I'd spotted on a tour which came this way a few years back! This route was a little more interesting, passing thorough the rather forlorn town of Gainsborough before passing under the East Coast Mainline at Retford. Lots of activity still evident in the yards at Worksop too, with the train getting busier as we entered the suburbs of Sheffield. Having found myself here almost accidentally last week, it was strange to be back in Sheffield so soon. Shopped a bit and people-watched on the fine (but still oddly slippery) station concourse before heading to my platform for the 15:54 which was due to take me directly back to Bristol. Another on time arrival, and a quiet and pleasant ride south despite the daylight fading fairly swiftly once we were underway. Read and listened to music while enjoying the journey, feeling a bit sluggish and below par however. Realised I'd probably been right all along about catching a cold!
It was good to have a day with very little concern or excitement, where pretty much everything ran on time and I could just relax and enjoy the ride. Last night I had a fascinating conversation with Mr Solomon about travel, in particular why we both do so much of it and whether the trip is indeed more important than the destination. It almost always seems like it is for me these days.

Posted in Railways on Saturday 9th January 2010 at 10:01pm
---
Having spent the last week pretty much confined either to the house or the office, I was desperate to get out and about today. It had looked pretty unlikely though, not least because the journey from home to the station had deteriorated into a glassy slither along sheets of ice which used to be pavements. However, with Somerset County Council finally agreeing that the bus and pedestrian route to the station was of strategic importance, at least parts of the trip had become a little easier. So, a little earlier than usual I set out for what should be the routine walk I've managed thousands of times before. Starting with a brisk trot up the cleared margin of the road, a quick slippery bit of pavement, then onto the road again as far as the station entrance. Here, the slushy remains were more unpleasant than dangerous, and once into the station there was plenty of fresh snow to walk on. I found myself on the deserted and very cold platform with time to spare. I felt almost elated - after all, I'd escaped at last! For now, I wasn't even going to worry about the return trip when the road might be just a bit busier!
The purpose of today's trip had been a visit to the Great Central Railway for their winter diesel event. However, just now I wasn't going to speculate on how far I'd get or what I'd find when I got there. I was content enough to be thundering along in the dark. The first leg of the trip took me no further than Bristol, but it felt like a journey into the unknown after a week of confinement. It probably wouldn't have been so bad, but after the recent week of enforced quarantine for H1N1, the feelings of cabin fever came on all too quickly. Arrived at Bristol just in time to hear my train being cancelled! Not in this case due to the weather, but because stock was out of place following the problems at Birmingham New Street yesterday when a contractor cut a signalling cable. Checked I was OK on the 07:30 and found coffee, if nothing else because holding the cup kept my hands warm. Soon off on the 07:30, and noted how quiet it was. The weather had clearly taken it's toll on passenger numbers. Relaxed and watched the first hints of dawn in the east as we sped northwards. Soon announced that we'd make a brief detour around the triangle at Gloucester to pass a train up front with 'a problem'. Turned out as we passed that it was in fact 66154 with 6M60 - the Bescot-bound clay tanks. Made a sleepy posting to a mailing list (in which I made lots of silly mistakes in fact!) and returned to enjoying the bright cold morning passing outside.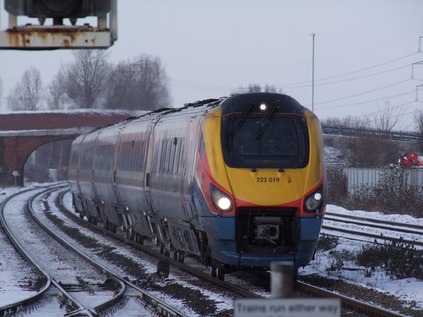 Arriving later than planned at New Street, I found it just beginning to wake up. Made my way to the platform for the next train where an anxious woman pushing a thoroughly wrapped up child in a pram asked me if I was going towards Leicester. I said I was, and she asked me when I was coming back. I explained that I'd be back today, probably around 5pm - and she looked pleased. She was making a similar journey and was convinced it was all going to go wrong because of the snow or the problems from yesterday. Cautiously reassured her that things had actually run pretty well, but that stuff could always change. She seemed a little brighter - but it got me wondering about how the day would pan out, as the very delayed 170 rolled in for the journey out to Leicester.
After another pleasant journey I found myself damp and cold at Leicester station. No snow yet, but the platform was slippery and I decided that since I'd have to wait for a Loughborough train I'd do so in the warm, settling for more coffee in the buffet. Reluctantly out to wait for the 10:54 which arrived on time, warm and surprisingly quiet. Settled in for the quick run to Loughborough, arriving to find the station quiet and enveloped in snow - but so far, still nothing falling. Wandered out to assess conditions - the car park looked bad, with vehicles doing little pirouettes as they deposited passengers. In the sun, it felt warm and it was nice to be crunching around in fresh snow instead of sliding on ice. Had a test walk towards town, and found it hard going. There was ice under the snow, and the walk was challenging. Slogging across town to the GCR would be tricky - especially as the quickest route didn't really involve the generally clearer main roads as such. Agonised a bit - I'd come for the diesels and it seemed a shame to miss them, but given the way the week had gone it was good just to be out. As I pondered, the sky grew suddenly purple-grey and large flakes of snow began to tumble down on me. I set off back to the station, rebooked for Sheffield and purchased yet another cup of hot, strong coffee...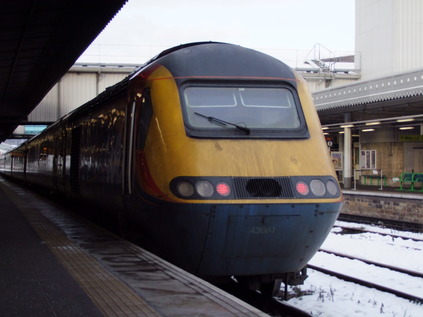 The run up to Sheffield left the snow behind and once again I found myself in strong, bright sunshine. Passed a host of locos at the Railway Technical Centre in Derby, and some spectacular winter scenes in the surrounding countryside. Soon in Sheffield, where the redeveloped Sheaf Square was a mass of gleaming metal reflecting the sunshine and snow back at the station. Wandered the station a little, and sat for a while in the cafe drinking more coffee and people watching. Pleased just to be out and about, and not regretting my decision to head further up the line at all. I did however have quite a bit of time to kill as I'd allowed plenty of time for the gala. Decided to head directly back to Leicester, and had another pleasant trip in a lightly loaded Meridian, and inevitably more coffee at Leicester station before hopping onto the busy 17:16 back to New Street.
Noted along the way that the 19:12 was beginning to get very late on it's journey south via York and Leeds. Delays had been affecting a lot of the services heading that way, and this one seemed to have got really entangled. Realised that in fact I'd have a very long wait at Bristol if I stuck to my booked service. Instead popped into Customer Services, politely explained my situation and was soon out sporting two endorsed tickets allowing me to travel on the preceding 18:42 which was on time. Made my way to the platform and settled in to the warm train which arrived just minutes later. It meant a bit of a wait at Bristol, but it was the best option by far. Soon speeding south again, catching up on weeks of podcasts which I'd not had a moment to listen to. At Bristol, I had a little while to wander before the 20:40 arrival - the 19:00 from Paddington in fact, and a train I've used a fair amount lately. Purchased yet more coffee to keep me warm, and pondered over how much today's caffeine insulation had set me back! Onto the HST the moment it arrived, happy to spend it's 15 minute dwell in the warm.
In the event, my walk back from the station went pretty smoothly, and despite feeling cold and tired, and not really achieving what I set out to do, I felt a sense of accomplishment having travelled 450 miles or so despite the weather and it's effects. I had felt that perhaps travelling for fun when others were struggling to get home or to work was a little irresponsible. Looking back though, I think I'd have struggled to face the next bout of grim weather without this trip!