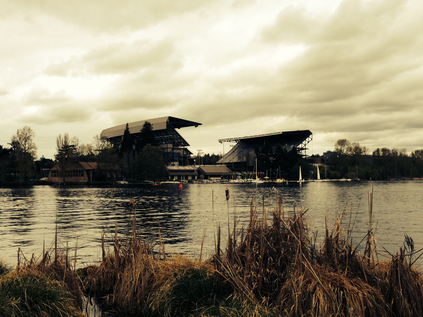 Posted in Travel on Sunday 6th April 2014 at 8:04pm
---
Having been in Seattle for a few days now, I was beginning to readjust to its unique rhythm. Our initial stay downtown had plunged me into the cosmopolitan, urban feel of the city which had begun, a long time back, to feel like a home away from home. This time I didn't feel like a stranger - more a returning ex-pat perhaps? It was interesting to prowl the streets early with Iain Sinclair's less than ringing endorsements from American Smoke in mind: tired, stressed and with a sick wife back at the hotel, he'd paced the city streets and seen only the gray reflections of clouds. Here for very different reasons, the silvery sheen of Elliot Bay reflected in tall glass blocks was like a visual sigh of relief. We'd made it. We were back.
But today, the pace changed again. With an extended visit to Montlake necessary, I had some time to cut loose and wander. A rare luxury in a trip with a packed itinerary and little scope for drift. With a Fuel coffee in hand I set off towards the Arboretum. I didn't intend to stray far - maybe to a quiet spot to read or write, while drinking? The edge of the park was abrupt, Lynn Street taking a ninety degree curve and the path heading into the trees. There were a few walkers dotted around, a bored woman scrolling listlessly at an iPad while her child clambered on the play equipment at the park entrance. I plunged into the trees feeling foreign and conspicuous, and far less acclimatised than I'd felt downtown. The tall evergreens closed around the path, and the unexpectedly clear sky all but disappeared as I pushed on. Turning a corner, a narrow but ornate bridge carried the path over the rush of Lake Washington Boulevard and into deeper wilderness. I was alone and comfortable at last. The path crested and turned north, with the rooftops of the Visitor Center below. A cursory glance at a pathside map had shown water up ahead, and my urge to walk near waterways was kindled. I edged through the drifting pedestrians and crossed the street near the Park entrance, plunging across to a viewpoint and a new path alongside an inlet of Union Bay. I sat for a moment and drained my coffee cup. It seemed wrong to have it along for this part of the walk somehow. Refreshed, I set off at a renewed pace - the slight edge of being in an entirely unknown place speeding my walk. The path meandered through dense trees and curved towards a road - the acoustic footprint of Highway 520 was near, but I had no sense of quite how near until the path dipped under a forbidding looking underpass. I was encouraged to see others passing through the concrete tunnel under the footings of the Evergreen Point Floating Bridge. Traffic pounded and echoed through the dingy gap, and only the sight of water on the other side of the span urged me to continue. I really had no sense of where I was headed. As it turned out, the scene quickly opened out into a busy, spacious picnic area on Foster Island. The lake surrounded three sides of the promontory, with a beachlike feel to the northern shore, where sailing boats scudded past at speed. The sun was high, and students from the nearby university lounged and occupied the picnic tables. I headed for the water's edge, before looking for the path off the island marked as the Marsh Trail.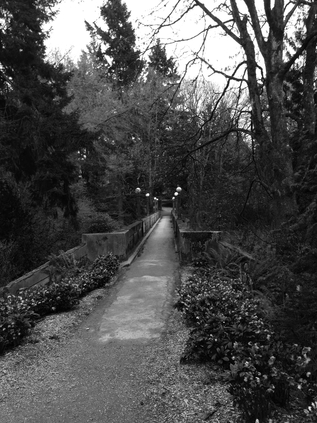 As I dived between two tall patches of rushes and scuffed along the bark trail, I realised that I was surrounded by water. This pathway floated on the scrubby marshlands at the edge of Lake Washinton. Indeed in some spots it was nearly submerged in the lake. Again, I was perturbed and considered a retreat, but the site of others coming towards me, apparently unscathed and not drenched spurred me on. The path zig-zagged out into the lake, a spur taking in a raised observation platform. Occasionally, an unguarded ramp would raise the path to wooden bridges which carried me out into clear water, descending onto further patches of marshy ground. Soon I was alone, a touch of concern arising as I really didn't know where the pathway led. A couple with a lolloping dog pursued me a distance back, and I decided to assume they knew where they were heading. They occasionally caught up as I paused to take pictures, their mutt shaking off lake water as he passed me, eliciting an apology as they overtook. The pathway descended another ramp onto Marsh Island, a boggy, half-formed mess of bark and reeds which gave a superb view across the lake to the Montlake Bridge. I resolved to get there if I could. Meanwhile the causeway and off-ramps of 520 soared above, the constant white-noise of tyres on concrete hissing ominously. From here, the scale of the tangled junction for Montlake was clear, including the 'ramps to nowhere' which it seems are a feature of road systems all over the world. Beneath the pillars, scrubby edgelands waited for reclamation. This was a zone which nature might just win back someday.
At a junction where the bark trail touched land I had a choice - continue on the shoreline, or ascend to the carpark of the former MOHAI museum site. The latter seemed a more likely way of getting to the bridge, so I turned towards the building. The empty gray hulk reflected the sounds of the highway back at me, deserted and ominous amongst the greenery of the park. Few cars were using the parking area, except for a Seattle Police vehicle which was criss-crossing the top of the ramp which led down to the lake. I didn't pause at the building - it's status wasn't clear to me, and I knew from previous experience how contrary the SPD could be. Instead I tried to look purposeful and followed the path towards the street. At the top, the cop was waiting for me: "Everything OK sir?". I replied in the affirmative and he asked me what I was doing. I told him I was walking and he asked where I was heading. Perhaps here is where I should have thought faster, or been less honest because I simply said "I'm interested in the bridge at Montlake. How do I get there?". His demeanour changed and he replied by asking if I was a tourist. I agreed I was, and he brightened visibly, before suggesting that I go downtown. "There's shopping, and the Space Needle. Nothing to see up here". I tried to explain that I was a walker, interested in canals and bridges, but he became more insistent that I shouldn't be in Montlake. Tourists belonged Downtown where they could be managed around the grid of the city. I decided that his growing coldness, his look of dismay and the handgun at his side were all good reasons to disappear. I thanked him and moved away towards the street, and he called after me that there were "...plenty of buses over there". I waved a hand behind me and struck up a pace. My experiences a summer ago had told me that some games were lost from the outset.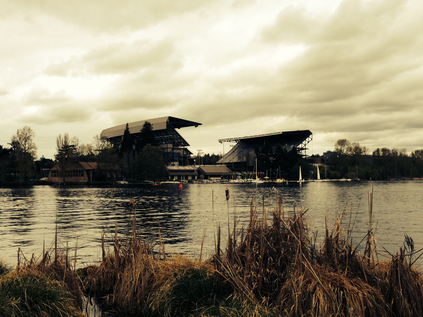 Once over the highway I cut along side streets which led me back to Montlake Boulevard. Recognising businesses and landmarks I felt a little proud of my navigation skills, and a little embarrassed that I'd let the cop send me off course so easily. Perhaps if he'd not found me inspecting an abandoned civic building he'd have been less concerned? Perhaps if I'd simply had a purpose to my walk? Even just getting from A to B seems better than "walking, just walking" as a descriptor to those people who find such things so terrifyingly inexact. I thought back to Iain Sinclair's miserable experience here, and despite my own brush with the gray edge of the city, still couldn't reconcile it.
You will shortly be able to see more pictures from the walk here. As an experiment, you can also follow the route on the map below - the blue line is the walking route.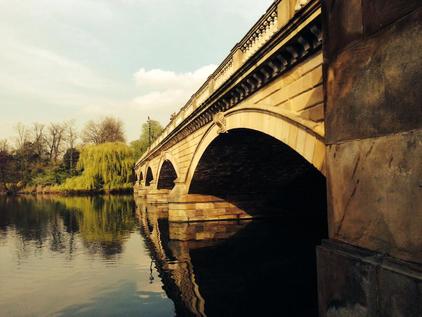 Posted in London on Tuesday 1st April 2014 at 9:04pm
---
Today we headed east, in order to travel west. The trip to Heathrow has been a fraught one in the past - either a prelude to separation, or a nervous weather-beaten dash to meet up. In either case, it has been a strange and sometimes painful excursion. This time, we wanted to make sure it was going to feel different. It was the beginning of a new era of travel for us after all... It began, ominously though, with a call downstairs. One of our angelic and innocent kittens was petting at her first kill - a baby Water Rat which had strayed from one of the Rhynes nearby no doubt. With a surprising turn of violence, she lifted the bedraggled item and hurled it a the curtains. Our trip was blessed with a sacrifice it seemed.
We set out around noon, heading for the station in a burst of sunshine. Standing with our luggage at Worle Station, it seemed improbable that we could pull this off. The train to Bristol provided entertainment in the form of an attempted fare-dodger scuppered by travelling Revenue Protection Officers. He told them he was "a very busy man!" but it didn't wash. We grabbed a leisurely drink at Temple Meads before changing to our London train. Amazingly, given First Great Western's recent record, things went smoothly and we were soon creeping under the roof of Paddington station on a surprisingly springlike afternoon. Our first stop was souvenir hunting for people we'd be meeting overseas - Paddington Bear and London related items purchased, we headed for our hotel to integrate them into our luggage.
We'd thought about a trip to Harrods for some time, and the need to pick up some small but classy things as gifts gave us the perfect opportunity. Given the pleasant afternoon we decided to walk through Hyde Park, passing the Long Water and the Serpentine, with the Albert Memorial shimmering through the haze. Thus we echoed the hidden route of the Tyburn Brook - another lost river, and another entry point into the story for me. The park was busy with Londoners surprised by the sun. A girl clad in hipster velvet rolled up her skirt to get her pale knees tanned, and the Diana Memorial Fountain was busy with paddling children and lounging tourists. The haze was in part a product of the Saharan Dust Cloud, whipped up in North Africa and deposited on us by a warm current of air. It promised terrible issues for some in coming days, but for now though it leant an unreal shimmer to the park, blooming with the new Spring.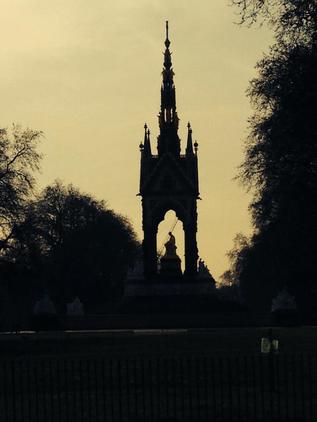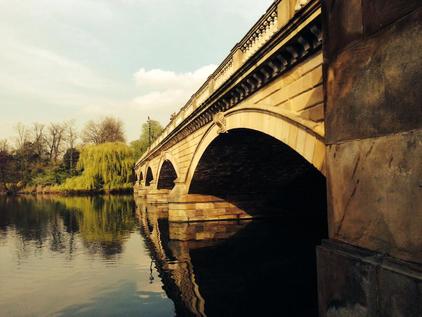 We walked along the edge of the park, diving in between some Mews to reach Knightsbridge. Harrods loomed suddenly between the buildings, inducing a gasp of surprise at its scale. Before we headed in, we stopped into a gushingly ornate Italian place for an early dinner. Watching the world go by outdoors, we contemplated our trip and its complexities. Just now, it was all possibility and potential. Things felt uncommonly good. Eventually, we headed across the street. As ever, Harrods didn't disappoint - the Food Hall heaved with ludicrous temptations, harassed businessmen picking up 'something special' competing with tourists for space. We trailed through endless departments, few of which declared their prices openly. House music thudded in the fashion quarter, while the kitchenware area was marked by calm, bucolic music. Meanwhile in Bedding, a head-scarfed Arabian woman bounced on a bed and receieved a quote of "Four thousand, seven hundred" - though it wasn't clear if this was for the whole ensemble, or just the linen. Our last stop was the foot of the Egyptian Escalator. In itself, this is a highlight of the building - a period piece which documents the craze for all things Ancient in the early 20th century - but the bizarre and gauche memorial to Diana and Dodi placed by Mohammed Al Fayed is like a magnet. It's impossible to ignore the terrible statue, while puzzling over the weirdly masonic 'pyramid and hourglass' device under the soft-focus icons of the tragic pair. We took surreptitious pictures before leaving it to the tourists.
A taxi ride back through the park in a hazy sunset completed our excursion for the day. The driver navigated us into Bayswater and the knotted streets of stucco-clad hotels, and we settled in for the evening. Tomorrow would be more hectic, but just for now London was strangely homely and comfortable territory.