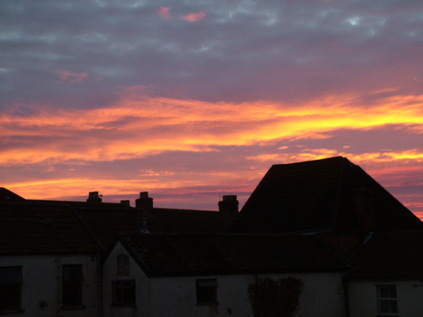 Posted in Highbridge on Tuesday 31st October 2006 at 9:10pm
---
I realise that in the everyday chaos here, I'd let the anniversary of my move to Highbridge pass unmarked earlier this month. Thinking back, I'm so incredibly pleased that I moved last October. Lots has changed for the better, and I hope that people notice I'm a little happier and perhaps that I dwell a little less in the recent past.
To mark the occasion, here's a picture of a Highbridge sunset from last weekend.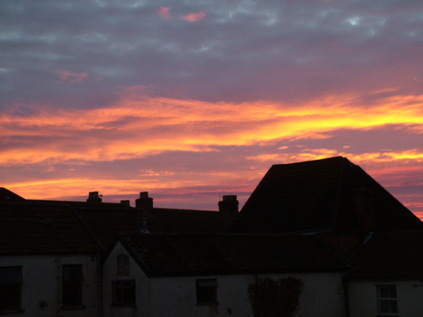 Posted in Railways on Saturday 28th October 2006 at 9:07pm
---
The last weekend of British Summer Time is always strange. Darkness has descended early this past week or too - partly due to the encroaching nights and partly because of fairly ominous weather, but there's no mistaking that Winter is coming. In future, it might all be very different if these folks get their way. At this time of year, railtour operators wind down the enthusiast related parts of their business to some extent - who wants to visit some obscure branchline in the pitch black of a winter evening? They tend to offer more trips for 'normals' - Christmas Shopping jaunts and such like. With an impending possession blocking the line at Highbridge for most of November and with the lack of railtours to count on, I made a last ditch attempt to get out and about today.
This presented it's own difficulties - the line between Gloucester and Birmingham remains closed for engineering at weekends, along with an immense amount of other track around the country. Set off early for Bristol, then headed eastwards towards London. I'd managed to get a cheap fare on the 10:55 Midland Mainline service to Nottingham which I hoped was a nine-car Meridian, as these will soon enough be split to bolster the four car variant. Just as I was leaving the impressive new ticket hall at Kings Cross St Pancras underground, I heard the infamous 'Inspector Sands' announcement. Sped up my exit a little as the phrase looped on the tannoy. Saw a few extra BTP around, but I assumed these were for football related duties anyway. Didn't hear of any problems, so I can only assume it was a false alarm.
Once overground again, negotiated the maze that is St Pancras. Midland Mainline services have now moved from the Interim Station site, to their new home on platforms 1-4 of the station. Walked under the full width of the new station to reach the ticket hall - although it seems a new entrance on the Western side is under construction! There is still an air of the temporary about the station, but the ticket hall, toilets and such seem to be the finished article. Once upstairs on the concourse, noted the sensitive extension to the arched Barlow trainshed roof. Noted a nine car 222 in the platform too, and was soon settling in for the dash up to the East Midlands, which always seems to go surprisingly quickly.
I'd originally planned a longer break in Nottingham, but a desire to go home by a different route, and the lack of many sensible routes not involving bustitution meant a shorter stay. On to the 13:00 to Birmingham - full but not overflowing, which was a relief given previous experience with this service. A slow crawl past the Railway Technical Centre and Etches Park was interesting, then a reverse at Derby and a sleepy trip to New Street. I had an hour to wait at New Street for the next Virgin service to Oxford. I could potentially have squeezed onto the 14:33 just in time, but I couldn't have staked an advance purchased ticket on it! Spent the time wandering around the shops, before heading down to the platform to try to ensure I got a seat. Watched the dispatch of a hugely overcrowded service for Leicester and Stansted Airport before the Reading-bound Voyager arrived. Found a seat in the quiet coach between two girls having a fairly explicit conversation about their previous evening and a man inexplicably dressed in a full suit of desert camouflage dress, but not obviously a soldier. Much of the train bailed at Leamington Spa, clearly using this service in preference to the much slower stopper from Moor Street.
By Oxford, the light was beginning to fail. Had a wander out of the station and noted how much the approach to the city had changed since my first visit. Also noted a fair bit of lateness on the departure board due to a fatality at Maidenhead, and realised that with a fairly big gap in services to Didcot I risked missing my connection, even though it was an hour or so away! Hopped on the next Didcot service, unusually a Virgin service to Southampton not booked to call at Reading. Headed for the end of the platform at Didcot on arrival to see if anything interesting was happening. Apparently not, with most of the cranks amusing themselves by watching an elderly lady practicing Tai Chi on the platform! Consoled myself with a quick pint in the Prince of Wales, before heading back for a now entirely dark station to get the train back to Highbridge. As I said, a strange time of year...

Posted in Updates on Wednesday 25th October 2006 at 7:10am
---
I noticed recently that someone had mentioned this site in a post on the Preserved Diesels forum, but had pointed out that it was boring. Now, firstly I accept the charge fully - there's not a lot here thats really engaging or enlightening. It's a record of my travels, my visits and my thoughts which might be of interest to a few people who know me. I also understand that some people like the pictures. I'm sure some people enjoy the London related text more than the railway journeys, or perhaps like everyone who reads other's blogs, people are seeking the vicarious thrill of some controversy or salacious happening being mentioned? To quote briefly from the About MikeGTN page:

"I suppose I could go on in traditional personal website style to list whole pages of music and books which I enjoy, but I'm not sure how helpful or interesting that would be. Things which I find diverting or life-affirming make it onto the site. If you've accidentally arrived at this site, I hope you found something to interest you. If not, I won't be either surprised or offended."
So am I writing this because I'm actually offended and disappointed with the description? Not at all. I'm writing this because I'd like to have put something similar on the forum in response, but days after the post it moved to a new host and old threads are locked. I also wanted to puzzle out why I continue - indeed, sometimes it does seem odd to record every last detail of some railway journey, or to expose the grandiose theories I concoct on wanders around London to others. I don't blog much about politics or some other aspects of my life because I try to keep the content fairly factual and neutral these days. Perhaps I should be more honest? My theory is that blogs are the 21st Century manifestation of the storytelling tradition. A global story where you can switch viewpoints with a mouseclick. In every group of storytellers, there is one who gets bogged down in the insignificant background detail. That's me!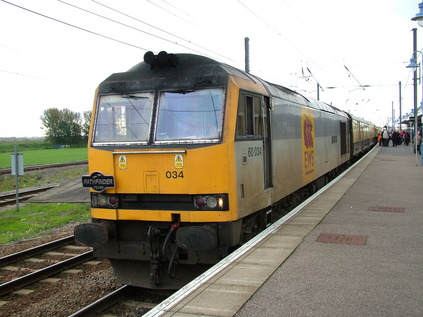 Posted in Railways on Saturday 21st October 2006 at 11:53pm
---
Today was the first time in a fair while that I've been booked on a railtour which starts locally. This also meant an early start, and my Dad's assistance to get to Temple Meads for the 06:40 departure time. Arrived in plenty of time to see 66068 crawling into platform 15 with a rake of Riviera Trains finest. Found my seat and relaxed for the first part of the journey - a spin along the Great Western Main Line, picking up at Chippenham, Swindon, Didcot, Reading and Ealing Broadway. With the train now full, I was able to make an assessment of my travelling companions for the day. All in all, a fairly quiet bunch - but I did get chatting to a couple of gents next to me who were much more enthusiastic - if a little geographically confused at some points!
After Ealing, things began to get interesting. Onto the Goods Lines at Acton and time for our first loco change of the day. Took the opportunity to hang out of the window a bit, and noticed the weather clearing a little in comparison to the damp and windy west. With 60034 attached (a veteran of the Humber Haulier tour for me) we set off on a slow but interesting route around North London, through Acton Wells and Acton Canal Wharf Junction to Cricklewood covering some fairly unusual track. Then, after a brief run down the Midland Mainline, we branched northeast at Carlton Road Junction and followed the North London Line until joining it at the tautologically named Junction Road Junction. We finally regained passenger lines at Harringay, taking the tight curve onto the northbound East Coast Main Line. From here it was a fairly speedy run into Ely via Cambridge.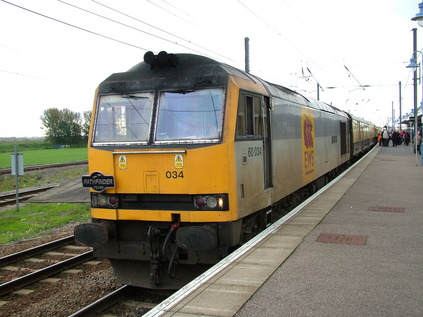 After a short but busy break at Ely, and with Freightliner's 57012 attached to the rear of the train, we set off for Kings Lynn Junction. It's not possible to access the Middleton Towers branch from the station, so this leaves me with a short stretch of track from Junction to Station to cover at some point! We arrived early into the curving yard area, and were soon off to Middleton Towers on the surprisingly well-maintained branch used solely for sand traffic from the works. Passed under the former alignment of the MGNR line from Spalding to Melton Constable which formed part of a northern route into Yarmouth too. At the Network Rail limit, just short of the site of Middleton Station we jolted to a halt. Time to turn around and head back to Kings Lynn Junction. This time, the driver of 60034 decided to cover as much track as possible, and took us right up to the buffer stops!
Early running all the way to Ely, where we were pointlessly held until booked time on the Goods Line. Took the time to sample the beer on offer, and found Stonehenge's green beer 'Sign of Spring'. The day had turned out surprisingly warm, and I spent most of the hour watching passing trains from the window, beer in hand. Once we were off, we faced a rather rural plod through Suffolk countryside via Stowmarket, where as in previous years a small contingent of DRS locomotives were based for the leaf-fall water cannon trains. From here, still early into Ipswich Yard for our next loco change. Disappointingly, the hour spent at Ely meant that we were losing the light very fast indeed. This tour was originally meant to run in July and the itinerary clearly lent itself more to long summer nights. However, with 92003 on the front we made excellent progress towards Stratford, the first set-down stop. I'm always impressed by the performance of the 92s and I suspect only politics around ownership prevents us seeing them more often on passenger services.
From Stratford, we took the briefly freight-only route to Channesea Junction, rejoining the North London Line. Unusual to traverse this line at night, much of which is on viaducts above the streets. Lots of impromptu firework displays too - which no-one could explain, certainly far too many for coincidence and we weren't aware of any local teams winning anything! Later, I was reminded it was Diwali, and given the districts we were passing through and their populations, this makes sense. In any case, it was a fantastic display which stretched from Hackney to Wembley! We reached the latter via the steep line which descends beside the DC line platforms at Willesden Junction Low Level from Kensal Green Junction. Another bit of line I never thought I'd end up travelling on! Once inside the floodlit yard, noted a fair number of locomotives - including three 56s just returned from service in France. Another change for us here, with 66066 being attached and 92003 left behind. Once we'd crossed under the West Coast Main Line and taken the curve to Acton, it was all fairly straightforward, heading home via a slight diversion to Bristol Parkway. We were fairly lucky to get through West London without delays however, as a fatality at Southall seemed to have held things up for an hour or more in some cases.
Overall, a long but productive day, with some interesting new places visited and a few new locomotives under my belt. As railtours go, this was a quieter affair - and I think some of the tours originating in the North and Midlands have been a little more sociable.