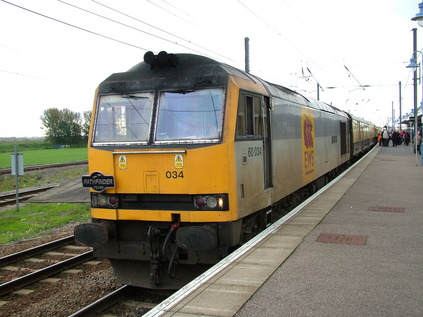 Posted in Railways on Saturday 21st October 2006 at 11:53pm
---
Today was the first time in a fair while that I've been booked on a railtour which starts locally. This also meant an early start, and my Dad's assistance to get to Temple Meads for the 06:40 departure time. Arrived in plenty of time to see 66068 crawling into platform 15 with a rake of Riviera Trains finest. Found my seat and relaxed for the first part of the journey - a spin along the Great Western Main Line, picking up at Chippenham, Swindon, Didcot, Reading and Ealing Broadway. With the train now full, I was able to make an assessment of my travelling companions for the day. All in all, a fairly quiet bunch - but I did get chatting to a couple of gents next to me who were much more enthusiastic - if a little geographically confused at some points!
After Ealing, things began to get interesting. Onto the Goods Lines at Acton and time for our first loco change of the day. Took the opportunity to hang out of the window a bit, and noticed the weather clearing a little in comparison to the damp and windy west. With 60034 attached (a veteran of the Humber Haulier tour for me) we set off on a slow but interesting route around North London, through Acton Wells and Acton Canal Wharf Junction to Cricklewood covering some fairly unusual track. Then, after a brief run down the Midland Mainline, we branched northeast at Carlton Road Junction and followed the North London Line until joining it at the tautologically named Junction Road Junction. We finally regained passenger lines at Harringay, taking the tight curve onto the northbound East Coast Main Line. From here it was a fairly speedy run into Ely via Cambridge.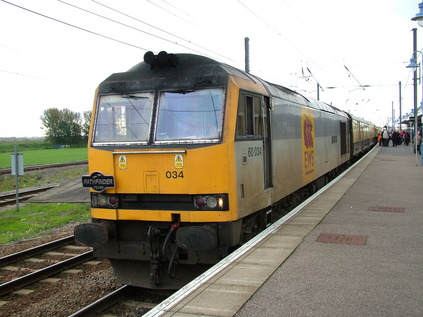 After a short but busy break at Ely, and with Freightliner's 57012 attached to the rear of the train, we set off for Kings Lynn Junction. It's not possible to access the Middleton Towers branch from the station, so this leaves me with a short stretch of track from Junction to Station to cover at some point! We arrived early into the curving yard area, and were soon off to Middleton Towers on the surprisingly well-maintained branch used solely for sand traffic from the works. Passed under the former alignment of the MGNR line from Spalding to Melton Constable which formed part of a northern route into Yarmouth too. At the Network Rail limit, just short of the site of Middleton Station we jolted to a halt. Time to turn around and head back to Kings Lynn Junction. This time, the driver of 60034 decided to cover as much track as possible, and took us right up to the buffer stops!
Early running all the way to Ely, where we were pointlessly held until booked time on the Goods Line. Took the time to sample the beer on offer, and found Stonehenge's green beer 'Sign of Spring'. The day had turned out surprisingly warm, and I spent most of the hour watching passing trains from the window, beer in hand. Once we were off, we faced a rather rural plod through Suffolk countryside via Stowmarket, where as in previous years a small contingent of DRS locomotives were based for the leaf-fall water cannon trains. From here, still early into Ipswich Yard for our next loco change. Disappointingly, the hour spent at Ely meant that we were losing the light very fast indeed. This tour was originally meant to run in July and the itinerary clearly lent itself more to long summer nights. However, with 92003 on the front we made excellent progress towards Stratford, the first set-down stop. I'm always impressed by the performance of the 92s and I suspect only politics around ownership prevents us seeing them more often on passenger services.
From Stratford, we took the briefly freight-only route to Channesea Junction, rejoining the North London Line. Unusual to traverse this line at night, much of which is on viaducts above the streets. Lots of impromptu firework displays too - which no-one could explain, certainly far too many for coincidence and we weren't aware of any local teams winning anything! Later, I was reminded it was Diwali, and given the districts we were passing through and their populations, this makes sense. In any case, it was a fantastic display which stretched from Hackney to Wembley! We reached the latter via the steep line which descends beside the DC line platforms at Willesden Junction Low Level from Kensal Green Junction. Another bit of line I never thought I'd end up travelling on! Once inside the floodlit yard, noted a fair number of locomotives - including three 56s just returned from service in France. Another change for us here, with 66066 being attached and 92003 left behind. Once we'd crossed under the West Coast Main Line and taken the curve to Acton, it was all fairly straightforward, heading home via a slight diversion to Bristol Parkway. We were fairly lucky to get through West London without delays however, as a fatality at Southall seemed to have held things up for an hour or more in some cases.
Overall, a long but productive day, with some interesting new places visited and a few new locomotives under my belt. As railtours go, this was a quieter affair - and I think some of the tours originating in the North and Midlands have been a little more sociable.