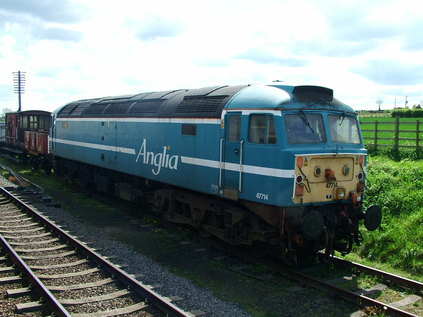 Posted in Railways on Saturday 25th April 2009 at 11:14pm
---
Woke up, and found myself in Loughborough. It wasn't quite as unexpected as that opening sentence makes it sound, but I had forgotten where I was during the night in part due to some disturbingly vivid dreams. I'd actually travelled up yesterday on what ended up being a stunning day. I was a bit distracted by a busy week, and it was good to just relax into the journey and not worry too much. I hadn't been to Loughborough since 1997, and it must have been around the same time of year too as it was as I recall a little before the general election. Not much had changed from my original observations of the town, but during the hot dusty slog out to the edge of town I noted a tired, down at heel feel to the place which hadn't been there before. I put it down to the effects of the surprising heat and pressed on to the Great Central Hotel. I knew I'd booked somewhere close to the Great Central Railway - in fact it is the original station hotel - but I was surprised to find the fine old station stuck in the midst of a vacant empty plot.
So this morning, once I'd regained my bearings, I set out early for the station - just a short walk away. Staying over yesterday evening allowed a decent length of time at today's Diesel Gala - something that the rail replacement buses down south wouldn't have permitted otherwise. Found a fair number of others had opted for the early start too, and could smell breakfast cooking onboard the stock which was due to form the 0900 departure with D1705 ticking over on the front. Soon off and heading the full length of the line to cover the track.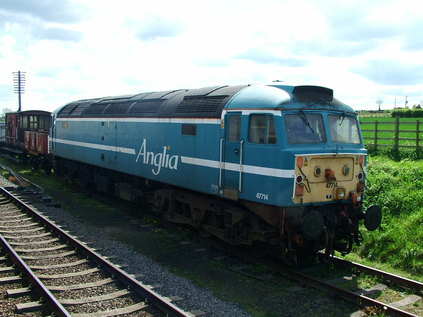 A couple of interesting surprises on the first run included 37255 and 47714 stabled in sidings at Quorn & Woodhouse. The latter was due to work trains at this gala but is apparently not yet ready. Marvelled at the station buildings along the line, which are built in the very individual style of the Great Central, and each reflecting a different period in the line's history. Decided that the best option for the next few moves was to make a few round trips between Rothley and Leicester North - not a big mileage earner, but a chance to sample most of the locos in service. This tactic allowed me to sample classes 31, 33 and 37 - with 37314 being particularly impressive.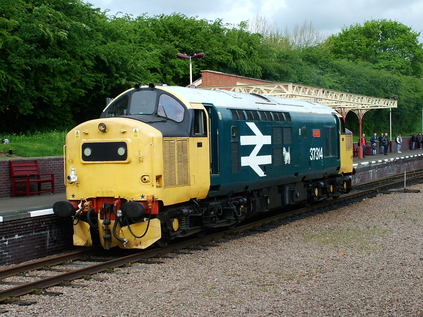 Decided to stay with the 37 for it's non-stop turn running the length of the line. A shame it couldn't really open up, but the hint of power when the engine was working hard was very impressive. Further photos at Leicester North, then back on board for the run back to Loughborough, stopping only at Rothley. Again, a fine performance. Arrived into the station in time to see staff preparing for the only steam worked turn today, a special dining train which looked very impressive indeed. Wandered down the platform for a poke around the extensive yard and sheds.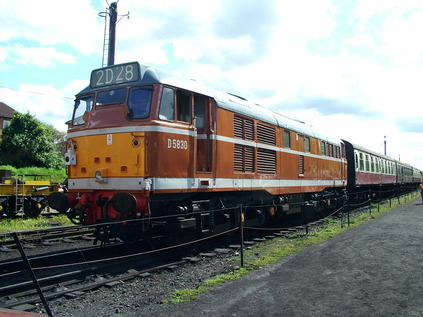 Time for one last spin on one of the shorter turns which ran beyond Rothley to reverse at the Brook, then back into Loughborough. This time, D5380 was partnering 37314. The sun was now high in the sky, and feeling a little drowsy I enjoyed my last thundering arrival into Loughborough Central, before heading back up the stairs and making the long hot walk back to the mainline station. Despite a slight concern about how busy the return service would be, had a pretty straightforward journey back to Bristol and then a coach homewards. A great gala at a fine railway, and well worth the effort to get there early.
Posted in Railways on Saturday 18th April 2009 at 8:14pm
---
This weekend is, in a number of ways, the calm before the storm! Aside from some work-related issues which don't belong here for a number of reasons, starting next weekend I plunge into an intensive month or so of events and trips which I'm really looking forward to. With the blockade still in force here, it left a lull today which demand some leisurely semi-local travels on long neglected lines. The day started with the 07:20 bus to Bristol - a later start than usual, but a bit of a drag. However, the buses have yet to let me down, and have been on time every time I've used them so far. The much more sensible pattern of bus services seems to work too. The bus dropped us outside Arch 51 bang on time, producing Mr Spinks' first trek into the bowels of Temple Meads station, emerging at the coffee truck and with a few minutes to spare until the 08:41 for Worcester. A rumbling overhead alerted us to something interesting happening, and we emerged from the subway to find 57006 uncoupling from a rake of InterCity 'Swallow' liveried Mk 2 coaches in the centre road. It wasn't clear why they were there, but it made for an interesting start to the day.
Over to platform 9 to find a pair of 158s coupling up for the journey to Worcester. We'd flagged the Voyager to Cheltenham in favour of the more leisurely saunter directly to our destination. As we pressed on northwards, the clouds parted and the day started to get warmer. Soon heading into Foregate Street for the first time in a good few years! With half an hour or so to spare, headed down the steep stairs for a brief wander outside. Found the Post Office beside the station had turned into a less than brilliant example of a Tesco Metro store, whilst Mr Spinks headed for the local newsagent to claim his free Slush Puppy! Back onto the platform to board the London Paddington bound train, via the North Cotswold line. This rather slow, meandering line hasn't figured in my itinerary for many, many years - but it seemed to suit today with its rather warm drowsy weather, and leisurely feel. Through Shrub Hill and over Norton Junction into places which featured large in my childhood - like Pershore and Evesham. The predominantly single line route occasionally displaying signs of former importance, not least at Honeybourne where signs of the former route to Stratford remain, of which the Gloucestershire and Warwickshire remainder and Long Marston complex are the only operational traces. Dozed my way towards Oxford in a reasonably busy HST, remembering my last trip this way was on a cramped Turbo which seemed to take much longer. Noted some long waits in stations, with no obvious crossing services. Difficult not to consider the connections in this area with Algernon Gissing, to whom the title of this entry is a passing reference.
Soon crossing over at Wolvercote Junction and heading into Oxford. From here, the route was a little more familiar into London Paddington, via the avoiding curve at Didcot. Noted much of Old Oak Common depot had been cleared of stock and locos, but this had exposed a clear view of a line-up at the rear of the depot in which former royal locomotive 47999 was clearly visible. About an hour in Paddington - time for coffee and a wander around before boarding a Bristol bound service. The plan was to head back and get one of the diverted Crosscountry services down to Taunton for a bus back home. 1V47 duly produced a HST to our relief, and we enjoyed a very relaxing and entertaining cruise down to Taunton via Westbury and Castle Cary. It was touch and go all the way whether we'd arrive in time to watch the NENTA tour from Kingswear on it's return journey. In the end we made it by minutes, reaching the end of the platform and pointing the camera just as the tour thundered under Forty Steps bridge.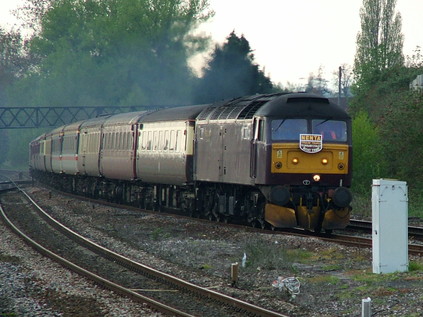 Stuck around to chat with some of the locals about the sterling performance, before heading for the buses home. Later heard that 47854 caught fire at Westbury, leaving 47804 to head home solo! A nice, easy day out with some interesting surprises.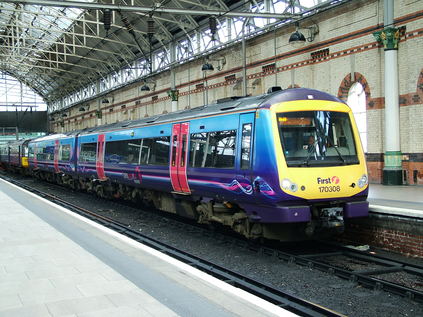 Posted in Railways on Saturday 11th April 2009 at 10:22pm
---
Thanks to the Easter Holiday weekend, we get a brief period of grace from the otherwise seemingly never-ending road and rail works here in the south west. Of course the real reason is that in a contracting economy, there is expected to be an exodus of stressed and financially restricted inlanders heading for the traditional coastal holiday spots. These Bank Holidays are always a sensible time to head in the opposite direction from the crowd if you live on the coast. Being able to book early trains instead of tying into a fairly poor replacement bus schedule was a luxury, so I celebrated with a long jaunt up north and some new track into the bargain - something which isn't guaranteed every week these days, as accessible bits of line I've not visited become fewer.
A straightforward and much-rehearsed start, getting the first train out and heading for Bristol. From here, onto the 07:00 to Manchester Piccadilly. Strange weather conditions as we headed north, with the cloud dark and black to the east and pale blue skies to the west. The train was incredibly quiet and I barely saw a soul all the way to Manchester. Took the opportunity to read, relax, eat breakfast and watch the scenery flash by. A brief diversion around Bescot to avoid a blockade on the Stour Valley. Noted 67016, until a couple of days back a regular performer on the First Great Western loco-hauled diagram here. Presumably now heading for remedial work on the wheel flats reported last week. Back onto the mainline for a quick journey into Manchester, checked outside for a few minutes for being much too early in fact! Only half an hour at Piccadilly today, time enough to get coffee and a leisurely wander to the platform for my next service.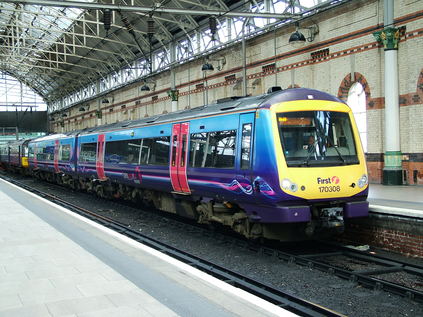 With lots of platform changes and double-berthing going on, our train made a very quick turnaround, before heading out into glorious sunshine west of the Pennines. A few Leeds United fans on board too - including one with a strange resemblance to Rab C. Nesbitt! Through Standedge Tunnel to find must cloudier and wetter conditions east of the hills. Finally, through a damp Huddersfield and Dewsbury and into Leeds. The day was starting to get a little busier now, and the station was crowded with people heading away for the weekend with their special 'wheel along' cases and the strange behaviour they seem to cause, not least stopping abruptly at the top of the stairs with no concern about the people following! The plan was to get to Knottingley, using the short stretch of line via Glasshoughton station. In fact, the 12:00 service would have done just this, but as always I had other plans. So, having flagged the 12:00 I boarded the 12:05 to Nottingham as far as Wakefield Kirkgate. Here, waiting across the platform was the unit for Knottingley which took the curve towards Crofton - I'd done this on a railtour previously, but I wanted to try to fathom out the layout of track here, and the pattern of services. This part of Yorkshire has always confused me, with it huge amount of track - much of it freight only or with limited services. Noted one of the Class 180 'Adelante' units which used to work around here resplendent in new First Hull Trains corporate livery outside Crofton Depot - too far off to say which. The route continued through Featherstone and saw the line I needed trailing in just prior to Pontefract Monkhill. Eventually arrived in a rather desolate looking Knottingley, just in time for coal empties from Drax to thunder through behind 66719.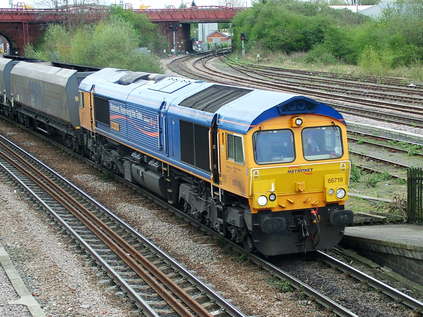 The unit which had brought me here shunted off into the loop before returning to form the 13:16 back to Leeds via Glasshoughton and a reversal at Castleford. A little better loaded than the train from Wakefield, with a few straggling football supporters still heading for the City. New track covered, I treated myself to much needed refreshment at Leeds before boarding a Sheffield bound service. Splitting my trip home here had been just about the only way I'd managed to get tickets today - which seemed strange considering how quiet the trains had seemed earlier.
At Sheffield though, it became clear that people were definately travelling today - just a little later than expected. Used my 'commuters elbows' to find my way to the seat I'd reserved, and settled in for a slightly cramped but far from terrible journey back to Bristol via Derby. Having thinned out a little in the Midlands, there were large crowds waiting to board for the run down to Penzance when we arrived at Temple Meads. Over the platform for the unit home. This looked to be busy too, and caused further confusion when it stopped short in platform 5 and caused the entire assembled crowd to rush, jostle and force their way along the platform towards it. Found a quiet seat and reflected on my journey - well over 500 miles of travel, with incredibly varied sights and scenes. Back to buses and restricted journeys for the next few weeks - which will be all the harder for having enjoyed this kind of freedom!

Posted in Railways on Saturday 4th April 2009 at 9:04pm
---
Due to the frenzied mileage gathering start to my year alongside a fairly busy schedule of railtours, I've not made it to a couple of interesting diesel galas in the first months of the year. But with the line closed between here and Bristol, getting anywhere was going to be an interesting experience. Decided to stay local, and finally pay a visit to the Gloucestershire & Warwickshire Railway after many years of promising to do so and never quite making it. Set out on the 07:20 bus to Bristol, which stuck to timings and arrived at Temple Meads bang on time in promisingly bright sunshine. A quick dash through the arches to platform 11, an unusual place for a Crosscountry service to depart from, no doubt due to the route via Westbury with a reversal here. Found a seat, despite the service being busy due to an earlier cancellation. A short ride up to Cheltenham, where I stumbled out of the station right into the correct bus stop. A short wait, almost feeling uncomfortably warm for the first time this year, for the bus. I'm not sure why I'd always imagined it would be hard to get to the G&WR - as the bus from the station travels direct to the Racecourse Park and Ride, where a short walk over the hill brought me to Cheltenham Racecourse station. It was easy to slip back into Diesel Gala mode - 47105 was just arriving to run around the train. So, with camera out, I was prepared for a day hopping up and down what promised to be an interesting line.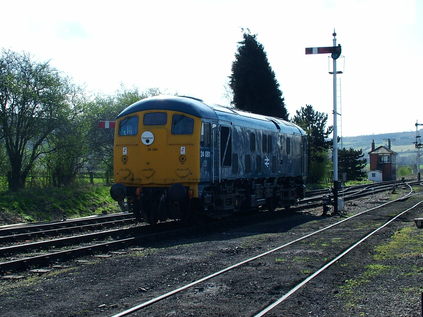 Decided to take the first train all the way to Toddington to see the whole line, and to give me an idea of how to select trains for the rest of the day. Passed D8163 at Winchcombe and didn't see much more of this loco given the diagrams - it always seems there is one I don't manage to get to see at these events. Oddly, it's been a Class 20 on more than one occasion too. As we headed into Toddington spotted 24081 stabled outside, with 37324 (also known as 099) outside the station. 37215 was waiting to drop onto our train after a short turn around and a chance to wander about the station site. Took 37215 the short distance back to Winchcombe where a quick platform change allowed me to head back to Toddington with 31162. Time for some pictures here, including a couple of engines on static display including 92203 'Black Prince' and 47376. Good to see increasing crowds at this end of the line too, with lots of families in evidence - something some railways claim doesn't happen at diesel events. Jacket off now, time for refreshments before enjoying a noisy trip with 24081 all the way back to the Racecourse.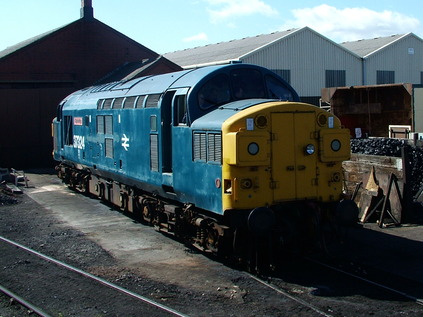 Deciding to maximise my chances to travel behind each loco, I decided to do a series of moves to Winchcombe and back. This meant heading back with 31162, and making a fairly quick dash over the bridge for a slightly delayed 37324 back to the Racecourse. The amazing weather provided wonderful views from the railway with the Malvern Hills in clear sight, along with Tewkesbury Abbey shining golden in the foreground. Another swift change of ends for 37215 back to Winchcombe, and an opportunity to watch 47105 arriving. A last trip down to the Racecourse fittingly with the first engine of the day.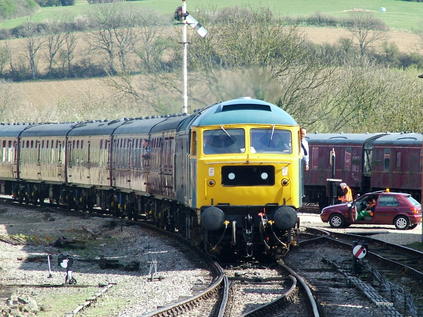 Made the short walk and bus ride back to Cheltenham Spa feeling content with my day out but slightly apprehensive about the Rail Replacement Bus home. Then I made a silly train choice, deciding to hop aboard a late-running Weymouth stopper instead of waiting for the following Crosscountry service. I'd had some fleeting notion that it would be much quieter - which is probably true - but of course a (none too rushed) reversal at Gloucester made it even later than planned into Temple Meads, while the Crosscountry train zipped by on the mainline! Resigned myself to the fact I'd be getting a later bus home, as we rolled into Temple Meads almost exactly when the bus should be leaving. Decided to head for the arches anyway to see if the next Weston bus was any use to me. As it happened, a driver running out of hours and a vehicle swap had delayed the Taunton service, so I made the bus as planned and was soon heading home only a few minutes later than planned. Glad to have finally visited this fine railway, and to have managed to get out and about despite the blockade. The first Gala or Open Day of the season makes it feel like Spring too. A few more of my never very artistic pictures are here.