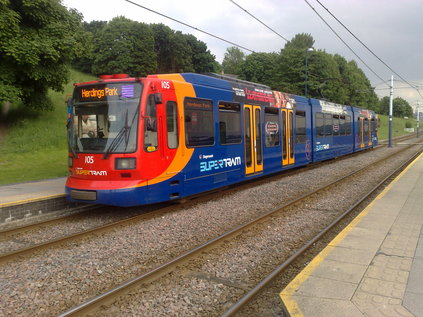 Posted in Railways on Saturday 31st May 2008 at 10:09pm
---
The dearth of decent railtour opportunities this summer has driven me to desperate measures! This weekend, having booked a couple of days of leave and not really planned much, I decided to get away. After wrestling with the trainline website came up with a plan - a trip to Sheffield today, on to Newcastle tomorrow and an epic trek back on Monday. Lots of opportunities to progress my target of covering Light Rail systems in the process and a couple of nights away in areas I don't get to see often. So, in fairly good weather I found myself zooming through familiar territory from recent weeks through the Midlands and Derby. A nice, relaxing trip with no great worry about getting anywhere by any particular time. Had planned my rambles on the Stagecoach Supertram network, but frequencies meant it wasn't desperate if this slipped a bit. Arrived at Sheffield and immediately made my way over the bridge to the tram stop to start my ramble.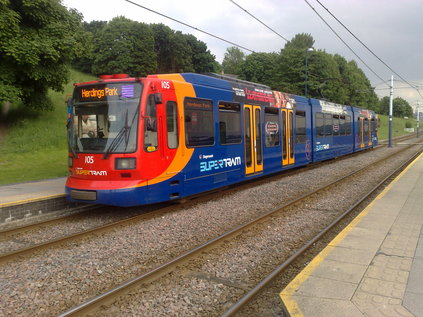 I visited Sheffield soon after the tram network opened in 1995, and had a short run from the station to the City Centre. It was busy then with people eager to try the new form of urban transport, and it remained busy today, but seems to have become part of the fairly robust network here - with people happy to make journeys skipping between bus, tram and train as necessary. For someone who works in transport, a joy to see! Started with the southern branches of the network, soaring up into the hilly south west of the city via some impressive gradients and interestingly engineered viaducts. The network appears to cover a fair bit of open country or at least post-industrial land, and makes some quite spirited runs on open track at times. After terminating at Herdings Park, doubled back to cover the longer branch to the strangest name for a terminal station - Halfway.
Back into the city centre with far more people on board, but plenty of space and no feeling of overcrowding. Having not strayed into Sheffield much over the years, good to see a fairly bustling and pleasant central area. Hillsborough too had the feeling of a small town in itself and with the sun shining it was pleasant to wait at the tram stop after making the short run out to Malin Park, for my tram to Middlewood. Another reversal, back through the city and over the triangle of junctions at Ponds Forge. Here, the impressive but much maligned Park Hill flats tower above the line, currently derelict and awaiting regeneration - but still listed buildings despite their modern brutalism. We rose above the city again, passing the tram depot at Nunnery Square and eventually running alongside the freight-only railway which served as the western access to the mammoth Tinsley depot. Now closed, with a small freight terminal on it's site, there is little activity on what must have been an incredibly busy railway.
A final curve brings us to Meadowhall Interchange, where again bus, tram and rail meet at the local mecca for shoppers. Considered a train back, but confusion over ticket validity makes it easier to head for the next tram into the city centre. After a brief wander, time to check into my hotel for the night, relax a bit and enjoy the surroundings. Perhaps these unplanning weekend wanders are no bad thing after all...

Posted in Highbridge on Saturday 31st May 2008 at 11:23am
---
In an effort to support the Friends of the Highbridge campaign which has started on burnham-on-sea.com, I've taken a few pictures of the current state of the Highbridge Hotel. It's frankly not pretty, and with a week of fairly inclement weather the building is beginning to suffer from neglect and remains easily accessible by vandals. The pictures are here.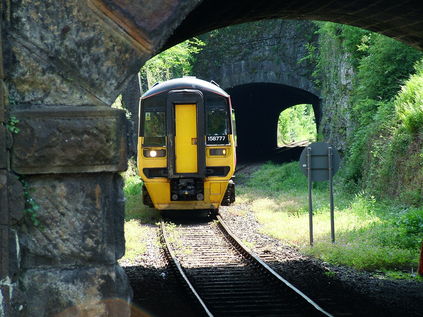 Posted in Railways on Saturday 24th May 2008 at 9:59pm
---
There was something nostalgic in the air today. Maybe it was the fantastic weather, or the idea of a simple out-and-back trip to a new branch line - at any rate, I was transported back to the 1990s when I first began tramping around the railway network. An early memory from trips to Sheffield and Newcastle was the sight of the line curving away on a majestic metal bridge at Ambergate Junction. I knew soon after obtaining my first Baker atlas that this was the way to Matlock - but a combination of incredibly bad connections and the need to always be somewhere else had meant it stayed unvisited. I'd actually tried unsuccessfully to work Matlock into the itinerary last week, but I'm glad I didn't because I think this was one I needed to do on my own - for old time's sake if nothing else. So I set off, initially accompanied by my brother-in-law who was heading for Wembley for the Bristol vs. Hull playoff. Changed at a packed, but seemingly well controlled Temple Meads and had time for breakfast before the 0830 rolled in. More nostalgia - in days gone by, this was the first service northbound I could access from Highbridge, and I spent many hours on this service heading for all kinds of places. Once again, I wasn't let down and we sped northwards sticking to time - if somewhat overloaded in Standard Class due to the weather, the bank holiday and the insanity of running this service with a four-coach set!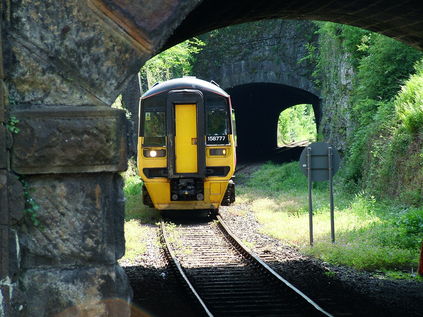 Changed at Derby, totally unaware of just how bright the day had turned out because of the ongoing roof work, which renders almost all of the station dark and inhospitable. Work progresses on the northern ends of the platforms though, leading to some odd operations and the use of Network Rail wagons as temporary buffer stops! Got coffee and wandered out to the station front to watch the world go by. Decided not to stroll into town, despite having an hour or so to wait for a Matlock train. Passed the time people-watching and wandering around the general area, before boarding the waiting 158777 once the staff had sorted out that it really was going to Matlock and not Stoke-on-Trent as originally stated - much to the annoyance of a train full of people. Soon off, and following a run up the mainline calling at stations I'd always passed before (such as Belper and Duffield) we peeled away to the West at Ambergate, crossing the aforementioned bridge and following the A6 as it wound its way into the Peak District. Some stunning views as we worked our way up the branch, and some interesting station buildings too, which reflected the once far greater status of this line - the Midland's mainline to Manchester. A well-loaded train with lots of daytrippers and family groups which was good to see, many of them heading for Matlock Bath which looked pleasant and busy. Had planned various ways to get back down here to look at a couple of pubs, but not feeling energetic once I looked at the likely walk, so will need to return for that.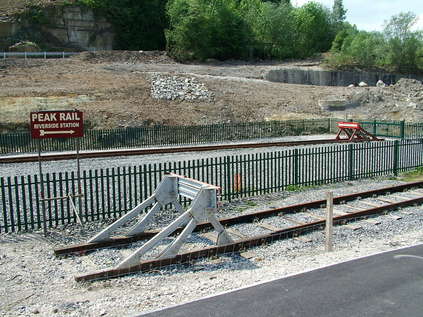 On arrival, explored the station a little before walking out to find Peak Rail's station at Matlock Riverside. Was vaguely aware of the saga of the supermarket cutting the line here, and the ongoing plan to restore the link and run heritage trains into one of the Network Rail platforms. Was surprised to see a stretch of well-constructed two track railway leading out of the terminus, and as I followed it's curve beside the new Sainsbury's store, I marvelled at this surprising level of consideration in dealing with a rail link to a preserved line. As I walked over the road bridge though, my heart sank as I saw two pairs of buffer stops and a fence separating the Network Rail and Peak Rail lines just short of the tiny platform at Riverside. I sincerely hope this is resolved, as such a lot of effort seems to have been expended by developers to make it work - for a change. Consoled myself with a wander around the supermarket and over the bridge towards town, before returning to the station and enjoying the sunshine while I waited for the unit to come back up the branch.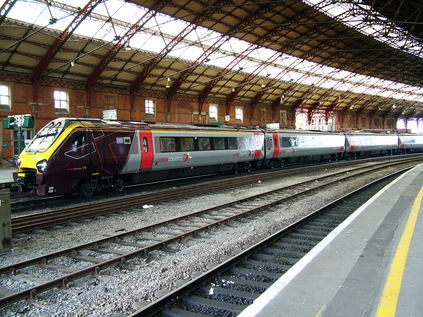 After watching the hired-in National Express East Coast HST head north, a swift change at Derby this time, onto a cool and surprisingly quiet 220026 back to Bristol. A quick and smooth journey, a little too early to achieve the tradition of sunset over Cheltenham which would have made me even more nostalgic! Instead, we experienced some 'technical problems' which saw us sit in Cheltenham Spa for 18 minutes - likely causing a fairly lengthy tailback. Soon back under way and into Bristol a few minutes down with a lazy wait in the sunshine for a unit home. Took the opportunity of taking a snap of the Voyager resting under the curve of the roof - if only to show that things have changed more than perhaps I'd admit this past decade!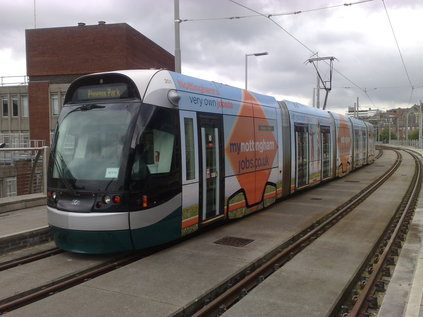 Posted in Railways on Saturday 17th May 2008 at 10:33pm
---
With the major operator's Summer programmes out, it looks like a rather lean season for the traditional enthusiast railtour. Aside from the open days and galas which seem to be springing up, it's going to be a case of making your own entertainment it seems. So today, despite a nagging toothache which necessitated serious medication, I dusted off my plan to cover as much light rail track as possible during the year, and headed for Nottingham. As ever, took a roundabout route travelling first up to London. A nice, quiet ride up on the direct train from Highbridge, too early to be bothered by FA Cup Final crowds. The Circle Line was predictably sluggish in getting us to St Pancras International, and this meant only time for a cursory glance at the station. This was my first departure from the refurbished shed, and as on my first walking visit a couple of months ago, it didn't fail to impress. Found the statue of Sir John Betjeman too, staring in awe at the roof right at the front of the concourse where the entrance used to be.
Onto a busy Meridian unit for Nottingham. Managed to get an excellent fare for this, possibly due to passengers flagging this for the next, faster service. No particular concern for us, as we sped along the Midland Mainline, now under the auspices of East Midlands Trains. A timely, easy run. Recalled at Bedford that I'd been here before with a serious toothache, and that I was heading for Nottingham that time too. Arrived at a fairly busy Nottingham station and headed for the NET platforms at Station Street. The plan was to cover the network in a few moves, and then seek refreshment. Surprised at first by the clean and tidy look of the stops and the trams.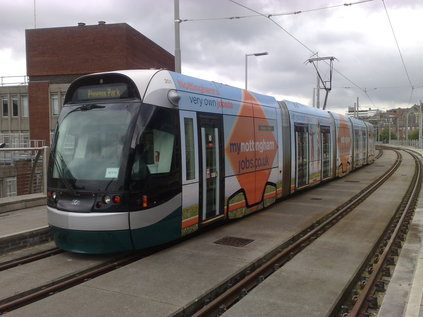 First onto a Hucknall tram, winding through the city centre and needing to readjust my bearings as we encountered familiar places from different angles! Impressive but sad to see the viaduct crumbling away at Weekday Cross, signalling a bygone age of railway. The tram pressed on into the suburbs, curving sharply to descend alongside the Robin Hood line to Mansfield and Worksop. We gathered speed here and soon arrived at the shared tram/rail station at Hucknall. A swift change of ends in order to double back to David Lane, a rather quiet stop with nothing nearby. However, this enabled us to take the next branch train to Phoenix Park using the alignment of a former freight-only branch to access the Park and Ride stop. Another change of ends, and a chance to note the surprising gradients on the branch as we headed back towards the city. Also figured that as there were two trams in the depot, we'd managed to see the entire fleet in our brief visit!
Hopped off at Old Market Square, an early memory of Nottigham for me, and headed away from the shoppers and towards the castle. My target was of course Ye Olde Trip to Jerusalem. An absolutely must-visit pub didn't disappoint with it's signature beer still very good despite a change of brewery. Then a wander back to the station, with a chance to watch a freight pass and have a bite to eat before heading back to Derby. Lots of interesting things lurking at the RTC, including the not-yet-ready for traffic 56311 belonging to Fastline. Interesting to hear a couple of passengers beside us heading from Bristol conversing about Highbridge pubs, and indeed my local on the journey back! Despite the toothache, a good day out with plenty of interest. I remain really impressed with the tram system in Nottingham, and it will be interesting to see it develop and grow.