Posted in SHOFT on Tuesday 28th June 2011 at 11:06pm
---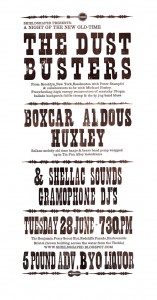 It's a rare luxury to get out to see music locally nowadays, and especially rare that something comes along which grabs my attention quite like this did. Picked up via a brief mention on the Fence Records beefboard, this show was billed "A Night of the New Old Time". Beautiful letterpressed posters and a curious venue which I must have walked past thousands of times cemented the deal - I had to be at this one. So, I found myself wandering around central Bristol on a humid night with a threat of storms in the air. The Benjamin Perry Scout Hut is a fairly anonymous brown wooden shack, right by the riverside. It's still an active Sea Scout meeting place, and as I arrived there was a buzz around the downstairs section as kayaks were returned to the boathouse. Upstairs was a tiny room, decked out in maritime and scouting memorabilia. The only concession to electricity tonight, a string of fairy lights wrapped around the low beams of the roof. From my vantage point at the far end of the room I had a view of the City Centre through the window, and I was struck again just how strange a proposition all this was.
After a bizarre and eclectic DJ set played on a pair of ageing wind-up gramophones, Boxcar Aldous Huxley took to the stage. They certainly looked the part - their solid looking drummer squashed into a corner and the odd, mildly unhinged beauty of Zuleika Zigfield in her 1920s garb, playing the saw. Amidst all this, Liam Kirby stalked the tiny area which constituted a stage - wild haired and enthusiastic to convey the inspiration behind the songs. Kicking off with a track which was about "the electrocution of an elephant and the last days of Nikolai Tesla" it was clear that the music was about as strange as Boxcar Aldous Huxley's appearance. Gently brushed drums supported banjo, clarinet and saw. Dabs of judiciously applied harmonium traded with Kirby's sometimes indistinguishably quiet vocals. Things were a little more robust when the rest of the band joined the choir - and particularly when Zuleika Ziegfield added her tremulous high voice to the mix. A couple of songs in I was sold, tangled up in the strange storytelling, and genuinely pleased to find my own reference points in the tales. "Cable Street" linked the legendary battle of locals and Moseley's fascists with an unlikely love story and the burial of John Williams, supposed perpetrator of the Ratcliff Highway Murders in 1812. This kind of linking with place was always going to work for me, and coupled to the woozy, oddly Eastern European sounds which the strange mix of instruments produced, I was hooked.
As another track began with "when the last train rolls out of Brookwood..." and went on to weave a strange macabre tale around the mysteries of the Necropolis Railway, I was beginning to think someone had raided my record collection and my library and somehow built a band out of all of the illogical, disconnected bits. The strange thing was it worked - and as the odd, Balkan reggae morphed into a sort of charleston-meets-ramshackle-punk sound, Kirby produced a trombone and led the band into a further transformation - emerging as a an ad-hoc northern miners brass band. The band were perhaps at their most accessible on "A Song For Thomas Scott", where their voices merged to form a trombone and harmonium driven ballad dedicated to historical Canadian politician Louis Riel. The audience loved it, the band seemed to be having a great time, and the coupling of unamplified, stomping acoustic music and the strange old venue was perfect. All over far too quickly, and certainly on the list to see again.
Hailing from Brooklyn, NY and playing their first UK show The Dust Busters again visually fitted the bill exactly. Three young men, looking like they'd tumbled out of a Greenwich Village folk club directly into this Scout Hut, starting their set with fiddle, guitar and banjo. Anyone expecting more of the same brand of eccentric neo-traditionalism that Boxcar Aldous Huxley had provided was going to be disappointed. This was serious stuff - and with an attention to detail and tradition which seems to have disappeared from much of the American folk scene, The Dust Busters set about plundering the rich vein of ballads, rags and dance tunes which the continent has provided over the last century or so. Songs were interspersed with knowledgeable and engaging talk about their origins, the band determinedly keen to persuade the audience to check out the century-old original music as much as their own album! Throughout the set Walker Shepard, Craig Judelman and Eli Smith shared vocal duties and switched instruments regularly - showing an almost embarrassing ability to play virtually anything. The audience loved it, with a couple who had been twitching restlessly in front of me finally pushing out of the door onto the balcony above the river, and starting to dance wildly. It was that kind of night.
At one point, a curious frisson shivered through the room - as The Dust Busters played "Casey Jones" as reworked by union man Joe Hill, a bunch of teachers and civil servants at the back of the room began singing along earnestly. Their own strike was unlikely to involve train wrecks or dead scabs, but all the same there was something a little inspirational about the way they connected with a tune from long ago, in an age where the battles were very different indeed. The Dust Busters, whilst steering clear of political comment, managed the mood of the audience perfectly. Seemingly they knew just what to play and when, and as more sombre tunes like "Two Soldiers" faded, they'd break into a frenetic ragtime fiddle-driven jig. As the skies darkened, with the lights of the city and the tiny strand of fairy lights in the hut the only illumination, the atmosphere was magical and it was clear we were witnessing something pretty special. The band were called back for encore after encore, and eventually I had to discreetly slip away leaving the spellbound audience to the next tune.
Carefully negotiating the cobbles of the boatyard on my walk to the station, and with the distant sound of The Dust Busters fading in the twinkling scout hut, I was stuck by how this felt like a really special event. Sam of Shieldshaped who had put tonight together had done a fantastic job - from selecting a perfect venue, down to the beautifully conceived posters for the event. Like all the best shows, I came away inspired with new things to check out. Here's to the next Shieldshaped production!
More information on Boxcar Aldous Huxley can be found here, and their five-track album "The Initial Proceedings of the Boxcar Aldous Huxley Historiographical Society" is available on a beautiful 10" vinyl and download package from Bandcamp.
The Dust Busters can be contacted via their website. Their debut album can be downloaded at iTunes.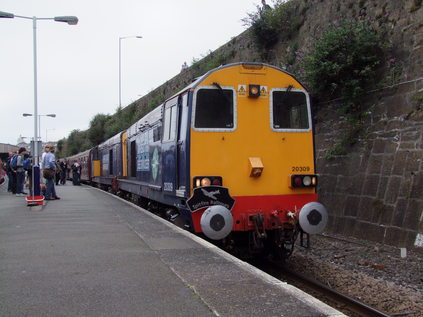 Posted in Railways on Saturday 25th June 2011 at 10:45pm
---
It seems like a while since I was heading for a railtour, and this week kicked off a series of three, all of which mostly focus on what I consider to be fairly local haunts. Today though was an annual event - Spitfire Railtours' dash to Penzance for Mazey Day. This year a total of three trains ran once again, with Pathfinder running from Tame Bridge with Class 31's, whilst Spitfire covered the West Midlands with Class 37's. However, making good the unfortunate omission from last year, I elected to travel on the Class 20 hauled train from Gloucester. The day started with a run up to Bristol on the early train. With a fair few locals heading for the various trips, it was a bit of a carnival atmosphere on board despite the early hour. At Temple Meads, breakfasted and had good coffee while checking the timings - reports from all trains were positive, with ours arriving first as planned. It was with some relief and a fair amount of excitement that 20308 and 20309 were greeted as they chugged noisily into the platform.
Once on board, we made a swift dash over the levels to Taunton where the remainder of the local crew boarded. With bucks fizz served as per tradition and the early haze and mist giving way to bright sunshine, we sped south west. Meanwhile, a series of Facebook messages from the previous evening which I'd all but dismissed were proved to be right - and another friend confirmed she was speeding ahead on a service train in front of us. It was going to be a typical Mazey Day in the pub it seemed!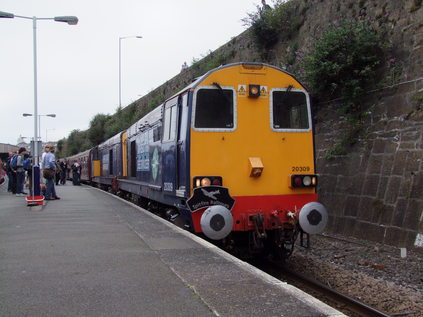 On arrival, I left my enthusiast friends and we headed off to pick up our additional traveller and head for the pub. Via the Longboat first, then a series of others we followed the crowds and made a circuit towards the harbour. Tomorrow a world record attempt was being held for the most people in one place dressed as pirates, and one among our number had designs on a place in this record. So, we visited a strange pirate gear shop housed in a boat. Food and more beer followed before heading back to the station. Noted our stock was already in the platform, having not in fact left. Wandered over to chat with a friend from Spitfire and noted there was trouble - thankfully not for us, but for the Pathfinder trip. It seems that an incident at Long Rock had left the train impounded whilst checks were made on the stock and of course the staff. Plans were being made by Network Rail and Pathfinder for a possible cancellation. Watched the strange situation unfold for a little while, mildly amused that some of the very people who seem to unfairly lash out at Spitfire from behind their keyboards were now trying to negotiate some sort of joint effort.
We left Penzance on time, with Pathfinder following about 45 minutes late. A brief stop outside Long Rock as a cable popped off our coach, then a storming run north. The damp misty start had now turned into a glorious evening sunset. Content, full of beer and having had a great day I dozed my way back to Taunton. Another fantastic Mazey Day trip, and more trains to look forward to in the coming couple of weeks. Summer has perhaps finally arrived.

Posted in SHOFT on Friday 24th June 2011 at 7:06am
---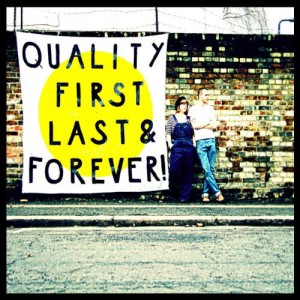 Folk music. Love it or otherwise, it's everywhere lately. With even the biggest acts keen to break out the banjo and brush up their authenticity by referencing traditional music of various strains, it would be easy to get cynical about the way it's become so marketable in recent times. However, there are beacons of genuine commitment and inventiveness still, and Trevor Moss and Hannah-Lou shine out in dark times on this uplifting and inspiring album. I've said before that it's been a strange year for me and Trevor Moss and Hannah-Lou, with frequent crossings of path. Starting with their "Tin Tabernacle" tour and ending up at Homegame, I've listened to many of these songs developing and changing in a variety of live environments. So, their inclusion here, often with little more embellishment than they received in their live, acoustic setting feels like a chapter completed.
"Spin Me A Rhyme" was always a playful, rousing call to arms even when it was just Trevor and Hannah-Lou and their guitars. Here it is transformed into a stomping, pop gem with big drums and a beautifully brassy ending. While this opens proceedings with the clear message that this isn't going to be another attempt at dour traditionalism, there are clear links back to the canon of protest songs with Spanish Civil War era references to "joining the brigades". The politics are rarely overt in Trevor Moss and Hannah-Lou's work - but there is a thread of communalism and a sense of pride in being British which seems terribly unfashionable now, even in these post-Big Society times. On the frenzied "Making It Count" this full band sound returns, with all kinds of joyous clattering percussion, bayou accordion and a lyrical tale of runaways which brings Brotherhood of Man's "Angelo" right up to date. It's audacious, ridiculously enthusiastic and impossible not to dance around the room to. A raucous folk-pop storm delivered with glee.
A spellbinding feature of recent live sets and captured perfectly here, "A Hill Far Away" is just two voices, two picked guitars and a slinky cello line winding around them. The voices entwine beautifully on lyrics which return things to a more prosaic everyday level, wistfully asking "have you ever had a day/when you wish the time would just slip away?". It's a quiet plea amongst the stomping celebrations and spirited clarion calls elsewhere on this album. One of the more positive forces at work in modern folk music is a willingness to blur tradition in order to convey a message, and "Big Water" exemplifies this perfectly. The landscape of picked guitars feels expansive and owes plenty to Americana, but here it meets some very traditional English balladry. This is beautifully played and touchingly sung, the traditional instrumentation supported by respectfully distant drums and organ. Over the course of their two records to date, it's clear that Trevor Moss and Hannah-Lou's songs are often connected to our times - with a focus on the late 20th and 21st century which is perhaps a little unfashionable in this kind of fayre? Bringing things right up to 2011, "Stargazer's Gutter" is a thoughtful take on the widening effects of the economic downturn, with a dramatic chorus urging Presidents and paupers to "come lie down next to me" in Wilde's universal gutter. Bankers and lawyers take a not undeserved swipe here, but ultimately the democracy of the gutter is preserved. We're all in it together it seems, and if this is the soundtrack then perhaps it really is going to be OK?
And as if to soothingly confirm this, it's time for "Feel At Ease". An eerily echoing introduction gives way to an understated guitar introduction, but then Trevor and Hannah-Lou's voices soar in, and the catalogue of painful everyday experiences racks up. But this is all about shoring fragments up against those ruins, rather than wallowing in self pity - and I'll confess that the part of this song which implores "when your blood and your sweat go unsung, hold your tongue" has had some personal application this past week! Coupled with hammond organ flourishes and a wonderfully retro guitar solo grafted from a Johnny Cash record, the truly transporting chorus anchors this as a personal favourite.
Whether they're being performed near a blustery Fife harbour, or in a tiny tin church these songs have a strong universal appeal - the sometimes sparse delivery provokes a sense of the familiar, but this record is packed with new ideas. It's also exploding with enthusiasm, defiance and a peculiarly English sense of workmanship. The roots of this album spread deep into a variety of traditions, but the curious blend of the personal, the political and an unashamed urge to write genuinely democratic popular songs make this much more accessible than any academic collection of traditional songs. Bursting with joy, tenderness, righteous indignation and ridiculously great tunes - what more could you ask for?
You can purchase "Quality First Last & Forever" from iTunes, Amazon or of course your local independent record retailer.

Trevor Moss & Hannah-Lou - Feel At Ease

Posted in SHOFT on Monday 20th June 2011 at 10:06pm
---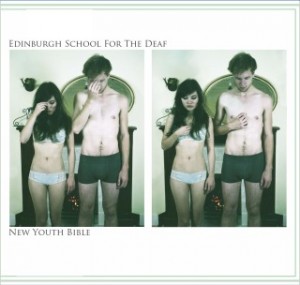 Having returned to attempts to express myself about music after a very long break, I'm sometimes alarmed how easy it is to slip into old, tired cliches with surprisingly little effort. It's particularly worrying because I don't really read much mainstream music critique these days, and certainly the days of waiting feverishly to see who the NME were beknighting are long since passed. However, one enduring and much misunderstood term which I've always desperately wanted to see realigned is that of 'pop music'. Somewhere between the excitement of the sixties and the moribund present day it's come to mean "disposable and universally saleable" rather than carrying any of it's former sense of accessibility or ingenuity. Whilst 2011 has borne all kinds of musical riches to date, it's yet to produce a fantastic pop record - the kind of record which hooks its barbs instantly into the skin and refuses to let go, which merits end-to-end listens on infinite repeat, and which delivers snatches of tunes which wedge themselves into your brain to rear up unannounced later. Whilst it might not be an immediately obvious place to start the search, strangely this album might just be what I've been looking for. Over the next 37 minutes or so, pop is pulled apart, carefully examined and put back together in a slightly off-kilter, but always frighteningly clever and disturbingly noisy way.
Somehow emerging from Ashley and Grant Campbell's previous band St Jude's Infirmary, Edinburgh School for the Deaf appear to have gone through a stage of being known as Deserters Deserve Death before settling into their current incarnation. This band delights in two distinctive and varied voices in Ashley Campbell and Kieran Naughton alongside the ability to select from both a broad, colourful palette of styles and an awe-inspiring, thunderous racket when required. It's also pretty clear that Edinburgh School for the Deaf don't care too much for being restricted by modern genre politics and are happy to play with the idea that being loud, messy and noisy can sit happily alongside more delicate, literary and considered work. So it's with a squall of distant feedback and a fanfare of overdriven guitar that "Of Scottish Blood And Sympathies" is unceremoniously announced. Things soon resolve into a gentle strum, with Ashley's voice delivering strange, devotional lyrics. Then things simply erupt - martial drums and guitar so loud it seeps into every corner of the mix. Clocking in at a little over seven minutes, this is hardly the snappy punk blast I'd been led to expect - but as layers of guitar add a strangely shoegazey texture to things, it just gets bigger and bigger. It's a strangely fitting opening chapter to a record full of surprises, and not nearly as easily pigeonholed as perhaps you'd expect. There's more of this gloriously hazy, discordant noise on "Eleven Kinds of Loneliness" but this time it's coupled to a gorgeous sweep of a pop melody with swooning, breathy vocals. It's short, almost to the point of incompleteness in a sense - but I can instantly forgive this as it collapses into the storm of "Thirteen Holy Crowns". A relentless distorted and driving bassline is slung beneath a serrated guitar melody and Kieron's eerie baritone vocals. I can only apologise in advance for describing the combined effect as Joy Division providing the theme tune for a Gerry Anderson TV show while Black Sabbath jam next door. The result is blistering, ear-splitting and very, very effective indeed. In fact I'm going to pop the track down below, and I'd urge you to listen before you castigate me for that painful description!
Once again Edinburgh School for the Deaf manage a chameleon-like change of skin for "All Hands Lost" which introduces a warped country-pop element to proceedings. Whilst I bang on endlessly about avoiding comparisons I've done incredibly badly so far - so I'll unashamedly express my sheer joy at hearing the wonderful and long-forgotten Renderers buried in here. Ashley's voice mutates once again, behind an explosion of distorted guitars. Not the first time, the off-kilter noisy pop music of New Zealand springs to mind when listening to "New Youth Bible", and "Lonely Hearts Beat As One" revisits this territory later albeit with a more abrasive, fuzzed-up edge. "Love is Terminal" stutters into life like Beat Happening with a heartbeat of primal drums, but ultimately owes more to New York than Olympia. It's infectious and captivating - and it's nearly impossible not to howl along with this urgent, punky mid-album squall. And who couldn't love a song which pauses it's relentless rant to announce "chorus!"? Stepping down a gear in the sonic stakes but edging up the social satire dangerously, "My Name Is Scotland And I'm An Alcoholic" introduces a discordant violin and a quietly intoned spoken-word over a gently strummed acoustic guitar, but even this most delicate of openings builds eventually into a wall of noise. After this curious interlude, huge Motown drums and spluttering, angry guitars herald a return to the mission of de-constructing pop music song by heartbreaking song. "The Memory of Wounds" has a menacing hint of Joan Jett and The Blackhearts meeting The Jesus and Mary Chain, as the ever-versatile Ashley becomes a coolly disinterested rock goddess for the duration of this number. Closing track "." - and yes, that's just a dot between those quotes - is a closely observed study in guitar, glockenspiel and violin. A fragile melody supports an aching, melodramatic lyric and in any other circumstances, closing an album like "New Youth Bible" in such an understated way might not work. But, perhaps unsurprisingly now, Edinburgh School for the Deaf pull it off amazingly well.
Sometimes, its all too easy to throw around terms like 'pop music' without the tiniest hint of irony - and I'm very much guilty of that at times. But I'm also sure that my idea of pop music is somewhat distant from the unchallenging, underwear-flinging variety favoured by the over-excited hordes of hormonal Take That fans I encountered on the train last week heading for the stadia of southern England. So perhaps when I speak of pop I'm talking about immediacy, brevity and an ear for melodies which embed themselves into your memory the second you hear them? Sometimes Edinburgh School for the Deaf are all of these things. Sometimes they staunchly refuse be any of them at all. But "New Youth Bible" is a succinct, targeted blast of a record which establishes them as one of the most exciting bands I've heard in a long while. It's also an intelligent, broad and ambitious listen delivered entirely on the band's own terms. However, I maintain it's easy to forget there is a brilliant pop record somewhere in here, which is sometimes hidden behind the walls of feedback and beautifully impenetrable noise you'll crash through while exploring. The journey is definitely worth the effort.
"New Youth Bible" is out now on Bubblegum Records.

Edinburgh School for the Deaf - Thirteen Holy Crowns