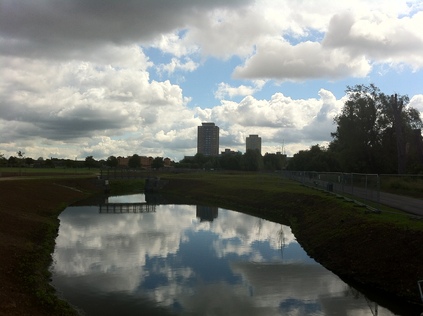 Posted in London on Saturday 30th June 2012 at 10:06pm
---
Dear reader, I lied to you. Not deliberately. I swore myself off London until after the Games. I didn't want to endure the crowds, the indignity of queuing for trains, the ever increasing paranoia as the perception of a threat ratchets up uncontrollably, and bored security guards itch to act. But faced with this huge absence from my summer, and with something of the spirit of walking reawakened by my last trip I guiltily booked again. I'd not decided what to do - leaving it largely up to coincidence this time. This isn't always a successful way of working with these trips - but this time it produced a memorable day of walking and thinking.
My first coincidence was stumbling across a mention of the Moselle River the night before I travelled. I was at my parents place, browsing on my 'phone while they watched tennis on TV, and the curious tale of this tributary thrice removed of the Thames popped up. Finding a picture of it surfacing in Tottenham Cemetery I tracked it's course back. It wasn't easy - it appeared to take all kinds of odd turns - but finally I had a couple of sections of above-ground route. I planned no more, distracted by reading around the area, but left it until this morning. Bleary-eyed and slightly bemused, poring over an A to Z on the train, and hoping for sunshine as I'd left my coat at home. As we thundered through slate gray Oxfordshire and drizzly Berkshire I feared the worst. I descended onto the Circle Line at Paddington wondering what I'd face on surfacing at Kings Cross. In fact, once I'd negotiated the seemingly circuitous route to the departures side via the new ticket hall, and found my way onto a stopper for Stevenage, the sun was riding high in the sky, with clouds drifting speedily by. I alighted at Hornsey and crossed the bridge, distracted by a view into the rail depot. Immediately after the bridge, a stub of road crossed the New River. I spent a while taking pictures and getting my bearings, before plunging across the street, near a bored parent and his smirking child, and into Harringey. I'd crossed the 'Ladder' once before - further south, and I expected the mix of terraces and town houses. The recycling scheme here seemed as complex as at home, but the result was that the front gardens of every home were jammed with various receptacles for waste. Where a house was divided into flats, the bins jostled for space and supremacy. It was a tawdry sight in an otherwise pleasant area.
I left the ladder, crossing Duckett's Common and passing near to the wonderful art-deco shell of Turnpike Lane underground station. Dodging around the bus depot, I made my way back into the suburban hinterland, the quiet street punctured by distant crying babies and piano practice, then cutting through the narrow band of Mannock Road Allotments and into the hazily defined Belmont area which stretches along Downhills Park Road. This passes a fine old school and it's pretty caretaker's cottage, now converted mostly into a Professional Development Centre for Harringey Children's Services. The difficult associations that brings aren't lost as I shuffle towards the mini-roundabout at Downhills Way. This broad, suburban avenue is typical of many link roads, and is oddly quiet as I cross and note the land rising towards the lip of the Moselle Valley. I follow the hill right to it's peak, but find the views obscured by buildings, so backtrack far enough to find the entrance to Lordship Lane Recreation Ground. I realise I'm worrying a woman walking her dog who thinks I've doubled back to follow her - so I hang back as she heads into the strip of preserved woodland, fearfully checking if I'm following. I'm not, its getting hot and I've spied my first goal where a pathway from Walpole Road marks the culverted entry of the Moselle. As I head for this part of the park I realise something isn't right. Most of the area is fenced off, and there is a major Lottery funded redevelopment of the park underway. I get to the east-west path where the culvert of the Moselle crossed and find an unexpected scene. Beside me, a sluice opens out into a broad artificial river meadow. The channel curves and divides, solid wooden bridges criss-crossing them. At the eastern end, water fills a broad lagoon where it's filtered of its debris and pollution. The real Moselle feeds it here when in flood, the water running off the culvert and entering the channels. I pause to take a picture of the towers of Broadwater Farm reflected in the pool. Beyond here, the channel is a damp bed, aquatic plants just beginning to take hold. I follow along the broad path which has been built over the culvert of the river. It was originally planned to open this out, but the flood risk was too great. At the end of the path a temporary bridge connects the as yet unimproved northern part of the park, and another concrete sluice takes the new channel back into the culverted Moselle as it disappears under the looming bulk of Broadwater Farm. It's impossible not to feel awestruck by these buildings. Their own grim associations echo back from the last great recession and period of civil unrest, and the odd mish-mash of designs and types of housing has only one thing in common - they all stand on stilts above the threat of the Moselle in flood. I find a way in, and note that there is no official walking space. In the ground level carparks I feel vulnerable, and out on the grassy square I feel even more exposed. There's no real threat - the crime rate here is excellent nowadays, the community has taken back it's home turf. But it's an alien culture for a white, middle-class Somerset boy. On the edge of the estate as I leave a white van stops and asks the way to Tangmere - one of the blocks, all named for Battle of Britain airfields. The cockney driver is effortlessly rude, calling me a "Fat fucker" before I've even had a chance to answer him. He explains triumphantly: "I'm asking YOU because you're the first white face I've seen around here". Having a rare chance to respond to his insult I say "Sorry, I'm not from round here. Ask a black face." and leave him cursing me and still lost. I cut along a cycle path through a decent development of old folks places, and find myself on Lordship Lane. I buy fizzy drink and drown a thirst. It's hot and dry, but I've found my walking rhythm again.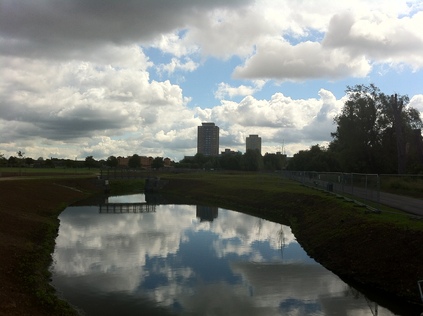 Turning onto the busy A10, I pick up the end of the Roundway, a sweeping curve around a manufactured crescent shaped estate, and then to All Hallows Church. Here, a historic link with Scotland comes into the story - with nearby Bruce Castle and this church a gift from King David I in the 12th Century. It's a crumbling, appealing old building which merits exploration sometime. Instead I head north onto Church Path, a long straight procession passing All Hallows original churchyard and cutting through Tottenham Cemetery between high municipal railings. It's an odd place, and not a comfortable one. Odd scufflings and flutterings in the hot, damp air help me to realise I'm likely not the only living thing here. But I am mostly alone. The sickly smell of lime trees bears down on me as I pass on further into the mass of graves, finally coming across a truly curious thing - a tunnel underneath the Church Path linking the two sides of the cemetery. A simple junction would have sufficed, but instead steps lead down under an arch and ascend the other side. The 1883 built structure is listed, it's listing suggesting some formal role with the chapel and war memorial, but they don't align in a logical sense at all in this oddly unplanned conglomeration of burial lands. A few feet on, I find the Moselle again at last. A fast-flowing stream here, it cuts from west to east across the cemetery. Chuch Path crosses on a high concrete bridge, while a link between portions of the site crosses on an older bridge further upstream. Despite a slightly off-colour smell and a proliferation of insects, it's a pleasant scene and a relief from the sea of graves. Picking my way to the lower bridge to take pictures I see part of a monument to 'Dad' lying in the river bed. I try to follow the river now towards the edge of the site, but it's not easy. The ground is rough, and tends down towards the river running in a brick trough. Graves slip crazily towards it, monuments leaning unsafely. Eventually I find my way to the corner of the field, and pushing through a gap in the trees, find a strange corner clearly frequented by rough-sleepers. The soft, mossy ground slopes down to the river where it disappears under White Hart Lane, not to be seen again. I don't trust the ground enough to get closer, and I don't want to be in this oddly silent little haven any longer. I crash out into the air, and find the nearby gate locked. Instead I trudge to the main entrance and the gatehouse chapel. I'm not sorry to be leaving Tottenham Cemetery. I recuperate on a long bus journey through Stamford Hill, with the orthodox Jews pouring out of synagogues in their shtreimel. The bus is packed, hot and noisy - but I'm glad of the company of the living.
After recuperating with coffee, I find myself drawn eastwards again. I board a train for Stratford, keen just to see the environs I explored recently again from above. Once again, there's no plan - and on arriving I haven't thought about what to do when an announcement suggests that the new, northern ticket hall is closed due to an "incident in Westfield" and suggesting we use the link bridge instead. I decide to have a look at the bridge, and find myself swept into a tide of people climbing the stairs onto a rust coloured, broad span crossing the station. The mass of humanity is impressive, and there's little hope of stopping to look across at the Olympic Park - but I notice people wandering along Montfichet Way below and wonder about getting down there. Once near the entrance to Westfield I pause. Police are turning people back from 'The Street', an avenue of sportswear and mobile 'phone shops which leads to the Olympic Park entrance. A little listening indicates that there has been a murder - a broad daylight knife-fight involving five men. The shoppers seem only mildly inconvenienced, most of them pushing for a place in the main mall. Some are redirected by pink tabard wearing "Olympic Park" representatives. The space is confusing - who does it really belong to? Finding stairs I head down and find the northern station entrance now open, tatters of Police tape still fluttering. The taxi-rank is closed until September, and so from tomorrow are most of the roads here it seems. Dodging the "LOCOG exclusion zone" of the taxi drop-off, I start to wander along the new, concrete sided bridge. There are small knots of other people walking and even cycling. A tour party cycles by, the leader claiming that "well, it wasn't exactly a wilderness here, but it was somewhere you'd never go". It soon became apparent why all the activity was occuring - this was the last chance to walk the route pre-Games. As of tomorrow, the exclusion would be complete. I took in the view across the complex of railway curves, then to the Aquatics Centre and the inexplicably silly Arcelor-Mittal Orbit sculpture which I'd watched slowly take shape over the past few months. I was filled with an odd amalgam of revulsion and occasion. This senseless waste was about to explode into life, and the hope was it would drag economic benefits in it's wake. Looking across the still unfinished expanses of concrete, dry dust still drifting on the breeze, I doubted it. Pressing on, the road dipped and the forbidding fence climbed into view. At the bottom of the hill a gateway provided access to the National Grid cable tunnel into the site. It was guarded by a security operative, and a man in a deckchair who's main task was to depress a button which lowered a barrier and let the parade of BT Openreach vans and expensively new Olympic-liveried BMWs in and out of the site. The road takes a right angle here at a mini-roundabout, and a family sat on the barriers enjoying the sunshine. The father climbed the grassy bank to look into the site. The security guard wandered over but didn't engage. As I left though, a black car crawled up beside him. I didn't dare watch and headed under the railway bridge, passing the Olympic Park Vehicle Emissions Testing Plaza on my way to the High Street. On the corner, a bit of incomplete planning gain is rising in the form of a high block of dwellings with a Tesco Express at it's foot. The signs urgently claimed to be "Opening before the Olympics!". I was tired, I'd had a lungful of dust and my boots burned on my feet. Slogging along the road I found the Greenway open south of the new bridge and climbed up to it. I sat for awhile, watching people walking and cycling, the minarets of Abbey Mills in the background. I felt oddly content here, and was sorry to leave. As I made the final push for the bus stop at Bow Church, a caterpillar-tracked miltary vehicle passed me at the Interchange.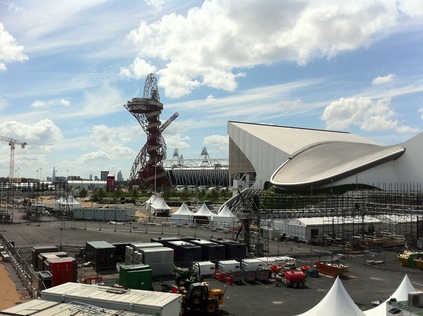 Thinking over my walk as I dozed my way back to Paddington, completing a probably ill-advised full-length trip on the 205 bus route in the process, I was pleased I'd come back despite my promises. The series of coincidences was odd - being here on the last day I'd be able to walk some of these routes, the day after the terrible events at Westfield. I have this habit of turning up at the best - or indeed the worst moments. I was heading home to the sleepy West Country, and our own set of development and planning issues. The next time I saw these places would likely be on the television - a sanitised, dust-free version, all healthy bodies and shining structures. But, six miles north, hidden in its cemetery ditch the little Moselle would be flowing - into Pymme's Brook, then in turn the Lea, and right back here to Bow Creek. The links were unavoidable, as I fear, the Games will be.
You can see more pictures from the walk here. As an experiment, you can also follow the route on the map below - the blue line is the walking route, the red line the rail and bus journeys.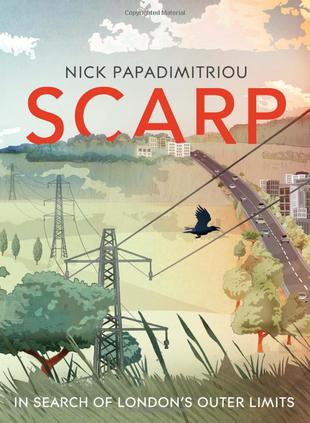 Posted in Reading on Tuesday 26th June 2012 at 6:45am
---
It's a long time since I felt the need to write about a book I'd read on here, at least as directly as this - but perhaps it's something I should do more often. The irony of reading "Scarp" in the middle of Glasgow, while the city moved quickly to take advantage of unexpected sunshine wasn't lost on me. George Square glistened in the light, pale skinned, blinking office workers emerging for their lunch break. Spending it with trouser legs and skirts rolled up, shades on while feet away, propped against a huge marble monument and just a little way from the huge metallic Olympic symbol erected for the summer, I sat devouring this curious book. In some ways, it's the book I wish I could write - part personal reverie, part hymn to the places around me. It delves deep into the landscape, and where current descriptions won't suffice creates a new map - you won't find "Scarp" identified anywhere I'm certain. But that's where this book plays its master stroke - we all invent our own maps and landscapes, but some of us do so more consciously than others. So "Scarp" is Papadimitriou's name for a mass of high-seated land which joins Chiltern Ridge to Lea Valley in a broad sweep across his beloved Middlesex. Buried in it are streams, lanes and byways which he has walked - often in dark times with all the associations they carry - to make sense of his county and his world.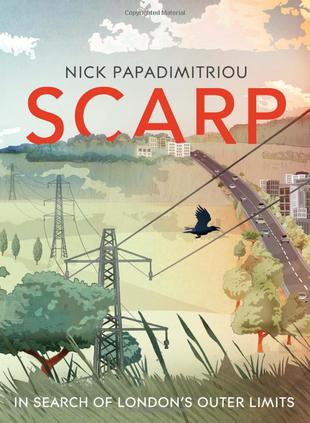 Papadimitriou describes his work as deep topography and sets himself a little apart from the Psychogeographer. I was sceptical about the need to do so at first, but now I think I accept it a little more. He takes a sort of amalgam of old Ordnance Survey atlas, decommissioned guide book prose and personal recollection, and rewalks the landscape with no preconception. He accepts its stories, often it's casualties without judgement and most importantly without recourse to human sciences or politics to justify the links he makes. The prose is sometimes edgy, fast-paced and visceral - but is equally prone to longer passages of lush descriptive work - not least when Papadimitriou strays from a well-worn personal path and finds a new vista just feet from his more routine walks. The thrill of this is palpable in his writing, and having felt this same heart-leap at a sudden turn of a corner and never quite expressed it, it gave me huge pleasure to see it described in print.
Ultimately, "Scarp" is unresolved. We never get the end of the autobiographical thread which winds through the book, explaining perhaps why the author took to the edgelands and the streambeds - nor do we get to achieve the idea of "Scarp" as a whole. But that's because Papadimitriou hasn't yet managed that either. And it's likely he never will. There is both a luxury and a a risk in writing about such a specific and rarely trodden area. The post-cultural tourists who follow in the footsteps of the more famous psychogeographers probably won't stray this far up the Piccadilly Line, and this is perhaps a bit too redolent of the pylon, sewer outfall and business park to get the semi-professional walking set interested. But "Scarp" is a life's work, a labour of intense love for the landscape and a tribute to the land which sustains us, which we walk in difficult times, which links up homes, prisons, hospitals and bus stops. This is the landscape challenged and personified, but described in the loving detail of a botanist's catalogue. It's nothing short of a remarkable piece of work in that respect.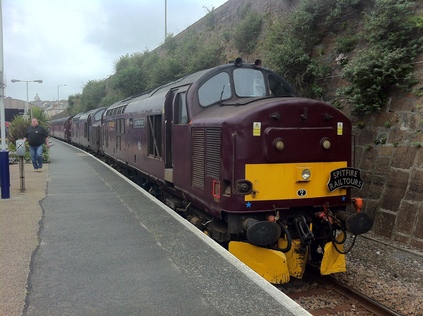 Posted in Railways on Saturday 23rd June 2012 at 10:57pm
---
This jaunt has now become something of an annual pilgrimage to the far south west, usually involving a mixed band of locals and northerners, and always involving quite a bit of real ale. It was also of special significance this time around because Spitfire have not run a tour since February, and I've not been able to make one since November 2011. The reasons are mired in commercial intrigue and unfairness, but suffice to say it's not about the will or the drive - it's to do with the economics and legalities. So, I was looking forward to this opportunity to catch up with a lot of people I now see very rarely. I was though, believe it or not, less into the idea of being royally drunk once again. After a week off work, and facing a return on Monday to what could be a rather tricky situation involving a 'transfer' to Bristol, I needed this time to count. Nevertheless, we assembled - the usual band - for the first train out to Bristol. With the Taunton stop off, this was the only sensible way to the trip - but it did allow for breakfast, newspaper purchasing and a chat with some of the local spotter folks not travelling today, before the familiar pair of West Coast Railway Company Class 37s curved into Platform 6. It was time to head south...
The journey was relatively uneventful - decent company, civilised drinks and lots of catching up. Just like the previous recent tour to Cornwall, the times left us very much ahead by Exeter, and we had an unexpected half-hour break in Plymouth which allowed for a photo stop and an opportunity to get coffee. Back on board, and over the Royal Albert Bridge - currently shrouded for repairs - and into Cornwall. The train sadly wasn't particularly full given some uncertainty about the traction - or indeed whether it would run given the loss of it's 'sister' trip from Eastleigh. But here we began to set down for the various usual options - Eden Project, Lost Gardens of Heligan, Bodmin and Wenford Railway etc. I'd even toyed with a trip to Lands End myself to avoid drunkenness, but hadn't seen this through!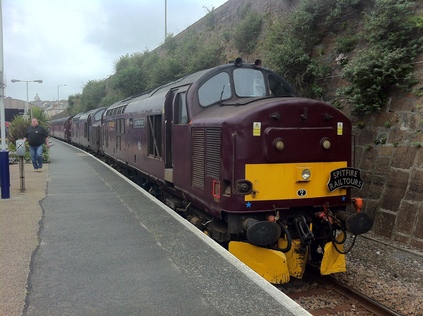 On arrival the usual pub circuit was reversed, heading along the harbourfront first, and working up the hill via the Dock, the Admiral Benbow and The Turks Head. In retrospect this didn't work well, arriving at those tiny pubs during the lunchtime and before the Mazey Day Parade meant busy, crowded and frustrating experiences. After a few pints, cut loose and wandered through the busy main street, grabbing a bit to eat and enjoying the atmosphere. The rain held off and whilst the traditional blazing sunshine wasn't around today, it was warm and dry at least. I headed back to the station for pictures and a pleasant chat with Spitfire folks while we awaited departure.
The return was the usual, sleepy affair with lots of well fed and watered passengers on board. I admit to snoozing myself, but woke for the assault on the Devon Banks and the fast run through Taunton and Exeter which saw us reclaim most of the time lost due to following a stopping train out of Cornwall. Having chased the rain north, it was gloomy at Bristol as I watched the train head north for Birgminham and headed over to catch the usual train home. It had been a relaxing end to a week of successful and varied travel - and the continuation of a tradition which we thought may have ended too.

Posted in SHOFT on Friday 22nd June 2012 at 9:06am
---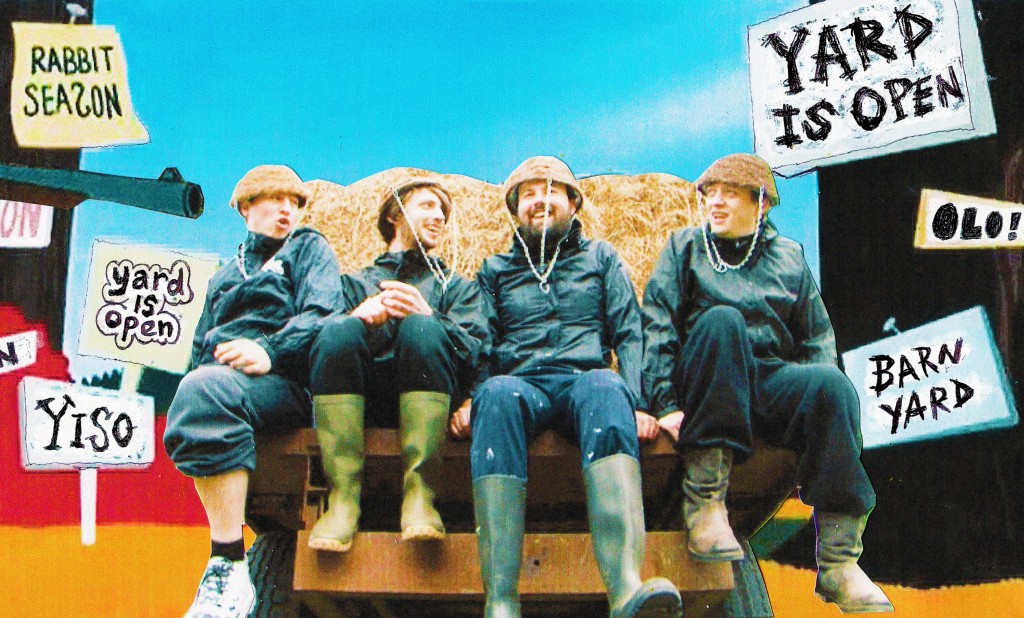 When the man of many pseudonyms, Heinz Junkins pressed a hand-decorated copy of this album into my hand in a dark corner of The Fleece, he was perhaps a little reluctant to let go of this precious cargo. "I think it's finished..." he trailed off, before disappearing once again into the crowd on a mission to distribute more copies of the disc. It was unclear at this point how, when or in what strange form the album - which delights in the enigmatic title "Yard Is Open" - would surface, so I decided on the idea of a preview so that the few readers who endure my ramblings could get some sense of what was to come. However, after living with the OLO Worms debut album for a good few months now, I'm not sure I'm any the wiser. But the good news is that very soon indeed, you will be able to hear this curious, shifting beast of a record for yourselves, in it's near almost impossible to pin down glory. So I'm certainly not nearly ready to produce my usual screed of glib pronouncements and platitudes about it. Instead I thought I'd present the notes I made on the very first listen to the record. That way, you can perhaps experience with me the sounds, the sights and perhaps even the strange barnyard smells which herald this important milestone in the OLO Worms career... But firstly, the challenge is to figure out what's real and what's a product of your overworked and fanciful imagination. From the very opening seconds, this is a multi-layered, dense recording. Samples of conversation, strange sound effects and unexpected instrumental blarts appear then are gone as swiftly as they arrive. Did you really just hear that - or is it your excited synapses independently filling in the gaps? The OLO Worms inhabit a sort of post-media world, where all of the streams - television, music, and the endless babble of social networks - have melded into a single torrent of semi-consciousness. From this dreamlike tumble of images, snippets and soundbites they manage to extract the most absurd, and sometimes the least consequential - but then they reassemble them into something improbable, often hilarious, and almost always rather beautiful. I've long held that laughter is as relevant a means of appreciating music as any chin-stroking, aridly academic approach - and there are many laughs to be had as this surprising record spins out - from huge belly-laughs to more nervous, uncomfortable tittering at things which are only just in the realms of sanity, there is a sense of humour and genuine delight at the core of this album which shines strongly through. Some may find this difficult - because music has to be serious right? Well, no - you're wrong.
On the opening track "Barnyard", the narrator from Jeff Wayne's "War of the Worlds" seems to have fallen on hard times, and finds himself describing strange post-apocalyptic scenes in a world closely approximating our own. However, he is quick to point out that these were "old times/a wooden time". The shocking dystopian vision of post-modern society inhabiting a farmyard spins out over a swooningly lovely backdrop. Blasts of brass and an angelic chorus of voices fill out the spaces created by a shuffling, baggy beat. It's like Primal Scream meeting J.G Ballard in a shopping centre - probably during 1991-2 when both were enjoying something of a renaissance. Something more familiar but no less remarkable arrives next, in the form of "Back From England" release on a Fence 7" single from 2010. This, I can state almost certainly, remains the only record ever to claim "Dino Freak" as it's primary genre. Whilst no agreed definition for this is recorded, in practice this seems to mean insistently throbbing bass, shuffling woodblock-heavy percussion and sinister, haunted vocals which descend into a distinctly home-counties accented rap at the end. Seemingly random crys of "Mexico 1986!" carbon date these boys and give a hint to some of the formative experiences which underpin the OLO aesthetic. I'm sensing almost-complete Panini sticker albums somewhere in the OLO Worms collective past? I bet they always swapped to get the metallic silver team badges though. Onwards into the unknown once again, and I've found myself scouring social media for the evidence to support the next track - as I distinctly recalled seeing a picture of a sheet of paper with the lyrics of this odd little song scrawled on them - some business about actors who steal tractors? And sure enough, buried deep on Facebook is a lyric sheet for "Ol' Boozy's Chug Thump". The name of this short, demented hoedown has survived the long gestation period of this record, along with the curious lyrical preoccupations. Taking almost as long to complete its fade out to silence as the entirety of the frantic rant lasts, this is a torrent of sometimes painful but wonderfully silly rhymes which dance around the country-lite rhythm playfully. Meanwhile odd sounds rebound around the mix, creating a cartoon-like strangeness. With "Ol' Boozy" safely back in the barn, a tinkling cascade of metallic noise, like the heartsinking moment that house keys fall down a concrete staircase begins the next track entitled "Strays", before a slightly off-kilter falsetto vocal kicks in with a refrain of "if you cut it right off/it starts the slippery slope". Benefiting from the attentions of fellow Fence artist Rozi Plain, this is again rather beautiful. A mildly warped guitar joins along with a shudder of electronic undertow while things develop into something of an OLO anthem. Don't be fooled though, this isn't Coldplay or anything - not unless you played them at the wrong speed and in a different room at least. Then again, it's pleasing to imagine this soundtracking "goal of the month" at some future point perhaps?
Following swiftly, "Barbershop" visits further uncharted - and perhaps advisedly so - waters. It begins with a interview which rivals in significance the Frost/Nixon encounter as Junkins stages a Skype summit with Rebecca Taylor of Slow Club fame. Their meandering chatter spans topics serious and bizarre, Taylor's honest and open northern vowels lulling us into a sense of false security as the music slowly winds into life. Then, with little warning of what is about to occur, a change of pace is signalled by a strange mockenspiel sound and suddenly a slinky, Barry White style groove sets up. This is accompanied by frankly some of the sleaziest vocals I've ever heard. The voice starts shrill then dips furtively and rather lewdly low, before resurfacing as an unhinged bark later in the track. It's mostly all about sexy hairdressing it seems - which is certainly largely untouched territory for pop music. The last words are left for Rebecca, with an animalistic groan of "Hubba Hubba!". I feel a bit grimy after this, to be honest. Cleansing is supplied by the sixth track, "Whacked By Pillow" which is a comparatively downbeat and pensive affair. It skitters in with the sound of a plague of insects, and centres on a delicate acoustic guitar melody which, along with the tinkling of wooden percussion and some tribal beats, provides a backdrop to sinister half-whispered vocals. There is a certain cinematic quality to this, but it would be one of those foreign films - probably impenetrably complex, likely black and white, and certainly with subtitles. Though in what strange language I'd not presume to guess. Stabs of metallic noise and gnarled twists of crunchy guitar add to the atmosphere as the moody bassline climbs towards the song's climax and the OLO's provide a weird collective choral accompaniment. This all coalesces into something pretty spectacular - a slow-burning, dark knot of loveliness in the eye of a sometimes unsettling storm of an album.
Familiar from the recent "Image EP" and previously one of the groundbreaking "Polaroid" projects, the always welcome "Snake" explodes into life via a 16-bit computer sound - probably swiped from the part of the game when you defeat the level boss. Then a waspish, dub bassline stutters and shudders into life with what I can only describe as queer electronic biting and rending sounds punctuating the mix. Meanwhile a choir of voices coincidentally intones the melody from "Stepping Stone" by the Monkees, giving the whole thing a triumphant and anthemic air. Nagging electric guitar shards add to the complicated and heady brew, before the retro computer sounds drift back in while a distant voice states that "There's a circle forming inside of my head..." before asking that age old, but ever important question "Are you a girl?". I can see this one provoking lots of interesting remixes and potentially getting lots of dance-savvy people excited - and if it can get an old duffer like me shuffling around the living room its powers may know no limits. A marine influence permeates the next, very strange song entitled "Flipper". A bleepy, electronic affair which sets its stall out early with "dolphins with laser guns" and the most remarkable chain of rhymes I've heard in some years involving alsatians, crustaceans, mutations, lubrication, fumigation and a host of other concerns too unsettling to mention. Beneath this is another of the absurdly addictive dub grooves which pop up throughout this record, shot through with melodic tumbles of guitar and earwax-loosening buzzing sounds. While thus far it's clear we can attribute many unique attributes to the OLO Worms, I'm moved to wonder if they in fact possess the power to reanimate the dearly departed, because for their next trick on "Curves" they appear to have raised the shade of George Harrison and introduced him to in passing to Galaxie 500 for a shimmery, acoustic drift with military drums and gently melodic vocals provided by Gareth Jones. This is, by OLO standards, a ballad - focused on rockets and relationships. It's a strangely formal musical interlude in a record which is generally unpredictable, but it ably demonstrates that this band is capable of expressing many moods and making really conventionally beautiful things alongside their more avant garde artistic endeavours.
As the album approaches its conclusion there are a couple of very odd, short, discordant interludes - the first of which extols the virtues of a varied diet as it suggests "Eating Every Living Thing" while clanging Beefheart-like guitars echo around the voices and pizza is consumed loudly and gluttonously. The second very short piece delights in the incongruously grand title of "Sometimes I Like To Take The Long Route Home" and introduces a muted trumpet - the sort of thing which signals a pratfall in an Ealing Comedy. It parps oddly for just around a minute or so - its hard to say exactly why of course, but it introduces a sort of nostalgic note to proceedings by evoking black and white films on wet Sunday afternoons. The end of the album proper comes with the pulsing, epic and complex beast which is "Sphinx". The jungle sound effects, twittering electronic noises and almost sub-sonic bassline are merely an introduction to a truly unhinged rap. This song mutates several times during it's course, and is often many things at the same time. I'd urge listening on headphones, perhaps with an another adult in the house - just in case, you understand - you can never be too careful with these things. The next twist brings in echoing, hollow stadium-rock guitars and a police siren which build to sonically uncomfortable levels. When it has reached its almost unbearable zenith it rather unexpectedly becomes a slice of tinny 1980s hair-metal, complete with screamy rock vocals, before ending it's tortured existance with a single stroke on a triangle. In common with much of this record, there is so much going on here, layered in such challenging and unusual ways that it's near impossible to describe in any coherent sense.
It's taken a long time for this collection of songs to come together in the form of an album - and it's fairly certain that before it finally reaches you, the listener, there will be all kinds of strange happenings to ensure it becomes a multimedia event in it's own right. It's important to remember here that the last OLO Worms EP was realised in the form of both a tiny vinyl USB-equipped coffin and a large, cumbersome vinyl cube. And that perhaps is part of the sense of balance the OLO Worms set up - tapping into the torrent of signals which showers all of us, every second of the day, they make damn sure they give something back which is greater than the sum of what they've misappropriated. They are always listening to the weird background chittering which most of us manage to tune out, and whether it takes the form of innovative music or just a picture of lots of cats considering some fishermen, they're tapping into its latent artistic possibilities. In some ways, "Yard Is Open" has benefited from this long, slow public birth via social media - a concept which suits the OLO Worms perfectly with its endless stream of ideas, incongruities and absurdities. And quite apart from the initial oddness of this music and the deliberate attempts to abstract things away from the idea of a traditional 'band', this is a damn good record. There are moments of buttock-clenchingly tight art-pop, absurd rock-outs, perverse raps and lots of curious insights into the strange world of the OLO Worms.

OLO Worms - Curves
The OLO Worms will release "Yard Is Open" on 13th August, and will launch this via live appearance at the Louisiana in Bristol on 10th August and The Old Police Station, Deptford on 11th August. The unsettling but hugely entertaining video for "Strays" can be seen here to give you just a hint of what to expect. In the meantime you can still obtain the digital release of the "Image EP" from Bandcamp, which provides an introductory glimpse into the world of the OLO Worms. The 7" single release of "Back From England" is also still available via Fence Records.