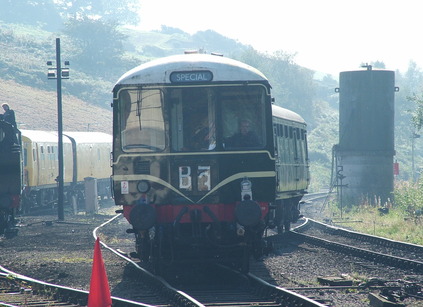 Posted in Railways on Saturday 27th September 2008 at 11:43pm
---
Stepped out into a misty Redditch and made the familiar climb up to the station for an unusually late start. I'd been trying to get today's trip to the Churnet Valley Railway sorted out for weeks, but late confirmation of the bus times and the diversion of Crosscountry services via the Severn Tunnel had made it tricky. Eventually made a late decision to head for the Midlands after work last evening and travel up to Stoke-on-Trent this morning. Noticed on arriving at New Street that there was a little tension in the air. It's not unusual to see a fair number of British Transport Police officers around - especially during the football season - but there were out early, and I managed to get myself stopped and searched before 9am by a rather rude officer who asked me if I was "a bit too old to be spotting trains?". Luckily his colleague, an older and wiser officer, intervened before I said something sarcastic in response. Found my seat and settled in for the short trip up to Stoke in what had become a stunning, bright morning.
Arrived at Stoke to find even more BTP in attendance with vanloads still arriving. The reputation of Chelsea fans was unknown to me, but clearly the locals were worried. Waited for the connecting bus in the sunshine, pleased to spot some familiar faces arriving - many of the Branch Line Society fraternity. This first use of the line to Oakamoor for many years was clearly quite an event, as evidenced by a full heritage bus leaving the stop for the twenty minute ride to Kingsley and Froghall. Some quick market research before we got off indicate that many had travelled quite a way to get here, and that the bus had made it possible to get to an otherwise inaccessible railway for over 50% of the passengers.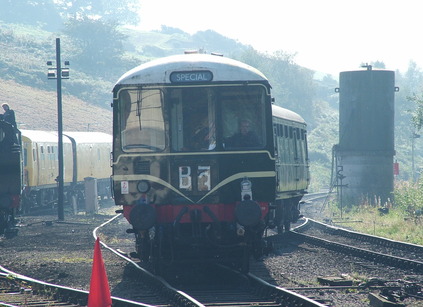 The theme of this 'Scenic Railcar Gala' was really a chance to exercise the resident Class 104 pair, and the visiting 116/118 hybrid from Shackerstone. I've always had a weakness for these first generation DMUs - probably because they operated some of the first trains I ever travelled on between Redditch and Birmingham, or because of fond memories of the Cornish branches in the 1990s when they replaced the Pacer units, deemed unsuitable on the tight curves. The first train arrived promptly, and I travelled the full length of the railway on normal running days, to Leekbrook Junction where the mothballed line from Stoke to Caldon Low crosses the track. A run around here, then back to Cheddleton, the preservation base of the railway. Pleasant to watch operations as a van was attached as a tail load on the DMU, which then set off southwards, leaving us to look around the yard and admire 37075 which was prowling around the area and making frequent trips into the bay platform, where a former Class 104 sandite car was also stabled.
The next train was the smartly turned out blue and grey set from the Battlefield Line. Boarded and set off southwards again to Kingsley and Froghall. This train however carried on to Oakamoor, and we all dutifully produced our supplementary tickets. Such was demand that this entitled the bearer to travel on just one of the trains covering the line, and the DMU left well loaded for the slow crawl onto this line which would be the perfect way to get large groups of people to Alton Towers if only it remained open! Wonderful scenery as we progressed towards Oakamoor and the loop which formerly served sand loading sidings. Some evidence of stored stock here, but we didn't progress far into the loop - in particular, couldn't see any sign of the 37 allegedly stored here. A swift turn around, and back to Kingsley and Froghall. Decided to stay on for another trip up the line since I had lots of time before the bus back to Stoke.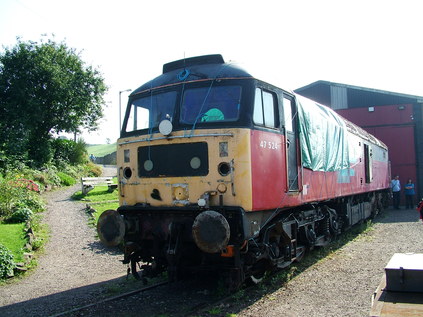 Would have liked a little more opportunity to look around Cheddleton Yard, where 33102 and 25322 were clearly visible but impossible to photograph, and the recently arrived 37s were equally difficult to get a shot of. 47524 however sat outside the toilet block, looking rather forlorn. I understand the sheds may have opened to the public a little later, but the timetable left me with very little room to manoeuvre and I was soon heading back down the valley, passing The Black Lion at Consall and pausing to let the other service pass. Slight concern at a loss of pressure in our unit as we left the station here, but driver and guard seemed happy to proceed, and we made good progress back to Kingsley and Froghall. Time for a cup of coffee before the arrival of 37075 hauling the sandite car, which was then propelled back up the line. A nice touch to a very well organised gala. Sampled the excellent refreshment room and wandered around the attractive station site until it was time to head for the bus.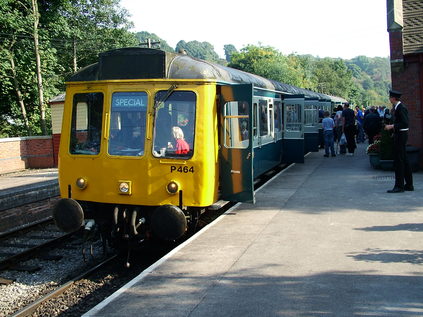 A nice easy bus journey back to Stoke delivered us just before the Chelsea fans arrived. A couple of Euston trains before the 18:04 Voyager, and a Class 67 hauled footex chartered by the club meant very few of them stuck around for my train. More hassle getting into the station, and no hope of any refreshments as everything had closed until the charter left. Immediately after departure, first class was invaded and the journey down to Birmingham was interesting to say the least. A swift change to the Bristol service, and more silliness when a bunch of idiots from Birmingham descended on our coach having been chased out of Standard Class. Having managed to wind up a huge, not particularly friendly Manchester United fan they were met at Newport by the BTP, who then because of misunderstanding where someone was pointing, managed to rope me into it all somehow. My second encounter with the BTP in a day was equally frustrating but at least our chav neighbours moved back down the train. They managed to cause further trouble at Bristol, where they waited for the train back to Weston. Managed to find a quite space in the leading end of 158951 and lurk quietly all the way back. An enjoyable and rewarding day, with a lot of football related frustration. Three matches in close proximity and with some big teams meant trouble was on the cards, but some impressive organisation seemed to keep things quiet.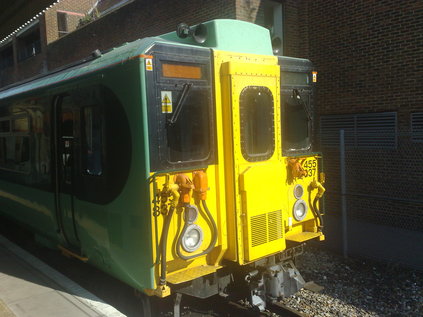 Posted in Railways on Saturday 20th September 2008 at 4:49pm
---
September has been an odd month - with the long anticipated trips at the end of August over, and with little planned until the middle of October, its been a fairly quiet and uneventful time. Equally, financing the various events in October and beyond has meant a bit of belt tightening, not helped by exploding power supplies and the like! Feeling the need to get away, despite all the indicators it might not be the best idea, decided that a trip to chase some new track in the London area might be interesting. So, despite spending much too long in the pub last night, set out for the first train of the day in darkness and mist. Changed for the London train at Weston, and hearing that the buffet wouldn't open until after Bath Spa, settled in for a lazy ride into the rising sun - which eventually managed to beat the mist into submission and promise a very pleasant morning. Good to be speeding east in much nicer conditions that for a very long time.
I'd rather hastily planned today, and had equally rapidly re-planned things again yesterday to do the various bits of track in a different order. They were largely unrelated, geographically disparate and really didn't make up a logical trip at all - but undaunted I set off on the partly-suspended Circle Line to Victoria where I finally found coffee and food, drinking two strong cups to make up for the one I missed on the train. From here, a refurbished 455 took me deep into the southern suburbs, passing Selhurst Depot and heading through Croydon for the third time in a fairly recent history! The plan was to take the remaining undone branch to Caterham and finish this little batch of lines. All went well, and we were soon on the leafly branch line and making good pace through the suburbs. Saw little of Caterham given timings, and simply hopped back onto the unit which reversed and became a London Bridge train. Back by a different route, skirting another side of Selhust and snaking into London Bridge over the viaducts east of the station, terminating in the fine old trainshed.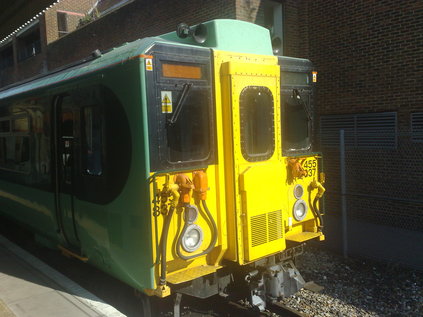 After queuing for what seemed like a very long time at a ticket machine, dashed for an Orpington-bound train and made the short leap to Lewisham. Here I picked up the DLR, under Greenwich and the Thames and alonside the mainline to Stratford where it terminated in a pair of new platforms. Watched 90043 rounding the distant curve and then plunged into the new station with its bright, open concourse, just in time for the 12:32 to Watford Junction. There was much confusion on the North London Line, with people simply not yet used to the closures - trains were either going to Gospel Oak or Watford, and a chunk of line from Camden Road to Willesden, and a similar stretch near Euston were blocked. Hence the joining of the two services by traversing the line through the former Primrose Hill station. I've desperately wanted to do this line for a long time - going back to my wanderings in this part of the city, and it proved to be an interesting if short piece of track - high above Camden High Street and the infamous market on a viaduct, curving slowly into the overgrown station at Primrose Hill - surely a candidate for reopening as part of the London Overground project? As soon as the West Coast Mainline appeared beside the line we delved deep into tunnels, connecting somewhere underground with the DC lines from Euston, and back onto familiar territory at South Hampstead. The plan was to remain on this train all the way to Watford Junction in order to achieve one last bit of new line today.
A surprisingly busy train from Bushey onwards, we arrived at Watford Junction and after a confusing struggle with Oyster Card readers I found my way out to rebook and get coffee. Then back into the station, along the subway, back into the open, down a short footpath and finally onto platform 11. Remote from the rest of the station it sits on a curve beside a cement loading point, serving only the rather downtrodden and forgotten St. Albans Abbey branch. Despite its lowly status as a 'one train in section' self-contained branch this line was electrified, presumably at the same time as the WCML, and was today operated by one of London Midland's fleet of Class 321 EMUs. A short, slow trip with a number of stops at rather menacing Watford suburbs which gave way to small, pleasant looking commuter villages. Again, little time to explore at the terminus before boarding again to head back to civilisation, or more accurately Watford Junction once again!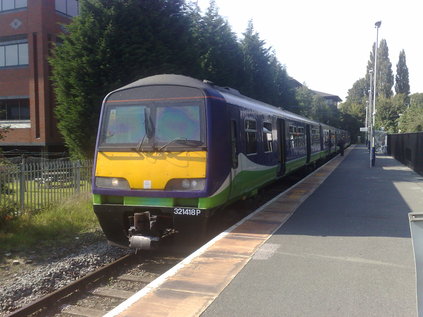 With the DC lines closed, hopped onto a semi-fast service and made the short journey back into Euston in brilliant sunshine. Having not eaten all day and not being used to the warm weather I was beginning to feel rather strange, and decided that even though I had time to linger it would be better to head back to Paddington and sustenance. Passed a leisurely hour people-watching and emailing while I had coffee and waited for the 1800 to be called. A nice easy journey back west into a red sunset, spoiled only by some annoying, fare-dodging passengers who'd been to Newbury races who decided to racially abuse the guard and generally make idiots of themselves. It was dark when I arrived back at Temple Meads. Trust the summer to come when summertime is almost over.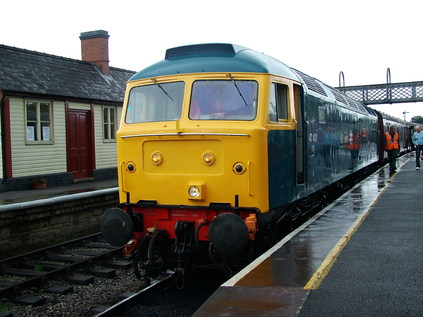 Posted in Railways on Saturday 6th September 2008 at 11:26pm
---
Firstly, I must apologise for the appalling title for today's entry. The exceedingly poor punning which goes on here is usually harmless, but this particularly execrable title is worse than ever.
So, after a week of rain and a predictably tiresome start to the new school year, decided to get away and do something a little different. I'd often read about a fair variety of things visiting or operating at the Midland Railway Centre in Butterley, but due to its distance from the railway network has dismissed it as out of range unless perhaps a railtour was to take the connection at Ironville sometime. However, having looked at the timetable for their Diesel Gala I was keen to try to get there. It should have been a fairly simple trip...
Things started to get interesting once on the 0730 Voyager to Derby. After turning west at Filton and calling at Patchway in lieu of Bristol Parkway, we emerged from the Severn Tunnel in a particularly drenched South Wales. Reversed at Newport and took the line via Lydney which made a scenic change. The diversion was timetabled, and we made Birmingham on time, and actually arrived at Derby fairly early. Waited a while for a platform, as the station was effectively a terminus today due to the ongoing work at Bradway Tunnel. Once out of the station, dashed to purchase a Derbyshire Wayfarer ticket and find a bus to the City Centre. Finally gave up in the general chaos of rail replacement coaches outside, and took a swift walk along the pedestrian route to Moorledge where the temporary bus station consisted of stops ranged along a busy street. Found our stop, and boarded the incoming service 9.1 which would take us directly to Butterley. Chatted a little with the driver who was keen to tell us that we could have travelled cheaper on some obscure local ticket offer. A quick whiz along the high standard dual carriageway of the A38 - which is bizarrely a continuation of the street I live on - before heading into Ripley and alighting at Butterley Station.
The weather had been fairly kind from Derby onwards, but it was incredibly wet and there were sadly very few people around. Made a dash onto 47401's train as it arrived and settled in for the short run to Hammersmith over an impressively long and low viaduct. Watched the loco run around from the dry comfort of the stock, then headed back, taking the line to it's other terminus at Riddings where the route onto National Rail metals near Pye Bridge diverges. On passing Swanwick Junction, saw the large sheds and a fair amount of stored stock. Seemed to be a fairly large, four platform station - and interesting to note 101692 waiting to head up the branch too.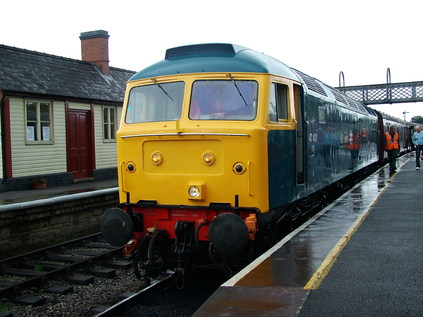 After another run around, took 47401 back to Swanwick Junction and chanced a few photographs. Goal was to head up the short quarter-of-a-mile long Swanwick Brach which had recently opened. Over the line and a chance to watch 47401 and 31108 cross before jumping onto the 101 for a run up the slippery and steeply graded branch. Its years since I've travelled on one of these units, and despite being a very short run up and back down the branch, enjoyed the noise and the chance to see the driver's eye view from behind the cab. Chance for a brief chat to the staff, before using the remaining time for a dash around the stored locos. Highlights for me were a chance to see 47401 a little close along with the resident Western and the odd sight of a West Yorkshire PTE liveried 141 - something I haven't seen for many years. Impressed with the collection of DMU cars too, and the chance to see Class 76 'Electra' in the museum, before heading back to Swanwick Junction for the service back to Butterley. The diversions today meant we only had time for a short stay, but with the countless exhibits and activities for children, it would make a great fun day out. A little sunshine soon gave way to torrents of big, fat raindrops and we soon bagged our cameras and fled for cover, confident we'd seen and photographed almost all we wanted to - despite the far from perfect conditions.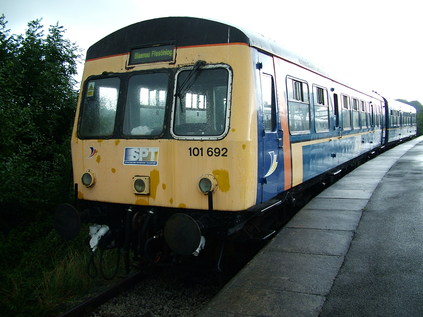 Another easy and pleasant bus ride back, and interesting to see the driver confiscating some cider from some obviously underage drinkers. He said they could have it back when they got off. When they did so they asked menacingly if he'd drunk any and he bluffly replied "I wouldn't brush my teeth with that stuff!". We need some like him down here. Chance for a bite to eat at Derby and a chance to see 66429 hauling an incredibly long rake of coal empties into Chaddesden Sidings, presumably working for Fastline at present? Gloomy and wet once again so we got on board our Voyager which arrived very early indeed, and didn't notice 56311 sneaking into the other side of the station until it was much too late for pictures. A fairly quick and easy ride into Birmingham...
...where the fun began again. We left New Street and right away I was roused from my sleepiness as I noted we'd departed via the Stour Valley line! I predicted a diversion via Galton Junction and Smethwick Junction - and this was soon confirmed due to landslip between Birmingham and Cheltenham Spa. So some more bonus track, and a chance to swifty fly past the Severn Valley Railway at Kidderminster and see what was stored outside. Very slow going along the line down to Worcester. Watched our planned connection at Bristol slip from our grasp, and replanned a bit which sparked an interesting discussion of the service pattern here on a Saturday night where a HST ex-Paddington deputises for a local service which runs on Mondays to Fridays.
So a successful and varied day, full of surprises and with the odd bonus thrown in! I think another visit, hopefully in more clement conditions would be worthwhile.

Posted in SHOFT on Tuesday 2nd September 2008 at 11:23pm
---
As a youth I vainly believed that I could maybe, one day, write about music. I knew I had a fairly interesting turn of phrase, but most importantly I had a vocabulary of eclectic performers and styles so those inevitable 'sounds like....' descriptions would be no problem at all. Fast forward something like fifteen years, and I'm faced with the wish to describe a band from inside the inevitable minefield of cliche. B S Johnson knew all the good stuff had already been written after all...
So what of this strangely named band? A trio, none hailing from Glasgow but formed and located there, and part of the ever-vibrant scene. I didn't know what to think - over the years I've become old, bitter and jaded - and totally unable to express myself where music is concerned. However, a listen to the two singles currently available from Zoey Van Goey made me sigh with dismay - because I knew I'd end up posting here, and doubtless embarrassing myself wholly in the process.
But what do they sound like? Well, in lazy journalistic terms the comparisons must be trotted out. Kim Moore's high, clear, open vowels soar above the music, like Liz Fraser in some strange way, but clear as a bell, understandable - the mystery is in the tiny vignettes of life captured in these tunes and not in the bewilderingly oblique Cocteau vocals. Somewhere on 'Foxtrot Vandals' - in fact in the second line of the second verse or thereabouts - not that I checked of course - there is a sudden dark undercurrent of bass and drums which threatens to bring the song back to earth. Thankfully it doesn't - it's all too brief. A hint, perhaps, of another possibility from this band of multi-instrumentalists who think nothing of inserting a brief banjo solo into the newly released and very fine 'Sweethearts in Disguise'. The lyrics too are simple but intelligent and wonderfully wordy, soaring above the music. There is something special about the way Kim sings about exploding stars 'shining a motherlode of answers on the skies'. It's not at all trite or twee, as Matt Brennan's deeper, often darker harmony provides a balance.
So as promised, I've wittered on for a number of paragraphs now about Zoey Van Goey. They are worth hearing, and that's perhaps all I really want to convey. I've always been guilty of over-enthusiastic music appreciation, but when something wakes me from a long slumber like this and turns me into a froth-lipped evangelist just like I used to be, you can be sure it's a bit special. I'm really rubbish at bringing things back from my holidays, so consider this my present from Glasgow...
You can hear for yourself at the band's MySpace page.