Posted in Railways on Friday 31st March 2006 at 11:09pm
---
As I write, the last couple of Wessex Trains services through my local station are on their way. In just a couple of hours the last train will have run (23:55 Paignton-Exeter St Davids), and it will all be over. During the last week, things have accelerated towards the new franchise - station signs getting covered in tape to obliterate the old operator, units losing vinyls, and service running around with a 'Wessex Trains 2001-2006' headboard.
Today, on arriving to catch my last ever Wessex service (8 minutes late, just to keep to tradition!) I noticed a slightly sad message on the departure screens ending 'Wessex Trains 2001-2006 RIP'. In the pleasant spring evening, I also noticed a single enthusiast at the platform end getting a last picture of a Wessex liveried 150. Strange times.
So goodbye then Wessex Trains, and hello First Great Western Local. See you on 2M02 tomorrow maybe?

Posted in Railways on Saturday 25th March 2006 at 5:55pm
---
Despite having all week to think about where to go today, managed to leave it until the last minute. The pressure of trying to find a little bit of brand new track to cover each week was clearly bearing heavily on me, but having hit on the plan of finishing up things I started years ago, I thought I had it sorted. To Shoeburyness to finish the former LTS line which I'd covered to Southend. As a bonus, all c2c services were departing Liverpool Street today, and going via Tilbury - another bit of track I'd missed.
Set off early on a somewhat spring-like morning, and everything seemed to be going well enough. The day promised reasonable weather as I sped from Bristol to Paddington on the 08:00. The only potential problem with this journey is the tube leg to Liverpool Street. It's tripped me up before, but then again I've been unlucky here before. However, the tube ran pretty well and delivered me onto the concourse at Liverpool Street for an earlier departure to Shoeburyness than I was expecting... Which was soon cancelled.
After two more services, including my planned train were either cancelled, or marked delayed until they disappeared from the departure board, I got a little concerned. A chat with One customer services didn't get me far: There were OHLE problems. They didn't know how long things would take to get fixed. They wouldn't accept tickets to Southend Victoria.
Found something to eat and purchased a Mother's Day card, while watching more trains disappear from the board. Noted a message telling customers to go to Fenchurch Street - apparently closed due to engineering works - but National Rail Enquiries were unaware of any services running. With time running out fast, and not much chance of help from the staff at Liverpool Street who simply repeated their "it's not one of our services" mantra, I decided to head for Fenchurch Street.
Arrived at Tower Hill and walked the short distance to the station, noting a film crew in a local pub under the arches. The back entrance to the station was closed, and there was no obvious sign of trains or people on the viaduct. Wandered around to the front - all closed up except for one door, guarded by a couple of shaven-headed security goons. "No trains today mate" he offered as I lurked about outside. My face must have betrayed my confusion as his coworker helpfully added "try Liverpool Street". Checked National Rail Enquiries. Still no departures listed from Fenchurch Street. Headed back to Tower Hill with no clear idea of what to do next.
With no hope of new track now, and being the wrong part of the month to lash out more cash on a new plan, I decided to call it quits. I'd had a decent run up to London and enjoyed a wander around Liverpool Street. I would of course be trying to get my money back on the ticket. So, feeling a bit deflated I headed back to Paddington and the 12:30 back to a very wet and windy Bristol. I have to confess I'm almost relieved I broke the 'new track every week' record for the year, because it was becoming unsustainable. Now I can seriously think about how to do those 57 hauled Holyhead trains!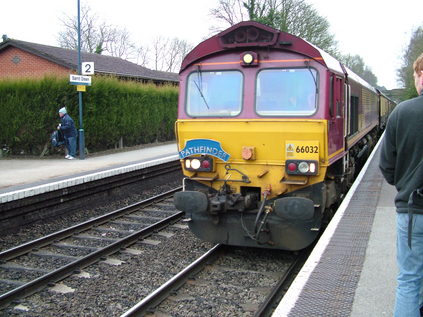 Posted in Railways on Saturday 18th March 2006 at 11:09pm
---
With last week's tour cancelled, and a strangely restless week off work coming to a close I had staked a lot on this tour. Set off from Redditch early in sub-zero temperatures and arrived at a bleak Barnt Green station to find a respectable and growing crowd of enthusiasts - some here to board the tour and some just to take pictures. Wished I'd brought a warmer coat, or a flask. Chatted a bit to a number of locals. A few minutes into my twenty minute wait we heard that a late arrival of the stock into Gloucester meant the tour was already 25 down. Sulked for a bit and felt colder. This wasn't the plan!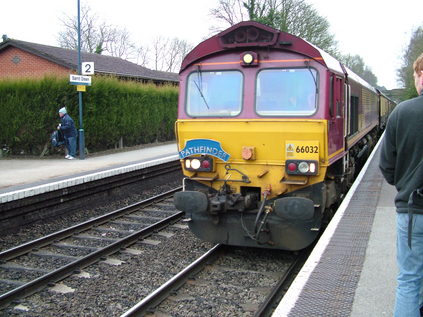 Almost exactly half an hour later lights appeared in the distance, and 66032 rolled in. Coach H landed right next to me, and I was relieved to find the heating on full. Settled back into comfy first class seats, knowing that soon enough at New Street the carriage would fill up. First leg was a run through Birmingham, and down to International where we switched to electric power. All ran smoothly and we arrived with time to spare. Back out into the cold to watch 92037 creeping around the station in preparation for our departure for Crewe. Away at booked time, and once through the suburbs via Aston and Bushbury Junction, some spirited running up the West Coast. A little outside Crewe station noted our next locmotives sitting outside the LNWR depot - DRS 37218 and 37059. Not a hope of a decent shot of our new traction at Crewe as the world and his dog had turned out to see us pass. A closed platform end on 12 added to the difficulty. Contented myself with waiting patiently to see the locos safely on the front, and returned to the relative comfort of the carriage and the real ale bar.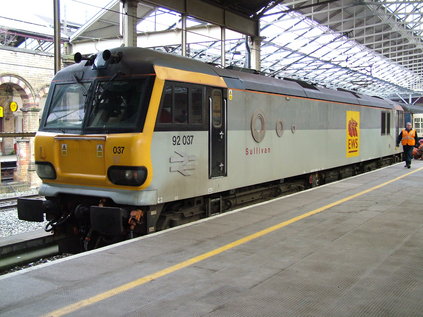 The next stretch was probably going to be the most fun for me. A thrash through Manchester Victoria and over the Pennines, followed by a little new track around Brighouse and a loco change in Healey Mills Yard. There were rumoured to be a few on board from Crewe who stedfastly refused to travel on any other part of the tour because they regard the pair of class 37s as the only rateable traction. Lots of speculation how they'd get off the train once the 60 was on the front at HM! Somewhere here, the sun came out and we were presented with stunning views of the snow-dusted hills surrounding us. Since I didn't get a chance to photograph this leg of the trip, I'll link to someone who got a fantastic shot of the train instead.
Much confusion as we passed through Healey Mills without stopping - as ever, completely in the wrong place to see anything on the depot. Plan was to switch locos at Wakefield Kirkgate due to 'safety concerns' at the yard. Speculation rife about EWS vs. DRS politics being the real story. Later we heard we would not be able to stop for pictures at Wakefield, but that we would stop briefly, presumably for the disgusted 37 bashers to hop off before we set off with the 60. A little before arriving in Wakefield we heard we would now be stopping for a while longer, and literally seconds later that we wouldn't, and that we'd meet the 60 at Calder Bridge Goods Loop. No idea what was happening, so sat back and watched the fun.
With the 60034 finally on the front at Calder Bridge, we set off for our destination - officially Goole! The plan was to offer people the chance to get off at Goole, and for the rest of us to complete a loop around some incredibly rare track in the Hull suburbs, and then to pick up at Goole on the way back. Amazingly, we watched huge amounts of people disembark. I later discovered that this was for a couple of reasons - firstly that the real ale had just run out on board, but also for a far more sinister reason. These people were J D Wetherspoon's pub spotters! I had heard that this was a new tendency among cranks, but I had never before witnessed the extent to which it had taken hold. The rest of us enjoyed our slow creep around the rusty rails beside Hull FC's former home, Boothferry Road and back onto the mainline near the site of the curiously named Dairycoates depot.
The next loco change was planned for Doncaster - on the two-way goods line beside the station, so again no pictures. After losing a bit of time around the circle in Hull, and some slow running over the avoider to Adwick we found ourselves a bit late. It also took some time for Freightliner's 66560 to turn up, but there was much relief for some when it did, as 66952 had been a proposed and unpopular alternative earlier. Either would have been fine by me! From Doncaster we took the Old Road to Tapton Junction where just like always, we stood for endless minutes waiting for Virgin services to pass us. This has happened on every tour which I've taken via the Old Road. Eventually back on course, and some pretty high speeds were achieved to Derby. Popped out in the cold again to watch the loco change at Derby. After a chilly wait 66063 emerged from the darkness and was attached for the final leg of the journey. Somehow from here we made up some time, with the almost miraculous feat of passing through Grand Junction and Proof House into New Street without stopping once! On my own in the carriage again for the last leg back to Barnt Green, and a short wait for the local into Redditch.
Having never done a 'Spin and Win' tour before, I wasn't sure what to expect from today. In the end it was the usual social event coupled with some new track and some interesting traction. A little before I left the train, a steward announced that this wasn't, as has been rumoured, the final such tour and that they would continue as long as we booked on them and the traction providers supported them. Long may they continue in my view.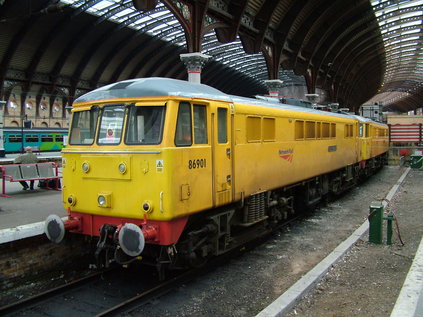 Posted in Railways on Saturday 11th March 2006 at 10:00pm
---
An earlier than planned start, since I was up and had Open tickets for the first two legs of my journey. Washed, dressed and packed in record time and headed out to Warrington Central. Soon onboard the Transpennine Express service to Leeds, and passing the huge disused goods shed which still bears the names of the Great Northern, Great Central and Cheshire Lines railway companies. My first stretch of new track took me into Manchester Piccadilly once again. Its been a worryingly almost weekly visit this year, as I've explored the chords and branches emanating from the city. From Manchester, out via Stalybridge and under the Pennines at Standedge - still a favourite journey for me. None of the promised snow making a showing as we emerged on the east side at Huddersfield.
Not long at Leeds - but enough time to get breakfast, and to cross the station to platform 1 where the York-bound unit was waiting. Noted it was advertised to Poppleton only, presumably to discourage people from doing what I was trying to, and travelling the long way round via Harrogate. Boarded anyway, and when confronted by the guard made some mumbled excuse for not going 'the quick way' via the mainline. This was my second stretch of new track, and it was not disappointing. The winding line passing over impressive viaducts and through attractive little stations. Surprisingly busy too, which was pleasing to see. Harrogate appeared to be a prosperous and bustling place with architecture of impressive proportion for such a small town. All very much as it had been described to me, and I would love to visit again with some time to wander. Even more impressed by the picturesque and rather splendid Knaresborough - somewhere I realise I'd written off just on the basis of the name sounding truculent and Yorkshire-like!
Arrived at York in time for a flurry of railway related activity. Firstly noted the Network Rail liveried class 86s stabled in platform 1. Got a picture, to replace the fuzzy and distant one I took a year or so ago in Rugby.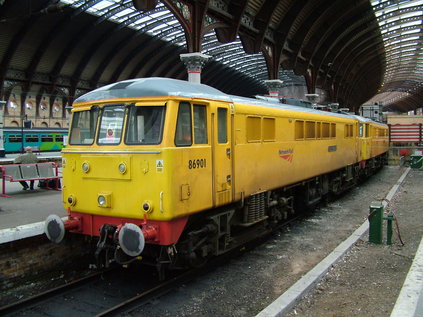 On the way back, noted a terminating service from Tonbridge on the board. Assumed it had to be a charter, and headed over the platform 19. Whilst I awaited the charter, the HST New Measurement Train arrived too, followed by Past Times' York Flyer behind 67017 Arrow.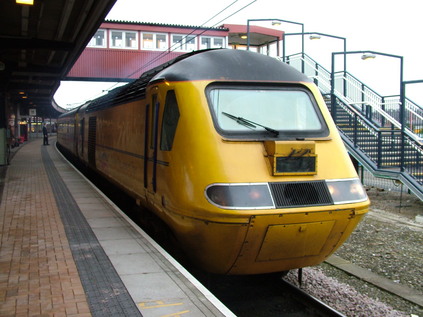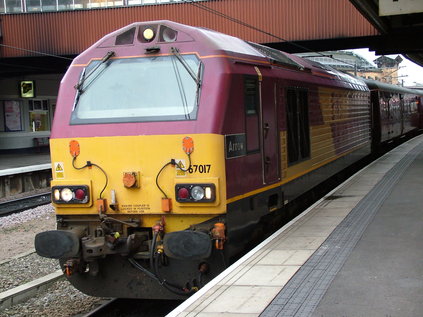 Set out for a wander by the usual landmarks - a quick look in at the Model Railway, then over the road and under the wall to The Maltings. Time for a pint of Black Sheep before heading back to the station to buy lunch and await the 12:25 to Bristol. An easy and relaxing journey back, making excellent time and managing a change onto my first weekend rail service into Highbridge in a month. Not quite the trip I'd planned for this weekend, but a pleasant combination of new track, old favourites and a chance to wander around York station.