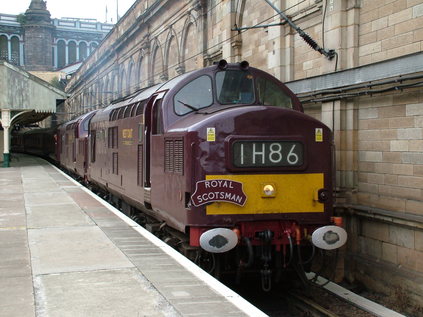 Posted in Railways on Sunday 31st July 2005 at 2:55pm
---
Feeling very sleepy after a long but entertaining weekend. Straight from work on Friday to Bristol. Checked in at the Holiday Inn and wandered into town. Fish and chips at Pellegrinos then a pint or two at the Old Fish Market, before retiring early to prepare for Saturday's early start.
Checked out a little after 04:00 and after a hurried breakfast, across the street to Temple Meads to find 67030 awaiting our 05:00 departure for Edinburgh. Just before our departure, 37401 and 37427 arrived to take the 'Snowdonian II' tour up to Pwhelli. Nowhere near enough light under the roof at Temple Meads for a picture. Off on time, with 67030 in apparently fine form. Quite a bit of confusion with the normals and excursionists with two tours arriving at stations en route a matter of minutes apart. Despite lots of clear announcements, at least one gentleman in our carriage managed to get haulage behind both the 67 and the 37s!
Last pickup at Birmingham, now in daylight. Our end of the buffet carriage became quite sociable from here, with some fellow enthusiasts and a pleasant couple from Birmingham off to shop for model locomotives and jewellery. Some spirited running on the way up to Edinburgh, with notable sightings including a quartet of Thunderbirds at Crewe. With a team effort, managed to work out quite a bit of what remains abandoned at Springs Branch too.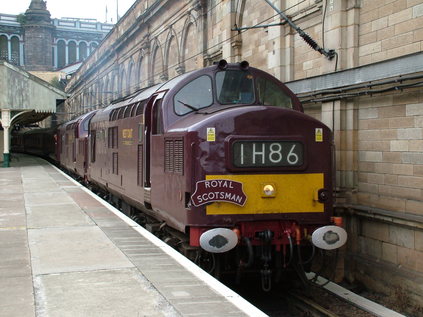 On arrival made a quick survey of the oddly shaped Waverley station complex. Headed out into town, but noted from a bridge what appeared to be a 37 arriving. An ill-advised high speed dash down a slippery staircase and into Waverley in time to see 37261 backing onto 37197 and the stock of the Royal Scotsman. Waited to see this incredibly opulent train depart, with the verandah of its observation car already packed with inebriated looking posh passengers.
Spent the few hours we had available wandering the town, people watching on Princes Street and watching activity at the station. First Scotrail staff varied between the extremely friendly and the downright hostile, but generally had a productive afternoon including a quick spin out to Haymarket just for fun. Back to Platform 20 in time for the return of our stock, again headed by 67030.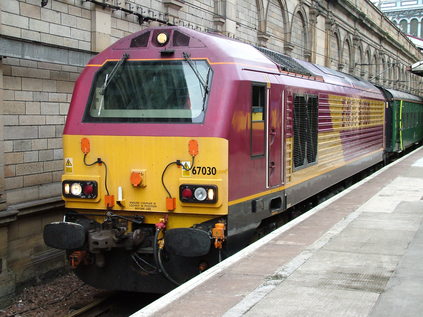 Some very quick running on the return. Settled down to enjoy the company and since we were at the back of the buffet car, handy supplies of Spitfire and Bishop's Finger. Amazingly however, I can confirm that no alcohol at all was consumed by the two people in the following picture: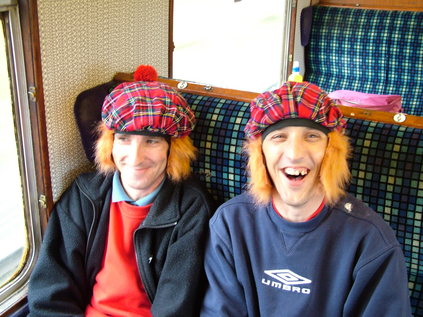 Enjoyed the day so much that I decided to book on a similar excursion to York at the end of August. Once again this one calls at Weston, so I feel duty bound to book and support it. Arrived back at Temple Meads a few minutes early, to find the station reverberating to the sound of the tractors which had successfully completed their jaunt to the Cambrian Coast. A sleepy lift home to my parents place thanks to my father. A fun day among pleasant people.

Posted in London on Saturday 16th July 2005 at 7:25pm
---
Its become a tradition that around this time of year, the bulk of the bulk appeals out of the way, I will head for a conference. Each year I feel somewhat intellectually dwarfed by my co-delegates, and to some extent I question if I should be there. But every year so far I've come away with the conviction that even a slow-moving autodidact like me has a place at these events.
So once again the Literary London conference was revealing, reassuring and enlightening. Firstly, its always a relief to be among people who regard London with the same mixture of interest, awe and curiosity as I do. Also, its amazing to hear how people are reading the city. Finally, I've once again come away with a much expanded reading list - fuel for another year. The truly multidisciplinary mix of literature, history and topography produces some unusual but entertaining results - Professor Stanley Wells' paper on 'Thomas Dekker - Londoner' being one of those moments where things come together in the most unexpected of ways.
It was always going to be strange, being so close to London and discussing its representation in literature so soon after the events of recent weeks - especially so when considering the mythologising of the blitz and suchlike. The scorching streets of Kingston and Surbiton seemed, of course, very far away from any sort of threat. Despite some concerns about its potential for interest, the conference theme of 'The Suburbs' made for some of the most interesting material. Professor Elizabeth Wilson's opening plenary 'The Painted Backdrop of the Suburb' set the tone for discussion of the suburb as a contested, creative space, challenging our usual view. Other views on the theme included a fascinating look at the history of the uniquely British semi-detached house, and a suprising account of T S Eliot's contribution to the effort to ensure new suburbs had Anglican churches.
Once again found myself most comfortable in the 'London in the 1930s' panel. Papers on George Orwell, Patrick Hamilton and John Betjeman were all thoroughly interesting - and added to my understanding of a decade which my work on William Kent is opening up to me. I was also looking forward immensely to the final plenary - Julian Wolfreys on 'The Tortured Geography of the Night World'. I confess much of it bewildered and confused me at first. I set about making copious notes, and now I think I grasp Professor Wolfreys ideas better. A strange and haunting set of ideas on which to end the conference.
Left the campus in blazing sunshine, found much needed coffee and caught the train to sleepy Shepperton, home of J G Ballard. Pottered around aimlessly for a while, mulling over the conference before heading back to Surbiton for beer and food.

Posted in London on Wednesday 13th July 2005 at 10:18pm
---
Woken early by the sun, which gave me a little time to finish packing a bag. Set out at 0930 and had a quiet ride up to London reading Dining on Stones in a near feverish fashion. Things ground to a halt somewhere near Airport Junction, and despite being informed it was down to a track circuit failure people began to get jumpy. Lots of clipped mobile calls and return trips to the buffet with telltale glasses of ice in one hand and an anonymous paper bag in the other. Arrived at a slightly subdued but startlingly hot Paddington and made for the bus stop.
With the section of tube I wanted out of action, whimsical routes were out. As escalators are a personal taboo it was down to a No. 36 bus to Vauxhall. Despite concerns, it all went smoothly. Parked myself near the back doors, getting a good blast of cool air at each stop. Noted that people were reluctant to use the upper deck - which I put down to the power of mass-media images. North onto the teeming Edgware Road and then towards Marble Arch. Along Park Lane, around three brick walled sides of Buckingham Palace and through the chaos of Victoria before heading for Vauxhall Bridge. A brief wait at Vauxhall, watching shiny new rolling stock pass by.
Arrived at Surbiton and spent some time admiring the station building before moving on. Had committed the walk along Victoria Road and towards the Thames to memory. A pleasant small-town feel to the suburb, busy and prosperous. A swing towards the river, and less salubrious environs took me to Seething Wells, my home until Sunday. I'm not sure what this place was: the remaining original buildings point to either places of worship or waterworks - the filter beds beside the river perhaps suggesting the later. Now it is a complex of anonymous yellow student flats - found mine and settled in. Not luxury by any means, but clean and safe flats with en suite facilities but curiously poor mobile telephone reception. Unpacked before heading back to the Surbiton Flyer for a well-earned pint or two of Fullers' Discovery. Struck up a talk with a local who was pleasant and talkative, but it turned out it was my discarded newspaper she was mostly interested in. Settled instead to planning my route to the Penrhyn Road campus of Kingston University. I think, if the weather remains so seasonable, that I will set out early when it's cooler and walk to the campus taking breakfast on the way.
How can people not understand that this is my holiday?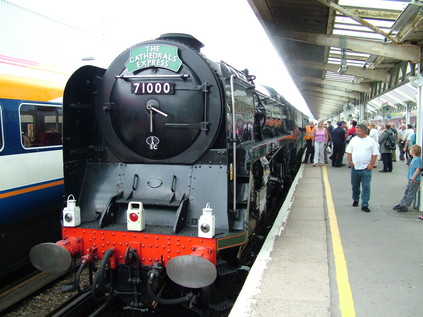 Posted in Railways on Saturday 9th July 2005 at 10:15pm
---
Set out for the station with little idea of what to do today. Figured that given the current security situation, hanging around a major station would be unwelcome. A suggestion of a local rover ticket was inspired. Purchased the now slightly more expensive 'Freedom of the Severn and Solent' rover which allows travel in a wider area. Wasn't sure just how much use I'd get out of it, but set out with high hopes.
Customary 0830 Voyager out to Bristol, and then a dash for the South West Trains service to Salisbury. Slow running throughout, particularly due to a track circuit failure at Westbury. Changed for a following Wessex unit bailing briefly at Romsey, but boarding again and heading for Southampton Central.
Next delayed by maverick steam cranks photographing in the four-foot on the way to Brockenhurst. Boarded delayed heritage slamdoor unit 1498 for a brief trip up and down the Lymington branch. Back to Brockenhurst in blazing midday sunshine. Onto a Weymouth-bound 442 for a relaxing trip along the south coast via Bournemouth and Poole, covering track I'd not seen for what I think is around ten years!
Arrived in Weymouth to find Duke of Gloucester steaming away, with the Wessex 31s stabled awaiting the 1630 for Westbury. Shortly after our arrival, 33202 arrived to take the Duke to be turned around. Enjoyed the anachronistic scene for a while, before heading into town for a mammoth late breakfast and a wander around the sun-bleached and tourist thronged streets.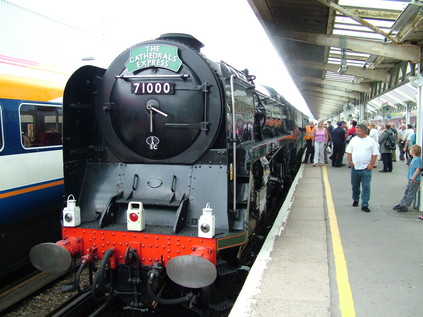 Back to the station in time to secure a seat up front on the 1630. Away on time, but stopped for a passing unit at Dorchester West. Stopped again at Maiden Newton. Eventually figured we were passing the Duke here, so hopped off and enjoyed a lazy half hour in the Dorset countryside before getting a shot of 33202 leading the Duke back to Weymouth. An uneventful journey as far as Westbury, but not quite in time for the Taunton-bound HST. A photo call for the 31s and the stabled class 59s at Westbury - still baking at nearly 1900 - before boarding a Cardiff service packed with Bath and Bristol clubbers. Time for a relaxing beer and the chance to flag a 143 to Severn Beach at Temple Meads before heading home.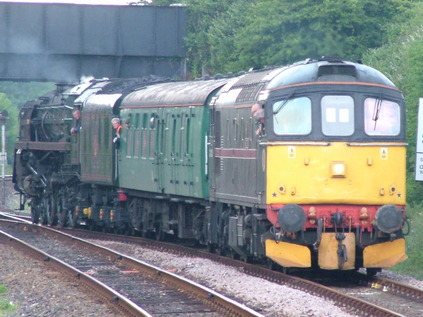 Clocked up around £62 worth of travel during the day, allaying my fears about the value for money of the new rover tickets. Good thinking Mr Spinks!