Posted in Railways on Tuesday 29th December 2009 at 10:26pm
---
Had it been the usual Saturday or Sunday trip, today should really have qualified as one of the 'Lost Weekend' series where I replace some cancelled event by my own wanderings, utilising whatever accommodation or advance tickets have been booked in the process. It should have been a spin up to Carlisle in the company of Pathfinder but instead it turned into an attempt to salvage something sensible at a time of year when advance purchase tickets had been snapped up long ago. As Mr Spinks was also due to be making a rare railtour experience and had also booked a night in Bristol based on the published timings, we ended up selecting a trip he'd never done and one I'll never tire of repeating - a journey along the North Wales coast to Holyhead.
Taking advantage of being in Bristol, started out on the 06:15 Voyager to Birmingham. Using Off-Peak rather than Advance tickets meant a choice of route, and we opted for a brief wait for the 08:24 Arriva service for Aberystwyth. Found seats on a surprisingly busy train, presumably with Wolverhampton bound commuters unfortunate enough to be working between the holidays. These Class 158s haven't seen any sort of refurbishment since they worked local services around the South West many years ago - and seemed to be in both aesthetically and mechanically poor shape on the journey to Shrewsbury. With heavy in snow predicted in mid-Wales, I didn't relish putting my trust in one of these all the way to Holyhead. Also our route had us tackling a five minute same-platform connection at Shrewsbury, and we were dropping minutes here and there as we chugged west via Telford.
Eventually, the unit sluggishly drew in to platform 4a at Shrewsbury. It wasn't clear what would happen here. I know there are a variety of joining and parting moves to provide a roughly hourly service to Wales from Birmingham, with alternate services going West or North. In the event this wasn't one of the trains which joined here, and we walked swiftly down the platform to where a pair of 175s were waiting, with only the set at the extreme north open and ready to leave. Settled in to thankfully warm seats and we soon departed for points North. Despite having their own reliability issues when new, this unit was making a far more convincing sound than the last - and we were soon making stops along the line to Wrexham General. The threatened snow hadn't materialised, but the sky was a purple-grey haze and the landscape hadn't brightened a bit since sunrise. Steeled myself for a cold, grey day - and in Holyhead that always seems so much worse. Tried to mentally prepare Mr Spinks for this with tales of my previous forays and attempts to 'get away from it all' here on the coast, but he was much more concerned with the new track he was scoring! Reversed in Chester, with most of the passengers emptying out here to shop, but with a few extras for the ferry joining the train too. Still looking bleak out, and the filthy state of a 507 working to Liverpool showed that conditions weren't much better further north. Underway again, and once we'd passed the racecourse, into Wales again. As we headed west into deepening gloom, the coast took on a surprising quality. The grey sky suited it rather well, and with a silvery reflection from the sea, the stations were little oases of warmth and light in the gloom. The huge, desolate looking banks of slate and the expanses of rocky country somehow made a lot of sense in the equally hostile conditions.
After traversing the majestic bridge over the Menai Strait and speeding non-stop over Anglesey we were soon curving into Holyhead's impressively large but mostly abandoned station. A far cry from some of my previous visits, which I explained as we ascended the ramp from the station towards town. As soon as we reached the road, the sharp, freezing wind from the Irish Sea whipped by, carrying dashes of icy rain. We turned into the wind and headed for the town centre. Perhaps now Mr Spinks understood why I'd been talking a lot about wrapping up warm and the shortcomings of the place. A quick wander through the small town showed that many places were closed - either for the holidays, or perhaps permanently? A couple of pubs were still doing business, but they were ones which I'd either experienced before or been warned away from in the past. Today wasn't one for brave new discoveries - so despite the bonecracking cold which seemed to seep between buttons and find it's way inside your body - we walked on. After making some purchases we headed back over the new bridge to the station. This innovation has arrived since my last visit, and manages to bring the station - always a little out on a limb - into the town centre. It was a long cold walk over road, railway sidings and water to get to the spiralling ramp down to the station. Also noted that our next unit had arrived on platform 1 in the form of a four-car voyager. It was going to be very busy, so after queuing for a while for coffee in the ferry terminal, we found some pleasant extra-legroom seats and settled in for the ride back to Crewe. The train filled pretty quickly, and with the reservations system out of use things got fairly heated around us at times. However we were soon speeding east again, and the sky was darkening, having not really managed to achieve daylight at all since we set out this morning.
At Chester we were relieved by the addition of another Voyager, but even this managed to go badly for Virgin, with platform staff not explaining things to waiting passengers who joined the four coaches which we arrived on and began a series of pitched battles for seats. Eventually things settled down and we made the dash to Crewe. Good to wander about and stretch my legs a little before heading over the bridge for our next working - a 350 to Birmingham. We could just have made a connection with an earlier 220 heading for the Midlands, but the thought of so many Voyager trips in a day wasn't encouraging. Opted instead for the clean, light interior of the Desiro, which performed impeccably on route via Stafford and Wolverhampton. However, this had the slight drawback of a longer, colder walk from platform 4c at New Street towards civilisation. Realised we could manage comfortably an earlier train than planned, due to it being somewhat delayed. Found the platform busy but not totally wedged. Tried and failed to predict the right end for a couple of seats in the quiet coach, but still managed to find a pair - however I suspect they were empty because somehow the heating in the coach has been wedged on and the whole vehicle was sweltering. At first it didn't bother me, as I was still aching with cold from Holyhead - however I soon warmed up and joined the choruses to get it turned down. As a result, snoozed a fair bit of the way back to Bristol. After a short wait, dragged my weary and achingly cold bones onto a unit bound for home, realising that the poor light meant not a single chance to get my camera out during the day. It had been a long, cold and grey final trip of the year - but as ever the coast had provided a little spectacle and Holyhead, in its faded and drab, quiet way had reminded me of the fun of visiting old haunts and why I still made these excursions. It's been a long, busy year of travels - indeed, the travels have been the things which kept me relatively sane throughout troubled times. Despite feeling much too sleepy to drag myself up for work tomorrow, there is a whole new year of these often odd, always interesting journeys to plan.
NB: The title of course is a nod to The Wedding Present's Christmas-themed song of a similar name.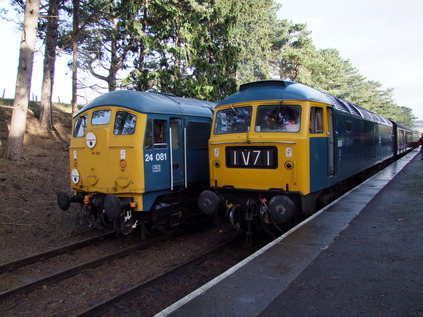 Posted in Railways on Sunday 27th December 2009 at 11:03pm
---
Not much happens in that strange time of year between Christmas and New Year, and in particular it's not always easy to get out and about on the rails, which makes me predictably irritable and frustrated. In recent years, I've managed a longish trip out in this period - but I've also noticed the annual Winter Diesel event at the Gloucester & Warwickshire Railway. This year I resolved to visit as it's always seemed like an interesting event. So sure enough, I found myself up early for the first time in days and cruising up an empty and wet M5. It may seem like anathema for me to get to an event in this way, but because the event fell on a Sunday, it was the only way to get there sensibly early with our poor local service. Once north of Bristol, the sky began to lighten and clear, and we soon found ourselves at Ashchurch in what promised to be bright and cold conditions. Stopped for a welcome breakfast before heading to Toddington for the first train of the day.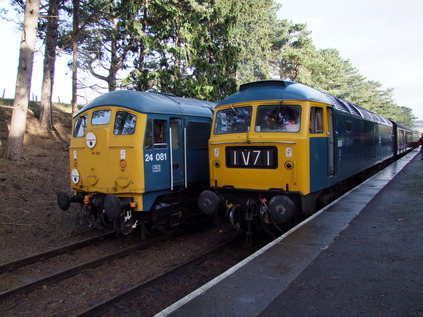 The railway was running it's usual, fairly intensive timetable, but had thoughtfully separated the engines onto a Sulzer set and an English Electric set, so those with strong traction preferences could follow their favourites all day if they wished. However, the usual connection opportunities were available at Winchcombe, and staff were sensibly allowing lots of time for people to cross over the bridge - even when trains were a little late. Started with a non-stop run down to the Racecourse with 24081 and 47105, with steam heated coaching stock and lots of noise through Greet Tunnel! Couldn't think of a better way to spend a winter Sunday morning! Returned as far as Winchcombe where we switched to the unheated set conveyed by 37248 and 37215. Lots more noise and smoke, and I hardly noticed how chilly I was once I had hot coffee in hand courtesy of Mr Spinks dash to the buffet! Settled into a pattern of Winchcombe leaps, in order to ensure we also experienced the other engines including D8137 and 47376. However, my photographs, particularly of 47376, were really bad - I'm going to put it down to very cold hands. Didn't really get quite the shot I wanted all day. I'm still learning about this camera, and seem to mess up the focusing pretty frequently at the moment. Noted the brake van rides running now too, albeit to an almost random timetable, with two of the railway's fleet of Class 08 shunters doing the honours.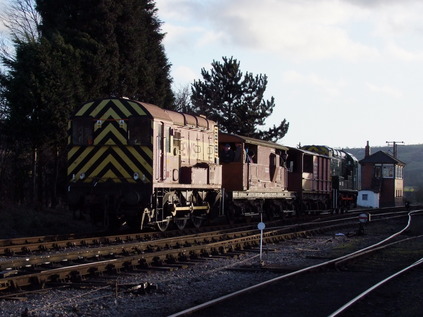 After a relaxing day spent happily shuttling back and forth, finally back to Toddington behind the pair of 37s just as darkness fell. Flagged the last Winchcombe round trip for a warm car homewards. An excellent day, well organised and also very well attended with all of the trains surprisingly full and some notable faces present. Great to spend time at a railway which respects both it's diesel fleet, and the punters who pay to travel with them.

Posted in SHOFT on Monday 21st December 2009 at 6:47am
---
I'll admit a degree of satisfaction last night at seeing Rage Against The Machine triumph in the much coveted Christmas No.1 stakes. This strange, national institution has for many years been a guaranteed schmaltz-fest - originally with the specially crafted Christmas single by the band of the day (see Slade, Wizzard, even Gary Glitter!) or latterly by the progeny of Simon Cowell's talent grooming shows. The festive No.1 slot was of course as disposable as it was cheesy until Bob Geldof's Band Aid (and it's later, slight returns) made it an important barometer of what the country thought and felt - or at least that bit of the UK which still purchased the dying 'single' format. It's exactly this reliance on the sales of the most inexpensive format of all which has led to the Singles Chart being the bastion of poor quality, pre-teen pop for decades - aside from the incursion made by the enthusiast (not least the late 1980's heavy metal boom or the invasion of grunge for a few brief months in 1991/92).
So is this year's news significant? Well - yes. It demonstrates the power of the internet and in particular social networking in harnessing and giving voice to grass-roots campaigning. Whilst the objective of putting a 'proper song by a proper band' at the top of the charts at such a significant time is modest, it shows that a well orchestrated and carefully managed campaign could do pretty much anything. Ariane Sherine's Atheist Bus Campaign did something similarly unthinkable (and far, far more worthwhile I might add) but of course interested only the more serious news sources, aside from the occasional foray into 'PC gone mad!' territory in the red-tops. But hearing a brief blast of 'Killing In The Name' on Radio 4's Today programme this morning cemented the view that this was a rather miraculous thing - a festive message from the post-recession music market: we're not buying what you sell us.
The song itself? A several minute long blast of rather unfocused, bilious anger generated by the band's understandable angst at the Rodney King beatings in Los Angeles. Whilst that sounds worthwhile and earnest, the bewildered lyric slips half-heartedly from protest to threat while the band experiment with slap-bass and proper 'rock' guitar solos. It's actually very poor. I said it in 1992 and I'll say it now - the sole redeeming feature of this record is it's opportunity for a dancefloor full of students to yell 'Fuck you!' at the top of their voices. Back in 1992, in the heyday of my ill-fated and equally poorly judged Traumatone cassette label, we stood back and watched this song carefully - the most it raised back then was an eyebrow. Today at least it has raised significant cash for Shelter via a related campaign. Our observations though, culminated in a cover version - a low-budget and low-tech lounge pop version by the duo Poo & Wee. With a fairly serious stab at the music, they crooned oddly through the lyrics - unable to hide their confusion at Zac De La Rocha's jumble of angry words. Finally they found their way to the song's conclusion, each 'Fuck You' sounding like a mild expression of pique rather than a howl of protest. If you can find this version (and I'll tell you now, you can't) you'll laugh a lot - and then maybe understand how silly the song really is!
Of course here fans will talk about authenticity. There is no doubt that Rage Against The Machine have their origins in early 90's Los Angeles, with its guns, gangs and drug culture shaping their sound. As recently as the ill-fated Radio 5 session appearance last week, frontman De La Rocha was reminding us that his song meant more than Cowell's concoction because he wrote it in straightened circumstances - in a genuinely unpleasant part of LA. Because the song came up from the gutter, it has more honest, mass appeal perhaps? This is dangerously close to declaring some sort of musical class war which is surely deeply un-American! And I'm not sure how this reflects on Cowell's 'everyday people' - plucked from badly wallpapered semi-detached homes which we only get to see when the artist returns home to say "Well folks, I've won and I'll be buggering off to London now!". This struggle of rock versus pop isn't about class, colour or culture - those things are carefully stripped from corporately available music long before they reach the pressing plant. No, this is about people realising that it would be hugely funny to have a slightly rude, deeply angry and undeniably noisy slice of rock music gracing the post-blowout Christmas tea time. Rage Against The Machine rubbing shoulders with Her Majesty, a Last of the Summer Wine special and turkey sandwiches. Someone will of course die in Eastenders. Probably, if the on-the-fly editors can work it in, to the tune of 'Killing In The Name' - just to give the soap an edge of authenticity!
Interestingly, every lash comes with it's backlash and there are already conspiracy theories circulating: that Cowell cooked up the whole thing to sell more records and line his pockets, or that because Sony BMG is the rights-holder in both cases this evil corporate giant is the only winner. I don't think I believe either to be honest. Yes, I bought a copy - because the idea of Rage Against The Machine being Christmas No.1 with a grumpy, grungy blast of noise appeals to me. The alternative - another slice of Cowell-planned career pop - is too much to bear, one sickly sweet Christmas 'treat' too many. Like the mint which tips Mr Creosote over the vomit-spraying edge perhaps? The fact that 'Killing In The Name' is, in it's own way, equally silly makes it all the funnier.
Merry Christmas, pop fans. You can have your chart back next week.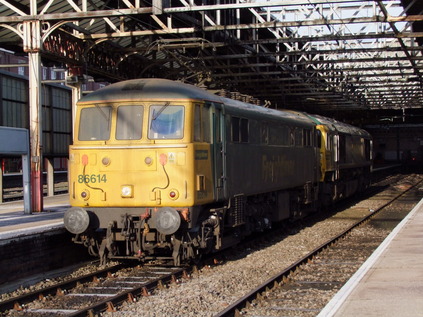 Posted in Railways on Saturday 19th December 2009 at 10:58pm
---
Once again, having spent a week tackling cancellations and dealing with work related turbulence, I was looking forward to an escape. The bitterly cold weather was threatening snow in the coming days, and I was pleased to wake to what seemed to be a clear morning. However, I hadn't reckoned with the hardiness of the local villains who had been at work all night stealing copper signalling cable in Bridgwater! Real-time running information has it's limitations, and one of these is that until anything of passenger relevance is actually running, everything looks fairly benign on the timing front. Somewhere, between heading from my home in the rather smug certainty I'd soon be onboard a rather warmer unit and arriving at the glisteningly icy platform, things had gone very wrong. Very wrong indeed!
I won't dwell on describing the long, dark and cold wait for the 05:48 - suffice to say that for much of the time there was no information at all, and had it not been that I was travelling on a bunch of pre-booked fares which wouldn't get a refund out of this situation, I'd possibly have called it a day before it began. Spirits were (actually falsely) buoyed by the sight of 66177 slipping through on a slow move china clay working, kicking up a dust of frost as it passed. Eventually the train showed up on the web with a mere 15 minutes wait until it arrived. Toughed out this last freezing few minutes and was grateful to stumble onto the same unit I'd got home last night from the work's Christmas party! My confidence was soon restored by the guard's reassuring belief that I'd comfortably get the 07:30 to Birmingham, and that they already had a list of likely suspects for the theft which had occurred - some of which would be familiar to the locals. My confidence however, was misplaced and we ground to a halt at Uphill Junction with a signal and points failure up ahead. Here we stayed for what seemed like a very long time indeed, before gingerly creeping into Weston in near daylight. The 07:30 was behind us, but even the 08:00 which went straight to Wolverhampton (my first port of call - and a veteran of freezing December disappointments!) was looking unlikely too. Eventually we arrived at Temple Meads at 08:00 exactly, around 90 minutes late. Noted the 08:00 was announced delayed at the platform by "around 10 minutes" and made my way to the platform. Thought about queueing for coffee and food, but noticed that puffing up the stairs behind me was a harassed looking gent in CrossCountry Trains uniform who had been on the delayed 07:30. Quickly dashed aboard the waiting train and found a seat as he hopped on board and closed the doors for departure. I was, after a fashion, back on track.
I spent the journey northwards recovering the feeling in my chilled bones, and dozing after a fairly short night's sleep and too much to drink last evening. A slightly painful head had become a nagging ache due to the tribulations of the morning, and I managed to doze this away as we headed through the Midlands. The original plan had been to head for the Wolverhampton to Holyhead train direct to Chester, but this was now out of the question. Instead, planned to get the following Class 350 as far as Crewe and see what cropped up from there. With everything apparently a few minutes late due to snowy conditions on the southern WCML, had time to get coffee at Wolverhampton, but noted no breakfast available. Contented myself with a warm seat and a surprising change in the weather with bright winter sun descending once we were north of Stafford. Arrived at Crewe with time to grab the camera and get some swift shots of 86614 and 66588 manoeuvring in the bays at the south end of the station. I never fail to find something interesting here, somehow.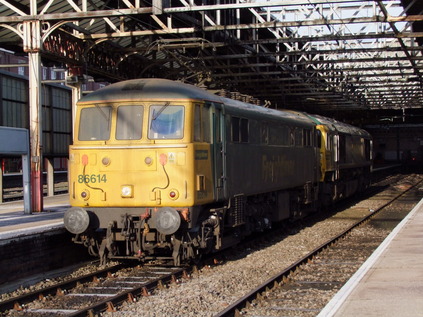 With the next Chester bound unit due in around twenty minutes, decided instead to head for platform 12, where a heavily delayed Pendolino was due to have 57311 attached for it's journey to Holyhead. As this would run only a few minutes behind the unit, I'd still make Chester in time for my next leg of the journey - albeit with no time at all in the city. Decided that this was a winning plan, and enjoyed the sight of luggage-burdened customers trying to board the "one carriage" 57311 while it waited for the arrival of the Pendolino. With the problems down south, 390027 was very busy on arrival, and I opted for a space in the vestibule of the front carriage where I could hear the 57 clearly as it was backed onto the train. A swift run followed, with a quick flypast of Crewe Electric before dashing out into the Cheshire scenery. Soon into Chester and a chance for a quick picture prior to departure. Also, finally found my breakfast in the excellent little cafe here. Stood beside the bay platform waiting for my next train to arrive, enjoying a good coffee and an excellent breakfast roll - my earlier troubles all but forgotten!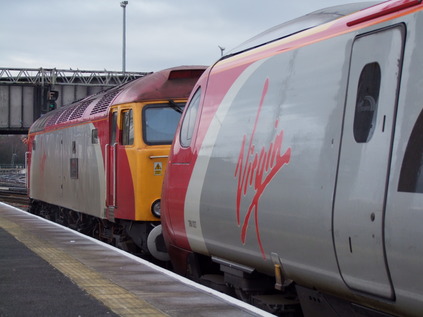 The next service was perhaps the main reason for the jaunt. Since Virgin began running two-hourly through trains from Chester to Euston I'd been intrigued to try the service. Having managed to get a fairly priced First Class single, I found my seat and settled in for the ride. As we headed back to Crewe, noticed threatening purple-black snow clouds gathering towards Manchester. Happy to turn south again, and head into the sunshine. Despite being a rather throw-away plan to occupy an otherwise quiet Saturday, this leg of the trip proved to be one of the more memorable jaunts of the year. As we headed into deep snow in Northamptonshire, the sun lit up the white landscape. Even the Train Manager came to sit and enjoy the views and chat as we sped south, any earlier problems seemingly now resolved. Almost sorry to find myself in the suburbs at Wembley, nearly at journey's end. With a few hours to kill in London, and not wishing to cover too much ground I might want to visit in January, I decided to take advantage of the fine weather and hop on a bus. Selected a Hackney-bound 253, travelling in a huge arc around North London, before dropping down through Clapton into Hackney. Here, headed for the North London Line narrowly missing a very crowded train and waiting in the cold for another which was equally wedged with shoppers. Watched the sun sinking in a red haze over London as the train began to empty a little after Highbury and Islington. Disembarked at Willesden Junction, having spotted 378005 waiting outside the station to form the next Clapham Junction train. Soon on board the very quiet unit and heading for my customary route back to Paddington via West Brompton. However, rather suddenly I realised that the next stop was Shepherds Bush and that the huge crowd outside was travelling home from the Westfield Shopping centre. Any attempt to remain near the doors failed and the huge crowd meant staying on at West Brompton and travelling back with the same unit from Clapham Junction! Amazed at the sheer number of passengers who managed to jam themselves into the train, and rather relieved to get off an also very busy working back to Willesden at the right stop.
A swift but equally cosy District Line train brought me back to Paddington and a chance to get a welcome coffee and stock up for the journey back. Noted with some surprise that the problems from earlier were still causing delays on the routes from Bristol, but that the 19:00 was seemingly due to head directly back to Highbridge as planned. I've come to enjoy quiet runs back on this rather sleepy train, which despite it's late arrival always seems to complete the journey. Today, that was particularly welcome!