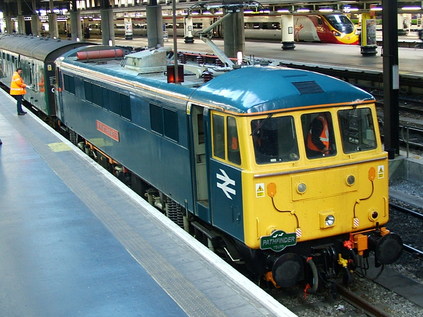 Posted in Railways on Saturday 20th October 2007 at 11:59pm
---
Stumbled the few yards from the hotel to the station still half asleep. It was a cold and foggy morning, but it had the promise of turning out bright like the last few days. After a fruitless search for breakfast at this early hour, headed for platform 12 where the stock was sitting - a motley and rather mixed selection of Mark 1 coaches. Soon found my seat, and having settled in for the long day ahead went to watch 86101 being attached. This, in itself, was something of a highlight. After all that has been written about this tour, and given the constant changes and the final hint of a possibility that 86101 would lead the tour, it was fantastic to see the gleaming machine slowly appearing out of the mist to haul the train.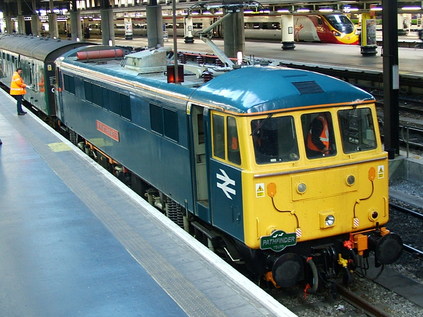 Initial progress was breathtaking. Effortless acceleration had us touching 100mph several times between Crewe and Stafford. Things would surely have continued in this vein too, had Network Rail not scuppered progress with a signalling fault at Penkridge. We crawled through the Midlands in a queue of trains heading south. The actual delay was fairly modest as far as railtours go - around 30 minues - but was to have some knock on effects later in the day. Once we'd completed pick-up stops at Tame Bridge, Birmingham International and Coventry, we made good progress again via Northampton towards Euston. However, a slight change of plan was to cause a little more delay - instead of us hoging valuable platform space at Euston, the EUKL 37s would be attached to the rear of the train at Wembley and we'd haul them into the station to detach the 86. All went well, but a brief stop turned into a long wait to escape the terminus. We finally set off, making the connection to the Southern via the intricate network of lines around West London.
Once out of London's compelling gravity, I dozed a little - particularly during the trip to Tonbridge and then Ashford. This has never been a favourite bit of line for me with it's flat, featureless and uninspring countryside. It has always amazed me that Kent is so highly regarded as an example of England's finest scenery on the basis of this miserable stretch of line. Soon into Sevington Loop where our leading locomotive ran around to prepare for shuttling up and down branch lines - the real business of the day. Soon off again, wrong line as far as Herringe crossover. A short run through Folkestone before leaving the mainline and coming to rest in one of the 'train roads' which allow access to the Harbour branch. A quick reversal, then down the steep bank through the town and around the tight curve into the station. Again, this appeared to be a very unlikely event, as 37s are effectively barred from the Harbour due to adverse clearances on the platform. Network Rail had given a once-only approval and we crept gingerly into the station. A fair leap down to the platform too. Explored and took some shots of the locos and the rather unusual station area. Like all port stations it has a sort of faded glamour and a sense of importance which outshines it's rather tired appearance.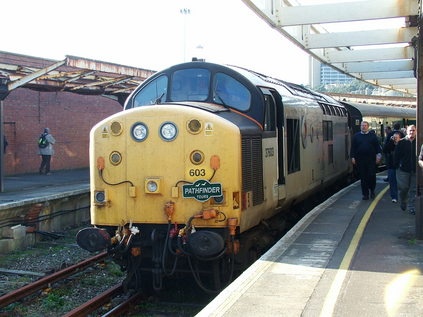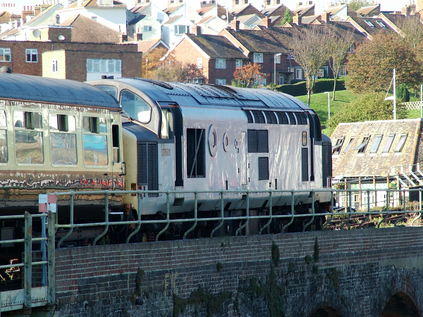 Off the Harbour with an impressive effort from the locos. The rear loco seemed to shut down halfway up the bank, and we were treated to a noisy standing start. Into a train road for our reversal back to Ashford. Pathing on the Southern and some rather weird operational decisions left us over an hour late, but no-one seemed concerned and there was no question of missing the trip to Dungeness. Pathing again caused delays, but we were soon off towards Appledore. Here we took the branch, curving southwards towards the coast through very flat, marshy country. Numerous open crossings meant slow progress but it was pleasant to hang out of the window enjoying the autumn sunshine and spotting a very late dragonfly. The closed but still intact station at Lydd Town was also of interest, sitting beside the only overbridge on the branch. The power station complex loomed large over the marshes, and soon dominated the scenery. We crept to the loading crane at the end of the branch before reversing once again.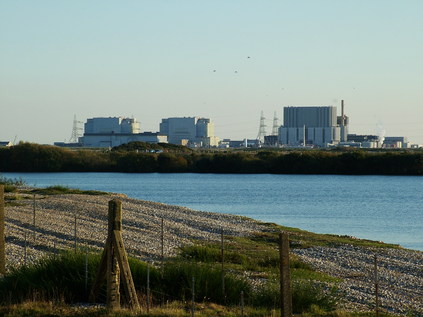 A short break was promised at Ashford, and after watching the run-around to put both locomotives back on the front of the train, wandered into the shop to find a huge queue. Likewise for the toilet as the stock was rapidly running out of serviceable toilets with sufficient water. Again, pathing and some strange signalling decisions saw us delayed for much longer than expected, and we finally set off once again towards Appledore nearly two hours late. There were some concerns already being expressed about how things would work with an engineering possession due to start at Rugby but there was no official word, and we pressed on via Hastings and Tunbridge Wells, the driver coaxing excellent performances from the locomotives and gaining back time despite tight paths and frequent single-line sections. We were soon in the suburbs of London, and it was as ever intriguing to look down on the city at night. An additional stop at Brixton saw us lose a little time, and it was interesting to note the effect our train had on locals, looking up at us in puzzlement as they wandered drunkenly between pubs.
Negotiated the maze of lines once again to find our way to Wembley where 86101 was waiting. The time we'd gained back was spent swapping locos and we set off almost exactly two hours after time. Again noted the incredible performance of 86101, and we started to gain time once again only to lose it at pointless signal checks outside Milton Keynes and Birmingham International. Finally arrived at Crewe at 01:22 where we learned just how lucky we'd been to avoid being taken home by coach which would have meant a much later arrival. Virgin staff unlocked the station to let us out - and then had to contend with people trying to get in, including one young woman wearing what appeared to be the top half of a mermaid costume! She left without complaint, and I last saw her wandering casually and rather wistfully by the hotel, shimmering in the light from the street lamps. A strange end to a strange and long day - but one which succeeded against all the odds.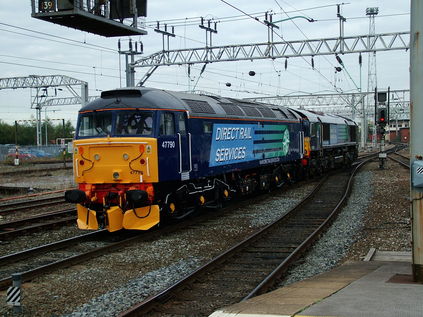 Posted in Railways on Friday 19th October 2007 at 7:47pm
---
Being on leave on my birthday week was, I hoped, a surefire means of avoiding those people who think I shouldn't be allowed to escape celebration of the event. How wrong I was, and last night I was pleasantly surprised to have a party organised for me at my local which turned out to be a lot of fun. I wasn't feeling totally well though, and I have a horrible feeling I appeared unappreciative - which I absolutely wasn't! Still didn't feel great this morning, but today was my version a celebration and soon got moving. Tuned in to the radio to hear a dedication arranged by my friends, then headed off to the station to start my weekend away.
Firstly, a nice easy trip up to Crewe - my base for the next couple of days on account of the railtour starting there early tomorrow. Because I'd be arriving fairly early, I'd planned in a chance to do some other new track in the North West too. Great to be back on the rails again, and a pleasant and quiet journey. Couldn't help wondering how these services will change in just a few weeks when Arriva take over? Arrived at Crewe with some time to spare before the next train to Preston. A chance to rebook and to wander around the station. Spotted lights in the distance, and positioned myself in time to get a shot of gleaming 47790 being led to Kingmoor by 66418. Moments later, 90024 appeared from the direction of Crewe Electric in order to reverse and head north in pursuit of the DRS pair.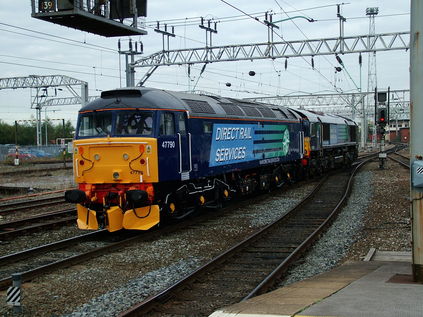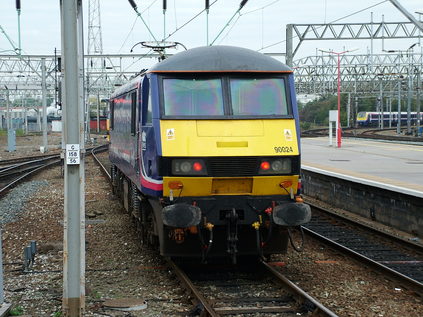 The Preston train arrived a little late and was full and standing. Squeezed into a comfortable corner of the vestibule and amused myself by listening to the drunken chatter of a hen party going to Preston. A quick dash over the bridge on arrival, not made easy by still feeling a bit grim, just in time to see a rather battered looking 142 arriving from Blackpool South and heading for Colne. As I began my journey of a little over an hour, I reflected on how these units are coming to my local area soon. My only conclusion was that thankfully, the journeys I'm likely to undertake are not as long as this one! Interesting make the trip in the easterly direct towards Copy Pit, which I'd not previously done. In Burnley, we branched northwards and headed for Colne. This bit of line has eluded me for quite a while, and would have been covered on an abortive Pathfinder tour earlier in the year. Surprised by the remaining roof structures at the rather dilapidated looking Nelson station. Fifteen minutes in Colne was enough time to stock up on throat lozenges and drinks. I tried to explore a bit but was confused that in both directions the road seemed to lead out of town, and there wasn't an obvious way in!
Rebooked again on the train, and retraced my steps as far as Blackburn. An impressive take on a modern station here, with sweeping curves, plenty of circulating space and level access to all platforms. Busy too, and there was quite a squash to get on the 150 which arrived for Manchester. My object was simply to complete the line from here to Bolton via the intriguingly named Hall i'th Wood station. A quiet and uneventful trip, and another bit of line crossed off. Time to head home, with one or two rather tight timings planned. First, over the bridge at Bolton to get a Wigan Wallgate train which was very busy. Then out of Wallgate station, over the road and into North Western station in six minutes to get the 17:01 Euston service as far as Crewe. Made it comfortably this time, and once again forced to stand I enjoyed a full view of an amazing sunset over Lancashire from the door. This has to be the best way to spend a birthday?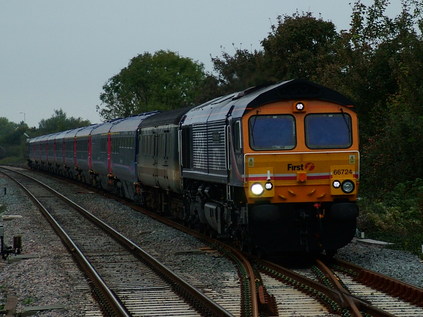 Posted in Railways on Friday 12th October 2007 at 2:52pm
---
Spent the first day of my leave productively, doing DIY and all kinds of cleaning. Slipped out this afternoon to catch one of the GBRf worked stock moves to Laira. These seem to happen when I'm either at work, or out of the area so this was something of a novelty for me.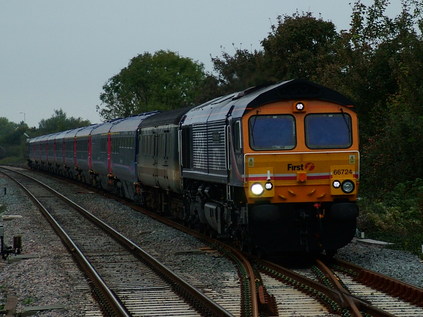 Back to argue with the bank about an error which they admit, but don't seem to want to put right...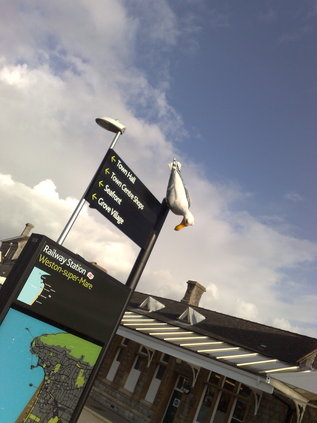 Posted in Highbridge on Tuesday 9th October 2007 at 10:44pm
---
Not strictly a Highbridge related tale, but a cautionary pointer from a plastic seabird in a near neighbour!
Recently, new signage was erected all over Weston-super-Mare in an effort to make the town 'legible' to visitors. The new signage was plagued with errors, omissions and the inclusion of strange details which were unlikely to interest even the most avid fan of the slowly decaying resort. Tonight, as I made my way home via the railway station, I noted the allegedly humourous comedy seagull which sits atop the sign had apparently tired of his vigil over the hordes who pour out of town to jobs in Bristol each day. Or, more possibly perhaps, locals had brought the country into town with a good old fashioned duck hunt?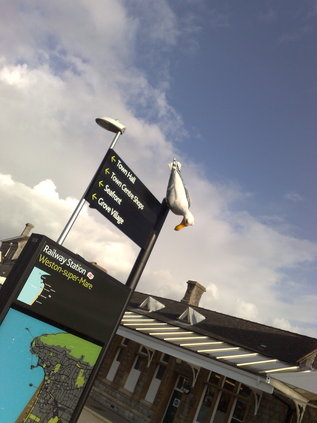 The gull seems to point to a potential future for the town. At a time when Weston struggles to redefine it's purpose and to attract serious business to an area which couples commuter-belt affluence with some of the most deprived wards in the country, a nosedive seems worryingly close. The parallels with the reinvention of Highbridge as a low-income dormitory outwith Burnham's walls are troubling,