Posted in Railways on Saturday 26th April 2008 at 11:04pm
---
It seems the railtour market has divided in two these days - the summer is filled with high-end trips to the Eden Project and the like, while the good old fashioned enthusiast trip is consigned to the darker days of Autumn and Winter. So it was good to find myself on the platform at Crewe in near daylight this morning for an early start to what promised to be an interesting day. There had been much speculation about which of the dwindling fleet of EWS Class 37/4s would be capable of hauling our train today, and as it turned out 37401 and 37417 has the honour. The outsider bet of recently returned to service 37670 being due out of repair on Monday. Despite looking fairly tired, both locos sounded fine. Particularly good to see 417 again - which I remember chasing around South Wales on the day of it's naming. It's been a stalwart of railtours these past few months, and it's good to see it returned to service again.
Firstly, after an on time departure we made a dash down the West Coast Main Line to pick-ups at Stafford, Wolverhampton and Birmingham New Street. The timings didn't seem to stretch the locos, and we were consistently early. Out of New Street and a further pick-up at Coleshill Parkway - the first time I've called at this new station. Via Whitacre Junction now, we headed northwards again to call at Burton-on-Trent, before taking the freight-only line from Stenson to Sheet Stores Junction - as covered rather unexpectedly on the Sunday of an All Line Rover a few years back! After negotiating the tangle of junctions at Trent, via Loughborough and Syston - taking the North to East curve - and onwards towards Melton Mowbray.
This isn't a favourite stretch of line for me, but its one I rarely visit. In the brightening morning, the views were pleasant enough - particularly around the attractive town of Stamford. Also recalled much from Iain Sinclair's Edge of the Orison which digs deeply into the topography of this area. We swung into line with the East Coast Main Line at Helpston, running parallel to Peterborough where a fair few locos were on the shed. Much surprise and delight from the normals to see a 'proper train' in the station! Still in Sinclair's orbit we departed via Whittlesea (to coin the railway spelling of the town's name rather than the more accepted -sey ending) and soon enjoyed stunning views across the fens to Ely.
Passing Ely slowly we seemed to slip into the gravity of London, as we waited at Cambridge for a few city-bound services to depart before we took the Liverpool Street lines, once again drifting into the countryside as we passed provincial Bishops Stortford and Harlow, where we managed a brief leg-stretch in the warm Spring sun. Soon back on the train, and passing through the mess of works which make up the Olympic site in the Lea Valley, to Temple Mills where we waited for the leading locomotive to run around to the rear beside the new Eurostar depot.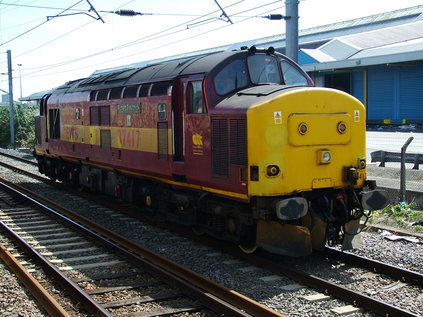 From here, it was just a short hop to Fenchurch Street, but it involved a bit of track I'd wanted to cover for a long time. The line from Bow Junction to Gas Factory Junction links the lines from Liverpool Street to those from Fenchurch Street, and is one of the few connections remaining from the former London, Tilbury & Southend Railway into the wider network. This link sees empty stock and the odd diversion, and as I recall used to see an absurdly early or late working to retain driver knowledge. I always wondered how I'd ever cover it - so today was a treat. As we screeched around the rusty curve, the train came to a halt at a signal allow access to the mainline near Limehouse. The residents are obviously resigned to the line having very few trains, as one of them was enjoying the midday sun topless on her roof. Credit to her, after a brief moment of surprise at the sight of a train full of frothing track-bashers she simply positioned a towel judiciously and carried on enjoying the rays! We were soon on the move, and arrived at the unlikely railtour destination of Fenchurch Street. This odd little station is such a strange backwater at weekends, in a prime City location it's business is done mostly in the weekday peak - and it seems eerily quiet despite the presence of two noisy locomotives. A dash for refreshments and pictures, and a young lady is heard to say to her boyfriend "Why are they taking pictures of those trains?". He thoughtfully replied "Because they're perverts". I can't quite summon the energy to complain at his lazy thinking, or defend my fellow gricers, bashers, frothers and friends. Needless to say, perversion - whatever that actually is in 21st century society - occurs at pretty much similar rates in the enthusiast population as it does in the wider world. If the perpetrator of this odd remark is reading, then "Yes, I was looking at your girlfriend!". Does that make me a pervert? I wonder!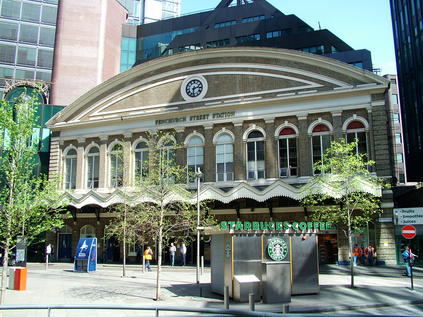 After a wander out into the city, just to see the area in wonderful sunlight after a long period of not visiting, I rejoined the train for the run out through more Sinclair-infested country. Through sinister Purfleet, marshes and container ports enclosing the line, to Tilbury - the once important Riverside station still visible but barred by gates - we speculated about the chances of Gas Hill and the BLS effecting entry sometime? A little short of Stanford-le-Hope we curved to the right and took the branch to Thameshaven. A slow, trudge though the marshes, almost like we were being dragged back by the humid, fly-infested air we crawled along. The huge gas plant dominated the view to the north, while the estuary and it's ships filled the windows on the southern side. Eventually we crept around a sharp curve, passed by the signaller's cabin and entered the traffic centre. All was silent, some derelict gas tanks and a few discarded Channel Tunnel wagons all the evidence of this soon to be redeveloped port. Another run around, and again time to move on and leave the marshes to their silence.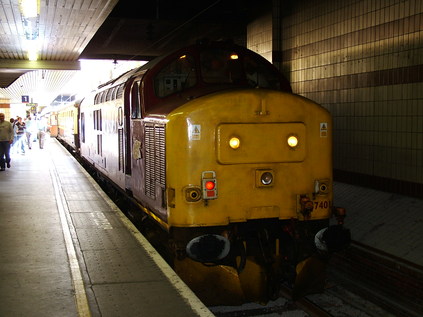 A familiar swing across North London took us homeward, leaving the Gospel Oak line at Canonbury as on a recent tour, and traversing the Hertford loop. Our lateness due to the slow traversal of the Thameshaven branch was compounded by a broken down train, but we were soon underway and heading for Peterborough once again. Our timings had been good all day, and this was really the only significant delay. Chatted a great deal with a gentleman who'd had a similar career to me, which passed the time as dusk fell over our route back to the Midlands. Bailed at New Street, mere minutes after the train to Redditch and had to wait half-an-hour. Time to amuse myself by watching the local drunks stumbling dangerously around the platforms. A fine day out, some interesting track and another stirling performance by the 37s.

Posted in Highbridge on Friday 25th April 2008 at 7:09am
---
A public meeting is to be held on Thursday 1st May at 5:30pm to discuss the future of the former Highbridge Hotel. The developer of the site, local MP and councillors and the Police have been invited to attend. The meeting will take place at the Community Hall on Market Street.
It's hard to know how this particular site can be rescued from the mess it's become. However, the truly encouraging thing is that the future of Highbridge is now a subject for serious discussion and not idle assumptions about what the town is, or has been in the past. I hope the meeting is well-supported, and that the invited local officials do take the opportunity to come along.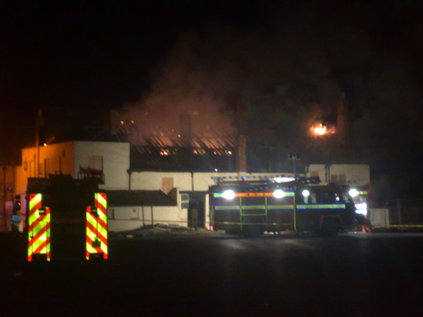 Posted in Highbridge on Tuesday 22nd April 2008 at 11:24pm
---
The debate about the regeneration of Highbridge turned ugly tonight. Over the weekend, a series of small fires have occurred around the town, most notably including a minor incident in the abandoned and boarded-up Highbridge Hotel. The same hotel which is Grade II listed in part, and currently owned by Mead Realisations - a group of businesses that specialise in redeveloping 'difficult' sites. Since the pub closed in early 2008, security on the site has been poor, and this once proud building, parts of which have survived since the 18th century, has slipped quickly into decline.
Tonight, after lazily listening to more fire appliances screaming by and sparked by a message from my sister, I looked out of the window to see smoke and flames in the sky. A quick look at the internet indicated that a fire had taken hold of the hotel. Like many others I was drawn out of my house to watch the building disintegrate before our eyes. I thought it would be crass to take my camera - but plenty didn't. My 'phone had to suffice to document events.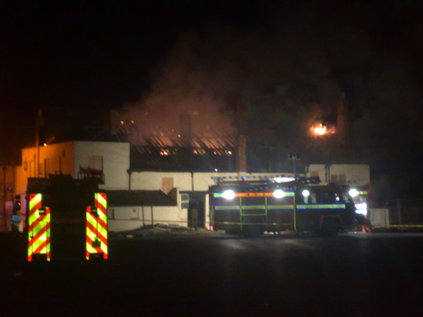 There was a strange, almost dangerous and semi-criminal taint to the atmosphere. Much of the town seemed to be lining the fence, groups of children playing chicken with the Police Officer put on crowd control duty - sprinting across the former market grounds to the line of tape and back as she lunged for them. Next to me a young boy said quite simply "this is the most exciting day ever!". Older folk reminisced about the pub, and about its decline - both before and after closure. Someone called the former landlord "Its OK, your 'book early for Christmas sign' isn't burning!". With the railway bridge closed again and the police turning cars back at the roundabout, the road began to fill with cars - mostly those of locals down to get a picture or watch the action.
Strangely, the Market was the centre of Highbridge once again tonight. People passed the time, bemoaning 'kids' or adding to the conspiracy theory about planning consent, listing and conditions. Only a full hour after the drama began did someone - a kindly soul - say "I hope there was no-one in there". Names of potential pyromaniacs were tendered. People reminisced about Jewson's burning many years ago. It was like the Carnival had finally come to Highbridge. I took a brief and very poor quality video, and again cursed my sensitivity at not bringing a better camera. It's curious to note the general level of excitement and banter among the watchers.
Whilst the conspiracy theories may well be unfounded, there are questions for the developer to answer about the security of the site and protection of the public. Since the Police were keeping us away, its hard to know if a salvagable facade remains. I left as the fire had died to embers, but it continued to retain the power to regenerate in a way the Town has never managed - springing up, bright and hot again in some new corner. The roof, collapsing under the jets of water, no longer containing the flames. The firemen trying to break skylights by throwing bricks and cheering each other's efforts on!
Whatever happens, one of the oldest buildings and perhaps part of the very core of the town is gone, and both the fabric and genus loci of Highbridge has changed again forever. Strangely though, the fire seems to have stirred some sense of belonging and place once again, and the reaction is threatening to turn against the 'developer'. Perhaps another chapter is already beginning?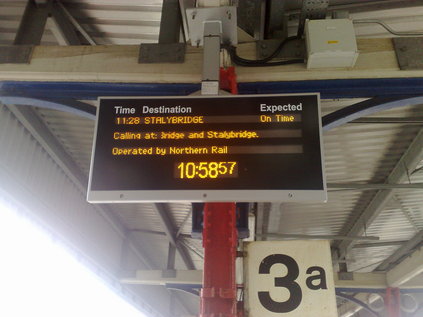 Posted in Railways on Saturday 19th April 2008 at 9:28pm
---
I can't seem to sit still this month. Sandwiched between two potentially rather tricky days at work, this weekend was likely to be the one when I didn't have anywhere in particular to be. There were a couple of events around the country, but none of great interest or easy to reach - so, having spoken with Mr Spinks earlier in the week I hatched a plan to revisit some old ground and get out and about after all. Getting tickets proved challenging initially, but pretty soon - and after only one disasterous booking error which needed to be sorted with a phonecall or two - the trip was sorted. A visit to Liverpool, travelling via the Stockport to Stalybridge 'ghost train' once again. Or from my perspective, a bloody long way to go for a pint!
A nice easy start to the day - off Highbridge on time, and to Weston where the useful 07:00 would take us directly to Stockport. Breakfast after Weston, and a fairly lazy trip up via Camp Hill. Things got a little busier on the train at Birmingham, but progress was good and we made consistently early arrivals at our stopping points. I almost hate to jinx things here, but my recent experiences with Crosscountry have been very good in terms of timekeeping. I hate to say it because the lack of South West to North West services seems nuts, but perhaps the work to resolve conflicts at New Street is paying off? At a cold and windy, but most importantly dry Stockport there was time to get coffee and add some tickets to Mr Spinks collection - including a few fairly bizarre CDRs to stations on the 'ghost train' route which it was impossible to return to! A fair gathering seemed to be assembling for the trip which has over the years developed something of a cult status, and happily noted a few normals also using the service to avoid the change at Piccadilly. Chatted and snapped a few pictures while we waited for 150223 to depart for Stalybridge.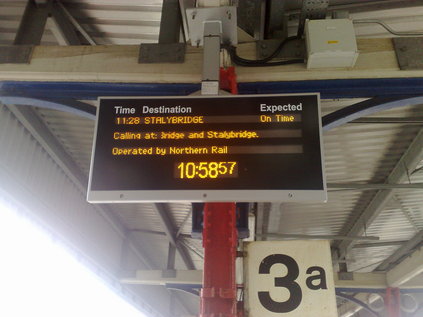 On arrival, the small horde disembarked and lingered around the unit, safely tucked into the bay platform awaiting it's departure back to Newton Heath having completed it's purpose of keeping a practically closed line legally open. Some local gricers lined up for a group shot and others took snaps of the unit on the buffers. Most had the same idea as we did, and despite my injured knee slowing me down a bit, made the dash under the subway and into the near-legendary Station Buffet to see no less than nine real ales on offer and an already busy bar. Settled on Howard Town's 'Hope' for starters, as I'd enjoyed a pint of their 'Wren's Nest' here on a previous visit. Badgered Mr Spinks into considering the addition of the famous black peas to his chosen lunch. Credit to him for trying them out, and I think quite enjoying them too. They certainly had an interesting effect on him, as moments later he was seen enjoying a half of my next choice, Phoenix Brewery's 'Darth Vader'!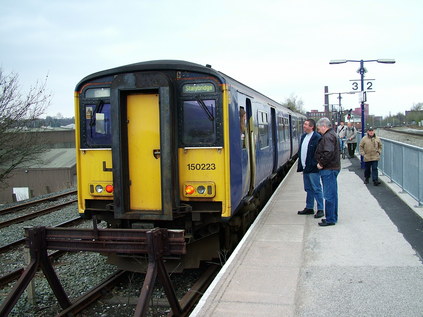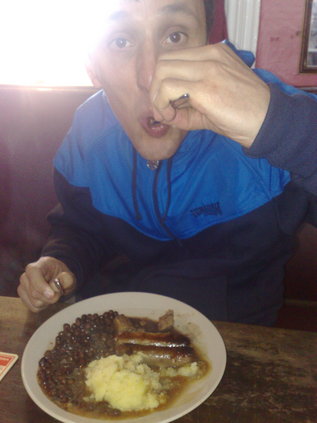 Leaving reluctantly, caught the next Transpennine Express service to Liverpool. Despite being very busy, the spacious Class 185 didn't feel cramped and we had a reasonably comfortable journey via Manchester Piccadilly and the former CLC lines via Warrington Central. Passed a few notable locations, but struck by just how quiet the formerly hectic depot and sidings at Allerton and Edge Hill were. A lone shunter poised above the mainline and some dumped wagons were just about all that indicated the presence of a railway installation at all. Arrival at Lime Street was, as ever, a pleasure. I always feel like I'm at a real, old fashioned, busy station and today was no exception. Wandered a little way into the City, dodging the saturday shoppers. Mr Spinks headed down into Liverpool Central to score some more track, while mindful of my leg I stayed above and found some food having missed lunch in favour of sampling a second beer!
Back to the station in time for the 15:37, a reliveried London Midland Class 350 which looked smart and tidy. We were joined by a group of local girls heading for Birmingham, who despite being rumbled for an attempted ticket scam (and forced to pay up by the patient but firm guard) managed to be quite entertaining most of the way back. They also had a very strange idea of where Coventry was located in relation to our route - and seemed genuinely concerned when it wasn't the next station! A short wait at New Street for another timely and uneventful Crosscountry service back to Bristol. As we sped south, the weather turned first gloomy and then very wet indeed. As we waited for our final connection of the day into a Taunton train, a convoy of locomotives sped through Temple Meads causing Mr Spinks to break into a spirited platform-length sprint! I've always told him that real ale was good for you, and this demonstrates this admirably. All in all, a cracking day out covering lots of old ground and many miles with no problems or delays at all.