Posted in London on Saturday 18th November 2006 at 10:18pm
---
I was determined to get to the LAMAS Local History Conference this year, after dropping out at the last minute a year ago due to being unwell. Today's trip presented it's own challenges, being the first day of the line closure which will dog the next month (and which I seem to mention in every post here lately!). Up early and onto the replacement bus which actually arrived as planned and got us to Taunton station quickly and on time. I suspect it all worked well because it was 06:01 and there wasn't much that can go wrong with the first bus of the day on relatively quiet roads. Onto the 07:10 to Paddington which was surprisingly busy. Had a sleepy journey up to London, and amazingly my fairly tight schedule once I'd arrived all worked out. I was in my chosen spot in the Museum of London lecture theatre a little before 10am, ready for the day's events.
As ever I was one of the younger audience members, and chatting to a few of the very active local historians it became clear that this was very much an interest which grew after retirement. They tend to have very specific interests in their own immediate environs, and seem to view any discussion of space and our relationship with it as 'post-modern bollocks' as one spirited old chap told me! After the introductions Jeremy Ashbee from English Heritage gave an interesting insight into the daily life of a Royal palace, in particular The Tower of London. His research indicates that many monarchs spent incredibly short periods at the palace, with Henry III managing only 38 weeks in 52 years. Outside these periods (for which the accounts indicate the household were often embarrassingly unprepared) the Tower enjoyed a multitude of uses and records indicate that even the King's own chambers were subject to alteration to confine a particularly slippery prisoner. Detailed, and sympathetically presented research is always a pleasure to listen to, and Jeremy clearly knew his topic.
From the sphere of Royalty we moved to the Ecclesiastical with Dr Vanessa Harding's quick sweep across the lost landscape of religious houses in London. In order to set the scene she gave a quick and useful run-down of the orders and sects operating in the City and their lineage. I confess a degree of bewilderment at the range of twists and turns Christianity appears to have taken during the Middle Ages, but suffice to say it appears you couldn't move for monks! Dr Harding linked her discussion of lost places back the the modern city which brought to life a complex and informative paper. I was amused by the 'Da Vinci Code' inspired gasps when the Knights Templar entered the discussion!
Next up was Hermione Hobhouse standing in at short notice for a speaker who couldn't attend. I'm not familiar with her Lost London (1971) but via a wide variety of slides, some much missed buildings and scenes were revisited. A quick reappraisal of the literature of lost London also failed to take into account William Kent's post-war catalogue 'The Lost Treasures of London' and the London Topographical Society's major publication of the LCC Bomb Damage Maps. Overall, I was disappointed by the conservative vision of a London lost because of immigration or diversification. It is a grave error to omit the huge influence this has had on London's growth and development from any account of the city. Looking backwards doesn't need to mean thinking backwards.
A swift lunch break in surprising sunshine, then back to see Nicholas Barton, author of Lost Rivers of London which is perhaps the book which turned my interest in the city from one purely relating to transport history into something rather more all-encompassing. A fascinating work which even nods towards the modern exploration of the 'sick city' in its brief acknowledgment of the epidemiology of the buried rivers. The talk ran through the book as published, with a few updated anecdotes - but it remained as fresh and engaging as the first read.
So, a hard act to follow - and for me another winner with Jim Connor on Disused Underground Stations. I had the feeling that Jim could have continued for hours, with engaging discussion and some informative pictorial evidence of the former stations. Jim ran out of time purely because of his encyclopaedic knowledge of the folklore and urban mythology of the Underground, which he delighted in sharing. Again, amazed at the fairly low level of awareness as evidenced by some of the gasps of surprise emitted by the audience. To finish things off, a brave choice - Kelvin MacDonald of the Royal Town Planning Institute on the Abercrombie Plan for London. As local historians and planners are almost always at odds, this was an interesting occasion. Kelvin's talk was intriguing. His take on Abercrombie's work was critical but he clearly admired the vision and bravery of the plan. His time ran out just around the point he was discussing the plan's legacy. I'd like to have seen him speak more on the remains of the halfhearted attempt to construct the Motorway Box, and it's effect on communities - particularly around the M11 interchange in Hackney for example. Kelvin's paper reminded us all that London moves onward - and you can either sit with the disgruntled country dwellers up for the weekend to hear some talks, or engage in the movement. The key is never to act surprised if you end up somewhere unexpected.
Once again, left partly inspired and partly dejected by the LAMAS experience. A swift dash across the city to Paddington, and an oddly convoluted route back to Taunton.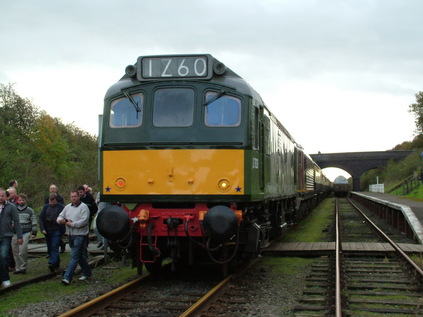 Posted in Railways on Saturday 11th November 2006 at 9:52pm
---
It was a late decision to book on this tour. With the daylight failing early, and the budget for such events definitely blown this year, it seemed like an extravagance. But faced with the long closure down here and very limited opportunities to get out and about, I threw caution to the wind, booked some accommodation in Ealing, and pretty much forgot about things until earlier this week! Glad I stayed last night rather than attempting any heroic journeys to the starting point today. We left rather late, but getting to Ealing early and chatting with some regulars was a nice gentle start to the day. After some signalling delays, our stock arrived around twenty minutes down, with 67016 at the head. The traction wasn't the attraction on this tour though, and it soon became apparent that our coach was a travelling meeting of the Branch Line Society. So, Quail maps out, we set out via Acton and the Brent Curve for the Midland Mainline. For some of us the tour fell at the first hurdle, with the booked routing via the Hendon Chord not producing. An announcement indicated that Network Rail claimed it was locked out of use pending removal, but there were some doubts expressed. Instead, we went over the top at Silkstream Flyover - new to me so not a problem. We were now a little under an hour late - and remained so for much of the day.
Once all of our pick ups were complete and 60013 was added to the rear of the train at Kettering, we headed for Loughborough South Junction where we took the curve behind the Brush Falcon Works and onto the northern section of the Great Central Railway. This former mainline to Nottingham, much more direct and less convoluted than the current route, has always fascinated me. Slow progress to East Leake where gypsum traffic still uses the lines, then a crawl to Rushcliffe Halt where the GCR(N)'s 25279 was attached to the front of our train to pilot us to Fifty Steps Junction. Once attached, the assembled masses were allowed onto the track for pictures. Unprecedented on the national network, this reminder of railtours past was welcomed by all but the most rabid track neds who wanted to ensure they saw all of our proposed route in daylight.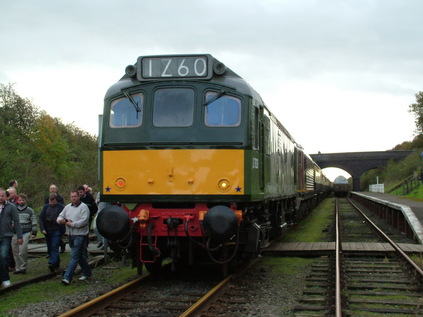 Also realised looking at the map that we were near the curiously named village of Bunny, where someone I'd met in my local had mentioned his parents owned a pub. After a reversal near to the Nottingham Transport Heritage Centre, back down the branch to Loughborough South and a bit of a score for me in doing Syston North to Syston East. This is possible on a number of service trains according to PSUL, but none that I'm likely to use this side of the next chance at a rover! Just shy of Melton Mowbray the train reversed again, onto the former Midland line to Nottingham at Melton Junction. This was the start of the test track proper, but first there was the matter of the lines into the Alstom Asfordby Test Centre to cover. Taking the curve at Asfordby Junction we progressed along the line beside the locked and gated Test Centre building well into the headshunt which was formerly the branch to the coal mine. as we made slow progress towards the buffers, one of the original Pendolino test drivers began a detailed, fascinating commentary on the tannoy which lasted throughout our visit. A bit of a surprise on reaching the end of the road however as 57311 was waiting for us courtesy of Virgin Trains and was soon attached to the back for the run up to Edwalton. How they got the locomotive there without anyone finding out in these days of the internet and the mobile 'phone is anyone's guess!
After rejoining the line at Holwell Junction (or at least somewhere near the site of the original junction) we made a fairly quick trip along the full extent of the line. This section of track is 25kV electrified and fit for 125mph running in places for the recent Pendolino tests. There are a number of curves laid at zero cant too, for tilt testing purposes. Naturally we took these fairly carefully! On reaching Edwalton, the end of the line for some time now, we crept as far as possible. The village of Tollerton was visible to the east, and to the west our first port of call today at Ruddington was only the matter of a couple of miles away. Time for some fun now, as 57311 was to haul the entire train (fourteen Mk1s and two locomotives) unassisted back to Old Dalby. Amazingly, the loco did incredibly well - with some quite speedy running. Had we been on time here, the plan had been to do a second run up to Edwalton. Someone somewhere was clearly having enough fun to decide that despite the lateness we could justify the run - and off we went again, this time stopping a little short of the buffers, and returning with both 67016 and 57311 providing traction. With the twilight descending, the lights of Nottingham were visible not far from line's end, and it was rather sad to realise just how close to having a direct route the city was, and how soon it might all be disappearing!
In gathering gloom, back to Holwell Junction where we bade 57311 goodbye and traversed the last side of the triangle before negotiating Melton Junction once again. An unscheduled stop at Melton Mowbray for some to escape, then via the Up Goods Loop (last used by Pedigree Petfoods!) to Corby and back to the Midland Mainline for a fairly quick run back to Ealing reversing the outward route. Given that I was undecided and rather late in booking, this turned out to be a really good fun 'old fashioned' railtour. Lots of atmosphere, lots of new track and some surprises. The timekeeping was not bad, considering we were at least consistently behind, not gaining and losing all the way like on some recent trips. Whether we'll be the last passenger train on the Old Dalby Test Track remains to be seen, but I think this tour will be remembered by all those on board for some time to come!

Posted in SHOFT on Tuesday 7th November 2006 at 11:59pm
---
It had been a strange couple of days - a mess of coincidences. Carnival night in Burnham yesterday and I spotted someone on the train with whom I had a clumsy but solemn teenage obsession. There were curious glances of the identity-confirming variety, but nothing more. It's long years since I thought of it, but now I appreciate how foolish and painful I felt back then. Then, this morning I spotted an old teacher of mine, someone I'd disagreed with - indeed held partly responsible for my early educational bath and it's attendant setbacks. After a brief and uncertain sighting in the street, he appeared again short feet away from me at the station. I couldn't bear to acknowledge him. I was struck by the odd synchronicity that I'd only been speaking about him on Sunday to my parents. It must have been years since I'd uttered his name until then.
More memories. I remember attending gigs in Bristol when I was much younger - standing, self-consciously waiting for the doors to open, cautiously eyeing some pale and beautiful indie-girl but knowing that she was waiting for her boyfriend to show up. Then, studiously watching the support act with the eyes of a music critic in the hope of discovering some hidden treasure - even sometimes going mainly for the support act and getting into a big fight over preferring Velvet Crush to Teenage Fanclub as I recall! So tonight I found myself doing almost the same thing. Standing almost exactly in the spot where I waited for the Sarah 100 Farewell Party over a decade ago, I waited rather nervously to watch Arab Strap's final performance in Bristol.
The Thekla Social hasn't changed much from its guise as just plain 'Thekla'. A boat, moored alongside The Grove in a part of Bristol which is now disturbingly hip where it was once just disturbing. Inside it's been tidied up, and seems smaller - but then again I'm bigger I suppose. The venue was slow to fill, and there were only a handful of us close to the stage for support act De Rosa. They were an interesting mixture of noisy pop and the studied alt-country rock which seems to have been perfected in Glasgow these days. Some interesting songs, some which were a little longer than necessary. They seemed to finish on a high, and got a fairly positive response from the never very forgiving Bristolian crowd.
Time to study the audience. Surprisingly young. Predominantly male. Lots of girlfriends dragged along for the night out. I wonder what they thought? A strange group, plainly regulars here, seemed to be holding court near the front of the stage. Took a fair bit of stick from 'the kids' about my 'silly looking parka' which was momentarily silenced by most of Arab Strap walking through the venue in similar garments, although one wag pointed out that 'they were fat old blokes too'. Refreshed my bottle of beer and found a spot near a rather unkempt young man who unfortunately (for all of us) seemed to smell like cat litter.
It's a long time since I'd seen Arab Strap, but I remember then thinking that even though they were sort of ramshackle on record, they were different live - Malcolm's guitar in particular coming to life. Tonight I was struck by the same feeling from the second the bagpipes heralded their arrival on stage. Aidan, the consummate showman entertained despite his heavy cold. I always found it remarkable that someone with a legendary appetite for alcohol had such a keen memory for lyrics, and tonight some very old songs surfaced, including a sublime New Birds, a sleazy take on Packs of Three and The First Big Weekend - requiring considerable feats of memory I'm sure to recall the dense and intricate storytelling. New material sat comfortably alongside the old with a spirited Speed-Date, a stirring Dream Sequence and an inspirational There Is No Ending from the final record. Stepped out into the cold and foggy evening, thinking about Bristol, music, absent friends and recent coincidences. The kind of reverie where Arab Strap just seem to make sense.
At a time when all kinds of bands from my past are reforming and crawling back into the limelight, a chapter closes.
Posted in Railways on Saturday 4th November 2006 at 8:16pm
---
There's a lot going on in November as usual, and despite trying to cram in journeys before the three week long closure at Highbridge on 20th, I decided to stay fairly local today and take advantage of some special trains running as reliefs to accommodate passengers heading for the Wales vs. Australia rugby match at the Millennium Stadium in Cardiff. Having fiddled around with the journey planner a bit, figured that getting an early train from Gloucester wasn't an option. Instead, planned to get on the first train out and spend a little time at Newport before heading up to Gloucester and back on the top and tailed Class 37 hauled service. Realising the the Class 50 shuttles were running empty back to Newport each trip made this idea more attractive. So, set out for the station in the freezing darkness, and met up with some locals heading the same way. Arrived to the promising scene of a convoy of locomotives awaiting departure towards East Usk.
A fair showing of cranks at Newport for the day's various festivities. Rewarded with some interesting freight activity include 59201 heading west among other things. The 37 hauled service passed us heading for Cardiff a little late, but sounding fine with 37410 at the front and 37406 behind. An experiment in embedding YouTube video is below. Listen in particular for the three bursts of thrash as 37410 accelerates away from the platform. Pure mechanical poetry!

37410 and 37406 leave Newport for Cardiff
It's return working had made up some time, and after further freight watching, and trying to warm up with hot tea, we finally left a minute or so down. A storming start for a non-stop run to Gloucester along the Severn estuary. Some very impressive running saw us arriving early into Gloucester, to find a fairly sizable crowd of Wales fans waiting for the service back down. Held on to our seats rather than risk an uncomfortable trip back. This turned out to be a wise move, as stops at Lydney and Caldicot saw the train fill to bursting point. No way we could have struggled off at Newport, so pressed on to Cardiff where we paused for lunch before heading back to Newport.
Even on the home straight things stayed fairly interesting with a sudden burst of activity including 66104 emerging from a now very misty scene beyond the station. 59201 also reappeared on it's return working. Set off early on the 14:43 to get back to Bristol before the end of the Rugby match. A fairly short but busying and interesting day. Entertainment on the way back provided by some fairly unsuccessful fare dodgers antics.