Posted in Updates on Sunday 26th September 2004 at 10:14pm
---
End of my week of holiday, and I'm getting that strange 'back to school' feeling I remember from many years back! Its been six months since my last week off, and this week was much needed. I even managed to spend a couple of days doing nothing much in particular and catching up with friends.

Tried to keep busy for the rest of the week however, and achieved quite a bit in terms of reading, getting myself organised, dealing with administrivia and things around the house. The Police continue to investigate the fraudulent credit card transactions, and dealing with an efficient and friendly WPC has restored my confidence after a very shaky first experience. Nice to have a few rather more relaxed trips out too, with time to stop and look around. I think my status as a 'trainspotter' is pretty much clearly established now, after years in denial!

Time to start thinking about the next week off, which isn't so far away. That's going to take a little more planning. In the meantime, I need to practice keeping my head below the parapet, don my flameproof suit and head back into the maelstrom...

Posted in Computers on Sunday 26th September 2004 at 7:27pm
---
For a long time now, I've been wondering what to do about updating the two machines here. I wasn't entirely comfortable with the things I'd heard about Fedora Core 2, and the thought of following the current trend and installing something like Gentoo was not encouraging. My biggest limitations being my time, and utilising as much of the knowledge and as many painfully learned lessons from the last five years as possible. I also need my computers to be working, not 'works in progress'.

Enter Ubuntu. I'd read more and more intriguing reports of this Debian based distribution. I was attracted by its reported simplicity, the up-to-date GNOME installation, and the strong Free Software ethic at work. Today I finally threw caution to the wind and set about downloading and installing Ubuntu.

First off, I am amazed how much is crammed into the single installation disk. For your 510mb download you get a fully functioning GNU/Linux system, running GNOME 2.8, with Evolution 2.0, OpenOffice, GIMP and lots of other applications enabling immediate productivity. The install was pretty near flawless and didn't expose too much of the packaging system, or the complexities of the setup. There is, however an 'expert' mode which I didn't try. My two problems were easily tracked down - firstly a very old ISA network card which didn't like being asked to 'plug and play', and secondly some confusion caused by Fedora's previous partitioning. On a well set up computer which hasn't been messed around with by the likes of me, neither of these are likely to cause problems.

The default settings are usable but conservative. No unnecessary services are started, security seems pretty tight, and the boot straight into GNOME via GDM works perfectly. The default GNOME setup is somewhat modified from the standard, but in pleasant and useful ways. Having the 'Computer' icon and its contents collapsed into a menu is strangely usable, and the presence of gnome-system-tools made several of the tweaks I wanted to do much simpler. More packages are available via apt or the helpfully installed 'synaptic' GUI frontend. I added a couple of essentials (for me) such as nfs-common and ssh-server.

So, early indications are promising. If my experiences continue to be positive I'll spend a little time getting used to Ubuntu and then upgrade my desktop machine too. If you've got a spare couple of hours and a machine that needs an upgrade, I'd certainly recommend trying it out.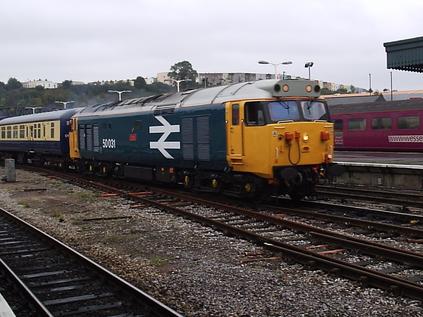 Posted in Railways on Saturday 25th September 2004 at 8:31pm
---
Set out on another try at the Wessex free Day Return ticket offer. Plan was to get to Southampton, then on to Eastleigh for a quick look at the depot. It wasn't to be. Predictably, the Portsmouth train was a single Class 158 and it was dangerously overloaded. A rather rude and unfriendly guard added to the frustration. Feeling increasingly uncomfortable, and figuring that since I hadn't paid anything I hadn't really lost anything, I bailed at Westbury.

As usual, had a reasonably long wait to get anywhere from here. A further Portsmouth service came and went, advertised as 'all unreserved accomodation occupied' - which was frankly an understatement. An equally packed Bristol service passed. I took the chance to enjoy a cup of coffee and watch goings on in the sidings. Also bumped into a fellow enthusiast who grew up in my old home town, and chatted about the days events so far, and the stuff due this way in the afternoon.

Eventually, back to Temple Meads. Took my usual spot on Platform 5 and waited, with some likeminded souls, for the Class 50 hauled railtour to arrive. The tour deposited its passengers at Bath Spa, but the stock was to wait at Bristol for the return leg. Finally arrived with the 50s running top-and-tail, and in good shape.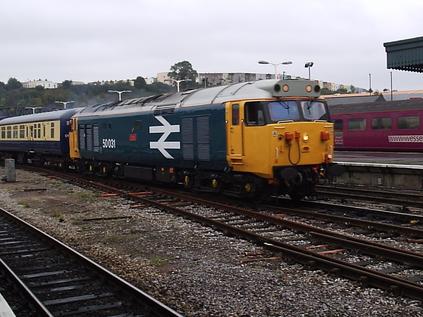 The next event of the day was the arrival of the 'Avonmouth Adventurer' steam hauled service. This was ominously late - much to the disgust of an older gentleman who "didn't hold with all this diesel" - and I began to regret my prediction to a guard working the Severn Beach shuttle earlier in the day that he was going to get stuck behind a failed steam train! Eventually it arrived, with a bonus in the shape of 37521 on the rear. Once passengers had disembarked, the driver of 37521 thoroughly enjoyed playing to the audience with one of the loudest, fastest standing starts I've ever seen.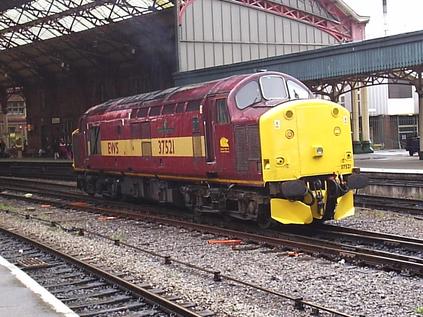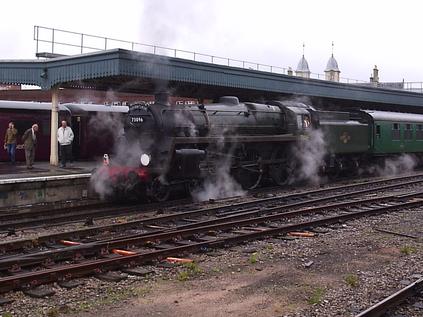 Hung around for the various shunting manouevres which 37521 undertook, all seemingly a little faster and louder than was strictly necessary, which was very entertaining. Headed back home on the 1725 to Weston, having had an afternoon of interesting conversation and entertaining workings, despite Wessex Trains best efforts to mess things up earlier on.

Posted in Railways on Thursday 23rd September 2004 at 6:21pm
---
After a run out to west Wales yesterday, decided to head for the south coast today, on a trip to Portsmouth using one of the free Day Return ticket vouchers which Wessex Trains have distributed via the local newspapers. It seems everyone waited for the last week of the offer (which has run for the past month) to travel. Since the ticket is valid from 0930 onwards, the 0934 from Weston was extremely full. Mainly, it has to be said, with older people who probably haven't used the network for some time, and appeared a bit bewildered by things.

Changed at Bristol to find Platform 9 heaving with bodies awaiting the increasingly delayed 1022 to Portsmouth Harbour. Added myself to the crush and smiled wryly at the 1042 arrival of a single Class 150. The journey was reasonably uncomfortable at first, but the crowds thinned out after the popular destinations of Bath and Salisbury. Unfortunately, missing our path and further delays en route caused the train to be cancelled and turned around at Fareham. I left the train at Southampton Central, leaving a bunch of passengers wishing to travel on to Portsmouth to haggle with a South West Trains employee about using their 'Wessex Only' freebie voucher on SWT services!

A nice quiet run back on the next Wessex service, getting the chance to have a good look at what was happening at the Southampton Maritime Freightliner terminal. Not a hugely successful trip, but its always nice to get out on the rails for free, even if you don't quite get to your destination!