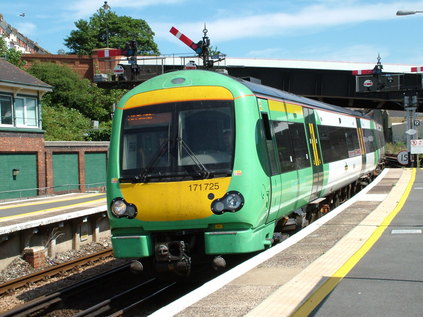 Posted in Railways on Saturday 29th July 2006 at 8:48pm
---
Having family staying means lots of nights in the pub, which does not lend itself to early starts. However I still found myself stumbling around the place at 5am this morning, preparing for today's excursion. The destination was Kent - now its quite possible that I've complained about the place here before. Certainly one of my least favourite rail journeys is from Tonbridge to Ashford which always seems a long, featureless drag. But since visiting some of the North Kent lines earlier this month, I've developed a curiousity about the topography of this area - and particularly how (and where) it 'becomes' South London. There are also a few pieces of track left undone in this part of the world!
Once out and about, had an early breakfast and caught 2M02 as ever. Today it was FGW's celebrity 158750, affectionately known as 'Nora'. From today however, she was no-longer alone as four more ex-Trans Pennine units were due to arrive this afternoon. Chatted once again to the locals, and exchanged information about events around here. A quick platform change on arrival at Bristol to switch to the 07:30 to London Paddington, which provided a swift and trouble-free arrival in the Capital a couple of minutes early. Onto the Circle Line and around to Embankment. Surfaced for the first time since Bristol in a sunny but cool Villiers Street. I'd like to have stayed and watched the city over a cup of coffee, but needed to press on. Despite a painful knee, braved the stairs into Charing Cross from the street. Time to stock up on refreshments and explore the station a little, before boarding the Hastings-bound unit. This first stretch wasn't new track, but it held memories of when I returned to the tracks at the end of 2003 after a three year absence. I remember waking up one day and thinking 'I need to go to Hastings' - as I recall it cost a fair bit, but it did the trick in getting me out of a difficult bind in Weston. I've never looked back, and my nerdiness now knows no bounds!
Hastings Station had changed a great deal. The building site and run down station which I griped about before are gone, and a huge glass box now replaces it. One of the platforms seems to be an East-facing bay now - I can't recall if that was the case before. Took a few pictures in the sunshine, trying fairly unsuccessfully to capture the semaphore signalling too.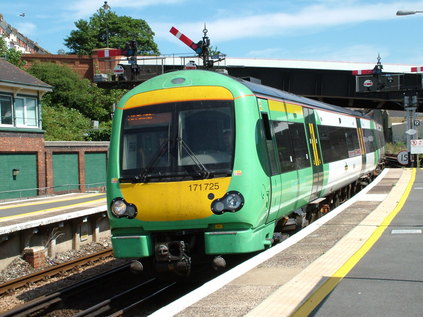 Just a couple of minutes after time, 171728 arrived from the West. Passengers jammed themselves into the two-car unit. Found a First Class seat and settled in for the journey over the marshes to Ashford. This was new track for me. Despite being fairly flat and often empty, found the journey interesting. The small towns we passed along the route all seemed pleasant and attractive places, and there was a strange sense of being 'cut-off' here. Most of our train seemed to disappear at the comparatively large settlement of Rye, but a fair number headed onwards to Ashford.
I remember arriving at Ashford International not long after it was rebuilt. It seemed cold and empty, and fairly confusing. Ashford's importance seems to arise more from its central location in Kent than it's size - a regional hub of sorts. Few people seem to leave the station here, but huge numbers seem to change trains for distant parts of the county or for even more distant mainland Europe! Today I was just passing through too. Grabbed a much-needed drink (sold to me by an extremely opportunistic shop assistant who tried to sell me most of the fixtures and fittings to go with my water!) and braved the woefully inadequate passenger information systems to go in search of the Ramsgate train. My records indicated I'd travelled this line as far as Canterbury West - certainly I remember a Canterbury trip where I walked from West to East (or vice versa), but the memory is at best hazy. As I recall I walked part of the way along the city walls. Today, pressed on further to Minster and Ramsgate completing another section of new track.
Here I deviated from my schedule. I was planning on a service back to Charing Cross, but I realised this duplicated some of the route I'd just taken. A little research indicated that a few minutes after we arrived there was a departure for Victoria via Margate. I'd done this line a couple of years back, but it would be more interesting than retracing my steps. Resolved to let fate decide - if we arrived in time I'd catch it, if not it wasn't a problem. In the event, we arrived on the same platform, and it was a matter of a few metres walk to get the Victoria train. Despite being a through station Ramsgate seems to work as an ad-hoc terminus, the staff being adept at ferrying passengers from one train to another in double-quick time. Once again, just like my last visit, I'd spent only a few short minutes in Ramsgate!
The service set off fairly heavily loaded, but lost much of the train at Margate and Broadstairs. I was pretty much alone in the rear carriage after this point - particularly after Faversham where we joined the other portion of this train from Canterbury East. From here I was in the 12th car of a twelve-car unit and no-one ever waits that far back along the platform. Enjoyed the quiet and the efficient air-conditioning as we snaked through North Kent, calling at the Medway towns and diving into the confusion of the South London suburbs. The route skirted the centre of the city, through Bromley, Penge and Brixton before swinging north in the shadow of the shell of Battersea Power Station, and into the always impressive maelstrom that is Victoria. It was a long walk from my carriage to civilisation and the stairs to the underground!
A quick transfer on the Circle, and back to Paddington with around 20 minutes before the 17:30 departure for Highbridge. Found food and settled in for a quiet journey back. I'm not sure I understand Kent any better than when I set out, but as always I ended up with different routes I want to take, and places I want to explore - so in that sense the day was a success.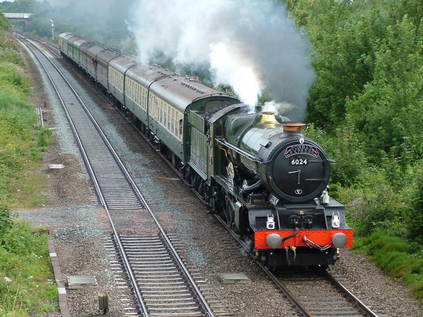 Posted in Railways on Sunday 23rd July 2006 at 11:15pm
---
I missed the first Torbay Express of the year last Sunday. Partly due to being disoriented by just returning from my trip, and partly through semi-drunken confusion about what day it was. I heard the whistle from at my parent's place, and immediately remembered I'd quite confidently told someone it was next week! Feeling guilty, I wandered down to the station later but it was just a little too dark for a picture. So this week I was out early, braving a brief summer shower to get my picture. There had been talk about an accompanying diesel locomotive due to the fear of lineside fires, but there was no sign when the train passed, pretty well on time.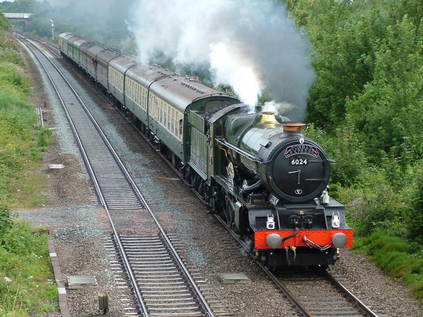 I later found out that 67023 had chased the King down just a few minutes later. A perfect excuse to head back to the station this evening to watch the King and it's attendant passing Highbridge in the hazy evening sun. Once again, the light slipped behind the trees far more quickly than I'd hoped, but I had time for a pretty fair shot.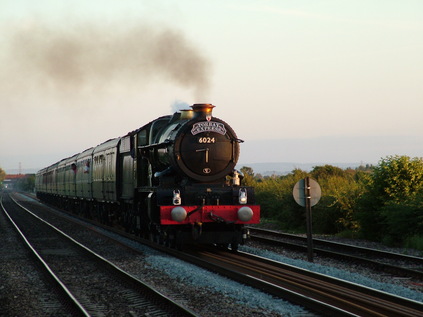 67023 trundled rather forlornly past a few moments later. Chatted a little to the assembled locals before heading home, having got my first shots this year of this now annual event.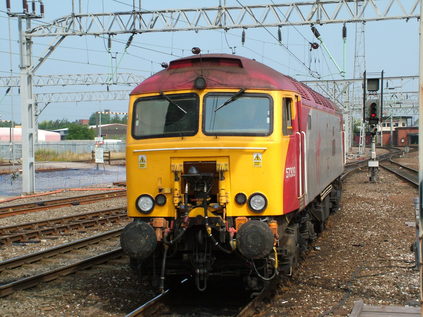 Posted in Railways on Saturday 22nd July 2006 at 8:51pm
---
Last week's trip to Greenwich having taken it's toll financially, it was probably not advisable to plan a long distance journey this week. However, the lure of getting away and covering new track was too much. The problem of course being that it becomes increasingly expensive to get to the tiny bits of uncovered track that remain. Since I hadn't been north-westwards for a couple of weeks, decided to head for Buxton via Crewe and Stockport. I could have almost done the routine on autopilot - onto 2M02, where I bumped into the local crew of trainspotters heading for Bristol to see a tour featuring two Class 37s - and then a swift change for 1S42 at Bristol Temple Meads. Relieved to find air-conditioning working and buffet open after recent Voyager journeys! Enjoyed a lazy journey as far as Crewe.
Next leg was to Stockport, a route which has been closed for resignalling work for what seems like an age. Had a fairly long wait so wandered around Crewe station in the sun and watched a driver and fitter struggle with a Class 57. Eventually they gave up, but another was soon found to haul the Holyhead service with 57309 heading in from the north.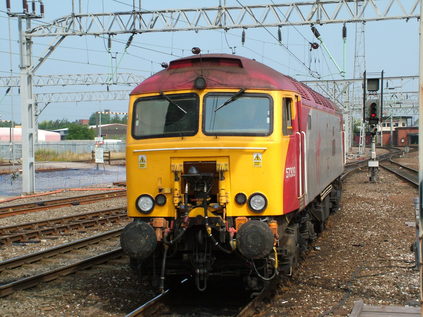 I can't remember when I last travelled between Crewe and Stockport via Wilmslow. Noted much of the new signalling still out of commission along the route. Pretty swift change required at Stockport to get over to Platform 1 for the Buxton service. A minor delay due to congestion, and soon off on 150136 which was in pretty poor shape internally. The train was fairly busy as far as New Mills Newtown and Disley, but soon thinned out so only a few of us remained as we climbed into the Peak District. Amazing scenery and fine weather on arrival at the impressive Buxton station. This former LNWR structure hints at former glorys with its imposing fan-shaped window and extensive buildings. The closed motive power depot and the imposing Spring Gardens Viaduct are testament to former glories - when the High Peak route ran south and east of here.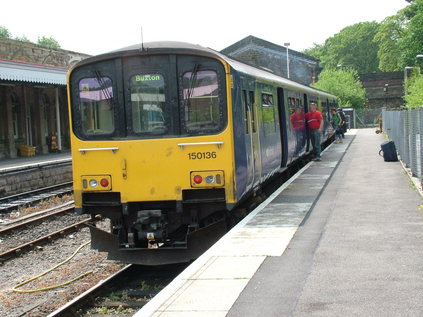 Wandered into town and enjoyed an hour or so of exploring this curious Victoria spa. The impressive baths and opera house face down a rather quaint village High Street. Followed this down to the Viaduct and found a Hardy's & Hanson's pub called 'The Railway'. A pretty awful place to be honest, but the chance to sample 'Olde Trip' was again welcome. The midday sun was blazing relentlessly down on Buxton now. Returned to the station for my train back to Manchester.
Spent the journey back trying to fathom the railway geography of the Peak District. Vaguely aware of the Peak Forest freight lines to the east, but noted the Hope Valley line closing in on us too. Realised this was the location of the Hazel Grove chord which had confused me in a magazine article recently! Good to be back at Picadilly however briefly. Wandered around, grabbing a bite to eat and watching people before boarding the 1454 Brighton train. Settled into a very cool and empty First Class carriage as far as Birmingham. Surprisingly smooth change at New Street too, with no delays to the usually tardy 17:12 service. The return journey was almost as routine as the outward trip, with the customary platform swap at Weston for the short ride home. Another branch line marked off in the atlas!

Posted in London on Saturday 15th July 2006 at 11:38pm
---
Once again I've come away from Literary London feeling energised and enthusiastic about the City and it's stories. A strange conference in some ways this year - the theme of 'The River' was so appropriate, given that the Thames flowed sluggishly just feet from where we discussed its representation. Many more of the contributors spoke on the conference theme than ever before, and there were far fewer papers on Iain Sinclair and such like.
Personal favourites this year were Finn Jensen's paper on 'The New River and the Regents Canal' and Professor David Skilton's 'Sweet Thames Run Softly - Constructing a Clean River'. Both drew on topography, history and literature in describing places I've walked and wondered many times. Perhaps the most challenging paper was Alex Murray's paper on 'Gentrification and the New East End'. I think I found it challenging because in a sense, I stood accused. Was I one of the chattering class gawpers who staked a claim to the East End on the basis of some alternative take on tourism? The paper also posed the question about where London writing goes from here, post-Thatcher and somewhat bitterly for Murray, post-Sinclair and Moorcock?
The demonstration of Christian Nold's 'Biomapping', which combined GPS, Galvanic Skin Response and Google Earth, was interesting but perhaps unsuccessful. It was clear that to Nold, London was a city - a complex and changing environment no different to any other city. In a room full of people who give it priviledged consideration, this seemed to fall flat. It was also clear that Nold found his results interesting and diverting, but was not prepared to read any conclusion into them - either scientific or otherwise. Still a fascinating talk however.
It was quite incredible, between papers, to step out into the formal spaces of the Royal Naval College and sit in the sun, still strong at four in the afternoon, staring across at the Millenium Dome or the shiny towers of Docklands. I started each morning with breakfast near the Cutty Sark, watching crowds of naval officers and besuited dignitaries heading for a ship moored nearby. Each evening was spent wandering the small town centre - enjoying the atmosphere of London outside London, and trying in vain to find a pub which could serve a decent pint - finally settling on The Plume of Feathers on Park Vista. I liked Greenwich most particularly because it managed to be a small, bustling and down-to-earth place despite the monumental historical backdrop which is always present on the skyline - in the masts of the Cutty Sark or the tower of the Observatory.
This morning, having sat near to Greenwich Pier every day and watched the commuters dashing for their ferry to work, curiosity overcame me and despite a fair cargo of luggage I found myself heading for the pier to enquire about times. Several companies serve the pier, and something of the old Thames watermen survives in the way they compete for business. A Thames Clippers representative was canny enough to claim to some tourists that the next boat to Westminster was one of theirs, despite it only going to Savoy Pier. Admiring his approach I boarded. I haven't been on the Thames for 25 years - almost to the week I think - so this was special. Making a fair pace we scudded over the murky waves to Canary Wharf, St Katherine's and Bankside. Finally I got to see the rather unimpressive grating under Blackfriars Bridge where my beloved Fleet River empties into the Thames in it's new guise as a sewer. Finally, we reached Savoy and after negotiating a charity fun-run I found myself beside the York Water Gate - subject of David Skilton's opening paper. I'd come full circle, so it was clearly time to head home. Every year I think this conference is beyond my grasp, but somehow I make some sort of sense of it. I'm already looking forward to next year.