Posted in Railways on Saturday 29th July 2006 at 8:48pm
---
Having family staying means lots of nights in the pub, which does not lend itself to early starts. However I still found myself stumbling around the place at 5am this morning, preparing for today's excursion. The destination was Kent - now its quite possible that I've complained about the place here before. Certainly one of my least favourite rail journeys is from Tonbridge to Ashford which always seems a long, featureless drag. But since visiting some of the North Kent lines earlier this month, I've developed a curiousity about the topography of this area - and particularly how (and where) it 'becomes' South London. There are also a few pieces of track left undone in this part of the world!
Once out and about, had an early breakfast and caught 2M02 as ever. Today it was FGW's celebrity 158750, affectionately known as 'Nora'. From today however, she was no-longer alone as four more ex-Trans Pennine units were due to arrive this afternoon. Chatted once again to the locals, and exchanged information about events around here. A quick platform change on arrival at Bristol to switch to the 07:30 to London Paddington, which provided a swift and trouble-free arrival in the Capital a couple of minutes early. Onto the Circle Line and around to Embankment. Surfaced for the first time since Bristol in a sunny but cool Villiers Street. I'd like to have stayed and watched the city over a cup of coffee, but needed to press on. Despite a painful knee, braved the stairs into Charing Cross from the street. Time to stock up on refreshments and explore the station a little, before boarding the Hastings-bound unit. This first stretch wasn't new track, but it held memories of when I returned to the tracks at the end of 2003 after a three year absence. I remember waking up one day and thinking 'I need to go to Hastings' - as I recall it cost a fair bit, but it did the trick in getting me out of a difficult bind in Weston. I've never looked back, and my nerdiness now knows no bounds!
Hastings Station had changed a great deal. The building site and run down station which I griped about before are gone, and a huge glass box now replaces it. One of the platforms seems to be an East-facing bay now - I can't recall if that was the case before. Took a few pictures in the sunshine, trying fairly unsuccessfully to capture the semaphore signalling too.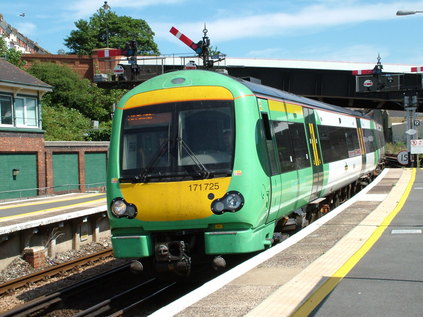 Just a couple of minutes after time, 171728 arrived from the West. Passengers jammed themselves into the two-car unit. Found a First Class seat and settled in for the journey over the marshes to Ashford. This was new track for me. Despite being fairly flat and often empty, found the journey interesting. The small towns we passed along the route all seemed pleasant and attractive places, and there was a strange sense of being 'cut-off' here. Most of our train seemed to disappear at the comparatively large settlement of Rye, but a fair number headed onwards to Ashford.
I remember arriving at Ashford International not long after it was rebuilt. It seemed cold and empty, and fairly confusing. Ashford's importance seems to arise more from its central location in Kent than it's size - a regional hub of sorts. Few people seem to leave the station here, but huge numbers seem to change trains for distant parts of the county or for even more distant mainland Europe! Today I was just passing through too. Grabbed a much-needed drink (sold to me by an extremely opportunistic shop assistant who tried to sell me most of the fixtures and fittings to go with my water!) and braved the woefully inadequate passenger information systems to go in search of the Ramsgate train. My records indicated I'd travelled this line as far as Canterbury West - certainly I remember a Canterbury trip where I walked from West to East (or vice versa), but the memory is at best hazy. As I recall I walked part of the way along the city walls. Today, pressed on further to Minster and Ramsgate completing another section of new track.
Here I deviated from my schedule. I was planning on a service back to Charing Cross, but I realised this duplicated some of the route I'd just taken. A little research indicated that a few minutes after we arrived there was a departure for Victoria via Margate. I'd done this line a couple of years back, but it would be more interesting than retracing my steps. Resolved to let fate decide - if we arrived in time I'd catch it, if not it wasn't a problem. In the event, we arrived on the same platform, and it was a matter of a few metres walk to get the Victoria train. Despite being a through station Ramsgate seems to work as an ad-hoc terminus, the staff being adept at ferrying passengers from one train to another in double-quick time. Once again, just like my last visit, I'd spent only a few short minutes in Ramsgate!
The service set off fairly heavily loaded, but lost much of the train at Margate and Broadstairs. I was pretty much alone in the rear carriage after this point - particularly after Faversham where we joined the other portion of this train from Canterbury East. From here I was in the 12th car of a twelve-car unit and no-one ever waits that far back along the platform. Enjoyed the quiet and the efficient air-conditioning as we snaked through North Kent, calling at the Medway towns and diving into the confusion of the South London suburbs. The route skirted the centre of the city, through Bromley, Penge and Brixton before swinging north in the shadow of the shell of Battersea Power Station, and into the always impressive maelstrom that is Victoria. It was a long walk from my carriage to civilisation and the stairs to the underground!
A quick transfer on the Circle, and back to Paddington with around 20 minutes before the 17:30 departure for Highbridge. Found food and settled in for a quiet journey back. I'm not sure I understand Kent any better than when I set out, but as always I ended up with different routes I want to take, and places I want to explore - so in that sense the day was a success.