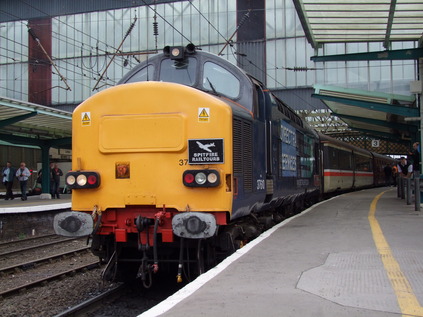 Posted in Railways on Saturday 31st July 2010 at 10:28pm
---
It seemed like a long time since I'd been away from home, which is all the stranger given that I spent most of May and June zig-zagging across the country and setting up camp for weekends at a time in various spots. A few weeks of strangely introspective, mostly solo travels had been just the thing in some ways. There is such a lot of change in the air just now that these quiet missions to revisit far off places, sometimes in new ways, have become incredibly valuable, contemplative times for me. So, after a fitful night in a new hotel I found myself trudging the empty centre of Birmingham towards New Street at around 05:30. The hotel was fine - an improvement in fact, but my mind had been whirling around all night and I'd not really got to sleep for any stretch of time. Oddly, yesterday I'd leapt out of bed thinking it was today and I was late! Things are confusing just now it seems... Got to the station to find it almost completely empty. No hope of a coffee to wake me up, and as ever the lack of any advance warning of which platform the trip would use. This was a bigger problem today as no staff were in evidence either. Hedged my bets based on other departures, and spotted some familiar faces on Platform 3, so took a chance and thankfully got it right avoiding a last minute dash. Rewarded by the sound of 37610 thundering out of the tunnel, with 57003 already running on the back. Soon on board, meeting up with some very familiar Coach K faces and learning that 37611 hadn't even made the start of the tour, having failed at Carnforth on the empty stock move. Having spent a weekend in the Highlands with 37610 recently, rather disappointed not to have had 37611 - however, the performance put in by 57003 on the fairly straightforward run to Sheffield via the Old Road made up for this.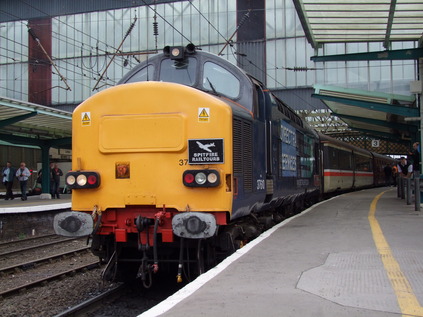 At Sheffield, we reversed and headed north via Moorthorpe and the complicated mess of lines around Wakefield, this took us over the Crofton to Hare Park section before using the curve between Calder Bridge Junction and Turners Lane Junction - a few chains of track I needed. Settled in for the run via Methley and Woodlesford, avoiding Leeds by way of the Whitehall Curve, completed accidentally on a previous similar trip. Discussion on board turned to the Settle-Carlisle route, and the fact that despite being one of the most famous journeys in the country, it was - well... a little bit boring! Having done the run already this year, I confess I wasn't too interested in the line - and it can be a tiresome slog when any chance of a picture is destroyed by 'normals' hanging out of the droplights for a view of Ribblehead Viaduct. However, the day was warming up outdoors and there was a steady supply of beer and conversation, so the trip passed pleasantly enough and rather swiftly in fact. Very soon we were arriving in Carlisle. A dash to get photographs followed, as due to a number of charters being in town our stock was to go to Kingmoor Depot.
Took advantage of a few hours break to wander into town and revisit some favourite spots. No pipe band this time, but while I enjoyed a coffee The Borders Brass Band struck up. Watched the busy town scenes whilst jotting some notes and thinking lazily about work and associated things. Realised I've become rather mentally lazy lately and not considered things too sensibly. Having put myself in some strange scrapes lately - which I'd normally avoid - it was good to take stock, and wander the city in the bright afternoon sun. Revisited the beer shop too and found that the proprietor had stocked up on brews from a few new local breweries too. Chatted for a while and pondered my choices carefully, tending to go for the lighter and hoppier summer ales for our trip home. Back to the station for a snack and another good coffee from the little van just inside the entrance, before joining the vast crowd of enthusiasts watching 6201 'Princess Elizabeth' manoeuvring to rejoin her train. There was a brief time that it seemed the loco wouldn't make the gradient from Upperby to the station - but slowly but surely the stock drew into the station. Around then a further charter arrived, having come from Kings Cross in the charge of 67024 and 67021. This stopped only briefly at Carlisle before returning south. Add a couple of passing freights, and there was something of a gala atmosphere on the platforms today.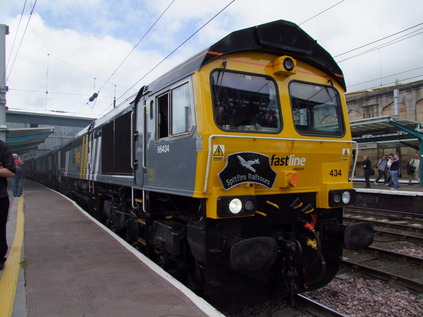 Our stock soon arrived, with the predicted 66434 accompanying 66421 on the front. The loco, carrying the now defunct Fastline livery was a bit of a celebrity and caught the imagination of the photographers I noted as we headed east into the Tyne Valley. Again this is a slow route, but has it's pleasant points and is perhaps a route less travelled for me. Have often thought I should visit some of the communities along this line at some point, rather than flying through as I did again today. Noted we'd lost a bit of time, and a further check on the approach to Newcastle meant we crept in about a minute before we were due to depart. Thus the leg-stretch was cancelled (much to the amusing annoyance of one of the railtour scene's more persistent moaners!) meaning no chance of getting a daylight shot of 37259 and 37608 which were to haul us forward. As these were veterans of recent Cornwall and Scottish tours respectively, not too concerned by this. Soon off, and found myself chatting pleasantly in the vestibule with a couple of staff members as far as York. Here there was some confusion about the routing, which saw us fly through the station rather quickly rather than use the line behind the yard. The route from here was all a little uncertain, as news had reached us of a lineside fire at Swinton. Noted we were routed via the mainline to Doncaster, and thus watched the developing situation with interest.
Things all ran surprisingly efficiently from here, with us heading onto the line through Mexborough via the Goods curve, then using the 'old' line through Thrybergh Junction to avoid the closed section, then sitting briefly in Brightside Loop outside Sheffield to wait time before calling at the station. Here we were joined by another regular, doing a part fare back to Birmingham. Celebrated with further beer and had a very quick ride back with 37259 performing a little better after some attention during our stop at Brightside. Noted some inexplicable crossover activity at Chesterfield South and Clay Cross too, as we sped south towards home. Soon pulling into New Street, where the train was due to complete a final circle to regain the line to International without a reversal or run round. Headed back to my hotel, having had a strange and rather distracted day - but ultimately a sociable and pleasant one. Good to see a few more trips lined up too, and some from nearer home. However miserable I might sound sometimes, I'm never happier than when I'm travelling...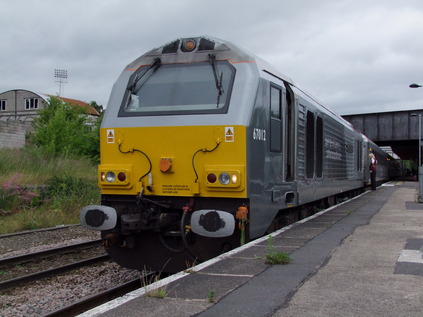 Posted in Railways on Saturday 24th July 2010 at 10:12pm
---
It had been a really odd week - a mess of stressful events and strangely incongruous interludes. Thus, I was really looking forward to today's escape. It started like many other trips - with the first train to Bristol and the 07:00 to Birmingham. The only complication this time was that the 07:00 wasn't sitting in the platform where I'd normally expect it to be when I arrived. I'd also noticed the unusual chap who sometimes competes for my chosen (and usually pre-booked I'd hasten to add!) seat hanging around the platform while we all waited as the clock ticked towards departure time. In fact, I don't think I'd be exaggerating to say he glowered at me as I stood there waiting. Eventually, the stock rolled into the platform in reverse formation. Since this fellow only likes that seat when it's facing the direction of travel, he stumbled on board muttering obscenities to himself and clenching his fists. I heard recently he'd been 'removed' from the West Somerset Railway for similar behaviour in fact. In any case, I was relieved not to have to start my day with confrontation, and settled into my seat in the quiet coach - only to find the door behind me was grinding along it's runners noisily, but the Catering Staff kindly locked it open for me. My peaceful start to the day assured, I dozed and listened to music as we dashed in and out of black clouds and bright sunshine alternately.
I had time for a coffee at New Street before heading down to the platforms, but with the stall short-staffed and the queue moving very slowly, I found an alternative place to sit and ended up downstairs earlier than planned. Strolled out into the sunshine and awaited the Holyhead train. This arrived as two units coupled, but would divide at Shrewsbury. Found my way to the front, so I didn't have to make any changes on route - though others didn't seem to pick up on this message straight away, which meant a mad dash to the front later. A fairly uneventful ride out via Wolverhampton and Telford, but somehow we managed to pick up a few minutes delay - not least perhaps because there was quite a crush in the front unit now. This intensified after Shrewsbury where the remainder of the passengers from the rear until squashed in too. Relatively healthy crowds at the intermediate stations of Ruabon, Chirk and Gobowen added to this - and by the time we made Wrexham General around five minutes down, I had to push and struggle to reach the doors. Noting the Wrexham and Shropshire train waiting at the opposite platform, I crossed over and took a picture whilst the staff prepared for departure. Marvelled at the refurbishment job done on the Mk.3 coaches, which - particularly in First Class - looked fantastic. Settled in comfortably for the long jaunt down to Marylebone.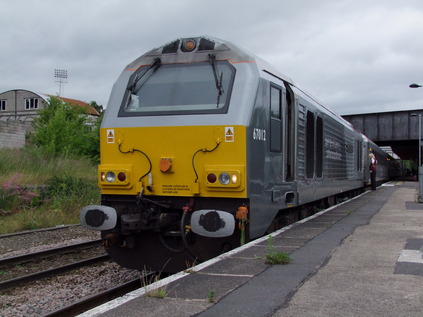 My last jaunt on these services
was hampered by late running and had to be cut short, so it was good to see things running smoothly today. The route initially retraced today's steps as far as Wolverhampton, picking up at some of the smaller stations on route, and then diverged at Crane Street Junction to take the line passing a surprisingly quiet Bescot Depot. Next, we turned east and headed for Stetchford where we joined the mainline once again, heading non-stop for Coventry and the Kenilworth line. Somewhere around here, lunch was served. I'd read a little about the catering on Wrexham and Shropshire, but wasn't quite prepared for this! Even the china cups, individual coffee pots and faultlessly polite staff hadn't signalled quite the quality we'd get. Two courses were free - with a third available for a small fee. Opted for two, taking a main and a dessert, both of which were well-prepared, generous and served with genuine attention to detail. Importantly, an endless supply of free coffee was included! As I sat, full of fine food and admiring the views over the Chilterns, I reflected that for a similar ticket price on First Great Western, I got a free cup of instant coffee and a biscuit. Whilst Wrexham and Shropshire offer a somewhat longer journey than might be possible by changing trains, the convenience of a direct service along with this kind of catering experience is bound to keep the trains filled.
By now we were entering the suburbs of London, and I started to think through the remainder of the day. With plenty of railway interest along this stretch of line I rarely use, I didn't even notice a bit of slow running resulting from an earlier bridge strike and the driver having to inspect the line as we edged over the structure. Arrival at Marylebone was also an interesting experience. It's not a station I've often used - and more often for leaving than arriving - so it was good to see the impressive and expanding station in fine shape and developing into a really important transport hub after its decline in the 1980s. Explored a bit before hitting the buses and heading up to Finchley Road and Frognal station - the plan was to pick up where last week went so horribly wrong, and to hunt down one of the new Class 172s working between Gospel Oak and Barking. The bus journey was interesting in itself - taking in Swiss Cottage, Lords and then a short stretch of Finchley Road before arriving at a nondescript overbridge which a huge orange 'London Overground' sign luckily visible from a distance. Descended with a minute or so before a train to Stratford was due. Perfect timing.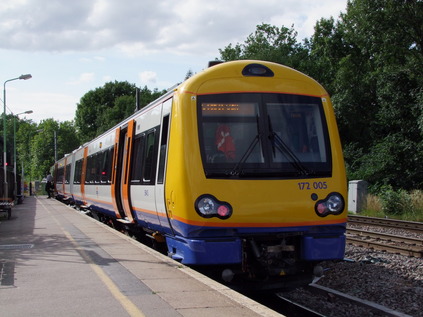 This was always going to be series of insect leaps, as the troubles of my last visit were still fresh in my mind and I didn't particularly want the hassle again. So, a couple of stops east to Gospel Oak first, and some disappointment as I noted an ex-Silverlink 150 in the bay platform. Decided to take this for a couple of stops, as this would pass an incoming unit and I'd see what else was working. So, waited in what had become very warm sunshine for departure, heading as far as Upper Holloway. A quick change of platforms, and noting a photographer waiting with camera ready, some hope that things would work out today. The train was around five late already, but by my calculations the usual move home would work provided there were no failures. Eventually, the raised lens of the photographer across the track signalled my attention and 172005 began to slow for the stop. Mission accomplished!
From my very brief hop back to Gospel Oak, the units seem fairly basic and clean. The seats are fairly basic and firm, and the air-conditioning appears to be set as aggressively as that in the 378s, which is fine for me but cold, I'd suspect for many. Soon back into Gospel Oak for a quick photograph - which always feels a little ill-advised and risky in London - and then time to wander over to the westbound platform for a train to Willesden. Things went well as far as Hampstead Heath, where we prepared to leave, the doors closed and we moved a matter of inches before they opened again. This continued for around ten minutes before the driver admitted he was having problems which he couldn't easily fix. Some quick investigation indicated a possible bus route, so dashed out of the station, heading the opposite way from previous trips to Parliament Hill, and found myself in a pleasant little urban oasis of shops and green space. It occurred to me I'd made probably hundreds of journeys through the cuttings and tunnels around here and barely surfaced at many of the stations at all. Found the stop for the No.46, and waited for what seemed like ages for one to turn up. A quiet single decker was soon full to bursting with refugees from the stricken train. The route went uphill and northwards, into Hampstead, then turned south and briefly retraced my earlier steps along Finchley Road and around Swiss Cottage, before diving west into Maida Vale. Rather suddenly, spotted the Grand Union Canal beside us and realised I was approaching 'Little Venice' from an unfamiliar angle. The curve of the roof spans of Paddington could be seen, and a quick swing under the Westway and over Bishops Bridge brought me into Eastbourne Terrace.
Once again, a failure on the Overground had caused a tricky situation, but this time - fending only for myself and with a little time on my side, I'd made it back in good time. Shopped a little, had a coffee and boarded the train back home. It had been a long, varied and relaxing day which had seen me right a couple of wrongs - doing a Wrexham and Shropshire service for the full length of the route, and getting a brief ride on the new Class 172 units. As I plough into another week of uncertainty and mixed messages, it's days like this which keep things ticking over.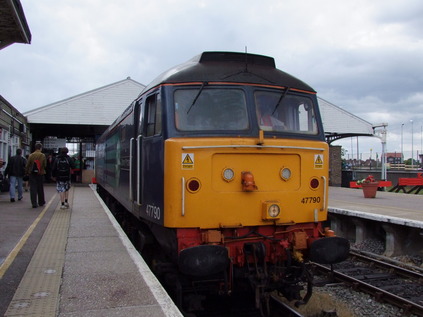 Posted in Railways on Saturday 17th July 2010 at 11:34pm
---
Today should have been simple - every summer a couple of trains each Saturday go all the way from Liverpool Street to Great Yarmouth. Along the way, at Norwich, a diesel engine normally reserved for working freight trains is attached to the front. This drags the train along the non-electrified twenty miles between Norwich and Great Yarmouth. The Yarmouth Drags have become a bit of a magnet for enthusiasts over the last few years, and I'd finally found a free weekend at the right time to have a spin myself. Of course, any trip out to East Anglia is a bit of a trek - so it meant a start on the retimed 05:59 to Weston. Oddly, many more people were waiting than when it was the 05:48. Have those ten minutes cause a psychological shift from the "five something" to the "six o'clock" which has persuaded more users? In any case, it still made a decent connection with the 06:24 from Weston to Paddington, and meant breakfast could be enjoyed in relative quiet before the train busied up a little on route. Had a very relaxing journey, in turn enjoying bright sunshine and threatening black clouds. Got some listening done, and amassed a new list of bands to investigate - and also had a fair bit of catch-up sleep which I must have needed.
At Paddington, with the Circle out of action for one of it's regular weekends of engineering work, some quick footwork was needed to get onto a 205 bus and underway for the trip to Liverpool Street as soon as possible. After seconds at the stop, one sailed up and we were heading along Euston Road in pleasant morning sunshine. Fairly confident that the 10:00 connection would be made easily, I was able to sit back and watch the city pass by, a favourite passtime. At Liverpool Street, made a beeline for coffee and then straight onto the waiting train. Found a seat right at the end of the train next to the locomotive. As 90006 was pushing as far as Norwich, the Class 47 would be added to the rear of the train and we'd get the full effect of it's noise and smoke as we headed for the seaside. It's the little things you see! We were soon off, and thundering through Bethnal Green and into Essex, watching unfamiliar local trains passing by. This journey has always been a quiet and rather relaxing one, so sat back and enjoyed the views as we entered Suffolk and passed through the small towns which dot the map here. It didn't seem long before we were creeping into Norwich, with 47790 waiting to join the train. Lots of enthusiast activity here and a bit of an exodus into First Class too. Right on time, the 47 roared into life and produced a huge cloud of black smoke as we took the curve around the back of Crown Point depot and headed for Great Yarmouth. I've done both routes into Yarmouth before on local units, but this was a rather special way of making the trip. We soon diverged, taking the line via Reedham rather than Acle - though I'm told the later dragged train does use the other route. This meant passing the incredibly remote Berney Arms station, subject of some legend - as it seems only to serve a pub and a windmill!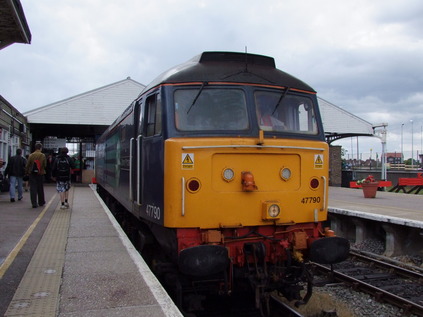 Our first farce of the day occurred on arrival at Yarmouth. The driver slammed on the brakes as we entered the long platforms, and we stopped rather short. The Train Manager seemed to think we'd be pulling up further and the doors remained locked. Then we heard 47790 fire up and draw forward. After some time, they let us out onto the platform with a half-hour layover reduced by a good few minutes. The marooned 90006 and coaches were well back from the buffers, and a bunch of orange-jackets seemed to be tugging the points of the shunt-release line by hand to let 47790 run around! Watched and grabbed some rather poor shots - partly because the sunshine had disappeared behind black clouds, and partly because some fellow enthusiasts seemed to be incapable of avoiding my attempts to get a picture. Finally gave up and headed onto the concourse. No time to make the walk into town, so sampled the fairly good burger van which sits in the station building. Ate whilst queuing to get onto the return working of the train, which 47790 had pushed back into the station a little way. Soon into the same seats we'd used on the run up, and able to watch 47790 clagging around the curve out of the station, looking not unlike a steam engine!
Another timely departure from Norwich once 47790 was detached, and we began retracing our steps to London. Somewhere during this journey a plan was hatched which was to be our undoing. Having noted that c2c services were departing from Liverpool Street as Fenchurch Street was closed, I suggested we could take one as far as Barking which would cover the unusual track from Forest Gate Junction to Woodgrange Park Junction and the flyover at Barking. This became an even more ambitious undertaking when it was also noted that new unit 172004 was undertaking it's first trips in passenger service today - the first for the entire class in fact. If we could possibly get a Barking to Gospel Oak service we might just encounter it. Did some calculations and there were a couple of options - one solid connection involving a quick dash on arrival at Liverpool Street, and one later one which left little margin for error. With renewed interest in the day's events, we pressed onward towards London. Somewhere around Colchester, things began to unravel a little. Some slow running, seemingly because the driver was inspecting either the line or the overhead line equipment, left us running about ten late. Throughout the journey we made up a little and lost a little more. The early option wasn't lost though if we made a set-down only stop at Stratford as many expresses do....but not, alas, this one. We sped through, arriving at Liverpool Street with about ten minutes to make the slightly later option - so we dashed for platform 18 and boarded the busy Class 357 - a rare visitor to this station aside from a couple of late night workings. Set off on time, and as planned used the Forest Gate to Woodgrange Park line. Just before we traversed the flyover at Barking, we paused. As we waited to get into the station, 172004 chugged past in the opposite direction. Had all gone to plan, we'd have easily made it! Cursed myself, and the bumbling idiots who meandered about as I tried to get over the bridge for the next Gospel Oak train, a shuddering, filthy and close-to-expiry 150148.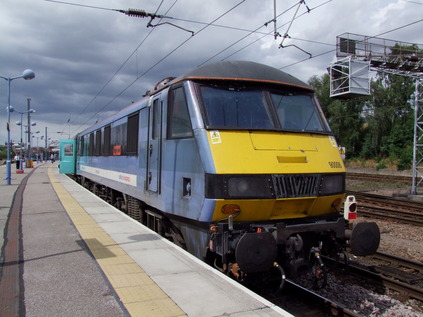 Still, the line is one of my favourites and I was happy enough scudding over the rooftops of Leyton and Walthamstow. We were making good time, and should - at a push - get back onto the earlier (and safer) schedule via a +5 at Gospel Oak. All again went well, until a little before the curve into Gospel Oak station we came to a halt. Checking the journey planner revealed that the 172 was very late getting in. We waited around six minutes to let it clear the platform before heading in ourselves. As we headed back to the main station from the outlying platform 3, we saw our train arrive - leaving just as we made the steps for the platform. Now near incandescent with even more pathetic behaviour at the station, I propped myself against a pillar and watched the Barking platform close as the service ended to let engineering take over once again as I waited for the next service to Willesden Junction. This arrived bang on time, and the connection into a Clapham Junction train worked flawlessly too. The Overground is becoming a fairly reliable workhorse, and building on the useful North London Line with thankfully more capacity and frequency. At West Brompton, switched onto the District Line platforms with a Paddington train due in three minutes. It had been tight, but we should make the 19:00 booked train home without problems.
And then it all went wrong...
First, the driver announced that due to a points failure and signalling problems, the service was going to terminate at High Street Kensington. Some quick re-planning indicated we could get a No.27 bus from the station front. Of course the first challenge was getting out of the station - as we'd terminated in platform 4 which has the tiniest, single width staircase. A whole train unloading, along with some fools trying to get down the stairs pointlessly as the train had terminated, made for a very slow exit indeed. Told fellow travellers they were on their own from here...I couldn't keep doing the 'responsible adult bit' as my own plans unravelled. Found the stop, flagged a first packed double-decker, and got a seat on a near empty one following. The connection now looked unlikely, but it was worth a shot! Until we came to a halt behind the packed bus I'd just flagged somewhere in Notting Hill. A drunken passenger had been taken ill, so the entire contents of the bus decanted into ours taking precious minutes, and making stops much longer as people struggled to get on and off. We passed the ambulance heading for the bus as we headed towards Westbourne Grove and I silently cursed the unfortunate drunk. Finally made it into Paddington about 10 minutes after the 19:00 had left.
A minor battle followed with the Ticket Office staff who just couldn't comprehend my Oyster Card record. Eventually found one who understood that I'd boarded the bus at 18:24 because I'd been booted off the train, and not because I'd left it too late to get to my train. With permission to travel on the 19:30, I slumped into my cool, comfortable seat and relaxed. It meant a longer break at Bristol - but it could have been worse! Got a coffee, listened to more music, wrote a little and enjoyed a fantastic sunset over Wiltshire as we sped westwards. Spent the break at Bristol people-watching, always a fascinating pass-time at a railway station - and moreso in the evenings perhaps, when a really unusual mix of people can be found on the platforms! My woes weren't over though, as not only was the 21:55 unit home late arriving, it also managed to get stuck at Uphill Junction awaiting engineers attention to a points failure. Finally struggled off the train at 23:10, tired, still rather agitated, but having had a strangely entertaining day out!
Of course, things don't always go to plan on the real railway. You'd think that, given the many thousands of miles I do, I'd encounter more trouble than most - but I can honestly say I don't run into much in the way of peturbation. However, today it seems that lots of little incidents conspired to cause an incredibly frustrating situation. I managed to keep my temper - just about - when all around me seemed to be turning into gibbering idiots. Lets hope this has used up my quota of frustration for a while!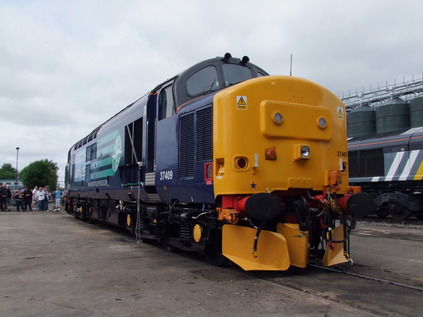 Posted in Railways on Saturday 10th July 2010 at 10:57pm
---
DRS Open Days are a lottery...you punch your email in each year, and maybe a ticket will arrive in due course. It never has for me. This time around, by buying a copy of their actually very classy looking calendar, I assured myself of the chance to get into Gresty Bridge Depot. Even then, there was no word from DRS until a couple of weeks before the event - and a speculative booking to Crewe looked like it might need to be extended elsewhere. However, eventually the ticket arrived and I found myself boarding the early train today with a bunch of locals all heading the same way. There was a sense of occasion which harked back to the last open day at Crewe Works in some ways - and though this was on a much smaller scale, there were a good few familiar faces heading north. Changed onto the quiet and thankfully cool Voyager at Bristol, and had breakfast and a chat with some cohorts before another change at New Street. A few among us hadn't experienced the Class 350 before and were pleasantly surprised as modern units go. Like always when large groups of cranks are in one place, the atmosphere became a strange mixture of humour, extreme seriousness and plain oddity. Enjoyed the ride up through Stafford to Crewe very much.
At Crewe, decided to wait for the Swindon-Llandudno charter to pass through before heading for the Depot. This had 47270 at the helm, and I was keen to get a shot as the last time I'd seen this loco it had been very dark indeed! A fair crowd was in evidence which signalled a busy day at the Depot. Had already decided to walk if the heritage bus service was busy, but on heading out of the station found one waiting with plenty of seats available for the short run down Gresty Lane to the gates. The bus used the entrance to Freightliner's side of Basford Hall Yard as a turning circle too, giving a tempting glance over the sidings! A short walk into the depot, and charitable donation made, we were greeted with a small site teeming with DRS locos. The crowds and the lack of space made moving around without getting in someone's shot fairly challenging, but most people managed to be fair and polite about it - certainly an improvement on some open days I've attended.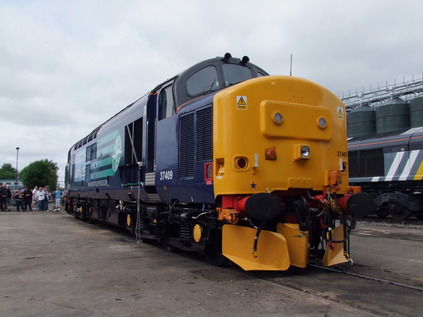 One of the highlights of the day was the naming of refurbished 37409 as "Lord Hinton" by the grandson of this pioneer of the nuclear power industry. As 37409 will play a part in the final MAGNOX decommissioning programmes, it seems fitting that the loco should be named after the man who started it all. Will be good to see 37409 out on a tour soon too, as the loco looks and sounds fantastic. Also in attendance was a line up of four out of the five 66/3s, latterly owned by Fastline until the liquidation of Jarvis, their parent company. These locos formed the boundary of the site, and there were frequent dashes to the ends of the line of engines to see what was happening on the mainline, with some interesting Freightliner manoeuvres happening. Given the recent lack of Class 20s on tours, it was notable that only two were in evidence, a very tidy looking 20308 and a rather forlorn 20306 marked up as "on decision". With the commitment to provide locos to TfL for Underground stock moves, trips behind these venerable locos will become something of a rarity. It will be interesting to see what happens to the upcoming multi-traction tour on 31st July in fact...
In conjunction with the DRS event, the Heritage Centre at Crewe was also offering reduced price entry to ticket-holders. So, after a quick lunch and a final wander around the now very busy and very hot site, we boarded the bus once again. I hadn't been to what was formerly known as "The Railway Age" for a good many years, and it was great to see the prototype APT-P still on display. The interior of a number of the coaches seemed to have been tidied up somewhat - but I don't think some among us realised quite the effort this had taken, with the project literally dumped by BR and the preservation a seeming impossibility back then. Thought a bit about how we'd got into the strange mess of imported vehicles, cancelled orders and complicated railway politics, before moving on to look at 87035 'Robert Burns' resplendent in BR Blue - another age of West Coast motive power, which had outlived the APT and only gave way almost 30 years later when we imported a train which built on our own work in the field of high speed travel.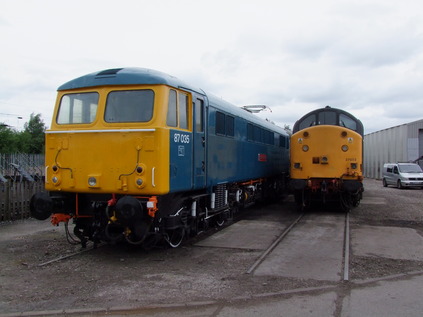 Shook off the gloom with a turn on the break van rides, hauled by 03073 along the short stretch of track near the relocated Exeter West signal box! Then, had spell on the viewing platform at Crewe North Junction, and a pleasant walk back to the station. Arrived to find 47826 and 47851 passing through for a crew-change, before watching the loco-hauled Holyhead arrive and detach it's loco. Plenty of activity and a chance to sit and watch the station go about it's business. At this point our little group parted - some booked on different trains, others deciding to take a different route home. So, I settled into my seat on a pleasantly cool Virgin service back to Birmingham, and caught up with some listening as we sped south. It had been a good, old-fashioned open day with plenty to see and a chance to catch up and chat with people. A welcome diversion from the strange situation I find myself in at work too. DRS put on a fine display and I hope I can somehow find a way to the next one too.