Posted in London on Saturday 28th April 2012 at 11:16pm
---
My visits to London this year have been frequent and rather hurriedly booked - partly due to huge blank calendar spaces, but also born of a strange compulsion to head that way which I've not yet quite placed. It is perhaps, a year of change for the city - but my usual obsessions are of course with the static, hidden and ordinary. In any case, I found myself heading to the capital on perhaps a better planned footing than last Sunday's jaunt. The object was to head early to Tate Britain, so on arrival at Paddington I enjoyed a late, rather lazy breakfast and then hopped on a bus southbound. Misjudging my stops I failed to get off before Vauxhall Bridge and ended up being carried over the river in the drizzle and ending up at the strangely modernist bus station. With time to kill before the gallery opened I took advantage of a nearby coffee shop and watched the life of the bus station and nearby railway develop as this corner of South London slowly awoke. Then, still in rather damp and gloomy weather, I made the walk over the Bridge to Millbank and the vast, stately bulk of the gallery.
The reason for my visit was the Patrick Keiller curated exhibition. Focused very much on artefacts related to and inspiring "Robinson In Ruins", I was intrigued and amused by much of the collection. In particular, the transplanting of a Government Pipeline marker into the gallery was neatly done, and some of the maps were also fascinating. I was less convinced by some of the artworks selected from the collection - but on the whole, they'd been chosen well to reflect some of the historical events pondered by the narrator of the film. Overall it was a surprisingly well attended bit of the gallery too, being wedged into the main concourse through the wings. Serious looking foreign art students sketched - apparently unsure of why. Especially I noted one sketching one of the paintings, a huge solid black blob, earnestly scratching it onto paper with charcoal. Strange.
I decided that I'd hit the buses next, in an effort to get up to Liverpool Street for some diversions that were running today. However, the city had other idea. When one of the few services which pass the Tate arrived the driver said "I'm only going a couple of stops mate". As I wandered along it became clear - a demonstration by disgruntled cyclists was stopping the very forms of sustainable travel they purported to support. I resigned myself to a walk in this, for me, mostly uncharted part of the city. After heading along Millbank until it became Abingdon Steet and swung north to skirt Parliament, I found myself stuck in crowds. Tourists milled stupidly, cyclists zipped around en route to the demonstration, and the route between the traffic islands of Parliament Square was illogical and confusing. I pushed on, battling the crowds, into Whitehall - following that time-honoured processional route past the Cenotaph and the great offices of State. Outside Downing Street, vendors sold pre-Jubilee tat to Union Flag clad foreign families. The road was divided, ready for the cyclists to pour down which felt like it could be any second. I took the advantage and crossed the street while I could, not wanting to get trapped in Trafalgar Square. The crowds were hemmed into a narrower pavement here so I turned again, into the sudden quiet and calm of Great Scotland Yard, following it's curve to Northumberland Avenue. Spotting the crowds at the Strand end of the street, I veered over to Northumberland Street, taking its shadowed, narrow course to the Strand and heading into Charing Cross. It had been a taxing and irritating, but rather exhilarating trip based on instinctive dashes into side-streets.
With buses out of action I decided to hop on a train just as far as London Bridge. From there, I fought my way out of the station and it's much enlarged concourse into the tangle of a building site. The footway signposted for the 149 bus stop didn't in fact go there, and was sealed off from the main road at the end. I wasn't alone in having to retrace my steps, the bored security folks not too concerned about us. It was raining now, and my trudge over to the west side of the bridge was a damp one. There were a good few waiting here, and one woman tackled the driver of a passing bus about a different service, completely unaware how she was delaying the service despite other passengers remonstrating with her. Eventually just hoped on one I thought might go near Liverpool Street, ending up leaping at Aldgate and walking up through Houndsditch to the station. The object was to take a Cambridge or Stansted service, which were today diverted via Stratford and Temple Mills to reach Tottenham Hale. I travelled out and back, using the opportunity to survey progress on the Olympic Park with a little hint of a wish to get down among the wilderness which survived on the edge of the area. On arriving I touched out and optimistically visited the bus station. The routes didn't throw up any immediate possibilties and needed work, so I headed over the bridge and caught a pair of cool, quiet Class 379s back to Livepool Street and the inevitable coffee. It wasn't new track, but the scenes out here change so often it was well worth the visit.
On the way back to Paddington, via a lazy trip on the 205, I thought a lot about today's traversal of the traditional route through the stately environs of the city, and how my second eastern objective would soon see some of the same once the Games start. Quite how the royals will react to the contaminated dustbowl remains to be seen. But what is abundantly clear is that I need to strike out that way before it's too late...
...but that's for next time. For tonight, all that was left was a pleasantly lazy trip home on the usual train - and time to think about Keiller and "Robinson" and how I connect to places.

Posted in Railways on Sunday 22nd April 2012 at 9:48pm
---
Today was both a bit of a desperate dash and an experiment. Back from the amazing weekend in St.Andrews, and having been out to the Minehead Rally with the youngsters yesterday, I felt the need to get out on the railway. As a perk for being a season ticket holder, First Great Western had provide a pair of codes to get free tickets anywhere on their network, and the obvious choice was a run up to London. I had misgivings - it was a Sunday and I didn't know quite how loadings were, and the tickets had to be standard class. I reasoned I could always upgrade via Weekend First if the issue arose. But at what felt like an absurdly late hour I found myself waiting for the train to Bristol - I'd figured out a couple of possible connections, but ended up going for the shorter wait. Mostly because I felt a strange almost guilty feeling for travelling up so late in the day. I also realised that it was the London Marathon today, and getting to London before that began to dissemble was probably wise for any onward travel.
The trip wasn't too bad - but I appreciated afresh why I booked First Class whenever I could for this trip. On arrival I decided to head directly to Liverpool Street with one object in mind - Record Store Day. Yes, it was yesterday - but given I was inhaling dust and gravel on a rally course, I hadn't been able to take part. However, I reasoned that there might be some things still in stock, and with a list in hand for others I made for Rough Trade East via back alleys and streets, cutting through the rear of the former Truman's Brewery and finding a plaza of arty types contemplating slogans and graffiti. I paused to watch someone taking a picture - of someone else taking a picture of a "neighbourhood watch" sign. Only here I figured and pressed on. Rough Trade was still insanely busy. I witnessed a man stack Beatles box sets up to his chin and then subsequently get told "one of each per customer". He got mildly agitated and had to be ticked off. I carefully selected the items I'd been asked to find, along with my own pet purchase - the deluxe edition of James Yorkston's 2002 album "Moving Up Country". My CD of this is long since lost, and I'd resisted re-purchasing mostly out of spite to myself for letting that happen. However, even in it's shrink wrap this was a clearly lovely item - and so worth the wait. I paid, realising I now had the always traumatic burden of carrying a bag of fragile vinyl around London all day.
I was glad to get out of the melee in Rough Trade and headed back to Liverpool Street for coffee and air-conditioning. With a few hours left to kill, I figured I'd hit the rail network - and particularly Thameslink which was this weekend running across London for the first time in a couple of years as far as I could remember. From Liverpool Street I took the Metropolitan Line as far as Farringdon. Stepping through onto the Thameslink platforms I was shocked at the space now revealed by stopping up the former Moorgate route junction. The brickwork had been cleaned and revealed a bright concourse. Information screens were discreet but usefully detailed, the platform's curious snaking profile obvious looking back through the bridge portal. I didn't get to look at the upper concourse as my train arrived - but I must return at some point. Despite my reservations about the closure of the short branch to Moorgate, I was pretty impressed. I headed south next on one of the services terminating short at Elephant and Castle. This meant passing non-stop through City Thameslink which doesn't open on Sundays, and through the new platforms at Blackfriars. The work here was substantially complete too - but hoardings and scaffolding remained. I realised this was technically new track as the through platforms had swapped sides since my last pass through the station. The terminal platforms, now west of the station were also near finished. The roof couldn't be seen properly, but we stopped substantially over the new bridge, between the two entrances. I recalled poking around under the bridge just a few weeks ago. I had no intention of lingering at Elephant, having explored the area enough a while back, and revisited on the bus recently too. So, back onto the next service north to St. Pancras Thameslink platform - another station I'd never really used due to the long period of works. This was different - a vast concrete cavern with grey and silver features. I picked my way out avoiding escalators and congratulated myself with further coffee.
I'd decided on the 17:03 back to Bristol in order to connect with a sensible train home given the patchy Sunday service, which seems to perk up a little in the evening for some reason after a very sparse patch in the afternoon. The train home was full of Marathon types. I felt guilty and useless amongst these dedicated people who'd made the run today. My own achievements stopped at getting the bag of records home safely. It was a strange day out, but a pleasant one in the circumstances.

Posted in SHOFT on Friday 20th April 2012 at 11:04pm
---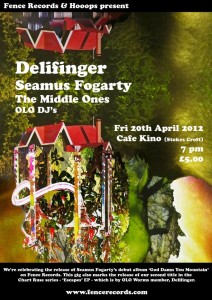 There are some bits of Bristol which I very rarely visit these days, but which were once frequent haunts in my youth. One of these is Stokes Croft, most recently famous for local efforts to resist a new Tesco store and now something of a bohemian, multicultural enclave. As I waited to head for tonight's performance I reminisced about the area and - I'll be honest - it wasn't always quite like this. My own memories focused on bewilderingly threatening graffiti, grimly dangerous pubs, methadone queues and creeping dereliction. But following a walk through what was once an isolated, sunken network of subways and which is now the newly christened 'Bearpit Open Air Gallery', the revitalised and re-sited Café Kino is something of a surprising triumph for localism. Upstairs, all manner of culinary delights are served alongside good Fairtrade coffee and organic beer while downstairs is a sizeable performance space with a low stage, plenty of seats and a bit of ramshackle charm. All of this run under the auspices of a successful Social Enterprise too. The ideally defiant and unusual venue then for another Hooops! night - by my calculation the fourth in fact. Tonight's show once again used the familiar formula which has worked well so far - taking advantage of artists passing through on tour, and combining this with local opportunities. Whether by happy accident or design these Hooops! nights manage to become significant events in their own right and this was, after all a double record launch event which coincided with Record Store Day. However, that event with all it's fetishistic vinyl releases meant that tonight was almost a launch night without any records, as the few remaining pressing plants creaked with the demand of producing special editions for tomorrow's festival of retail.
Tonight's opening act harked back to Bristol's past too in some ways, invoking something of the guileless honesty and simplicity of the city's indie-pop past and the spirit of Sarah Records. The Middle Ones are Anna and Grace tonight, although I understand there are sometimes others too depending on where and when they convene. For this evening, their set-up is simple - a single guitar, two voices and lots of nervous giggling. As one of the duo hails from Bristol, there is something of a local following and it's good to see their set getting a great response from the small but growing crowd. The charm of The Middle Ones lies in those little off-mic whispers, the occasionally fluffed guitar chord and the sometimes wayward vocals. Because, when these two start to get comfortable within a song, when their voices manage to do the strange, twisting and turning around each other thing, and when suddenly it all shifts into focus this is really rather good. Bands just don't sound like this just now, perhaps because it's not hugely fashionable to - or perhaps because this kind of exposed, heart-on-sleeve artistry is actually pretty hard to get right? The short set touched lyrically on just the areas that perhaps you'd expect - love found, love lost, love unrequited - but it did so in a surprisingly frank and down-to-earth way, that managed to avoid contrivance and cringing. That's no small feat for this embattled old hack, and there is something refreshingly uncomplicated about The Middle Ones which makes me feel both much younger and much older all at once. They just don't make music like this anymore.
I wondered if seeing Seamus Fogarty performing twice in the space of a week would detract from the experience, but I'm happy to say it didn't at all. A quietly polite, unassuming gent, it's sometimes easy to forget Fogarty's fund of tales and experiences. Far from that straightforward and woefully inadequate description singer-songwriter, once again he used this to support a set of beautifully spun songs which seemed to emerge from chaos and confusion, coalescing into mesmerising, quietly beguiling pieces of music. Despite having set up a complicated mess of electronics, he once again decided to focus on his guitar and voice. While he told his strange, sometimes almost surreal stories to the rapt, silent audience he would tune the guitar. Sometimes this would go on for quite a while, but suddenly without even realising it had begun and the song would emerge slowly and quietly from the tuning. Fogarty's storytelling skills were effortlessly extended into his songs, and while some familiar material from last week's Eye o' The Dug performance re-emerged, there were new delights too. This included a hark back to his "country phase" with a curiously misogynistic ballad which he assured the audience wasn't representative of his views these days. Seamus was keen to promote his new album "God Damn You Mountain" which had arrived just hours before the show - but perhaps not for the self-gratifying reasons you'd expect. Rather, he was dreading the experience of persuading Ryanair to carry even a gram of extra luggage without him parting with a huge fee. This meant the hugely frustrating experience of seeing, touching and very much wanting a record but knowing that my own copy is still winging it's way to my home from rural Fife. So near and yet so far, and made all the worse by the fact the album is a very beautiful artefact in itself. Tracks from the tantalisingly close at hand album made up much of the rest of the set with "The Waterside" forming a surreal and lovely highlight with its curious images of "birds with dinosaur bodies". On record this is a jittery, busy shuffle of a track, but here it's delivered slowly and reflectively, with Fogarty's voice no less brimming with emotion and gravity than when he's tackling darker lines. While you hope Seamus got his albums home safe, it's hard not to wonder if that story too will crop up sometime, buried in a song and delivering the little moments of light relief which pepper this warmly and genuinely appreciated set.
Headlining tonight, and due to the manufacturing delays sadly minus the Fence "Chart Ruse" EP that he was here to launch Delifinger took the the stage with his stony-faced but highly effective band of musicians. Looking much more relaxed in this more intimate setting Matthew Lacey began a set which pulled off exactly the remarkable trick he manages on record - that is, to take the popular music of the last four decades, throw it into a blender with a little of the oddness of his other project OLO Worms and some vintage electronics, and to turn out something much greater and far better sounding than the sum of these varied parts would suggest. The new "Escapes EP" was aired in full with "Take It Slowly" becoming a collision of easy-listening, country, pop and strange, warbling synth sounds which worm their way dangerously into your consciousness. In fine voice, Lacey switched moods and delivered the sinister "It's Not Going To End Well For Me" against an ominous rumbling bassline provided by Paul McGuinness who quietly patrolled the back of the stage. The title track, "Escapes" is as edgy and pensive as on record with weird shudders of electronica supplied courtesy of Rich Amino who emerged from behind the worlds tiniest electronic drumkit to do the honours. It's sometimes hard to determine whether this is a futuristic take on music from the past as filtered through a fine record collection and an ear for a cracking melody, or whether perhaps this is what they seriously thought music would be like in the future? I can picture Delifinger on Tomorrow's World, representing how life will change by 2012. But the star turn here is the songwriter, with his simple but atmospheric tunes and mildly disturbing but always affecting words. If there is ever a Delifinger album - and mid set I'm almost convinced I should start seeking the finance to make sure there is such a thing - it will, just like tonight, sound like a time machine. An odd, clattering and whirring thing which once it has reached the correct operating frequency hums and sings wonderfully through the ages of pop. Timeless is an over-used word in the reviewer's lexicon, but for Delifinger tonight it's a highly appropriate one.
Sadly, all too soon it was time to pick my way through the seething mass of humanity which Stokes Croft had become during the time I'd spent in the strangely soothing bubble of Hooops!. Leaving folks chatting about Record Store Day, and then seamlessly moving on to obscure heavy metal picture discs and classic local gigs of the past, it was very tempting to stick around and miss the train - but I'm getting too old for sleeping in subways, even if it is now part of an art installation. Whilst this was a quiet, relaxed and understated sort of evening it was also a chance to witness some musicians who seemed to be enjoying absolutely doing something a little different from the norm. If these nights have a guiding philosophy at all, then that's probably the part that appeals to me. Gigs that no-one would ever dare put on, here in Bristol. You'd be a fool to miss this...

Posted in Railways on Monday 16th April 2012 at 11:04pm
---
It's been a fantastic weekend...
But it had to come to an end, and absurdly early this morning I found myself shuffling to St.Andrews Bus Station and fortuitously just making an earlier bus than planned. I'd been here before of course, visiting during last year's Homegame, and I'd not imagined then I'd be here less than a year later on another Fence related mission. Having travelled up on Friday following the customary break of journey in the Midlands, I'd spent the last couple of days at an absurdly expensive hotel and stalking the small town with it's idiosyncratic mix of rural Scottish isolation and cosmopolitan moneyed students from around the world. I'd taken a spin down to Anstruther to revisit a place I fell in love with last year, and I'm met up with some people who made me laugh a lot and feel part of something a little bigger than the solitary appreciation of music I often express. Eye o' the Dug had been bewildering, elating and rather fantastic.
But now I was joining a large band of commuters heading for Edinburgh. It was a pleasant morning to be travelling, but there was no escaping the look of Monday on their faces. The train was busy, but had few stops on its route. Soon we were passing over the always breathtaking Forth Bridge, and I marvelled at how these people could keep their noses buried in their Metros while we clattered over this rather beautiful structure and enjoyed views over the Firth of Forth. The bridge has taken on greater significance to me now it's the gateway to Fife and all that brings. At Waverley I joined the tide of people washing onto the concourse, but broke away and found a welcome breakfast. I had time here to write, get coffee and to somehow extract my wrist from the festival wristband - finally accomplished with the aid of a long, Cafe Nero spoon found in my usual haunt. I was trying to adjust to being back - and to somehow splice together my fairly pointless work existence with the sense of significance this weekend had provided. It wasn't going to be easy to do this again...
Having worked out the diagrams based on my journey up, reckoned on a struggle down to the suburban platforms due to the temporary steps and passageway, but a fairly quiet train when I got there. It worked out as I thought, and I found a seat in a mostly deserted carriage which only got a little busier. A double Voyager set is possible the best result on this route just now, and I settled in for my run back to the Midlands, which went remarkably smoothly. At Birmingham I had a little longer to wait - I'd left plenty of time to make a connection, and opted for a much later but usually pleasant train at 18:42. It made my day hugely longer than it needed to be, but it meant not travelling during the peak. I wandered into town, had coffee in a shop I usually only ended up in during Sunday morning trips home from a weekend away because it was much too busy on Saturdays, and lounged around trying to make sense of the weekend.
Finally, after a quiet journey to Bristol I changed onto the 20:55. On weekdays this is a unit rather than a HST, and it was moderately busy. Approaching home was strange. I realise how silly this must sounds - aren't all festivals essentially an escape from reality? Don't they all confer that sense of otherness which is hard to recover from? Well, probably yes. But transport that sense to a place like the East Neuk and add magical, fragile music which rarely gets heard elsewhere and it is somehow more significant. It was good to be home after a day I'd managed to keep fairly easily paced and relaxing. But now the hard bit began...