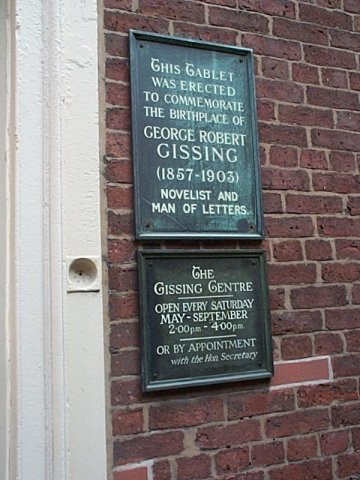 Posted in Railways on Wednesday 31st March 2004 at 9:18pm
---
It was always going to be a busy week. Trying to get appeal responses written at work, alongside various other pressing tasks, during a week of endlessly needing to be in other places! Flagged an Online Admissions Consortium meeting in Trowbridge yesterday, because things in the office needed more attention - e-mailed in apologies and our position on things, which I was pleased to see was sort of adopted as the position of the consortium. Wouldn't usually have passed by a midweek rail trip, but had today to look forward to - certainly the longest continuous trip since my return to the rails, and a visit to areas I'd not seen for maybe six or seven years! Official reason also was to visit Gissing's birthplace and wander around Wakefield a little.

Set out on the as-ever jammed 0829 from Weston, which goes all the way to Wakefield. Found my reserved seat easily, and marvelled at how the crowds thinned out after Bristol. Practically had a carriage to myself after Derby in fact. Smooth and quick journey - the 221 is a more comfortable DMU than I'd been led to believe, and it picked up time nicely where we were held back here and there.

North of Birmingham route was lined with photographers, especially on strategic bridges - out for the 'Twilight of the Grids' farewell tour hauled by Class 56's. Got confused around Sheffield, and misremembered the route. Was expecting the rather dull bit of eastward crawling via Mexborough, but didn't see it pass by. Only later discovered that we gone via Bolton-on-Dearne (since we weren't calling at Doncaster) and I'd scored a little bit of track I'd otherwise have found hard to ever get!

Hot and sunny by the time I arrived in Wakefield. Vague memories of being here chasing D9000 a few years back when it did a Leeds-York-Derby run following a footex. Wandered into town and took some pictures of the Gissing Centre and the house. Will try to get them posted hereabouts soon. Wandered around the town, which was pleasant enough - found only one bookshop, stocking no Gissing whatsoever! Very nice pint of John Smiths' from the the keg at the Black Horse on Westgate.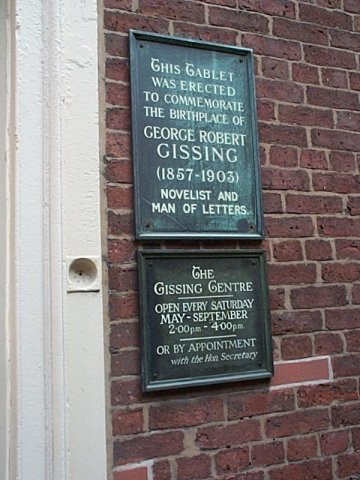 Annoying start to trip back. Much confusion about seat reservations left me standing to Sheffield, with rebellious thoughts and mentally composing a letter to Virgin as we travelled. Finally sat down, and got some reading time after Sheffield. Pleasant journey as far as Birmingham, when some legal types sat down and discussed things too loudly for my liking! I'm just never happy it seems... Pleased to see a couple of Wessex staff working together to corner a pair of young fare-dodgers at Yatton - perhaps sprinting into a seat and shouting "quick, pretend to be asleep!" with the guard a few feet away isn't the smartest way of avoiding payment. Equally funny was their attempt to exit the station by a back route, walking directly into a wall and being cornered! Smart work, girls!
All-in-all a very pleasant day off and a trip which mixed discoveries with memories - always nice.

Posted in Updates on Tuesday 30th March 2004 at 8:11pm
---
So, the Lemmings Elections are on! Contrary to my weekend position on this ("I'll write a procedure but I'm damned if I'm standing") I now find myself a candidate...

My non-IRC friends won't be surprised, for someone lacking utterly in self-esteem and desirous only of a quiet life, I seem to have a need to expose myself to public opinion at every possible chance - in one humourous contributor's words: "Mike will stand for anything except the National Anthem".

As I grow older, my faith in democracy weakens with every passing poll. The chance to vote via new media seems wearisome - another escape route from real-life brought firmly down to earth. But strangely this one seems to matter. I care very much about how things happen in the land of the Lemmings.

Think global, act local - as they say...

Posted in Railways on Saturday 27th March 2004 at 7:26pm
---
Dithered a great deal about what to do this weekend. Funds are pretty tight, and since I have a busy week coming up, I thought about flagging the weekend - but that would have been the second one in a row. Can't say my heart was in today. Checked mail before heading out and noticed that the Oxted-Uckfield branch was being worked by a pair of Class 205 DEMUs today. I'd always been intrigued by this little diesel-operated backwater on the otherwise completely electrified South Central network, and I thought I'd missed my chance to get one of these units when South Central got hold of 170s to replace them recently.

For the sake of economy I travelled on multiple CDRs - much to the confusion of a guard at East Grinstead later. Still spent a little more than I could afford however. Arrived at Oxted to find 205028 growling away merrily in the bay. Delightful, unrefurbished wooden interior and no corridor connections between the strangely small carriages. Opened the window wide to get the full effect of the racket going on up front and enjoyed a wander down an attractive and rather quiet branch into Kent and Sussex. I can only speculate that it gets busier on weekday mornings.

Lots of evidence that since Connex lost the franchise, South Central are getting their act together - albeit slowly. Posters proclaiming 'We know we need to clean up our act' and 'Don't be gentle with our slam doors' everywhere. Some of the stations seem to have been recently refurbished (again, to a minimum but acceptable standard). Brief pause in Uckfield - a rather unremarkable looking place.

Couldn't leave the East Grinstead branch undone, so returned to Oxted to find services in some disarray due to earlier failures. This actually worked in my favour, and after a short wander around Oxted - a really attractive and busy little place which I'd like to revisit sometime - I was on a delayed service, which got me to East Grinstead and back to East Croydon much earlier than I'd expected!

Down to Gatwick via the Quarry Lines to get the Thames service to Reading. Noted on arrival that I had a long wait, so when a pair of sparkly new 377s arrived going to Redhill, I hopped on them. Nice, clean and bright interior - smooth ride. Time for the first coffee of the day (!) at Redhill, before heading off to Reading.

Again, a late running service gave me a good connection - British Transport Police were in attendance to remove a couple of non-payers, so I waited with the officers for the slightly delayed service, which got me back to Weston much earlier than I'd expected.

A strange unexpected day of seat-of-your-pants bashing.

Posted in Updates on Wednesday 24th March 2004 at 11:16pm
---
Lots going on at work, and most of it feeling pretty positive. My involvement in the APR review has increased somewhat, which means I get to contribute at a public meeting tomorrow. The appeal season approaches with its chaos and rare sense of working together, all of which makes this worth doing.

One last day off for the year planned - the very last day in fact on 31st March. Despite my last experience with Virgin Trains, I've booked a trip to Wakefield to visit George Gissing's birthplace. Vaguely concerned about trying to actually squish myself onto the 0829 from Weston, which appears to usually be something of a cattle-truck.

Notice that after my 'So...' rant, the Campaign for Plain English is on the warpath regarding cliches. I don't often agree with them, but on this one I'm with them.

Thanks to stffn I've overcome my phobia for Black Box Recorder, and I'm enjoying them surprisingly quite a bit...