Posted in London on Saturday 27th November 2010 at 9:11pm
---
Today wasn't a day I'd given much thought to until late last week. A chance to meet up with a friend made sense of the cheap tickets I'd got to London on the back of being a season ticket holder. However, this wasn't to be - and a fairly difficult end to the week diverted all my attention elsewhere, meaning I was going largely blind into this morning. The sudden flurry of snow yesterday afternoon had capped things wonderfully. Still, if things went wrong it wasn't an important trip. I had a vague appreciation that services were diverted via the Berks & Hants route - and on checking realised that the normal change at Weston wouldn't cut it today. The morning began early, and very very cold. I tried not to look at the temperature before venturing out because I knew it would feel worse if I was aware of it! However, it was a surprisingly dry and snowless landscape - which was of course a huge bonus. A cold wait for the mercifully well-heated first unit of the day, then a snoozy and warm trip up to Bristol.
With no pressing need to be anywhere, and no reserved train to worry about, I dawdled a bit here enjoying the cold morning in the busy station. The stock for Pathfinder's charter to Durham had just arrived - and I felt a pang of regret that I wasn't on one of these today - even if they weren't exactly the most exciting jaunts. Watched the loco run around, before the train set off on time, breakfast already being served on board. Found my own sustenance and warmed up on the 07:40 while waiting for departure.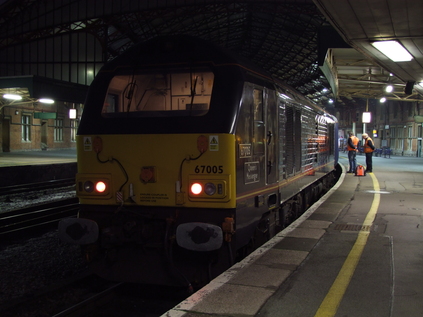 Another very pleasant journey, with the skies clearing to a dull, purple-grey haze as the sun rose. The landscape was pleasantly white, with most roads and stations fairly clear. Aside from the planned diversion everything seemed to be running as normal here in the south, while reports of activity up north were a little more concerning. Considered next week's trip to Scotland - and wondered if it would happen at all? The weather forecast was for more cold and more snow. Arrived at Paddington and headed onto the Circle Line to get over to Liverpool Street, on something of a whim. Perhaps because of the cold it was very, very quiet. I'd half expected the huge shopping crowds to be pouring into Paddington at this, for me, fairly late arrival time of around 10:00am. From Liverpool Street, I made the short hop to Bethnal Green. I had a notion that I'd never walked into the city from this direction properly, so after negotiating my way out of the station I set off along Bethnal Green Road, navigating by the hulking towers of the city which appeared closer than I'd expected. As I passed along the street - busier, but taking Saturday in it's stride - I got to thinking about the 'big society'. In particular, how could it ever work here where if the shopfronts are any indication, the entire third sector effort is set up to kick against the state rather than work with it? Endless projects to help with immigration rights, benefit rights, housing rights. Now I've no reason to assume that Tower Hamlets council is any more discriminatory than others - in fact it's probably far, far less so. So this is about access to services, language, a perception of prejudice? This industry has sprung up around a retreating, hard to access state - and I couldn't see any easy way it could shift it's position.
The walk into the city was cold but invigorating - shorter than I expected so I pressed on, a turn around Spitalfields and Brick Lane. Favourite winter haunts, and a chance to step into a couple of shops. Again, stunned by how quiet things were. Took advantage by getting a snap of the deteriorating Shoreditch station building which I'd last visited a couple of years ago. Here's an asset which could be put to community use, but instead rots just feet from one of the busy streets in the capital.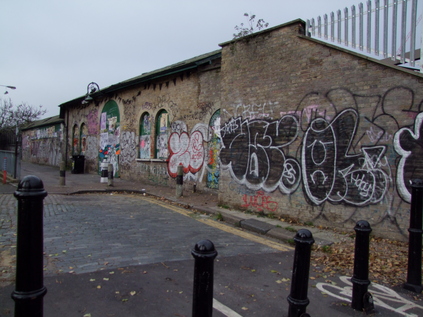 After a quick passage through Spitalfields Market I settled in for a coffee at Liverpool Street. I felt rejuvenated by the walk, but bruised by the week I'd had. Tried to write it out whilst people-watching in the warmth of the coffee shop, but it didn't seem to work. Decided to walk further, heading south through the city and over London Bridge. Busier, but still much less frustratingly crowded than expected, I realised it was a long time since I'd passed this way on foot. Lingered on the bridge, trying to spot the wharfs and steps I'd explored on previous trips. Beside me people jostled for pictures of Tower Bridge and HMS Belfast, and I was reminded that I had the privilege of getting to wander here often and didn't have to do the headlong dash around 'the sights'. I realised too that sometimes my nose-in-the-air and eyes-on-my-feet tourism comes across as haughty or elitist, but it isn't. I'd love to share some of these wanders - but of course today hadn't quite worked out as planned.
So, the last leg of my journey - a spell at London Bridge before boarding one of the South London Line trains which describes an arc through the suburbs to Victoria. Always a pleasant journey, and with the dusk beginning it's early descent it was oddly warming to watch London starting to light up. More coffee at Victoria before heading back to Paddington. The crowds had finally materialised, and the Tube was now busy and frustrating. Not sorry to get off and onto the broad and mostly empty concourse at Paddington. An earlier train home than usual, again diverted and with an extra stop at Newbury Racecourse for those who'd braved the cold to attend the meeting there. An unsatisfactory day on many levels, but far from an unpleasant one. Sometimes its good just to get out and walk...

Posted in SHOFT on Wednesday 24th November 2010 at 7:11am
---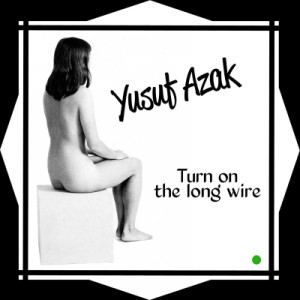 I had a conversation yesterday about people caring about what they do. In particular, about attending to the detail of things for their own sake, and not because they're trying to impress or influence someone else. It's a rare thing nowadays to find someone who is committed to something entirely because they see it as intrinsically valuable - and as I get older, more cynical and less forgiving, I see ulterior motives everywhere. Then, with almost embarrassingly perfect timing last evening, the Yusuf Azak record appeared on my doorstep. From the very outset this is about attention to detail and a sense of purpose. The packaging is remarkable - a carefully folded card sleeve, secured with a sparkly sticker. Inside a brief hand-written career summary from Yusuf is printed on crisp paper, lovingly folded around the disc itself. Unwrapping the CD was an exercise in anticipation itself. This is why physical product will always triumph over digital media, no matter how often I kid myself that for half the music I want to own I just can't get my hands on it without the internet.
And the music? The theme of studied craft and commitment to quality continues. Yusuf's breathy, urgent voice is unique - and it's near impossible not to become breathless in empathy as the voice soars and dives over the delicate guitar work. There is a genuine sense of event about this album - it sounds like a celebration of effort and workmanship over the throw-away culture which surrounds modern music. Occasionally the guitar is augmented by brief stabs or washes of strings - never overpowering and just enough to move the compositions forward as Yusuf's voice climbs through the range towards it's next joyful burst. Elsewhere, on 'Thin Air' the spirit of the Beatles' 'White Album' is invoked, and the lush orchestration carries the slightly picked guitar through a beautiful, multi-layered sweep.
The track which preceded the album's release (can I call it a single nowadays?) 'The Key Underground' is by far the closest that the record gets to a bona fide pop hit - and even then it's a soaring and swooning composition which has as much of a kinship with the Cocteau Twins or My Bloody Valentine as it does with Yusuf's folkier contemporaries.
As I listened, I knew I wanted to break my years of blogging failure and write about this record - but how? The lazy art of comparison is sort of redundant here and I'm entirely certain to make an utter fool of myself - but I was moved to think of fellow Glasgow musician RM Hubbert, whose sparse instrumental guitar masterpieces aren't a million miles from this. However, where Hubbert stays indoors to provide the necessary introspection and reflection, Yusuf Azak is up early and audibly gulping lungfuls of fresh air on cold winter mornings. This record has certainly arrived at just the right time of year. Highlights and stand outs are hard to pick so soon after first hearing a record, but I find myself returning to 'Christabel Blues' - perhaps the record's most straightforward singer-songwriter effort, but blessed with some dizzying guitar playing which forms into a sort of deranged blues. The song curiously, and rather sadly fades away all too soon - perhaps the only genuine criticism of the album being that it's too short.
If I find myself writing about something here, it's almost certainly wormed it's way into my listening habits in a fairly permanent way. I can't recommend this record highly enough - it's a gem of a winter album. You can get it here and no doubt eventually from the various digital emporia. However, this is one to own and cherish.

Yusuf Azak - The Key Underground
Posted in Railways on Saturday 20th November 2010 at 10:43pm
---
The concept of the Lost Weekend isn't a new one - but it's not reared its head here for a while. In simple terms, these strange and often rather desperate dashes across the country occur when I find myself with pre-booked tickets and accommodation for an event or tour which is cancelled. In 2009, when it seemed nearly every tour by some operators was pulled at the last minute, it was left to the likes of Spitfire to keep flying the flag. However, there were a good number of things which just didn't happen. I began to view it as a natural hazard in a hobby which required more and more desperate action to get to interesting tours which might just run. Unsurprisingly, given my preferences and history, an inordinate number of these Lost Weekends have focused on Glasgow.
Having said that, I've documented previously the frustration of being in the city for a short time. Unable to plan much beyond an aimless wander and pushed for time so that lingering and absorbing the city in the way I've grown to love is near impossible. Today though, waking and wandering up to a chilly Wolverhampton station I felt genuinely relaxed and unconcerned. Having spent a lot of time in Glasgow just a month ago, this felt less like a mission and more like the pleasant little daytrip it was. Onto the 07:37, which didn't really get busy at all, and off up the West Coast. We passed out from under the carpet of fog somewhere around Stafford, and clear blue skies and freezing temperatures seemed to be the order of the day. Headphones on, coffee in hand and nothing to do but relax and watch the scenery pass by on perhaps my favourite rail journey.
On arrival, I almost skipped off the train onto the familiar turf of Central Station. Happy just to be back, even if briefly. The plan was to kick off with a coffee in a favourite spot and to watch the Saturday morning crowds pass by. Despite being chilly, the locals were out in force and there was a sense of a positive, bustling city centre I've picked up elsewhere in the UK. I sometimes think on days like this that the economic gloom is a manufactured response to a crisis which hangs over us thanks to the last government. I know times are tough - but this seems to be a relative concept. It felt wrong to speculate on this whilst my own fate, along with thousands of other public sector workers hangs in the balance. I finished my coffee and plunged into the crowds. Next stop was Love Music, formerly Avalanche Records. I picked up a couple of CDs which I just couldn't have easily got down south, then pressed on again.
The rather unexpectedly formed plan was to head eastwards again, and to wander on Glasgow Green. It was many years since I'd done this, and since it wasn't raining and Glasgow had settled into one of it's silvery winter days it seemed like a sensible plan. I set off, trudging through Merchant City and stopping to pick up supplies, before turning into Saltmarket and heading for the Clyde. The Green is impressively large, bounded on one side by a elbow-shaped curve in the river, and on the other by London Road which rather suddenly stops being a main road into the city centre, and becomes a range of low-rise residential properties. In the centre of the Green, the People's Palace stands proudly and rather ceremoniously. All the paths seem to eventually lead to the huge building with it's elegant tropical extension - an echo of the Kibble Palace in the West End perhaps? I sat to picnic for a while on a bench, noting that few others were out this cold morning. Returning kayakers headed for the dilapidated but still functioning boat shed, and the occasional walker or cyclist passed by. I watched the tidal weir for awhile, now listed I understand, and leading to the division of the Clyde into two distinct eco-systems. Glasgow still has the ability to surprise me, as this quiet green oasis proved.
It was time to head into the Peoples' Palace. Just a short visit as the thought of a museum tea-shop wasn't on today's agenda. The formal space indoors echoed the careful layout of the park outside, but with none of the sense of space. After the briefest of chats with a guide I tumbled back out of the revolving doors and decided instead to capture some pictures of the Green and the Palace, before returning to the city. My route back took a detour through The Barras. Again, its been a few years since I headed this way - and the place is still as amazing and confusing as ever. I've never strayed this way in the summer when it's said to teem with even more life - but it's hard to imagine it being busier or more diverse in the range of goods it sells. There was a distinct reek of expensive soap in the market today, which led me to wonder which local branch of Lush had suffered a break-in recently?
And so, snaking my way back into town, coincidentally via the route of the buried Molendinar Burn which occupied my thoughts on a previous trip. It was now frustratingly hard to get around the busy streets as I searched in vain for a chance to sit and contemplate my walk and watch things go by. In the end, settled for Queen Street station where I watched people heading for the Far North from a quiet corner. I was comforted by the knowledge I was already planning my next trip back here. These Lost Weekends have sometimes not been successful and have left me feeling disconnected and strange - but despite facing a long dark trip back to the Midlands, this one felt like a success.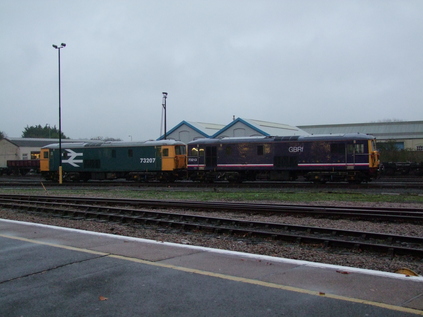 Posted in Railways on Saturday 13th November 2010 at 11:41pm
---
It was almost light when I set out for Southampton Airport Parkway station, which was something of a novelty after recent weeks. An Eastleigh start meant a fairly simple manoeuvre to get to the tour today, using the tried and tested airport Premier Inn. Pondered as I walked to catch a train for the short hop into Eastleigh, how I'd spent a fairly significant chunk of the last month in these places. It's a strange hobby at times - and once I find difficult to explain! Time for breakfast at the station, with the always entertaining Italian proprietor of the independent buffet over-run with orders. The advance gen that no hot food would be on the train due to Riviera not having suitable stock down south had clearly got through to the masses. Noted as I queued that our train had made it onto National Rail Enquiries too, as the 07:30 to Tilbury Town. This of course only told a tiny part of the story! Soon heard that with ballast trains making heavy claims on the locos here, one was being sent from Westbury to form the other end of our train. This led to a delay of about 35 minutes, but it was pleasant to wander about the station chatting as the sun rose, and to finally get a picture of the pair of Class 73s lurking in the yard. This was in fact pretty much the only picture I managed all day, given the nature of these tours and the dark and dingy conditions this morning.
Soon off, with a fast run into Waterloo. More seats filled here and later at West Hampstead, with an almost complete set of BLN sub-editors in attendance once again! The train was pretty full now - with none of the mass invasion of part-fare vigilantes which had been threatened. One interloper appeared and was dealt with stiffly and surely by our Gen. Sec. without too much fuss. Quite right, since these tours with their unique opportunities to get into some of the most curious corners of the network are costly, and as a society it's a given that we share this in order to get the opportunities. No doubt a dissection of the tour on the internet will throw up all sorts of silliness however. From Waterloo we took the very rusty looking Sheepcote Lane curve to access the West London lines. Onto the North London at Willesden, and a chance to discuss with people much more expert than I how these lines had changed recently. Noted an all-Class 172 service now running on the Gospel Oak-Barking service too. Using the connection at South Tottenham, we ran through Barking station and onto the LTS, nearing our main objective for the day.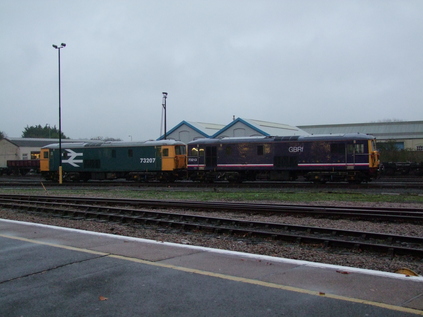 Here we slewed into the once busy Ripple Lane Yard, now a pretty desolate spot, the area has been altered considerably to accommodate the Channel Tunnel Rail Link, which surfaces from its tunnel into Central London here. Our first goal was the Stora or H Group siding, and creaking along the goods line we were soon curving away from the yard into thick vegetation, climbing over what may well have been the 'hump' from the days of wagonload trains, and as far as we could get into the siding. The plan was to reverse back to the West Yard here, but instead and to our surprise, we used the flat crossing over the main running line to reach the gates of the shed marked as Ripple Lane Railhead on the Quail map. Once again, Gas Hill's persistence and knowledge had paid off with a bit of unexpected track! After further machninations in the Ripple Lane area, we set off east and passed through Tilbury on our way to Thames Haven. I'd been here once before and if anything the place had become more unloved and decayed than ever. Evidence of life at the Gas Works, but the yard seemed to have barely been visited since my last trip. We pressed on right to the end of the siding, the tracks disappearing under grass - and getting much further than the Traffic Centre where we halted on the last trip. A further reversal here, and a bit of lost time as we headed back west to Purfleet. The last bit of industrial track in the area was the 'Long Siding'. Apparently in fact, two sidings considered one long branch operationally, with a number of connections leading from them into an aggregate terminal and the Ford Motor Works. Our progress along this branch was a little less complete, reaching a crossing just short of the Ford works - but even so, it was clear that this was not track which would crop up on any other tours soon - so another job well done!
Our route back was equally interesting, after passing Stratford and negotiating the tangle of track around Channelsea Junction with its changing Olympic landscape, we reversed at Temple Mills loop, beside the Eurostar depot. From here, covering the third side of the remodelled triangle at Channelsea, we headed into Liverpool Street, where many of the London contingent left us. Naturally I remained on the train for a traversal of the Graham Road curve, still an interesting area given my perambulations around Hackney. As it began to get dark, the journey over the rooftops of North London took on it's normal comforting and rather magical feel. One last bit of unusual track on the way home, as we headed via Acton and Kew onto the Reading line, and used the connection at Addlestone Junction to get back onto the route to Basingstoke. Pretty much back on time now, we made much quicker time on the mainline and sped back to Eastleigh for a sensibly early finish.
Getting involved in the Branch Line Society has brought a fair bit of stick for me - it seems that in a hobby universally derided by the common populace, there is a pecking order - and that those of us interested in track, routes and operations are somewhere near the bottom. It's a sad irony, since its that very track which underpins all the other railway interests from haulage bashing to photography and all points in between. I could call for peace talks, and try to explain that by bickering within the hobby we all suffer, but I suspect it's a pretty human approach to create hierarchies within hierarchies. In any case, if the Society continues to operate such interesting and successful trips and remains such a sociable and knowledgeable bunch, I'm happy where I am in the food chain!