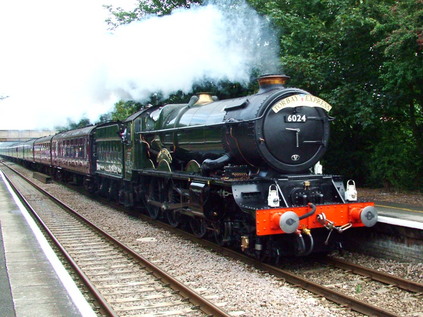 Posted in Railways on Sunday 29th July 2007 at 3:03pm
---
For the first time this summer I was in Highbridge and it wasn't raining on a Sunday morning. Headed out to the station to see the Torbay Express thundering by. I'd normally have gone for a better location for a picture, but my nephew was going to the station with his parents and I wanted to see his reaction to the train too!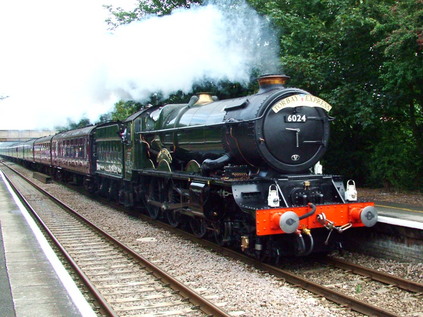 Typically the sunshine disappeared for a few minutes as the train passed by, but it was good to see the crowds out to see this annual spectacle. Lets hope this means summer can really begin...

Posted in Railways on Monday 23rd July 2007 at 4:28pm
---
Getting home was never going to be easy after the dramatic events of this weekend. Woke to fairly decent weather in York, but it was still raining down south. Amazingly, noted that departures to the south west appeared to be back on the National Rail website. Allowed myself the luxury of an excellent Romley House breakfast and a good talk with one of the other residents who was off to the North York Moors Railway today. After checking out and a leisurely walk to the station, noted that sure enough my booked service, the 0927 Newcastle-Paignton was running according to screens - but rather worryingly advertised as 'standing room only' - likely because of all the people who had not travelled over the last couple of days. Noted all the advice not to travel today had also disappeared from the station. Had coffee and waited. Then in a period of probably less than a minute, lots happenned...
First, the screen flicked from advertising the 0927 to Paignton to stating it was going to Birmingham New Street. It then briefly appeared as cancelled, then Paignton once more. Finally it stabilised on New Street. With the train a few minutes late, but due any second I headed to the Information Desk clutching my ticket. I figured I'd be heading to Kings Cross again provided GNER would honour another operator's ticket again today. A small but angry queue had developed, and whilst I watched the boards and waited I realised with some horror that there were no Kings Cross trains. Everything southbound on the East Coast Mainline was terminating at Peterborough. As a passenger a few feet in front of me was advised once again "not to travel today" I made the decision to head for Birmingham anyway - there were connections to London at Derby and Birmingham, and I had relatives there if I got stuck. Made the train with seconds to spare, and found myself standing in the First Class wheelchair space. It turned out that the 'standing room only' situation was caused by people trying to get to London who'd already had all kinds of wrong information, and were now heading for St Pancras via Derby. Settled in for a long, hot journey. The Train Manager was Kim, a familiar face who was getting a very rough deal from passengers. She turfed out a couple of Standard Class passengers and got some of the less mobile standees seated. On seeing my ticket she looked really downcast and said 'hold on two minutes and I'll sort this out'. I realised she planned to evict another passenger and I replied 'not on my account, not today'. I don't think I've ever been rewarded with such a look of heartfelt gratefulness!
In any case, arrived at Sheffield a little early, and much of the coach bailed to get the Midland Mainline HST on the adjacent platform. Settled into a seat and chatted with the staff who had done an excellent job on a tough morning. Turned out trains were getting through to Bristol, but only one each hour due to a failed tamper at Bristol Parkway. The very kit used to get the line open after the floods had partially closed it again! From here on, things were simpler if still a little crowded. Got the next Plymouth-bound service from New Street, which was naturally packed and the TM sensibly filled the remaining First Class seats with exasperated and dejected looking passengers. Aside from some standing water, Worcestershire and Gloucestershire looked eerily untouched by the weather - despite knowing that just a few miles from the line people were suffering terrible problems.
Grateful to get back to Bristol, and following a traditional will-they-or-won't-they style cancellation on First Great Western's part, home pretty much as expected. Despite a lot of people having a difficult few days in terms of travelling, the railways have impressed me this weekend. I was perhaps foolhardy to make this trip despite all that was going on, and it would really have been my own fault if things hadn't worked out. Whilst it's probably true that companies could have worked better together, stopped trains at additional places or whatever, the staff on the ground have handled a huge amount of very concerned people in a mainly very sensitive way. Our network is a long way from perfect, but in some respects I wouldn't have it any other way.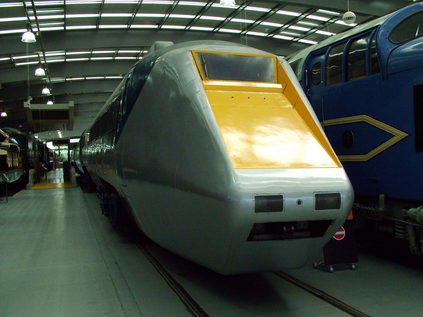 Posted in Railways on Sunday 22nd July 2007 at 10:06pm
---
Should have been doing some fairly unusual track today, but in a very unlucky summer of tours, today's was of course cancelled due to low bookings. Thinking philosophically, it's fairly likely that today's tour would have been abandoned anyway given the rain down south where yesterday's trip which provided our stock would have been impossible. So for today, the plan was simple: cover as much of the passenger track that Pathfinder's Cleveland Cleric tour was meant to cover, quite a bit of which was new to me.
This meant an early start, and unfortunately that I missed what promised to be a pretty good breakfast. Made up for this on arrival at the station, and pretty soon was able to board the 08:36 service for Middlesborough which arrived incredibly early. Found a seat with no trouble and made myself comfortable. Being a fan of high-backed, firm chairs I just don't see the problem with the Class 185's seating arrangements which seem to trouble others! Soon off, and I was pleased to see the weather at least getting no worse as we headed north. The Journey Planner adviser a change at Thornaby for the following Saltburn service, though it would have been just as easy to head on to Middlesborough - except for a likely platofrm change. The Saltburn train was running a little late, but soon enough a rather battered 142 arrived and I found an appropriate seat for a good look at Tees Yard as we passed by. Seemed only a short time since I'd last been here on my trip to Whitby, but took the northernmost fork at Guisborough Junction and carried on through rather bleak industrial landscapes, catching brief glimpses of railway impedimentia and innumerable private sidings branching away into the various facilities. A little before arrival in Saltburn, noted the steeply graded branch to Crag Hall and Boulby climbing away. Disappointed I wouldn't be going that way today at least.
Saltburn itself is a curious town. The impressive and sizeable former railway station building dominates a square with a more modern devlopment behind, including a sizeable supermarket. A car boot sale was in full swing beside the store. A pleasant market square gave way to a wide boulevard lined with local shops which lead up hill and out of town. Even fairly early on a Sunday it was beginning to become busy, and a little cafe near the station was doing roaring trade. Pottered around and brought a drink in the supermarket. Watched my incoming train leave for Darlington, and waited in improving conditions for the next arrival which would form one of a handful of Sunday services through to Bishop Auckland.
Retraced my steps to Middlesborough and Thornaby, this time heading north west at Eaglescliffe South Junction, and passing the poorly used station at Teeside Airport. Familiar track here to Darlington, where we rested for a brief moment or two under the vast trainshed's roof before squealing away and taking the branch for Bishop Auckland shortly outside the station. By now the sun was shining, and I was looking forward to my plans for later. Stuck with the train all the way to it's rather uninspiring terminus, which was a pretty disgusting station seemingly miles from civillisation. Noted the link with the preserved Weardale Railway running away into the distance. The bonus was a decent cup of coffee at the attached station cafe, though the service was a little glum. Back one stop through the seemingly endless tunnel to reach Shildon. Alighted and packed my coat away for the first time this trip, and headed along the footpath to find Locomotion.
I was surprised to note how comprehensive this site is - a long straggling walk beside the tracks, learning the story of rail travel as your progress, and in particular it's local links, as you go. Much of the early story linked with the work of the former Shildon resident Timothy Hackworth, a pioneer of the railway age. Lots to see and do for younger children too - and I think my nephew would have loved it. For me, the highlights were the more recent machines - the prototype Deltic and the APT-E being two which I'd seen many years ago at the National Railway Museum prior to their move here.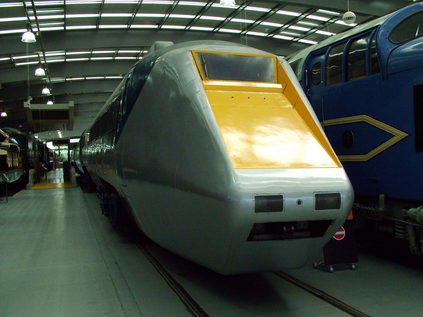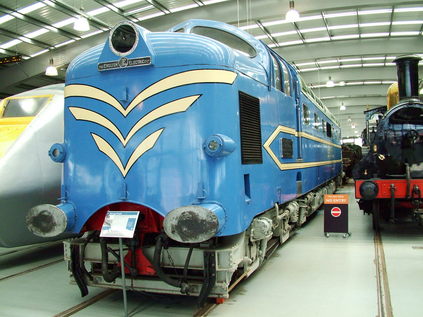 A tremendous array of wagons, carriages and track machinery on display too which told the story of the everyday life of the railway perhaps a little better than the NRM's main site, although of course Locomotion lacks the prestige of having celebrity engines on site. Its good to see that the National Collection goes far beyond Flying Scotsman and Mallard. Flagged the useful 'Ecobus' which potters back and forth along the site and walked back to the station in now blazing sunshine. Enjoyed a peaceful few minutes before the squealing of a 142 approaching heralded my departure for Darlington!
Arrived to find the station busy with a few delays, but nothing too drastic unless of course you were heading for the South West which was still pretty much closed from all angles. Hopped aboard a well loaded 185 heading for Manchester Airport, and enjoyed a smooth and uneventful journey back to York. Pottered around the station for a while, watching trains and people passing through before deciding to head for some food and a pint. Not quite the day I'd planned when I booked this weekend away, but with new track under the belt and a visit to Locomotion into the bargain, I can't complain.
Posted in Railways on Saturday 21st July 2007 at 10:53pm
---
Out of bed feeling grumpy and apprehensive. Checking the National Rail site last night I spotted that the service was still suspended between Bristol and Gloucester, but that a bus service was planned. This morning the buses had disappeared, but services were still running from Birmingham to the north. The advice was simply not to travel. Other Train Operators were accepting tickets though, so I decided to head for Bristol and see what happened. At worst, I'd be heading directly home. Despite rather grim conditions, a fairly uneventful journey up to Bristol - with little acknowledgement of the problems outside of the area - except that the train wasn't heading beyond Bristol. Stepped out into a fairly chaotic Temple Meads and headed directly for the information desk.
I had a fairly quick and simple question much to the relief of the beleaguered platform staff - would First Great Western honour my Crosscountry only ticket? Once clear they would, headed rather swiftly for the 07:30 to London Paddington. Services were getting through the flooded area at Swindon only hourly and the train was busy. Settled into the comparative quiet of First Class and hoped for the best. Along the way, staff tried valiantly to keep up with the changes in circumstances. Despite a fairly clear morning - especially around Didcot - the evidence of flooding was apparent. First we heard Didcot-Oxford was closed, then there was news of an hourly shuttle service just as we reached Reading. Somewhere along the way the train became incredibly busy, and First Class was declassified. This resulted in me sitting opposite someone who I'm almost certain was cult 90's video gaming show presenter Emily 'Bouff' Booth! The official advice for points north was to head to Kings Cross, and once clear of the extraordinarily busy concourse I made fairly quick time on the Underground despite a weekend closure of the Circle Line.
Surfaced at Kings Cross to find services running fairly smoothly, but a great deal of people. Flagged a couple of trains, and settled on the 11:00 to Glasgow. Firstly, I'd figured out what platform it was on, and also I hoped it would allow some of the crowds to disperse before I travelled. Rechecked my ticket validity with the information booth - a rather exasperated gentleman examined it carefully before saying GNER would honour it today. Time for a coffee, then swiftly onto the train and settled into a pleasant seat in the refurbished coach. Ticket check almost immediately on leaving Copenhagen Tunnel, and the Senior Conductor insisted on calling control to check out the story. Rehearsed the events of the morning in preparation for possible questioning - even managed to recall the name and a fair description of the Information Desk attendant, as if it would have made much difference. However, control agreed that today they'd pass the tickets - and I was left to snooze and spot my way northwards via a very busy Peterborough yard and Doncaster. Surprisingly soon, and only about an hour after I was due to arrive, rolled into York in remarkably pleasant weather. After briefly congratulating myself on my seasoned traveller's ability to get around the most difficult blockade, realised that I had to somehow get back in a couple of days time - and that might not be as simple as it sounded!
Straight to the B&B to check in. It was a reasonable walk from the station, but excellent value compared to the inflated York hotel market - and the welcome was surprisingly pleasant after staying in far too many impersonal hotels and thinking I preferred the anonymity. Spent some time refining my itinerary to replace tomorrow's cancelled railtour before heading back to the station to get a shot of DRS's 66419 which was stabled and switched off in the former parcels siding.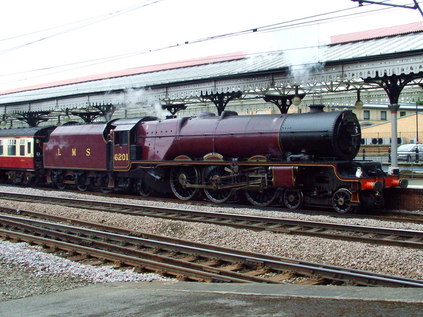 Spent a happy hour or so on the platform end with some friendly locals, and witnessed a couple of interesting workings including the steam hauled Scarborough Flyer tour, which created quite a stir in the station! When things went a little quiet and the light faded, headed for The Bay Horse for a pint before retiring to a nearby Indian restaurant for much needed sustenance. A surprisingly tiring day.