Posted in SHOFT on Saturday 26th February 2011 at 11:02pm
---
One or two people I discussed today's events with thought it excessive to make a 400 mile round trip for a gig. I always stay quiet at such moments, because it's far from the most ridiculous mission I've ever despatched myself on. However, they were right that this was an exceptional trip - and it's one I've been anticipating for some time. So, after a lazy trip up to Clitheroe and a wander around the curious old town I made my way to The Grand. A word first about this venue - new, purpose built and spacious - I was struck by the posters for upcoming act. This place appears to be becoming an essential stop for bands working their way around the north, and no wonder. The main room has a raised bar area at the rear, with some pretty fantastic sound and lighting equipment installed too. I'd never really associated Clitheroe with investment in the arts - to be honest, I'd never really associated it with anything until tonight!
First up tonight was Mick Travis who had the difficult job of dealing with an audience who were still keen to hang around the bar catching up with old friends. The nature of these Fence Collective gatherings is such that the same faces pop up, sometimes travelling miles across the country to do so. Indeed an urgent tweet just before the doors opened indicated that The Pictish Trail was on his way, despite a signal failure at Darwen! Mick dealt well with the initial indifference of the crowd, and began playing understated acoustic songs with a sweet surface but an underlying dark heart. It was during "The Ballad of the Bootboys" with it's gritty, modern tale of post-Madchester comedowns that I thought I'd heard this before - and only recourse to the web indicated that Mick had once been part of the Blackburn based indie-pop band Tompaulin. Mick was joined on stage for several songs by Stacey McKenna of the former band also - both now recording for the Blackburn label Winterbird Recordings. On these duets, with the quietly strummed, sparse guitar and understated vocal duets there was something of a Galaxie 500 feel developing at times. Overall this was a thoroughly enjoyable short set, which managed to motivate a fair chunk of the audience.
Dan Wilson of Withered Hand was clear from the start that he wasn't in good shape tonight. Dogged by a sore throat and a heavy cold, he made a remarkable attempt at pressing on with things. Starting off alone on the stage with "No Cigarettes" his high voice sounding more cracked and damaged than usual actually almost suited the songs - and as he pointed out, he'd been sick while recording the "Good News" album too! With most of the fans now down at the front of the room, there was a disrespectful racket of talking from the bar - perhaps a drawback of the large open space? From a wander around the town later, I can see there is little to do here unless you're out in the pubs - so a fair amount of locals appeared to have met for a social event at The Grand. Dan struggled on, inviting his band (dubbed "The Laties" for this brief tour) to take the stage. With just a drummer and a cellist they took on "Cornflake", "New Dawn" and "Love In The Time of Ecstacy" with Dan struggling but the strength of these remarkable songs shining through. Eventually, the poor guy could take no more, and struggling with his voice and the racket that the locals were making, Withered Hand called it a night. A shame, because I could have listened for hours to the simple but lyrically dense tales which they spin.
And so to the main event - with the majority of the audience now pressed up against the stage, including the massed ranks of The Earlies friends and family which went by the collective name of 'Fanage'. The huge band took to the stage - eleven members if I counted correctly, ranged across hammond organs, bass, congas, drums, guitar and a small but respectably equipped brass section. It was clear from the outset that this was going to be pretty special. King Creosote appeared to a hearty welcome and explained how this would work - they'd play the whole of the "My 13th Bit of Strange in 15 Years" album live. It probably wouldn't be released. Simple. As if to further illustrate the point proceedings began with "The Big Idea" including the line "...your ears are filled with stolen, compressed tunes". And with a swirl of organ, The Earlies burst into life. The sheer, dizzying variety of genres which The Earlies delivered in the course of the set is both a joy to listen to and oddly confusing. Kicking off with the almost ska-tinged "Collector of Mundane", it was clear that King Creosote was in fine voice tonight too. The huge disadvantage of hearing the album live was the lack of song titles to refer back too - but some have become familiar, not least the stirring "Swallow Dive" which rattles in on a martial drumbeat with lyrics which see KC taking a tour of the sorry, financially embarassed isles. It ends with The Earlies saluting the audience as the drum fades to thunderous applause. The audience are loving this, the band are clearly enjoying themselves and Kenny looks genuinely touched by the reception these songs are receiving.
As "Tits Up" chugs into a Black Sabbath style riff, KC starts to spit lyrics around a refrain of "I'm alright, I'm just not that bright..." as The Earlies mutate into some sort of Zappa-esque parody rock act. They shift modes like this with little effort, the gurning and gesticulating of the hammond player apparently signalling to the band what is required in each case. They also seem to almost instinctively respond to Kenny's changes of mood and tone, as after all KC songs are never quite the same twice. In a couple of quiet passages, it becomes clear that the locals are still chattering away at the back, and Kenny makes reference to this by altering the lyrics to include the lines "...an audience that couldn't stay quiet for ten little songs" before deciding that's probably enough "...if he wants to leave with all his teeth".
With the whole album played to a riotous response from both the KC faithful and The Earlies' Fanage, the band return in party mood to deliver an encore. Starting with live favourite of some pedigree "La-di-da-di-da" the audience respond with foot-stamping, hand-clapping sing-a-long glee. This naturally leads into KC's take on Hamish Imlach's "Cod Liver Oil and the Orange Juice". With The Pictish Trail now installed as an additional Earlie and pogoing insanely around the stage, its become nothing short of a triumphant end of tour party on stage. With a further admonishing word about the annoying chatter earlier on, Kenny introduces "Twin Tub Twin", tapped out on his guitar at first, before the band tear into the extended end section with more frenzied dancing and backing vocals from Johnny Lynch - echoing similar scenes in the surprise 'moshpit' in front of the stage. A final, reflective but triumphant take on "678" and the evening is over - the band off to celebrate and the locals still chatting at the back.
Whether these songs will ever see light of day is unclear - it seems wrong if they don't because far from being some sort of unformed collection of music, the "Bit of Strange" is a complicated, brilliant clutch of songs. Of course in the world of King Creosote nothing is solid or set in stone - songs re-emerge in new guises years later and are reinterpreted with different bands and musicians, indeed "Bats in the Attic" from this set of songs appears to feature on the upcoming "Diamond Mine" collaboration with Jon Hopkins. In some ways, I can't help but feel a little deflated after the show - it was utterly brilliant and well worth the travel, but almost like seeing Bob Dylan twenty years ago - there is so much in KC's massive back catalogue that could have been played but wasn't. I decided to focus on the wonderful music that I'd heard, and look ahead to Homegame for the next installment.
As I wandered back to the hotel, Clitheroe was in full swing - semi-clad teenagers falling over PCSOs and into the ancient streets. I contemplated the "silver in my sideburns" and decided it was time for sleep...

Posted in SHOFT on Thursday 24th February 2011 at 8:02am
---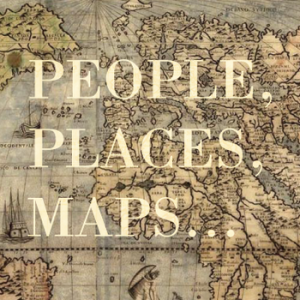 There are times when I wonder if I've done the right thing by trying to write about some of the music I stumble clumsily across. Of course there is always that fear that others have said it all before and better - but then I hear things which make me want to jump up and down and tell people to listen. That's exactly what I used to do in fact - but these days, the prospect of me jumping anywhere is a fairly alarming one, and there just aren't so many people around me who are interested in music. So this at least provides me with an outlet for those moments of enthusiasm.
First hearing People, Places, Maps... was just one of those moments. I was always going to be intrigued of course by a band with a name like that - my long-held conviction that music and place are intrinsically linked, all wrapped up in a single band name. It's perhaps a tricky name in some ways, awkward to write and hard to say quickly. But it sums up the songwriter's art, and the wide-angle range of this debut EP comprised seemingly of recent demo recordings. I've been listening to this for a couple of weeks now - mostly when on trains or walking around town - and the sense of movement and momentum in these songs is summed up perfectly by the title it seems.
People, Places, Maps... originate from Dunfermline - a place I know little about beyond once applying for a job there. Its one of those places I imagine, not unlike home here, where the gravitational pull of nearby large cities with their dizzying eddy of venues and oversupply of average bands makes getting heard a struggle. Credit then to this talented bunch for getting their music heard via this collection of songs which is freely available from their bandcamp. Kicking off with the melodic jangle of "Plans" which sets out the band's stall ably - assured and lyrical pop music with a deceptively catchy guitar line weaving in and out of the track until it reaches a noisy, life-affirmingly epic conclusion. Next up "Hotel Room" strides off with a nod to the tradition of Scots Americana which has always been done so well in the central belt. The emotional pull of the vocals harking back to the theme of place with the desperate sounding cry of "I walk down the same old streets..." as a well-placed violin joins the track. It's easy to do strings badly - too much, too often or just in the wrong place. People, Places, Maps... avoid this - deploying them where they belong to maximum effect. "Splinter" goes on to ground the band in the growing group of slick, professional melodic rock acts which Scotland is producing - alongside Make Sparks and Trapped in Kansas among others.
The stand-out track for me remains the wonderfully understated "Sarah's Song", starting with a gently strummed acoustic guitar and centred on a vocal duet, the song tackles the raw and difficult subjects of grief, powerlessness and remembrance. The violin returns in the company of piano to accompany the male and female voices which spin a truly affecting tale. With this subject matter, what is essentially a pop song could easily be clumsy and trite - but the band avoid this with an openness and honesty which seems to mark them out lyrically from other similar acts. If this bunch of songs are really just tentative demos put out to get the band heard, then this is clearly an act to watch carefully because the skill and sensitivity deployed on this small but near-perfect collection of songs is going to produce some remarkable results in future.
You can read an interview with People, Places, Maps... at Peenko.

People, Places, Maps... - Sarah's Song

Posted in SHOFT on Wednesday 23rd February 2011 at 6:02am
---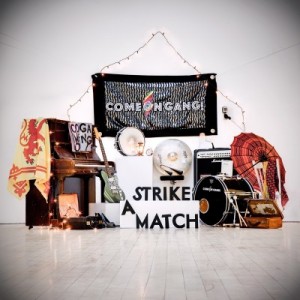 Its clearly been very tricky for anyone writing about this record to avoid the strange truth - that in discussing this self-assured and rather wonderful set of songs, they are considering both a debut and a finale. Indeed, as they release this album, Come on Gang! are no more - quitting on a high, and in a spirit of celebration with farewell gigs a week or so back in Edinburgh. So how to write about this then, given that so much writing about music is about expectation and looking ahead to the next exciting morsel to drift by? Firstly, its extremely important to note that this is by no means some thrown-together attempt to capitalise on the publicity around the band's dissolution. This is a carefully crafted set of noisy, intelligent pop songs which positively exudes hard work and honest, old fashioned musical perfectionism. This has been honed through a series of singles including "Wheels" and "Fortune Favours The Brave" both of which are included here, and it's the latter's triumphant anthemic stance which first hooked me - resulting in an ill-advised tweet where I described it as a "non-ironic 'I Will Survive' for the 21st century". I stand by the description though - and this defiant, uplifting blast of positivity remains something I return to when I feel downtrodden or put upon.
The Come on Gang! sound is one of those 'more than the sum of its parts' affairs - a three-piece, fronted by singing drummer Sarah Tanat-Jones, they combine fairly traditional rock band resources with Sarah's frankly remarkable voice to surprising effect. With a delivery which would probably sound equally at home in a traditional folk setting, Sarah's clear and high vocal soars above the melodic but forceful push of the music. The first side of the album (if I'm permitted that pre-digital concept) is a masterfully sequenced rush through Come on Gang!'s finest moments. There aren't many records which get this bit right - where the arrangement of tracks sucks the listener right into the music from the start. The last record which got it quite this perfect from my perspective being Pixies "Bossanova" where nothing on that first side seemed out of place, and only the crackle of the run-out groove woke me from the shock and awe of its perfection. This starts with the playful, swinging live favourite "Coffee Shop" kicking off with an almost twee skip down the city streets, and building into a skyward spiral of guitars and vocals. However, it's not all pretty here - and the darker "Red Thread" grounds the record with a rougher, noisier edge - but it's here where the vocal dynamics seem to make most sense, with Sarah's voice reaching a howl of frustration at times.
The second half of the record suffers in comparison to the first, only because it would be hard to match the beautifully set-up tumble of ridiculously good songs which that features. The songs here grow a little more slowly and reflectively, but are ultimately just as rewarding - especially the searing "Santa Maria" which builds around a vocal which leans strangely towards the madrigal or traditional song of a bygone age. However, the storm of guitars drags it unequivocally screaming into this century. Finally, the album comes to a close with "Start The Sound" - a piano driven ballad which asks "If I stop right now will you listen?". It's an emotional close to a record which captures a moment in the existence of Come on Gang! and is a rare and genuine expression of the rock star rhetoric of burning out versus slow embarrassing fade away. The song closes with Sarah singing "We've come so far.." and it's impossible not to wonder how far Come on Gang! could have gone? As it stands this is a wonderfully diverse, life-affirming record which I know I'll go back to for all kinds of reasons, at all sorts of times.

Come On Gang! - Fortune_Favours_The_Brave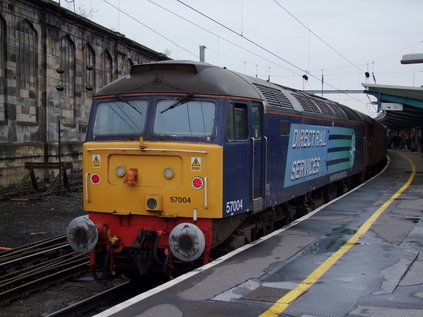 Posted in Railways on Saturday 19th February 2011 at 10:26pm
---
Coming hot on the heels of my trip to Glasgow, I was almost entirely unprepared for this weekend's jaunt. This was the first Spitfire trip of the year as their Scottish trips had unfortunately been cancelled. I was so unprepared that I found myself rearranging things yesterday to get to Bristol in time for the journey north, however I'd usefully ended up booking a meeting not far from Temple Meads, and in the end had a fairly smooth journey up. Just like the last of these multi-traction tours it meant a very early start from Birmingham. Joined the train at a surprisingly busy New Street to find the usual contingent already on board. Set off via the Whitacre Junction to Kingsbury Junction diversion, with 57004 and 57601 leading the train. Noted as we sped north that it really wasn't getting much lighter - especially in our coach where the batteries were damaged to the point that we only had light and heat when the train reached a reasonable speed. Things soon warmed up indoors, but as we passed Chesterfield, the rain which had been whipping by the train turned very swiftly into fairly sizeable snowflakes. Arrival at Sheffield was under a surprising carpet of white, as we had a brief break to reverse and I made a dash for better coffee on the concourse!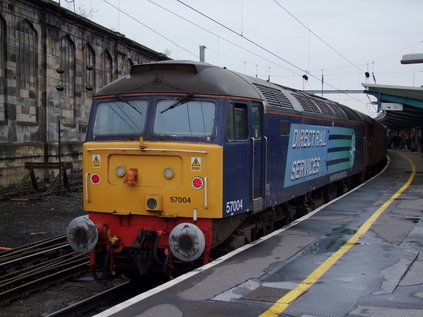 From here, the tour took the tried and tested route via Hare Park and Crofton to reach the Leeds suburbs, avoiding the station by way of the Whitehall curve. With 20309 and 37409 now leading, we made steady progress towards Skipton passing a succession of electric units. We'd once again discussed the dullness of the Settle and Carlisle route in railtour terms, however it was a little more interesting to see it with snow capping the peaks. As predicted, the usual scrum for a droplight to record the crossing of Ribblehead Viaduct ensued. Stayed in my seat and dozed and chatted my way happily north towards Carlisle.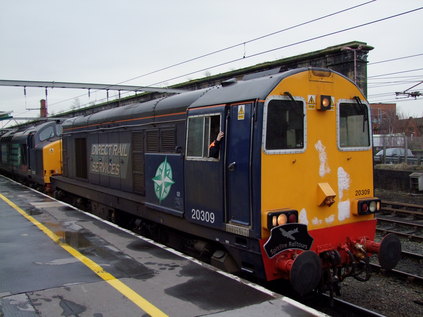 A brief break here to get food and to stock up at the local shop which sells a good range of local beer. Back to the station for a pleasant chat with some veterans of last year's Highlander trip. Headed over to the platform to see which locos had been turned out for our return, and was greeted with the rather surprising sight of two Class 66's topping 57601 which was sticking around to provide ETH. 66417 and 66418 were to lead the service through the Tyne Valley to Newcastle - a pair of engines which practically no-one would be able to claim. A fairly swift run, and this time a sensible chance to get out and photograph where possible before we once again reversed with 37667 and 37409 leading us back to the Midlands via a similar route. Amazed to find a third railtour in a row producing an on-time arrival, and spent some time chatting to staff before the tour was despatched for the short run back to it's origin at Birmingham International.
Today wasn't about breaking new ground - although I did get a good few engines in the book. No, this was more about meeting up with old pals, drinking too much and enjoying being back into the swing of railtours once again. There are some really exciting events coming up, and I hope to be along for a fair number of them.