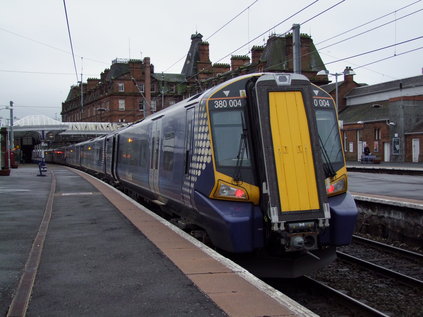 Posted in Railways on Friday 11th February 2011 at 6:50pm
---
My customary February trip to Glasgow has been a long time coming this year. In the past, its not always been the most successful of events. My attempts to initiate others into the ways of the city haven't always gone down too well. So this time, like last October's trip I decided to stick to the winning formula. Just me, a proper relaxing break and lots of music and wandering. I've got into a pattern on these trips too of spending the mornings zipping around the place at high speed, then relaxing in the afternoon before heading out in the evening. With this in mind, I set out to catch the 09:00 to Ayr - primarily because this was worked by new Class 380 sets. There is an earlier diagram, and I was tempted to cover that and head for Wemyss Bay too - but the thought of struggling through the peak crowds wasn't conducive to the relaxed holiday mood so I settled for this one. Arrived at Central Station and after grabbing breakfast, was disappointed to note that a Class 334 was in Platform 11. It soon appeared that this wasn't the Ayr train however, and a pair of shiny new 380s in ScotRail's new Saltire liverly slipped quietly into the platform in front of the 334. Transfered into the newly arrived train - the comfortable and spacious interior of the Desiro family was recognisable straight away, and I was soon speeding out through Paisley and towards the coast.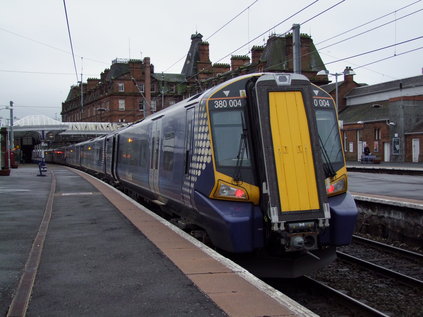 After a quick turn around at Ayr with time for photos and coffee, I headed back to Glasgow on the same set. The day was a little dull and murky overhead, and I thought about a break now. However I pressed on with the plan to get the 11:28 from Queen Street Low Level all the way through to Edinburgh Waverley. This took in the reopened Airdrie-Bathgate line in the opposite direction to
last November's railtour
and stopped at some of the new stations. Noted that a few, including the resited Drumgelloch were still not complete as we passed by, but that Caldercruix would open on Sunday. The route felt much slower than other options to Edinburgh, but ran smoothly and quickly enough to ensure this will be a huge asset for travellers in the central belt and who live west of Glasgow once the full service is in place.
Took advantage of a break in Edinburgh to get some lunch and to wander over to the newly relocated Avalanche Records in the Grassmarket. An impressive, tidy new store with ever enthusiastic staff. Picked up a couple of things I certainly couldn't afford, including a pre-release copy of the much anticipated new Zoey Van Goey album. Grabbed some lunch before heading back to Glasgow on the quicker E&G route. The rain appeared to have settled in for the day now, but it was good just to be here and not to have anywhere in particular to rush to. In fact I felt pretty relaxed for the first time in months.

Posted in SHOFT on Thursday 10th February 2011 at 11:02pm
---
It had been a bit of a bewildering day or two. I'd practically fled England as things collapsed behind me with the dust licking at my heels like all the best disaster movies. My uncertain employment situation forgotten, somewhere on a train heading through the sun-flecked lowlands today I managed to switch off all the noise - and just to make sure, I decided to replace it with a whole different kind of noise this evening. I'd not even thought much about this rescheduled St.Andrew's Day show, but with a spare hour between arriving at Central Station and checking into my digs for the weekend I decided to drop into the Union to see if tickets were left. The place was in chaos, with the bands gear arriving and clogging the foyer - but the kindly receptionist took me into her tiny office and sold me a ticket. She was most concerned I'd still got my bags with me and wanted to make sure I knew where I was going before I left, and had all the directions. This is one of the reasons I love coming back to Glasgow.
So, wandering back to the Union tonight through a barrage of text messages from people back home having a tough old time, I'm wondering if I'm too old to be trawling around Student's Unions? Eight flights of stairs convinces me I definitely am, but before I can get too maudlin about it Kasule take the stage. I knew nothing of this band - and they weren't about to impart too much information either. Indeed, I had to resort to Twitter later to discover exactly who they were. By all accounts they've been away for a while, springing up in the difficult few years when I'd all but abandoned music, disappearing and then being coaxed out of retirement in the past few months. I was struck first by the projections - strange rural images which centred on a wind turbine, then a stream of Factory Records related images - classic Peter Saville sleeves, scenes from the Hacienda, close-ups of the wild-eyed face of Ian Curtis. I wondered if this made any sense to the majority of the somewhat fresh-faced crowd at all? The parallels didn't end there - Kasule's music harks back to those early New Order recordings - when they hadn't quite found their slick, eighties identity and the harsh edge of the late seventies still permeated the sound. There was stark electronic percussion, a rumbling undertone of bass and guitar work which varied between a sparkling, light cascade of sound and a crashing wave of post-rock noise. The projections faded into a montage of shots of the late, much missed John Peel - and it all made sense. I could imagine him loving this and playing it gleefully, knowing that it wouldn't be easy listening, but that some of his listeners would understand. I still know very little of this band - least of all where one song ended and the next began - but I'm almost tempted to leave it that way, and preserve the odd, unsettling but dizzyingly varied mystery of Kasule.
After an incredibly short interval due to squeezing three bands into an early curfew, Endor took to the stage. Their debut album made my 2010 list by being possibly the most engaging and varied straightforward pop or rock record I had the pleasure to hear last year. That's in no way playing down it's clever twists or moments of intensity - but the songs are instant and accessible, revealing their deeper structure after repeated listens. There is something so effortless about the way David McGinty captures genuine moments of emotion in small, carefully-crafted songs that burn up in the atmosphere almost as quickly as they spring into being. From the outset the band tears into "All Your More Buoyant Thoughts", with trombone and accordion augmenting the four-piece as it reaches a triumphant climax. Straight away, "Without The Help of Sparks" and "Two Lovers" follow - and it dawns on me that the album is an endless stream of highlights. Endor come across as a hard-working, genuine band who want to please an audience - and the slower, more considered "Chapel Doors" does just that. As it's final aching notes fade, you can see the couples fold closer into each others shoulders, and the loners shifting uneasily from foot to foot. Endor seem to speak to everyone tonight. "Seek Cover" closes a brief but near-perfect set, and I feel vindicated in backing this fine record.
I have a poor record with The Twilight Sad. I've managed to miss them on numerous occasions, and will be missing them again next week nearer home. It's become something of a joke because, since dashing back from Glasgow in 2007 feverishly declaiming I'd found the holy grail in "Fourteen Autumns and Fifteen Winters", I've failed ever to see this band perform. Live, the band offer a different perspective on their sound - with the slow burn of their studio work giving way to a scorching wall of sound, with a nod to a less whimsical My Bloody Valentine. The Twilight Sad are possibly the loudest band I've heard in years too, and the oddly-shaped venue sends the walls of feedback bouncing around us in disconcerting and dizzying ways! It's unusual to see a band these days who have among their number a vocalist who isn't responsible for anything else - and in James Graham they have a consummate performer who reminds me oddly of Robert Pollard in the way he is focused totally on responding to the music around him. He isn't, however, a front man in the traditional sense - this isn't a band fixated on personality, and Graham's voice is ultimately one of the instruments. One that dips and soars, chants and wavers with emotion over the keening guitars and thundering rhythm section. A new song is introduced as "Charles and Camilla" and the crowd respond with incredible enthusiasm. This band is loved here, it's plain to see. And I can see why - tonight my foolish hyperbole over that first record makes utter sense - and seeing finally this band lay waste to a room through force of emotional will and thunderous noise is something clearly I'd put off for far too long.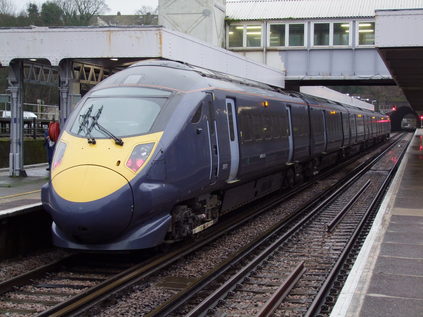 Posted in Railways on Saturday 5th February 2011 at 10:50pm
---
It's become something of a custom that before my jaunts to Scotland, I head south - if only for the personal satisfaction of having travelled almost the entire length of the country in a week or so. This week, I'd booked tickets through to Dover - a journey I'd done relatively recently, but I figured that some rambling around Kent might be an easy way to spend a Saturday before a bigger trip away. Quaggy had planned a visit to London too, and I met him at a ridiculous hour. Luckily, I'm not expected or required to be particularly communicative pre-coffee consumption.From the outset though, today promised to be rather odd. On getting our tickets checked we were told to stay on the unit to Temple Meads as the 06:24 off Weston was cancelled. So, this meant the 07:30 and time for plenty of sustenance at Temple Meads. This didn't alter the plan really, as I'd allowed a fair margin to get to St.Pancras - today wasn't about rushing around the place. On departing Bristol with no hot drinks in the buffet due to "The Catering Curse of Quaggy" all went smoothly until Thingley Junction, where we crossed over to the reversible Down Main. A frantic attempt by the driver to contact the Train Manager and an announcement that we'd be calling at the wrong side of the island platform at Chippenham. Finally back over to the Up Main at Wooton Bassett having only lost about five minutes - due to a properly signalled railway and a sparse early morning service no doubt.
Things got stranger though - approaching Reading an announcement was made that we'd be terminating due to a 'serious incident' between there and Paddington. The alternatives offered were the direct service to Waterloo, or a DMU to Guildford for a fast service in. Found a fairly quiet spot right at the front of an otherwise packed service and took the long, rather slower jaunt via Ascot and Staines into London Waterloo. On arrival, straight onto a 59 bus to St Pancras, arriving possibly in time for the 11:12 to Dover. However, a desire not to run around like a lunatic, plus the intriguing realisation that there was an engineering block near Ramsgate made me pause. Settled instead for a coffee and a chance to re-plan the morning. Some High Speed services were terminating at Minster, and a look at the departures list showed that Dover to Charing Cross units seemed to be doing the same via the PSUL curve at Minster. Decided to head for Ashford for starters and look at the possibilities.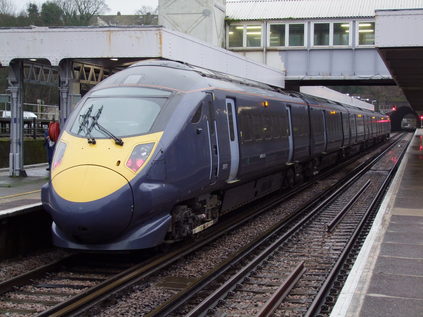 After a very swift run along HS1, arrived at a chilly and windswept Ashford International. The plan had mutated somewhat from the original trip, and now meant we'd take the next unit to Dover for a lunch break. These units were then heading to Minster and back to Charing Cross - so we'd have a roughly hourly opportunity to do the curve. Soon off, passing the yard at Ashford where 66844 was lurking along with some interesting units. Hopped off at Dover to look for food, then realised that Quaggy wasn't there. Having a Standard Class ticket from London to Dover he'd slunk off into Coach B, while my First Advance permitted me to travel up front. Called him, and it seemed he'd misunderstood the instructions and was staying on to Minster! He opted to leap at Deal for lunch, and I hung around Dover for the next service. Took a brief wander into the outskirts of town but rain threatened so I stocked up on provisions and headed back to the station for a coffee and a chance to check the services from Minster. Seemed we'd have a roughly half-hour wait, at what I recalled was a pretty exposed spot!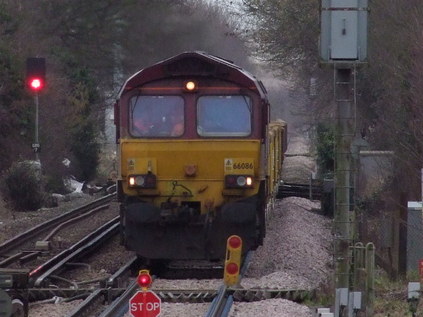 Off to Minster on the 14:02, with a rather disgruntled Quaggy rejoining at Deal. The train duly took the unusual curve into the station, where things were surprisingly busy! With Rail Replacement coaches dumping ex-Ramsgate punters here for onward trips to London, there were a fair few folks around. Services from the west were using the crossover to call wrong line, then heading around the curve towards Dover, and some London trains were terminating here too. Noted 66086 edging it's way out of the possession too, but before it managed to escape our High Speed service arrived ready to head back into the city. Another fast run, with some alarming shuddering in the tunnel sections. Might perhaps have been related to a very strong wind whipping through and causing resistance perhaps? It was certainly pretty breezy! Time for a quick wander around Kings Cross, then a spin from Euston to Harrow and back to have a look at the depots, before taking a bus back to Paddington for the customary 19:00 home.
Today hadn't gone to plan, but I'd ended up doing an elusive bit of line and having a fairly interesting time in Kent once again. The county had always been a bit of a dull spot for me, but in recent times has produced some entertaining jaunts. It's always good to have a prejudice challenged.

Posted in SHOFT on Friday 4th February 2011 at 8:02am
---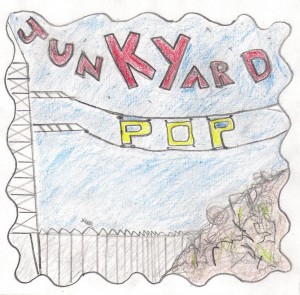 This is probably destined to be an all-too-frequent series of posts where I very publicly catch up on something I should have heard a long time back. Often, things will crop up on the various blogs and podcasts I peruse, and I'll end up thinking I should have followed that link much earlier - especially when there is such a fantastic array of free stuff out there which requires almost no effort or investment to check out. This is just such an item, with Male Pattern Band making this three track EP available for nothing. The great risk of such a strategy is I suppose that people won't value the product in a society where despite times being tight, the idea that you get what you pay for still prevails. That patently isn't always the case as this short but direct and insistent set of songs amply illustrates.
Listening to Male Pattern Band I'm not moved to draw comparisons with their contemporaries at all - there really isn't much which sounds like this right now. In fact, with the solid but melodic rhythm section and sparse guitar work I was moved more towards the clipped US post-punk anthems of Mission of Burma. There is an inevitable nod to Pavement too - in a sense bridging the gap between the 1980s and this frighteningly young band. However, a band hailing from Renfrewshire can't possibly avoid Glasgow's strong magnetic pull, and there is equally a distinct influence from the slew of sorrow-tinged lyricists which the city has produced. This is evident not least in the frequent reference to 'rain' in the three songs here!
Opening with the short but well-crafted Kinks-like pop of 'Raining' the record peaks with 'Wilt' - opening with Chris McCrory's melodic vocals and driven forward by a solid but spiky instrumental backing. The track takes a menacing turn before exploding back into melodic life with a lyric full of regret and bitterness - and lets be honest - that's what we need from music like this with it's sparse, direct and emotional connections. 'Cable and Cloth' is a gentler, more wistful and reflective affair - where a loping synthesised melody and the ubiquitous glockenspiel join the trademark guitar strums and play over a near country-and-western rhythm. Apologies readers, it's much much better than I make it sound! The true test of a record is perhaps how much it reflects the band's live performance, and I hope to get the chance to test this out soon. In the meantime, this EP is finding it's niche on those home-bound commutes after frustrating days - when things don't quite go to plan, but you know you were right all along...
You can read an interview with Male Pattern Band at Glasgow PodcArt's site.

Male Pattern Band - Wilt