Posted in SHOFT on Sunday 13th February 2011 at 11:02pm
---
It was a strange week for gigs in Glasgow. As ever there was an embarrassment of riches on offer, and when Edinburgh was linked into the equation, it all got very complicated. However, oddly, everything seemed to have focused on Friday evening. Having nailed my colours to the mast of Conquering Animal Sound some time back, this made the choice a little easier. However, with the cities all gigged-out over the previous two nights, Sunday presented a challenge. Then I spotted this curious event. Heavenly Records, formerly home of a variety of very hip artistes in the 1990s including Saint Etienne among others, has recently undergone something of a reinvention. With the label now focusing on more folk-based Americana, this tour attempts to showcase three of their more recent signings. So it was back to the familiar dungeon of The Captain's Rest via a less confusing bus ride this time. The venue was a little quieter, and as I descended to hear the first act I was a little concerned it might be very quiet indeed.
James Walbourne kicked off proceedings to a fairly empty, but gradually filling room. Performing on acoustic guitar, accompanied by his brother, he trades in a rough-edged, regret-tainted American blues. His songs are compact, complete stories which he sometimes seemed to get lost in - the duo reviving themselves with an initially amusing but ultimately a little wearing 'duelling banjos' finally at the end of more than one song. There is no doubting these gents' technical skills, and James is clearly a songwriter of some craft and pedigree. However, there is something of placing ones head in the lion's mouth here... after all, Glasgow has produced an endless stream of very successful acts in this alt-country and folk vein. Things take an interesting turn when a mandolin and a washboard come into play, and we're treated to a joyous romp through "Waiting Room Blues". On these simpler compositions, James seems able to stretch his legs, enjoy the space they allow and not get bogged down in attempting to write to a formula. The set ended on a high, with the room a little busier and the Walbourne brothers clearly pleased they'd made a few converts tonight.
Next up were Trevor Moss and Hannah-Lou. It seems like much longer than a month since I sat in a chilly metal church in Edithmead watching this remarkable duo performing. The format tonight was the same - a single microphone, two eerily similar voices, and lots of warm, engaging and genuine music. Kicking off with the new song "Spin Me A Rhyme", the set was largely based around the new album - due in April and the pair's first for Heavenly. As ever, Trevor started lots of rambling stories about the origin of songs, which it was left for Hannah-Lou to rescue from whimsy! It's a pleasure to watch them perform, and it was interesting to note the generally rather talkative Captain's Rest crowd standing in rapt silence between songs on a number of occasions. The response to the set closing "Cheap Wine" was particularly rapturous, and I was struck again how these seemingly simple songs, performed on the most minimal of instrumentation can fill a room and demand attention. For my own part, I wondered if the novelty might wear off a little seeing them performing in a more traditional venue, but it was really good to see them again and their genuine warmth and remarkable skill with a tune left a notoriously tricky Glasgow audience equally impressed. I now can't wait to see them again, though this opinion may change if the back of my head features in their forthcoming 'Eleven Nights Under Tin' film!
If the accusation of delivering whimsical stage banter is levelled at Trevor Moss, then I'm not entirely sure how to describe the curious but engaging casual soul-bearing in which Jules Baenziger aka Sea of Bees indulges before, during and after her short set. Jules is an interesting character in herself - a curious bubble of positive energy and wistful regret which appears to flip on the turn of a coin. Her songs are much the same - slight, near silent passages crash into heavy-handed, pained endings. Her voice varying from a slight high-pitched waver, to a howl of pain. At several points I'm reminded of the voice and songwriting of Mary Gauthier - another largely autobiographical writer. Accompanied only by Amber on electric guitar, Sea of Bees weave intricate but often rather inexplicable and inaudible tales with names such as "Wizbot" and "Gnomes". Jules explains her motivations before these songs, often focusing on her wish to express a single feeling or a thought which is difficult in words or in person. This confessional aspect makes Sea of Bees engaging but sometimes uncomfortably voyeuristic listening. The audience however loved the music and the unlikely duo performing it.
Trundling home on the bus, I pondered the brave and unlikely direction that Heavenly Records have taken. These artists aren't going to be selling buckets of CDs, that's for sure - but they offer integrity, craft and honesty...rare qualities in the music business, and particularly in the trade of the journeyman singer-songwriter which all too often descends into murky cover versions and crowd-pleasing blandness. An enlightening evening with some old friends, and hopefully some new ones too.

Posted in SHOFT on Sunday 13th February 2011 at 2:02pm
---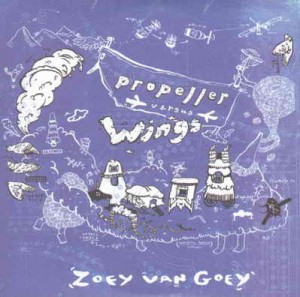 A few years back I wrote a foolishly impassioned entry on my more whimsical and less interesting personal blog about Zoey Van Goey. At that point, two clever and engaging singles into their existence, I knew I'd unearthed something worth watching. Something which seemed to combine the thrill of short, simple pop songs with the storytelling ethic of folk music - but without any of the painful sense of forced tweeness which is usually never far from such efforts. That the band have turned in a joyous, intelligent and almost impossibly varied second album isn't a surprise at all, but it's packed with them from start to finish.
Its plain to hear that Zoey Van Goey still have an embarassment of riches in the vocal department - with Kim Moore's high, clear vocals soaring over Matt Brennan's incredibly flexible voice which lends itself equally to racing, punky pop of "Robot Tyrannosaur" and the tender slide-guitar swooning album-closer "Where It Lands". Singing duties seem to be shared a little more evenly than on the first album, but they still feel most affecting when dueling or duetting - particularly on the gentle, but lyrically entangling "Extremities". The straightforward indie-pop hit on this record - if indeed that's an accurate description of any of these eleven compositions - is surely going to be "Sackville Sun". I've seen some attempts to compare this kindly or otherwise to Belle and Sebastian. I can see the links - but I can't help but feel there's more than a little gentle parody of over-studied art-school songwriters in this song. It descends into a strange Gary Numan-esque finale as Kim imagines what an "eight track of her favourite bands" might sound like, and its impossible not to feel the conspiratorial glee with which the stereotypes are demolished - by the force of unabashed fun and clever lyrics!
The sheer range of instruments and musical styles employed on 'Propeller Versus Wings' keep this record as fresh and surprising as those first two singles I fell in love with. The album opens with a perhaps entirely unexpected squall of mechanical noise as "Mountain on Fire", and works it's way through piano, accordion and all manner of percussion and string accompaniments alongside the usual tools of the modern band. By the time the curious "Another Day Another Disaster" has arrived, the band are indulging in what sounds like a French waltz with a raucous percussion section barely containing it's surfeit of energy for the song's clattering ending. The brass band onslaught of the infectiously clever Matt-led "You Told The Drunks I Knew Karate" needs to be heard to be believed. Zoey Van Goey's strength seems to lie in their ability to turn their hands to almost anything, and to make it strangely, compellingly their own. A small band with an unashamedly sizable talent for writing pop songs shouldn't really have this kind of range at their disposal - but they do. The even better realisation is that they probably have plenty more where this came from.
On "The Cake And Eating It" Kim sings "If it works, then it's probably worth repeating it". It does work, and on this remarkably infectious, clever and entertaining second album they haven't repeated themselves at all.

Zoey Van Goey - Sackville Sun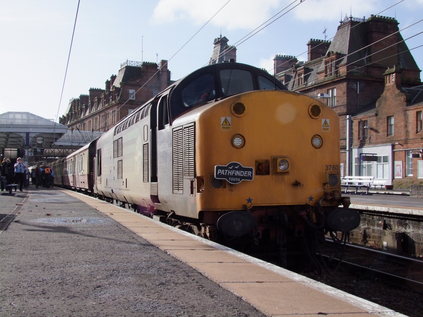 Posted in Railways on Saturday 12th February 2011 at 11:26pm
---
I've made a few early starts from Glasgow Central over the years, and just like always there was only one place open for coffee this morning. After a walk along a surprisingly dry Argyle Street to the station, I joined the snake of people straggling back from Cafe Ritazza in the hope of an early caffeine fix, with one eye on the clock. It always amazes me when Pathfinder run these bi-annual Scottish tours that so many of the usual faces make the trip north. For me of course, it's never been an issue - just another excuse to be in Glasgow. After last night's gig at The Captain's Rest though, I was feeling perhaps just a little more sluggish than usual - and this kept me in the queue for as long as it took, before dashing over to platform 10 where 37601 and 37607 were rumbling away on our short train.
As ever on these trips, the main attraction was the track. After the visit back in 2007 for the McBuffer Puffer and one or two trips since, there is very little track I needed in the Glasgow area. This tour however focused on points south and west of the city, including some very unusual bits of the once complex network of colliery related lines in Ayrshire and Galloway. After a swift reversal alongside Shields Depot, we reversed via the Burma Road and headed for Kilmarnock where we picked up additional passengers. After a brief break, we proceeded south through the station and left the mainline to head west to Riccarton. The vegetation on this and other branches was pretty overgrown and clearly made of pretty solid stuff as it thwacked it's way along the coaching stock. We pressed on to the Network Rail limit on the line, before reversing and heading back to Kilmarnock for a few passengers who's plans had altered after the confirmed timings for this trip came back much earlier than planned. With everyone on board, we headed off once more, taking the curve towards Barassie.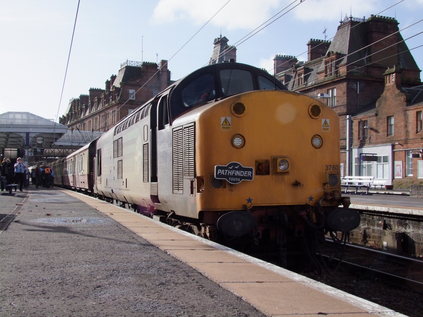 As we headed for the coast, I was surprised to see the sun coming out. As it goes, my customary February trips to Scotland have often had decent weather - but as we passed through Falkland Yard on one of the reception lines I was struck that today promised to be pretty special. After a brief wait for time we headed through Ayr and took the branch towards Mauchline. I've wanted to cover this track for some time, and was foiled recently when another tour covered it. However today we only made our way along around half of it's length to Annbank, where we headed south onto the twisting line to Killoch Washery. A swift reversal here took us back through Ayr and into Falkland Down Goods Loop where we again reversed. Retracing our steps through Ayr we headed a little further south before again heading east onto the long curving branch to Waterside. Here, a small preservation group own a stretch of the formerly extensive network, and we were greeted by their industrial loco shuttling back and forth alongside our train on their short section of track.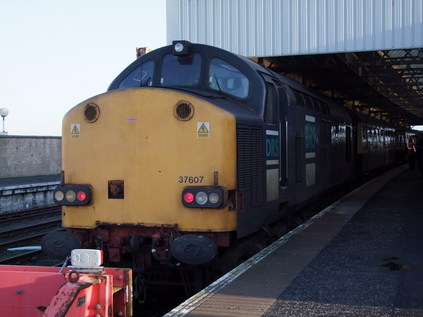 Back to Ayr for a slightly longer break in the now surprisingly strong sunshine. Took the opportunity to get some pictures and to get a decent coffee, whilst the normal punters marvelled at the odd train in the platform. Soon off again, as far as Girvan where we waited to pass another service. Another break here, and the chance to watch a little local football as Girvan took on Ashfield beside the line! One brave passenger dashed down to purchase a programme, to claim the field for their attempt to visit all of them! Off again, for a long but absolutely stunning trip to the extremity of the network at Stranraer. With remarkable views both out to sea and across the lowlands, I was spoiled for choice, and the gradients truly tested the locomotives. As we arrived, the sun was just beginning to sink and a golden glow fell across the bay. Wandered around chatting and getting some pictures of the train and the station, before boarding again for the final leg of the trip. This took us north again into the Glasgow suburbs, and using the connections around Shields Junction, we surfaced on the Cathcart Circle, following it anti-clockwise, then taking the line to Newton and on to the Hamilton Circle. Crossing the mainline at Motherwell, we headed north to Whifflet, using the connection at Langloan Junction to regain the mainline and head back into Central Station, arriving pretty much bang on time.
A quick shot of the loco on the blocks took me back to 2007 and the first of these now regular tours. A lot had changed since then - not least my take on the city. It was good to be back, and great to be on the rails around one of my favourite places once again. The weather had helped in making a very special trip even better, and as I plodded back to my digs, I couldn't imagine how I'd rather have spent a day in Glasgow.

Posted in SHOFT on Friday 11th February 2011 at 11:02pm
---
The promise of sunshine yesterday had given way to a damp evening, so I elected to take the bus instead of walking. Lazy perhaps, but I'm on holiday after all! I couldn't see out of the fogged up and grime-covered windows of the bus, and given that I'm no native here that meant I spent most of it trying to puzzle out when to hit the bell via my iPhone's sat nav. I recall a drunken previous visit to The Captain's Rest - a tiny hole in the ground beneath an almost painfully cool pub, where I naturally feel entirely out of place, deeply ancient and worryingly conspicuous. However, it was worth the pain and self-sacrifice tonight to see a couple of acts who I've raved about here and elsewhere. So, after a much delayed start and a clumsy stumble through the snug and down the stairs, Edinburgh based Debutant swiftly took to the stage. It would be easy to pin one man and a guitar in the singer-songwriter category and have done with it, but that would be missing the point where this one-man avalanche of sounds is concerned. With a guitar and a loop pedal, Debutant builds washes of atmospheric noise and melody, the tiniest touch of the instrument appearing to conjure impossible complexities of sound. Throughout his short set he was self-conscious, indeed self-deprecating at times - the sheet weight of anticipation of Conquering Animal Sound's set bearing heavily on his connection with the audience. However, he needn't have worried. Over the course of three compositions, culminating in the sublime and epic "King of Doublespeak" he convinced more than a few of those present of his talent for constructing a moving, emotional atmosphere and then turning it on it's head in the space of a few flicks of his guitar. This is remarkable music which is beautifully unaware of it's power. An album is promised, and hereabouts certainly much anticipated.
Hot on the heels of Debutant's short set, the live line up of Field Mouse arrived. As I understand it, Field Mouse is essentially the recorded output of Jai Kural. I first, stumbled across this on the 45 A-side Glad Cafe fundraising album and was curious to discover how what seemed like a studio-bound project would translate to the stage. It's testament to the skill of Jai and his band of multi-instrumentalists that this works so amazingly well. Throughout the technically complex set, the warm fuzz of analogue clicks, buzzes and bleeps grounds the music and provides an essential human element to the machine-generated noises. Live bass adds a depth to the mix, and somehow it all spirals together to form far more than the sum of it's parts. I always struggle to connect wholly with instrumental electronic music somehow, but the sheer delight in making interesting sounds which Field Mouse displayed tonight was enough to keep me listening.
I've offered my thought's on Conquering Animal Sound's recent album "Kammerspiel" elsewhere - and after repeated listening it's grown more and more essential to me. So, like much of the audience I was anticipating something special from this evening. The annoyingly noisy crowded hushed completely as James and Anneke began to play, the sudden strange silence creating the same tense backdrop which is evident in many of their recordings. The mechanics of reproducing their work live were remarkably complicated - James' flitting around the stage manipulating an array of instruments and machines, a one-man sound generation industry. Meanwhile Anneke stood before three microphones, connected to a bewildering array of loop pedals and clever tools which enabled her to generate live the multi layered vocal performances which the record showcases. Her voice is as much an instrument as James' various contraptions - manipulated and echoed around the tiny venue, an unassuming chanteuse. It was especially good to hear the remarkable "Bear" reproduced, with it's dynamic and soaring vocal even more powerful at first hand. The short set drew heavily on the new record, and its clear that this short tour is going to create interest around what has evidently been a well-received debut. Again, the warm human elements of their songs shone through the wash of electronica - the lyrics particularly leaping forward in the live environment and surprisingly revealed more as poems than songs as such. A rapturous response from the hometown crowd called James and Anneke back for an encore, and they chose to end with their own take on Robyn's hit "Dancing On My Own". Like lots of things this incredible duo attempt - it probably shouldn't work, but it does - and in doing so it redefines things entirely.