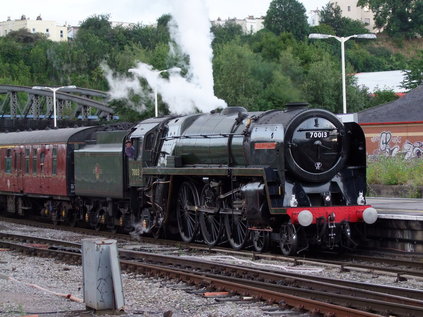 Posted in Railways on Saturday 25th July 2009 at 10:34pm
---
I dislike Blackpool. Please don't think this is some sort of snobbish response to the traditional British seaside resort - after all I've spent much of my life in and around them, and have always enjoyed visiting them on my jaunts around the country. No, this is something special that I reserve for Blackpool. I've been there three times, and each visit has exceeded the previous one in it's unpleasantness for me. So why would I visit again? A fair question, and one answered in the usual vein around here - because there is track to be done. It was announced recently that the iconic Blackpool Tramway is to close for renewals between Cleveleys and Fleetwood for no less than three years and that some of the southern sections might also close whilst a new depot is constructed. With this closure likely after the end of the illumination season in 2009, there wasn't much time to waste. Ideally, I'd not be heading for Blackpool in the middle of July - but there seemed few realistic options in the calendar within the deadline.
The journey itself was pleasant enough to begin with. A quiet and rather lazy trip up to Bristol, then onto a Manchester train. Concerned I might have a brief scuffle regarding my reserved seat with a local character who makes a beeline for the one I was allocated and gets very anxious and abusive when challenged, but today he didn't get beyond muttering and gurning at me. A pleasant run, leaving the wet weather behind in the South West as I headed for Manchester. The plan here was to change for a TransPennine Express service direct to Blackpool. I knew this would be busy - and had booked a cheap advance first class ticket for this very reason - but I wasn't prepared for the vast numbers of people crowded precariously onto the narrow platform 14! Fought my way to the first class carriage and after another brief disagreement, to my reserved seat. At this point, in typical TransPennine Express style the train was declassified and the hordes swept in. Spent a very uncomfortable trip with people leaning over me and at one point practically sitting on me!
Arrival at Blackpool North was no less eventful. The holidaymakers were as surprised as I to see new ticket gates. However, they seemed to struggle with the general concept and despite four gates being available, formed two queues which straggled across the concourse preventing access to all of them. One of these queues was also for a gate far too narrow for the big wheeled suitcases people insist on tugging around these days, so this led to plenty of fractious lane-switching at the crucial moment. People were getting testy, not least a large, rather elderly man who was getting redder and redder as he shouted at a rather frail old woman and a pair of younger girls. At first I thought they were all related, but it became apparent that whilst the apologetic looking older lady was indeed his wife, the others were totally unrelated and just unfortunate to be in front of him in the queue. As one of these younger women managed inevitably to get her vast luggage trapped in the gate, he stepped forward to be assailed with cries of "don't you DARE try to help me after what you've said". I spotted my moment and slipped through the gates in the middle to freedom. As I left, a hitherto absent young man had stepped in and it seemed that fists were flying.
Welcome to Blackpool.
I reckoned I had just enough time to make a full circuit of the tramway, and trudged down a greasy, congested Talbot Road towards North Pier. The place was even more run down, even less friendly and far far dirtier than I remembered. For the first time in a long time some building work had appeared and improvements were happening - but in this interim stage, this just made the place less accessible and more crowded. The trams were no less confusing - with extra trams out there was congestion and chaos on the busiest parts of the route, and this led to a huge gap in the service. Made my way along the inside of the long bus shelter which serves as a tramstop only at the very last moment, to avoid waiting in this dirty, urine sodden tunnel any longer than strictly necessary. Finally onto a southbound tram and making very slow progress towards Starr Gate, the driver hooting at the hapless holidaymakers who frequently strayed into our path.
The service itself is rather good. Conductors are friendly, knowledgeable and professional - and its far from the heritage tourist service I expected. Once at the southern terminus, failed to make a dash for a Fleetwood-bound tram in front of us, so stepped back and caught the next northbound tram to Cleveleys. Given the low speeds, I was worried about the schedule and would review things as I went along. Turning back before the end of the line and needing to do this trip all over again was a depressing, but realistic prospect! The trams themselves were interesting, but photographing them was fraught with difficulty unless you had time to hang about one of the busier bits of the system. Stuck to my main priority and ended up being the only passenger for much of the journey due to a bunching up of trams in the central section. Took the opportunity to chat to the staff and we were soon out of town and onto a faster paced section through Bispham. Thought about turning back at Cleveleys, but noted a Fleetwood service just behind us. Boarded this and settled in to finish the circuit again as practically the only passenger. Very concerned now that my time before the train back was very limited, and the journey north seemed to have taken a very long time indeed.
The tracks eventually left the road and became a more conventional railway type alignment as we approached Fleetwood. This place, regarded as much more depressing than Blackpool by the conductor, actually seemed to have a little life about it. Ignored the tongue-in-cheek remarks about the suicide rate in the local park related to the presence of a large Social Security office in the town. Not long to wait here though, as once we'd reached the harbourside terminus, I was able to make a dash for the large blue tram I'd missed at Starr Gate, and get an early departure back towards town. Much busier this time, but made fairly swift progress, eventually arriving back at North Pier with around twenty minutes to return to the station and catch my train. This, thankfully limited my further exposure to Blackpool, and despite a telling off for daring to wander onto the platform (I thought that the new ticket gates might have relaxed the draconian 'wait inside the building' policy here) I had a fairly uneventful time before departure.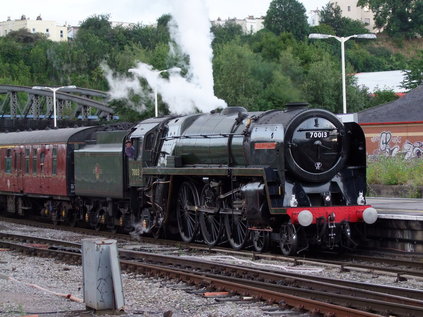 The trip back, on a pleasantly cool and rather quiet service to Birmingham follwed by a near empty connecting service to Bristol was relaxing and for me, rather sleepy. Not sorry to be out of Blackpool, and to have finally managed to cover the tram lines. On arrival at Bristol, noted 47760 awaiting the return of a steam hauled charter it was due to take forward. Took some snaps, then found myself in just the right spot to get a shot of 70013 'Oliver Cromwell' as the steam service arrived, before hopping onto my local service home. It had been a trying day which reminded me just why I don't like Blackpool - but the journey, as ever, had been enjoyable and cathartic. In theory, it should be at least three years before I need to go back!

Posted in Railways on Sunday 19th July 2009 at 11:26pm
---
Despite my near obsessive collecting of odd bits of track and covering the railway network in interesting ways, I've not done many of the tours offered by the Branch Line Society. I am of course, a proud member of this sometimes turbulent organisation - and it's certainly no reflection on the well-organised and thoughtfully designed tours. It's perhaps more about balancing this side of my interest with a degree of comfort and leisure. Not all of the BLS tours tick these boxes - being somewhat lengthy, prone to delay due to their complexity, and usually featuring all standard stock with no room for the larger gent to stretch out. However, this one had grabbed my interest from the start. Initially, part of this was due to the inclusion of the Sinfin branch in the itinerary. This tiny stub, predominantly retained to serve a Rolls Royce works near Derby was an early obsession for me. Formerly served by Matlock DMUs crossing Derby and reversing on the branch, the new generation of Sprinters proved unsuitable. Thus by the time I began my travels, the DMU service had become an occasional taxi - and with it, Sinfin had become something of a holy grail - elevated far above it's importance by it's difficulty to score.
I'm not the only one who was bitterly disappointed that the over-running Derby Station refurbishment caused this to be cut from our itinerary. However, rather than cancelling my booking in protest as some did I stuck it out and was interested to read a new plan which covered some much needed track in the North East, as well as the planned colliery branches in South Yorkshire and Nottinghamshire. Perhaps the oddest part of all though was heading out for a tour on a Sunday morning. Descended from my usual hotel in Crewe to find a fair crowd of recognisable faces congregating. Found breakfast and waited with them in fairly damp conditions - with perhaps a threat of later brightness in the sky. Nothing much happened for a while. Then, a rather confusing rake of stock, labelled in a seemingly random order with a Class 47 on either end passed through the station. More waiting, and then some information. Our Class 66 had failed before it started, and the replacement 47 was low on fuel thus we would be somewhat delayed. Eventually left a not disastrous 30 minutes down and started with an early highlight - out on the Salop Line as far as Gresty Green Goods Loop, then a reversal, into Basford Hall Yard via the Gresty Curve. This was due to be covered on Pathfinder's 'Lancs Links' trip last December, but was missed due to a much discussed but still somewhat mysterious oversight by the traction provider. Since then it's become something of a feature in these tours, but the BLS of course did this thoroughly, passing through the yard slowly on the arrival lines, before traversing the ladder crossing at Basford Hall Junction to gain the fast lines. We were finally underway. Soon heard that a lack of driver knowledge of Class 47s around Doncaster meant we would gain an additional engine at Wolverhampton, with 66090 joining 47843 on the front of the train, while 47812 continued to bring up the rear. With a little time gained back, we made good progress in improving weather through the Midlands, and out to East Midlands Parkway - our last pick up. From here we proceeded north via Toton Centre. Nothing quite prepared me for the sight of a large proportion of the fairly modern, useful Class 60 fleet parked up and idle at the depot. As a bonus, I saw the last two class members I required - but the disturbing sight betrayed an uncertain future for these locos.
From Toton, we pressed on via the Erewash Valley and the Old Road to Aldwarke Junction. Here we covered the alternative route to Thrybergh Junction - a bit of line which retains a couple of trains for driver knowledge, but these remain very unpredictable. Instead of curving away on the passenger lines, pressed on over the Doncaster avoiding line to Hatfield & Stainforth where we reversed. With 47812 leading again, we again avoided Doncaster, travelling via Applehurst and Skellow Junctions, before finally passing through Doncaster only in order to achieve the access to the Yard. Interesting to be inside the cordon of trees which leave Carr Depot hard to see from the mainline, and we crawled carefully and slowly through the sidings, before taking the Low Ellers Curve to access the South Yorkshire Joint Line. I did this line in the opposite direction on the Retro Retracer tour back in 2007. On that trip I benefited from a fellow passenger with a good knowledge of the line, its history and the local collieries which it supported. Without that commentary, I found the run slow and a little bit dull. With the air-conditioning completely failed on the Mk.II coach we were in and the temperature slowly rising, I was soon snoozing my way to Shireoaks, where we joined the Robin Hood Line and too a much needed break on the platform at Shirebrook. Suitably cooled, but not able to get anything like a decent picture, we were soon off again and curving on to the line to Welbeck and Thoresby Collieries.
The knot of lines in this part of the country existed almost entirely because of the coalfield, and despite some fairly sizeable populations in places, there is little evidence of passenger railways remaining. At Welbeck Colliery Junction we reversed and headed up the branch, skirting the settlements of Market Warsop, Church Warsop and finally Meden Vale. Here we came to rest at the site of an excursion platform used for miners' holiday trains, the colliery proper being around a further tree-lined curve a little to the northwest. With UK Coal unwilling to let us further, we were soon heading back to the junction. Here we reversed again and pressed on over the junctions forming the triangle at Clipstone to reach Thoresby Colliery Junction. Here, among a cavalcade of GBRf coal hoppers - showing that the site was still very much active - we reversed again and progressed up the very short branch, once again as far as permitted. This was a much shorter run as the colliery is closer to the mainline, beside the large village of Edwinstowe. Another reversal, and a shame we could press on eastwards where the extant former Great Central line continues towards the East Coast Mainline at the site of Dukeries Junction. With the warm weather turning somewhat thundery, we began our homeward journey. By the time we were heading south on the Robin Hood Line once again, the rain had closed in - but it was pleasant to hang at a droplight in the steaming carriage and watch us cover our last bit of unusual line - the Lenton Curve, bringing us back on course for our set-down stops in the Midlands.
Despite a fairly disastrous start and some slow running at times, we caught up time admirably and arrived at Birmingham New Street a little early! I left the tour here, having had a fine day chasing some very rare bits of line. I hope there will be more of these tours soon - not least to cover the bits around Derby which had to be missed off this itinerary. Whilst many of the BLS 'old hands' have done it all before, there are plenty of us who haven't!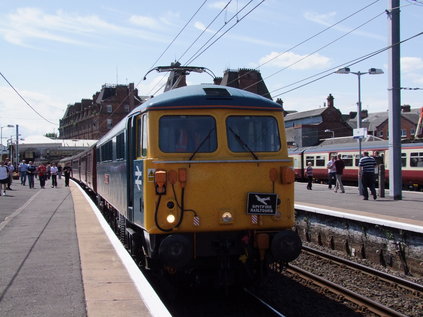 Posted in Railways on Saturday 11th July 2009 at 10:35pm
---
There have been one or two entries here recently which talk about railtours breaking new ground. This one can't claim to be that, as class 87s quietly plied their trade over the West Coast Mainline for many years. However, there was much cause for celebration this evening because the long-planned Spitfire organised trip to Glasgow finally ran as planned!
The day started making the brief dash from my hotel to a wet and murky New Street station which was just waking up. As ever, there wasn't much information on where the tour would be arriving - but as it was booked to sit for 25 minutes, I wasn't too concerned about this. Grabbed breakfast and descended to the platform offered by staff, apparently on a purely speculative basis! Their hunch was right, and I found the stock just coming to a stand - a rather mixed rake of WCRC stock in fact. Headed for the front to have a look at 87002, but was persuaded to stay undercover by the now fairly heavy rain. Instead, found my seat and settled in for what I hoped would be a high-speed, no-nonsense trip northwards.
I wasn't disappointed, and as we sped along via pick-ups at Stafford, Crewe and Warrington, the sky began to clear. With 87002 performing faultlessly and bang on time, there wasn't much to do aside from enjoying the scenery and sneak a little nap in the sunshine. It seemed that in no time at all we were arriving at Carlisle, where a fair number of passengers disembarked for the DRS open day being held at Kingmoor Depot. As we accelerated towards the border, we got a brief glimpse of the festivities and the locos on show at Kingmoor and it appeared to be a fine line-up. However, our target was Glasgow and we flashed past Carstairs very early, missing a booked timing stop which meant a brief dwell in the Up Passenger Loop at Law Junction instead. Back to running on time, we slowed for an always interesting crawl through the suburbs of Glasgow before my favourite part - crossing the Clyde and arriving at Central Station. For once, this happened under blue skies too!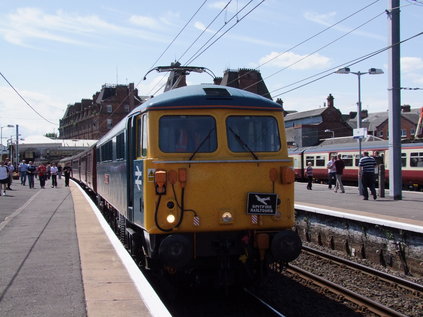 However, there wasn't much time today for sentimental wanderings around my favourite city. The bonus on today's trip was a run out to Ayr - a first for me on a loco-hauled train. Having lugged 47786 with us all the way from the Midlands, it finally got to do some work leading a storming run out to Paisley and then along the coast to Ayr, with the brooding mass of Ailsa Craig looming out of the mist. Arrived for our brief break and after some swift pictures, lounged about chatting in the sun before reboarding. For the return to Central, 87002 would lead - replicating a scene from many years ago when electric loco-hauled Ayr-Euston trains were an everyday occurrence. Unfortunately checked by catching up with a stopping service during the trip back, which meant some slow running and a little delay.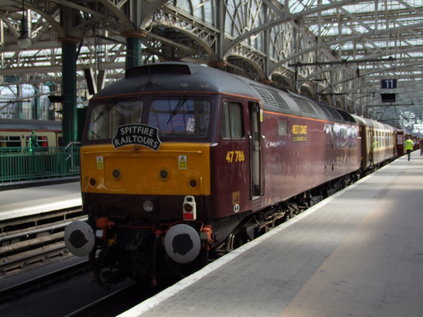 This meant no time at all to waste before today's final bit of bonus mileage. This came in the form of 47786 dragging the train around the Cathcart Circle in order to get 87002 back on the front for our homeward trek. Since last time the problems with 87002 occurred on the turning move, I decided to stay on for this. Not that I would have been any help had problems arisen of course - but my superstitious side convinced me it would be better just to be there. In any case, having done this on a Class 37 a good while back, it would be good to add another type to the list. 47786 made some impressive noise as it curved slowly through the suburban stations, surprising the lazy saturday afternoon stragglers waiting for trains into town. Back into Central in time to stock up on supplies for the homeward trip and have an all too brief walk into the city. Hard to leave after such a short visit, and only possible by promising myself another trip up here soon.
Once out of the suburbs, again using an interesting route via Mount Florida then the connection at Newton East Junction, we were soon travelling at the train's maximum speed of 95mph considering the class 47 we were dragging. Still impressive, and accelerating in particular was quite amazing. Checked briefly at Carlisle due to what appeared to be Police attendance during the pick-up of passengers who had left earlier for Kingmoor and a wander around the city, but soon on the way again and making reasonable time despite following a TransPennine Express stopping service to Preston, due in part to our delay and also to a rather dubious signalling decision. All in all though, a faultless run south, even if the fantastic weather did dissolve into a gloomy drizzle soon after re-entering England!
So, the Electric Scot trip is finally complete, a cycle of improbable tribulations is broken, and 87002 is vindicated. Having said that, I almost hope though that this becomes an annual event - after all, there's still plenty of wired track around Glasgow to explore - and 86101 must be due a spin up here?!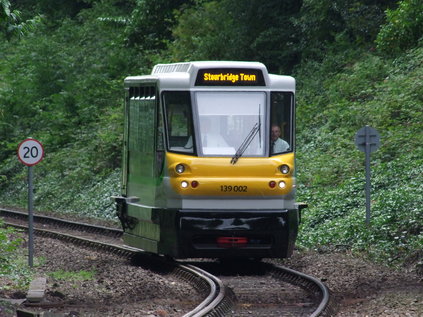 Posted in Railways on Friday 10th July 2009 at 9:05pm
---
There are some strange things trundling about the railway network these days! It's always interesting to watch people's reactions as the huge High Output Ballast Cleaning train snakes through a station, or when some obscure bit of On-Track Plant thunders by. However, most of the things us passengers can travel on have become a little uniform and dull over the years. But as someone with an interest in travelling on the rails as much as watching things go by, I'm always keen to try out the latest stuff to arrive - and I try to dodge the heritage snobbery which can cloud judgement so easily. So, having heard that London Midland now had both of their Parry People Mover flywheel railcars in operation, I took the opportunity of being in the Midlands to have a look.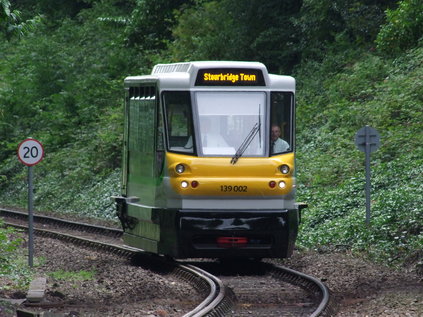 The short journey from Stourbridge Junction to the Town station was quick, quiet and surprisingly comfortable. The interior is arranged to maximise standing space, rather like an underground train - but could easily accommodate a wheelchair too. The ride was a little lively, but how much of that was down to the condition of the ageing branchline is hard to say. The single unit seemed to cope well enough with the intensive service and quick turnarounds too.
For short journeys on self-contained branches like this, I can see a future for this kind of low-cost, low-carbon convenient travel. But there's no hiding the fact it's a strange looking beast indeed!