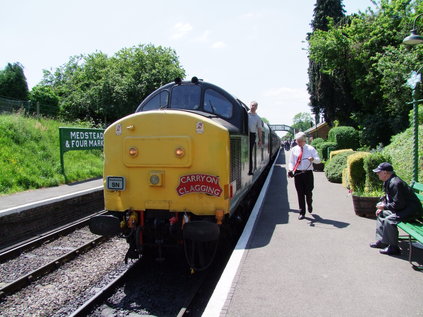 Posted in Railways on Saturday 30th May 2009 at 10:05pm
---
Following some fairly well-documented issues, the Mid-Hants Railways stopped having diesel galas around four years ago. It was encouraging to see then, an announcement that an event would be held this weekend. Having watched a fair amount of commentary on the web over the last few weeks, it was fair to say that some doubted the sincerity and the commitment of the line's management to a diesel based event, given an outspoken preference not to get involved in such things in the past. The lack of involvement of those in the industry who had previous supported the organisation of diesel events was also notable. However, having not been to the line since a brief end-to-end trip in 2006, I was keen to visit and to see how things worked out for myself. In particular, the reported presence of both 56098 and 37905 from Shackerstone were a huge bonus, having been elsewhere during the Battlefield Line's own gala earlier in the year. So, set out on the early train, connecting at Weston into the 06:24 in the time-honoured fashion and travelled as far as Reading, unusually via Filton Bank and Hullavington. A quick leap here onto a Gatwick-bound 166 as far as North Camp where we made the short walk to Ash Vale and a 450 into Alton.
As we arrived it was clear that the Mid-Hants organisation had likely underestimated the patronage. Already, there were queues building for tickets, and notably the glossy and well-produced programme and timetable had been reduced from £5 to a more reasonable £3. Even more surprisingly, the first train off Alton's platform 3 was to be formed of the line's single car Class 122 bubblecar! We crammed in, but others decided to flag this for the following departure. They displayed some foresight in doing so, as on arrival at Medstead & Four Marks our train was declared a failure with an air leak. Off the train with some difficult due to the number of out-of-use doors on the unit, and time for a coffee in the bright sunshine while we awaited 56098 and 33053 which were following.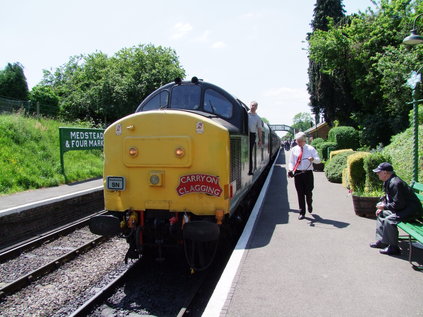 Things seemed to go awry here, and to be honest never really recovered. Our plan had been simple - try to get some haulage behind each of the locomotives on offer, and ensure that we managed to end up on a service using the rare track into the Cattle Dock at Alresford along the way. In the event, just finding trains to run up and down the line on became an exercise in itself. Stayed on the 56 hauled set for a full run back to Alton, then via a solo run with 33053 managed a switch onto the impressively noisy 37905 somewhere along the way. With mounting delays, the timetable and roster were apparently discarded in favour of letting people watch the various demonstration freight trains passing by. Frustratingly, we spent more time on platforms at the admittedly well-kept stations with their very good facilities, than we did on trains. Spotting one of the DMUs lurking outside Ropley station we bailed and soon found ourselves onboard the now working bubblecar once again, which managed the required track into the Cattle Dock. Time for a few pictures of an impressive departure from 37905 too.
Perhaps watching this departure rather than hopping on board wasn't the correct plan however, as it soon became apparent that there was no hope of anything hauled by the two Class 73s from this end of the line now. A long, but not unpleasant wait eating ice-cream and drinking ginger beer followed, before 33053 crept out of the sidings with the stock of the 15:20, delayed by well over an hour. We boarded as a desperate move to get back to Alton, literally not knowing when the next train might arrive if we didn't!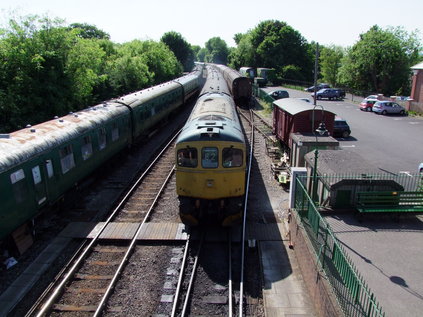 Finally back at Alton to find 73201 arriving suspiciously quickly after us. No hope of a complete round trip now before the close of the event, and a risky change at Medstead didn't feel at all sensible. Instead, flagged the train for a wander into Alton, and eventually the 17:44 train back to Ash Vale which seemed to be conveying mostly expectant-eyed young clubbers heading for Waterloo! Another quick move on foot to North Camp for a relaxing run into Reading. From here, another diverted HST home, this time via the Berks & Hants and Hawkeridge Junction to reach Bristol.
Despite things not going to plan, today was a decent day out - helped of course by some fine guest locomotives, stunning weather and the pleasant surroundings of the Watercress Line. However the organisation, and some of the staff with their clear anti-diesel sentiments, let down the MHR badly. The proliferation of non-passenger workings, the lack of contingencies when failures occurred and the quite oddly constructed timetable made for a frustrating day which just wasn't good value - even when compared to more expensive events elsewhere. It's a 'must try harder' from me for this weekend - but I sincerely hope they do, and that there are future diesel events worth visiting on this otherwise interesting preserved line.

Posted in Railways on Saturday 23rd May 2009 at 8:05pm
---
After what seemed a fallow period for Depot Open Days, the last year or so has produced some interesting events - in particular, Tyseley and Carnforth last summer. With Eastleigh Works officially closing a while back, it seemed that a centenary here would be marked only symbolically in 2009. However, the amazing turn around which Knights Rail Services have performed at Eastleigh meant that this weekend's event was very much an open day at an open depot. Having anticipated crowds, I'd stayed in the area yesterday evening. Arriving at the site early today this was proved to be a sensible approach, with Campbell Road bridge creaking under what had become an impromptu viewing gallery for the aftermath of a minor derailment of an intermodal service a little outside the station. 66181 and around eight of it's container flats sat a little south of the station, while a group of orange suited staff prodded at the rest of the train. To add to the disruption that the loss of a platform was causing, a fatality at Bradford-on-Avon was severely delaying services from Bristol. As the sun rose high above the site, I predicted a pink face and thanked my foresight which for once appeared to be working.
It was a relief to get into the site - traffic management on the narrow road was a little hit and miss, and we managed to get in a little early due to these concerns. Once through the largely pointless bag search, we had the run of the outskirts of the site until 10:00 when the barriers came down. This allowed some shots of the locos lined up outside the sheds in relative calm. The stewarding staff inside the even proving to be much more helpful and sensible than the security types outside. The first priority was to make a swift reconnaissance trip to see what was around and get pictures before the inevitable wait for people to wander out of shot began. Overall though, the placement of the exhibits was excellent - a lot of thought had gone into allowing space to move around the site, to take pictures, and into some very photogenic line-ups of locomotives.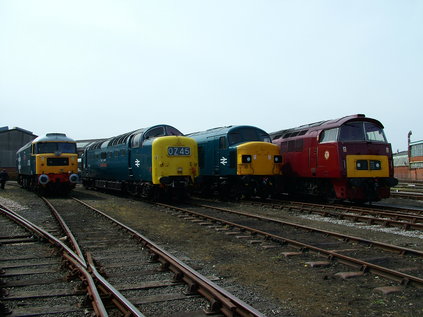 As the Bristol trains started running and
Spitfire
's tour arrived, the site began to get very busy - but still there appeared to be plenty of space. Managed to sustain a bit of camera damage in a 'friendly fire' incident, but this didn't affect things too much thankfully. The organisers must be congratulated on the range and quality of stalls too, with lots to see and spend money on. Contented myself with a chat with the Spitfire folks while sheltering from the now extreme heat outdoors. Back out in time to watch 50135 being rededicated as 'Ark Royal' by the Captain of it's namesake ship. The loco looked splendid in Load Haul black and orange, but there are sure to be purists who won't agree! A few units also in evidence in the yard, representing almost every phase of the Southern story. Also much in evidence were Class 73s, with no less than five examples on site.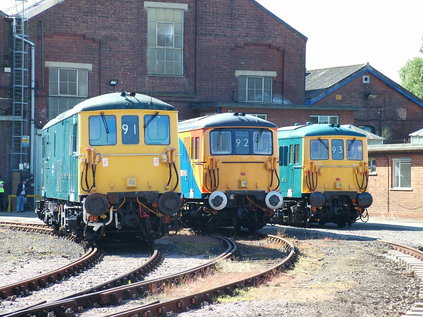 Finally managed to get over to the steam area, with a fair number of Southern Region locos fired up and making plenty of noise. Lots of interest in these too. Heard a few grumblings about no Freightliner locos and some missing guests, but having followed the efforts to get this weekend organised, these were very small and apparently unavoidable omissions. With the site still busy, and people apparently still arriving, we left a little before 15:00 to explore possible views outside the station and to head back into Southampton for our homeward connection, taking us via Reading back to Bristol. The station was still busy with enthusiasts, much as it had been yesterday evening too. Great to see people of all ages, behaving relatively sensibly and enjoying what can be a sociable enough hobby at times like these. While the exhibits might have invoked nostalgia in many, it was great to see the younger visitors really enjoying the chance to see these locos up close. Overall a fantastic day out and hopefully a success for the charities involved.
Settled down on to a bench at Southampton to watch people and trains whilst resting my feet, aching from walking on ballast for hours. Things don't get much better than this!
The inevitable photo gallery is here.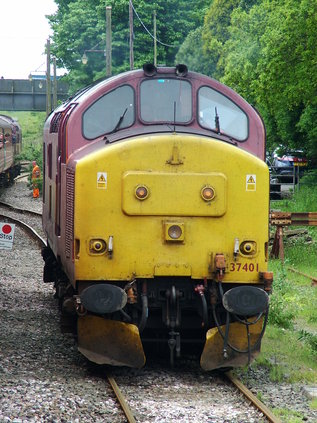 Posted in Railways on Saturday 16th May 2009 at 9:32pm
---
The great joy of summer railtours is starting out in daylight. Even at 05:30 on a damp morning in Crewe, there is a little light in the sky and perhaps a promise of better weather to come. Slunk about sleepily for a while, waiting for the stock to arrive. It was a strangely busy day here yesterday, and for the first time in a long time I had the chance to spend some time at the end of a platform just watching the railway working. On a much quieter morning I was more concerned to get on board, curl up in my seat and let the day get underway. Eventually the train arrived and preparations were made to run the locos around for our departure. As promised 37401 and 37670 were on the train - the latter particularly poignant as 'St Blazey TMD' was going home to the depot after which it was named for the first time in many years. Found my spot in a comfortable Mk II carriage and prepared for the long trip southwards.
I'd decided when this tour was originally announced that I wanted to do it from Crewe, despite it making pick-ups nearer to home. I always enjoy the run down the West Coast Main Line, and rarely get the opportunity to do it behind decent traction. Oddly, with last weeks tour diverted this way, I ended up making the journey for the second time in seven days. After a speedy start we made good progress towards Birmingham where the curve to the Camp Hill line gave us a first glimpse of the locos hauling the train. On to Cheltenham, where a signalling mix up saw us head off a little early surprising at least one passenger! This saw us looped on the bidirectional line near Gloucester Yard Junction, before heading off again at speed for Bristol. One last pick-up here before we headed non-stop to Plymouth. Took the opportunity to poke my head out of the window carefully around Highbridge, and spotted a local taking pictures at the platform end. Not sure which of us was more surprised.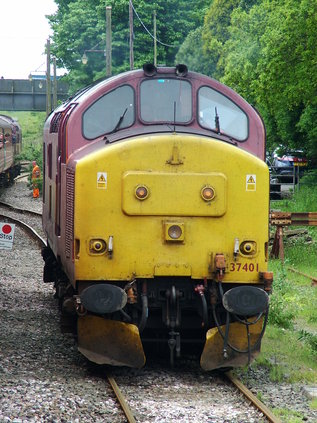 We didn't appreciate at the time just how many disasters this tour avoided during our outward trip. Firstly, checked briefly at Taunton before roaring off southwards, we had no idea that the huddle of Network Rail and British Transport Police vans at Fairwater Yard were in fact dealing with a serious incident involving someone brandishing a gun. Nor did we realise that the mainline through Devon had been blocked by a fallen tree at Ivybridge until a little before we passed by, likely the first train to pass without delay this morning into Plymouth. A rather special moment next as we passed over the Royal Albert Bridge, just a couple of weeks after it's 150th birthday celebrations. Now into Cornwall proper I relaxed and enjoyed the scenery as we wound along the mainline to Burngullow Junction, where we peeled away from the mainline and performed a run round at Blackpool China Clay dries. Now top and tailed and with 37670 leading, we tackled the steep gradient on the branch to Parkandillack. The loco, despite it's rather dilapidated appearance put in a sterling performance, and we were soon at the end of the branch. A chance to consider the plan mooted back in the 1990s to make this the mainline to Newquay in preference to the long and convoluted run currently undertaken. Soon off again, and heading for Par where we disembarked and watched the train disappear onto St Blazey depot.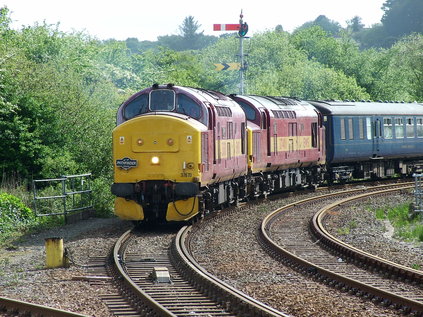 Faced with an hour in the rather small town of Par, I headed out into the warm afternoon. A quick dash down the path, past the chippy, and on to the level crossing leading into the depot. The nose of 37401 could clearly be seen poking out of the foliage. Walked further, into the neighbouring industrial estate but found no photo opportunities. Pressed on around the depot perimeter, noting a slumbering 66115 in the gloom but little else beyond stored wagons. A shame to see a once busy depot looking so empty. Decided to walk back around the other side of the depot to the station in time to be caught in a huge rainstorm. Decided to press on as it was as far back as forward, and found shelter on the platform with a sizeable crowd of cold, wet tour passengers! The return of our stock from the depot with 37670 leading for the return was a special moment, with several current and former St Blazey drivers watching with evident pleasure. Back on board and soon speeding into the now very warm and sunny afternoon.
Another high speed dash through my home station, before a quick leap at Bristol. Dashed over to the 19:53 back to Highbridge which was unusually leaving from platform 15. Strange to be covering the same track again in a much more sedate and less salubrious surroundings. New track, impressive locos and a grand day out with excellent on train service. This trip was worth the wait!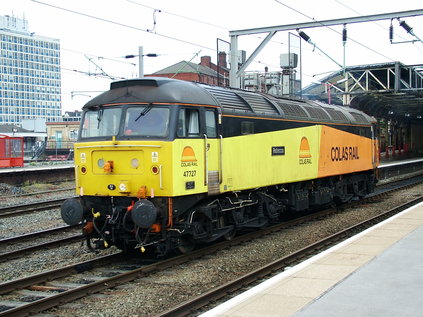 Posted in Railways on Friday 15th May 2009 at 9:40pm
---
I'd wondered what to do to fill the spare time I'd have at Crewe today. As it happened, I need not have worried. In fact the station was much busier than its been for some years during my visits. Firstly, as I arrived 47727 was waiting to head for the Carriage Sidings with a line up of electric locos painted and prepared for export. Despite making the dash over to platform 12, missed them by seconds. Managed to get a picture of 47727 as it briefly revisited the station on route south.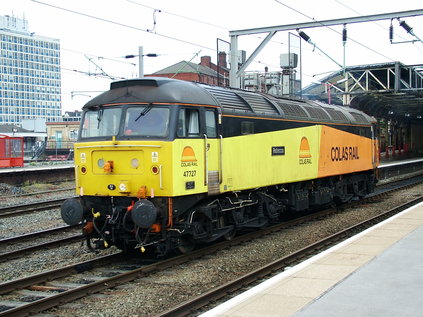 Class 47s were much in evidence with a large number of Riviera's locos stabled on the Diesel Depot, and 47805 shunting stock - including a generator van and kitchen car destined for tomorrow's tour! Just when it seemed rather like the Crewe station of old, a further Class 47 drew into the station on a Carnforth-Norwich ECS working for a trip tomorrow. After a brief pause, the engine roared into life and took the rake towards Stoke.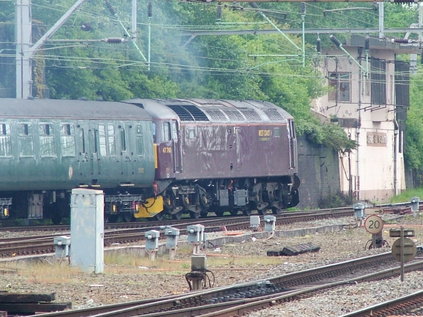 A few more light loco movements were topped by the convoy being tripped from Gresty Road to the Heritage Centre for static display at their gala tomorrow. An example of classes 20, 37, 57 and 66 lashed together and after a brief stop, powering out of the station with the 37 leading. If I hadn't such an early start, I might have stayed up for the line of class 57s coming from Wembley. As it happened, it was cancelled and ran very much later. Resolved to see this tomorrow, and to get some sleep.