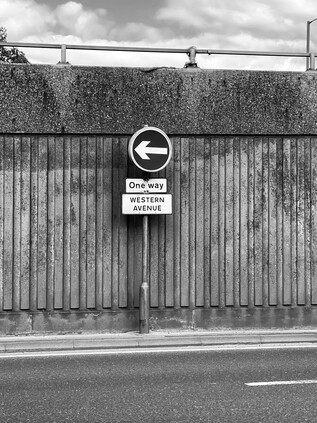 Posted in The Fragments on Sunday 23rd October 2022 at 10:10pm
---
This fragment was nothing more than a placeholder and an image gallery. It spoke of intentions, expectations and sadly, presumptions which would be unfulfilled. The memory of it is stronger now, not least because of the intense aerial coverage of the Royal Family on their journeys to and from RAF Northolt, including of course the final journey of Her Majesty Queen Elizabeth II into London.
20th September 2020
This was a return to the epic walking into London trope which I'd begun five years ago when I was thankful for being able to continue my walks despite challenges at home. I'd worked my way through the routes - from the A1 to the A5, and had even ventured along more symbolic routes such as the arrow-straight line of Watling Street south of the Thames. I'd varied my approach, taking both the A10 and the original route of Ermine Street - now the A1010, and at the end of 2019 in the shadow of an unwanted General Election, had walked the Uxbridge Road in an effort to exorcise Boris Johnson. Along that walk, I'd been struck by how this original route out of the city was shadowed by the mighty A40, a modern trunk road which seemed unwalkably hostile in its western reaches and uninspiring in its ending on Oxford Street. But the desire for a long walk in late-summer weather persuaded me to head out to Ruislip to start walking in a western arc, via West Ruislip, Ickenham and Hillingdon - all places I could have begun walking, but I wanted to make the transition from suburb to outlying village, and then into the canyon of concrete which sped towards the city.
The walk was oddly captivating and remains a memory I reach for involuntarily when I think of my travels. The warm morning, a threat of showers passed, and the surprising rural scenes beside the road. The stately elegance of the Polish War Memorial, and the equally impressive scale of the road signs I passed under on the slip roads. The recollection of passing from the strange landscape of Hillingdon with hills rolling into the distance beyond the elevated station, to the broad curves of Western Avenue as it snaked around the suburbs and industrial areas of Perivale and Alperton. The final stretches were dusty, grey and modern, carving bleakly through divided western suburbs, a monument to more ambitious planners and less empowered communities. Finally, I was pushed aside by the leaping viaduct of the Westway, forced to navigate a maze of Notting Hill backstreets which were peppered with small restaurants, ironically nostalgic laundrettes and a forest of refuse bins at each gate.
I decided not to walk the route to its conclusion in the City - I'd done so many times before, and it would be a tiresome, slow slog through the crowds of shoppers beginning to emerge again. Instead, I approached Paddington via stucco-lined backstreets and isolated bus stands. This walk really did deserve a better-researched and written piece, but it fell into the malaise of dismay as the virus surged once again and our fortunes shifted again.
The photographs tell the story well enough, and many of the territories visited have been crossed before. What you won't get is the thrill of recognition when I approached a landmark from a new direction or realised how seemingly distant parts of London were linked snugly together. That was, perhaps, the spirit of this walk?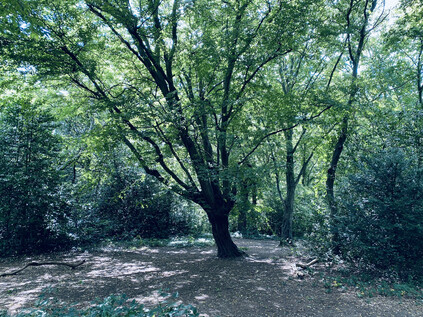 Posted in The Fragments on Sunday 23rd October 2022 at 11:48am
---
I ventured out into the wider world in August 2020 for the first time in four months. It felt daring, a little foolish and somewhat risky - but after months of watching the numbers, managing expectations and trying to bolster my flagging mental well-being, the balance felt right. This fragment begins with my surprise at how the world had changed: the hiatus pre-vaccine and before 'the new normal' will be little remembered in future I'm sure, but it had a strange feeling of waking and blinking in the light which perhaps only brave souls and keyworkers every really experienced.
My walk took me out to Epping Forest - somewhere I'd pined for more than any other part of London in my absence. It has no analogue elsewhere, and though I don't visit often - it feels recharging and essential when I do step under the trees. I can't remember what complexities of pandemic timetabling led me to feel I lacked time on this walk, but I seem to have pushed the worry aside and walked for some time and finally turned away from the forest to track Lea Bridge Road into Hackney, then to venture into Islington and along Essex Road back to the Angel.
The fragment is surprisingly long - and shows my frustration at having little to write about for a long while. It does however sound the alarm for it's own abandonment. If I'd persisted with this level of detail I'd have spent weeks writing up a relatively short, uneventful day.
A gallery of pictures from the whole walk can be found here.
1st August 2020
Eventually, curiosity overcame apprehension...
These walks often start with nagging anxiety. Will they take place? Will the trains manage to scupper my plans? Will the turbulence of everyday life intrude? These excursions which have such a beneficial impact on my well-being have their roots in the deep well of anxiety that they perversely relieve. Today though, things were a little different. With government messaging around non-essential travel beginning to shift, but with a collective reluctance on the part of most to return to the rails, I felt surprisingly safe. With my travelling kit of anti-viral wipes, hand sanitiser and spare face coverings, I entered the station expecting to find a new, profoundly altered experience - but the reality was a little different from my usual visits. Perhaps travelling out early meant I was used to deserted platforms and distanced staff? In any case, the train rolled in on time, I boarded - one of two people in my carriage, both of us fully compliant with the rules - and we set off. The train scudded into the bright August dawn, and I experienced another click back towards that most distant, now increasingly conceptual idea of normality which I'd left at my office on a chilly March afternoon. It would be absurd to declare this situation over, and foolish to pretend that great caution wasn't needed. But for a couple of hours of quiet, contented rumbling into the rising sun, it felt like hostilities had been suspended.
Paddington Station was my first shock - empty, quiet and somehow lifeless. I popped into one of the few open stores, observed the instructions and made my purchase. Breakfast was out of the question and coffee options were limited. Instead, I headed for the Underground - it was here, back in early March where I'd seen the first real sense of fear: someone coughing in a carriage being given a wide berth - but now public transport was being shunned it felt oddly serene. The carriage was clean and smelled of an early-morning bath of antiseptic spray. The few of us on board rumbled under London, the light loading meaning waits at stations felt abnormally long as few alighted or boarded. At Liverpool Street, I ascended to the main concourse. Again it was quiet, most outlets closed outside weekday commuter hours. I headed directly for the next train to Stratford. Keeping on the move felt like the right tactic today. A frantic grasp for the sense of motion which had been missing these past months.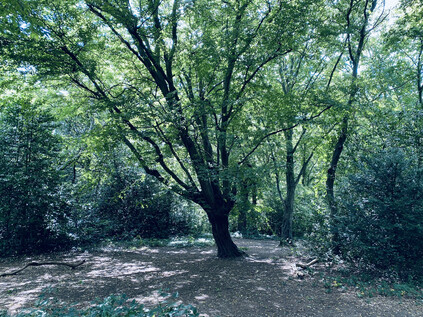 Despite the lack of prior regard to my route today, I'd decided on a few guiding principles: and foremost among them, I knew I wanted to start in the forest. My walks in the winter hadn't often taken me east or touched on the wooded fringes of the city. That was partly a practical concern: the paths are muddy and sometimes impassable in the winter months, and the lure of the suburbs is stronger when the days are short and dark. I missed Epping Forest like an old friend - not seen often but fondly recalled with little stabs of longing to know how they had changed. As I'd tramped along estate footpaths and recreation ground fringes in a futile attempt to regain my walking feet before this excursion, I'd found myself wanting to be under the canopy of trees more than anything. It was, I decided, an experience somehow impossible to replicate elsewhere. When people suggested I just enjoy walking locally, I'd smile bleakly and nod that I should. But it hadn't worked. The forest and its genus loci were an anchor for me. So, where to begin? At Stratford station I let a train pass, waiting until one destined for Epping drew alongside the platform. I knew that I had neither the time nor the stamina to walk the entire length of the extant forest, so I hedged my bets on earlier disembarkation, deciding rather unexpectedly on Buckhurst Hill. This offered several conveniences: a supermarket near the station, a walk within my range and capability, and close at hand a smudge of green on the map which wasn't troubled by any of my previous forays into the woods. It felt like the perfect way to get back on my feet.
While the station at Buckhurst Hill was quiet, the suburban centre I plunged into on passing the barrier felt much busier and livelier than anywhere I'd been for months. The frustrating slog around an unfamiliar Waitrose for water and breakfast was challenging, and I wondered if perhaps I wasn't ready to function in this new London. I pressed on, however, across the foot of the steep hill where we'd once paused for coffee on a trip out to Kent, and into the quiet streets beyond. The suburbs soon enveloped me, the comparative bustle of Buckhurst Hill suddenly distant. Gates squeaked as the postman shuffled along the row of cottages. A pub sign flapped noisily on its hinges. The distant hum of traffic on the High Road felt like it was drifting in from miles away. I turned into a short street of terraced houses, abruptly ending at a scrubby path into the woods. Beyond the children's playground, the gate plastered with now familiar limitations on occupancy and assurances on cleaning regimes, the rough lane trailed into the deep green darkness under the trees. I plunged gratefully in, and it felt like the gap closed behind me. I was in the cool, quiet forest on an unfamiliar path. I was more lost and isolated than at any point during the last few strange and surreal months and it felt remarkably comforting.
Lord's Bushes is an unlikely survivor: a diamond of forest nestled between Woodford New Road and the suburban fringe of Buckhurst Hill. Underneath the canopy of Oak and Hornbeam, there was little light. The humid late-summer air hummed with insect life and the ground was the spongy, never-quite-dry mat of detritus that carpets much of the forest. The taller, older trees showed signs of pollarding which indicated their great age: they belonged to the untamed forest - before it was saved for the people. The architect of the salvation lived nearby in Knighton House, situated in the southwestern corner of this patch of woodland and now entirely erased. Edward North Buxton, heir to the brewery empire and son of anti-slavery campaigner Sir Thomas Fowell Buxton moved to Knighton House after a spell in Leytonstone, living among the trees he had campaigned to preserve. The land was sold to the Corporation of London by the Buxton Estate in 1930, thus returning this patch of Epping Forest to the people and joining the broad swathe of greenspace to which Buxton had assured access. Now all that remained of Knighton were the ponds that dotted Buxton's ornamental gardens and which appear wild and authentic until their history unravels in tales of imported exotic species and Pulhamite rock banks. The seamless shift from wild forest to planned gardens does perhaps show how well Buxton knew this landscape. One truly venerable feature remains though: the eroded banks of the ponds reveal a layer of gravel which explains the unusual situation of this spot. These gravels were likely deposited by a northward-flowing tributary of the Thames before it made its great shift south into the lazy meander it now occupies. The nearby River Roding is a newcomer in geological terms. The woodland remains divided by the ancient Anglo-Saxon trackway of Monkham's Lane. Stumbling along one of the rutted earth paths around the ponds, stubbing my toes on buried roots and cursing how easily I'd forgotten the discipline of woodland walking, I burst into the lane sweating and grumbling. The long, straight path was once surfaced for motorists and its rutted old tarmac was burst through with roots and gullied with water damage. Along the middle of the path, an impromptu seasonal stream clearly flowed at times - but not today. I headed uphill, towards the High Road, skirting Buxton's estate boundary. To my left was Greater London, and to my right was the County of Essex. This track had been a boundary between the manors of Chigwell and Woodford and remained a significant division even now. I felt the pressure of memory, and the disconcerting thinness of time while tramping towards civilisation. I passed dog walkers and joggers who may as well have been phantoms for all their interaction with me. Any fear I'd had about managing to distance myself from others quickly paled. On this venerable boundary, I felt more remote from my fellow humans than I had for a good while. This was a curious spot and I was glad to have stumbled into the woods today.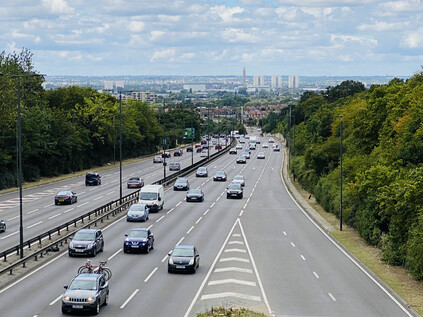 Getting out of the woods was less simple. Having taken a detour to inspect the pond I made broadly for what should have been an exit and found instead a locked garden gate. Edging around the fence line, crashing through undergrowth and generally getting more entangled in the trees finally paid off, and I was ejected into the quiet and affluent suburban streets of Woodford. All was silent. Impressive cars ticked in the heat and CCTV cameras swivelled noiselessly as I tried to gather myself and stride confidently towards the High Road. I was surprised how out-of-practice I felt - how the years of learning to walk with authority and remain unchallenged had slipped away in the months of absence. I was at least on territory I knew fairly well - but now I had decisions to make. My aim was to stay as far as possible in the forest, at least until later in the day, but where I could to break new ground. I felt that this mix of old and new - of paying tribute and turning stones - would satisfy both the ritual which the occasion demanded and the desperate want for novelty that months of lockdown had fostered. I headed for the road and was momentarily startled. Traffic surged away from the lights in volumes I'd not seen for some time. I picked my way across to the western side of the road and walked onward, knowing I'd find myself back in the woods soon enough. In the event, I decided to double back a little way along Whitehall Road, turning onto an unmarked and narrow path a little after crossing Forest Road. The path felt old and unused - hemmed in by tall, ancient oaks and overgrown with weeds and brambles. The path led directly onto Woodford Golf Course, opening onto the broad sunbaked plain which curved away to the valley of the Ching in the west. A marker beside the public footpath warned of stray balls, with a more recent and provisional message reminding passing pedestrians that Black Lives Mattered. The parade of golfers who trudged between holes, staring scornfully and suspiciously at me huffing across the rough towards the next clump of trees, couldn't have been whiter or more middle class this morning. When the club was founded in 1890, far stricter class divisions applied - with 'tradesmen' restricted to specific playing times, and barred from mixing with 'professionals' in the clubhouse. The path returned briefly to the suburbs along Oak Lane. The incursion of development into the course here was part of a bolder plan to colonise the forest, with development along Mornington Lane (then called Australia Road) into an enclosed section of woodland. This was deemed illegal by Forest Commissioners in 1878, and the strange straggling bite into the side of the forest ended at the edge of the golf course. Once back into the woods the path turned east again to follow the line of Sunset Drive, named for its unparalleled views. The path was busy with impatient cyclists and somewhat politer joggers. The benefits of living alongside the forest during the recent restrictions were evident, and I wondered how many of these locals had just discovered the natural wonder on their doorstep in the absence of gyms and health clubs.
I rested for a while at the junction of Chingford Lane and Woodford Green, a low and somewhat battered-looking bench nestling in the apex of the roads. Traffic paused and surged at the lights while more joggers trotted by. As I ate a very late breakfast and gathered my thoughts about the way ahead, a jogger took a tumble a few metres away from me and sat nursing her knee. I wasn't entirely sure how to react now - my instinct was to offer help, but I was equally aware of how unwelcome an interaction could be in these times. She looked around, attempting to see if her tumble had been witnessed and noted me looking over with some dismay. I moved to get up and offer assistance but a dark glower indicate that I wasn't required. Standing gingerly she limped off along Woodford Green, crossing at the lights and testing her battered knee with a slow trot. It was in some senses good to see that Londoner's spirit hadn't dimmed these past months: still stalwart, proud and resisting interference. Perhaps I read too much into this brief wordless interaction, but so often on these quiet solitary walks, such events take on significance. I set off again, heading back into the forest as soon as I could and sticking to the broadening strip of green that shadowed the course of Woodford New Road, far enough away from the traffic to be pleasantly quiet under the trees. This was a well-walked territory and it felt good to be back. My drive for novelty in my walks, for visiting new corners of London, means that rewalking is a rare event - but today, after a time when even the thought of a walk in Epping Forest felt impossibly distant, it felt right and proper. Passing close to the Gypsy Stone, I set my course for the footbridge over the North Circular Road. This remains one of my sacred spots - and approaching it under clear skies with the noise of the traffic reverberating through the trees was unexpectedly exhilarating. The scene opened before me and I stepped onto the bridge. Cars and lorries teemed beneath in volumes I hadn't experienced for months, while the chimneys and towers of London shimmered over the Lea Valley in the middle distance. I stood for some time trying to take in the wide sweep of the scene, the enclosing forest ahead and behind and the relentless tarmac spreading east and west. This spot summed up my suburban excursions perfectly: a strange node where the commonplace met the ancient, where thousands of preoccupied motorists passed every hour, unaware of a solitary figure on a bridge that linked nothing but trees.
However, crossing the bridge would have been too easy - and would have led almost inevitably to a slog along the dull grey New Road road at some point. Instead, I retraced my steps a little to the overgrown crossroads where an almost indiscernible path ran parallel to the North Circular. I plunged west, into the undergrowth, the green tunnel enveloping me entirely. I'd crashed along this unlikely desire line once before, on my circuit of the A406. It plunged into the valley of the road, eventually skirting close to the crash barrier. In the brief clearing, a huge roadsign towered - designed to be seen from the vantage of high-speed passage, it seemed almost monstrously large in person. Here I took an untravelled fork, sticking close to the road and scrambling into the gully which took a footpath underneath by way of a dank underpass, reeking of diesel fumes and decaying foliage. Emerging on the south of the road, I was in unknown climes. The suburban edge of Walthamstow was gabled and pebble-dashed, semi-detached and baking in the sunshine which seemed much stronger now I was free of the tree cover. I eschewed the steps down to Beacontree Avenue, preferring the strangely flat strip of parched yellow grass which ran along an embankment above the street, providing an artificial edge to the forest beyond. This was the site of a long-abandoned curve of the North Circular. I've written a fair bit elsewhere about the North CIrcular - not least about how the road developed from a defacto ring road based on the already present tangle of suburban streets, via various plans for a bespoke demi-ring around the outer suburbs into the mixed bag of purpose-built high capacity roads and clogged urban carriageways of today. While much of the road has seen changes to bolster the volume and speed of traffic it can manage, the eastern end of the road had to wait. Grand plans existed for the part of the road for many years - a bold sweep out east towards Ilford or a curve south towards the Woolwich Ferry. In the end, it got both and neither - a broad link to Eastern Avenue and the Barking Bypass as a consolation prize following the cancellation of the GLC motorway plans.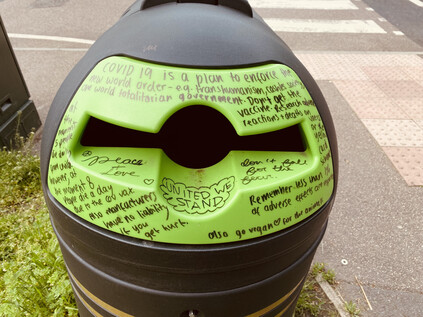 Posted in The Fragments on Sunday 16th October 2022 at 4:10pm
---
By the middle of 2021, life felt like it was returning to normal. At least, a strangely attenuated existence which we were encouraged to regard as the 'new normal'. We took the opportunity to get away to London, to stay in a nice hotel which was heavily discounted, and to indulge our respective passions for fibrecraft and urban tramping. The drive to London was exhilarating, with every service station feeling like a metropolis of masked people waking up, blinking. I had nothing planned for the walk, but something about an early morning start from Liverpool Street has always pulled me towards the edge of Epping Forest. My inclination though was to head west, crossing the Lea and climbing into the Northern Heights.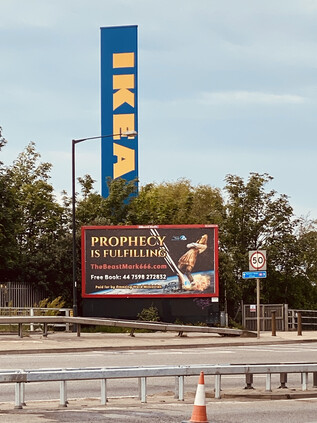 The fragment was written soon after returning from London and stops early on - as I contemplate the swing westward. My photographic record prompts the memory of being pulled into the gravity of the North Circular, crossing the valley where the abandoned Angel Road station was starting to gather a cover of foliage. An apocalyptic hoarding appeared to suggest salvation would come with rocket-powered boots, and possibly Swedish furnishings. I clearly persisted with the walk along the A406, enjoying the reversal of earlier walks, and found myself drawn to the site of Friern Barnet hospital and then on to North Finchley. On the High Road, I supped iced coffee in the now intense heat before deciding to head back to the hotel, my feet unaccustomed to distance or endurance after their long break from regular walking. I'd fallen short of my plan to walk further west, but there would be another opportunity tomorrow when I planned to retrace my steps here despite the predicted heat and head further westwards.
This fragment sounds hopeful against the odds but feels forced. I'm trying too hard to sound like myself. I've lost my walking feet and my voice somewhere in the winter, and I'm pretending. That said, I recall a fraught and strangely urgent walk which was much redeemed by the second leg when I struck out along the Folly Brook, reaching the middle-class dog walker's limit marked as 'End of Gravel' on Google Maps, before returning to civilisation via the site for the former National Institute for Medical Research and bucolic Mill Hill Village.
There are photographs from the weekend here, which included a boat trip west to the emerging Battersea Power Station development.
29th May 2021
Things have changed. As I purposefully strode around the house, readying things for our first trip away in almost a year I felt far less anxious than I have for a long, long time. When I travel alone, I've always been relatively sane - methodical and careful to check things, but essential in proportion to the undertaking. Travelling together though has always been fraught. My concerns are doubled and my anxiety increases exponentially - I put this down to our earliest days and the aching horror of transatlantic distances. But now, we're all programmed to deal with distance. I adjusted surprisingly well to the shift in many ways, although I knew many close to home who struggled desperately. I used the time to focus: to engage properly with therapy, to seek medical help for my strained nerves, and to bury myself in work that had a renewed purpose.
And now we were emerging - a road trip to London, a stay in a fancy hotel which we could only afford because of the desperation of the hospitality industry to find its feet. And for me, the chance to walk in London again. One side effect of my immersion in work was that I had very few plans in hand. It had felt foolish to research itineraries while I'd superstitiously avoided speculating about when I could ever return to London. I pondered this as we stuttered through a snarled section of the M25, before heading south along the Roding Valley. As we soared above the green channel between the suburbs, my much beloved Antihistamine Trail below, I allowed myself to tentatively begin to be optimistic. I would set out early from Liverpool Street despite the many engineering-related closures on the transport network, and I'd see where I ended up. I'd walk west - towards the terrain I'd covered on my tentative return to the city late last summer. I tried to build a narrative around 'reconnecting' or 'unwalking' the journey from home, but I think it was far simpler - I wanted to be reminded about why I'd taken up this pursuit while finding more of the curious corners which kept me returning.
I set out early, a coffee sipped in furtive gulps between lowering my face covering. The day promised overcast skies but dull, throbbing heat. As the largely empty train curved sedately north through Hackney I took a wide scan of the rooftops. It felt exhilarating to see the world from above after a near-uninterrupted year on the flat Somerset plains. I stayed on the train to the end, at Chingford - in part because I still hadn't formulated any specific idea of where to walk, and also because it was so long since I'd travelled by rail and the experience felt oddly soothing. I exited the station into the familiar environs, quiet on a weekend morning, and began walking towards Church Green. The forest shimmered above the rooftops to the north, and while the temptation to step under the cool green canopy once again was strong, the expansive skies of the Lea Valley were calling. I picked up breakfast and paused to eat in the churchyard. The traffic was getting a little busier, with a few more people walking towards the cafés and bakeries. There was a confusing feeling of normality about things - a sense that we'd all woken from a strange dream. I pushed on to the junction with Kings Head Hill, and while I was minded to descend into the broad valley which opened before me, I resisted a little longer and retraced my steps from last summer along Organ Lane. Now it was a narrow path between tumultuous blooms of cow parsley that leaned into the footway. The foliage hung low, creating the feel of an ancient hollow way - a tendency which I'd suspected on my first visit, but which had seemed fanciful in the sparse dry autumn. I emerged to cross the street at Endlebury Road to find a recycling bin covered in carefully written but utterly paranoid anti-vaccine conspiracies. The polemic was signed off with 'peace and love' but promised nothing but death and horror. I wondered whose mind was really closed - mine, as I'd queued sheeplike to receive two doses of AstraZeneca's vaccine, or their decision that humanity couldn't organize to do good in a crisis? With death on my mind, I turned south again towards Chingford Mount Cemetery. It was quiet and cool, the older graves bouncing the emerging morning sun back from their grey faces, while the newer plots with their black marble and gilded lettering gave nothing. Once again, I stuck to the path and headed down towards the valley, the sweep of stones heading north and west as far as the rumbling of buses along Old Church Road.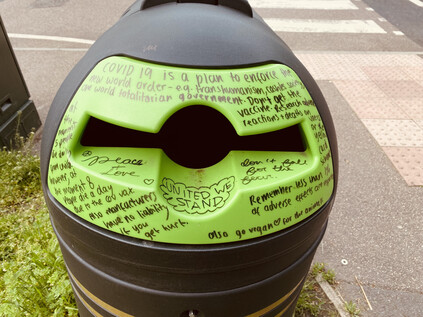 Chingford held a rather special place in my affections - not only had it been the launching point for numerous memorable forest walks but during the earliest days of our restricted, digital existence we'd all faced, the local history society had put on a range of online lectures which had given me a little hope that the places I'd tramped around with a strange sense of reverence still existed out there beyond the screen. I headed south now, through the little town centre of Chingford Mount...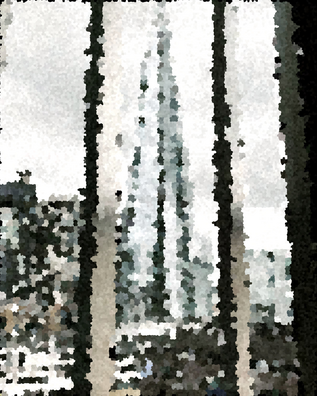 Posted in The Fragments on Sunday 16th October 2022 at 9:10am
---
When I walked dejectedly out of my office on 12th March 2020, I didn't realise that both personal and global change was afoot. We were approaching the end of a two-week-long regulatory inspection which hadn't gone well - there was a sense of growing unease, and leaders who wanted to be anywhere but here right now. And then, on a Thursday lunchtime, as we prepared to hear our final feedback, the Inspectors left. An undisclosed 'incident' had been reported which had compromised their work. We all secretly knew it was a whistleblower - and most of us knew who. We'd spent the last few days learning about the growing worry around the novel coronavirus which was creeping closer, but this turn of events eclipsed all concerns about the contagion which was currently confined to a planeload of people airlifted from Wuhan back to Cheshire. The present danger came entirely from within.
We struggled on for two more weeks. My managers were suspended due to an investigation, so I did my best to keep things moving. I worked closely with the Chief Executive, supported my colleagues in delivering plans to work at arm's length from the community, and grappled with securing ever more scarce PPE for schools and children's centres. I threw myself into this - thinking that a great injustice had been wrought - both here at work, and in the world at large. My days grew longer and darker - and eventually, the order to work offsite was given. The end of my local government career had begun. I shouldn't write in detail about the grim months of late 2020 and early 2021. Suffice it to say that with the original cloud of accusations dissipating, new horrors emerged. Interim leaders were appointed, and new brooms were sweeping every corner. One deeply insecure new broom decided I wasn't pliable enough and had ideas above my station. She wasn't wrong - I did. I knew a good deal about what needed fixing and where the metaphorical bodies were buried - and so, I had to go. So began a long war of attrition as this individual whittled away at my self-esteem, undermined me, and treated me with barely disguised contempt.
This became intolerable - so I took some time away from work in October 2021 and determined to reflect. I read voraciously, having discovered audiobooks during the interminable lockdowns of 2020, and I took up coding again - enjoying the mental gymnastics of learning new things for the first time in a while. It all persuaded me that it was time to move on, to take the terrifying leap away from the public sector, and to suppress my conviction that I was so institutionalised that I couldn't function outside its bleak but safe embrace. The decision, in the end, was easy. Returning to work late in 2021 I found valued colleagues demoralised and distraught, the new brooms having swept all but the most subservient and malleable into corners. I knew there was a potentially exciting job around the corner, so I took the plunge and resigned. I had served my local community for 26 years, but I left with little ceremony or recognition. That's exactly how I wanted it to be.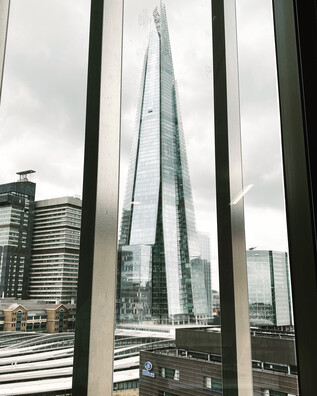 It felt like waking after sleeping, or a long breath of fresh air.
During this long, slow fall from local authority grace I had, of course, found my wings clipped in other ways. Access to travel had been limited for months at a time, and when I could escape, finances were a challenge. As the world began to open up, I found mine closing in. If explorations of suburban London were sporadic, often interrupted by real-life intruding, my attempts to turn them into writing were utterly stymied. The detailed walk-research-write approach I'd favoured wasn't well-fitted to the short-attention-span virtual world of the pandemic. I couldn't finish anything. The few texts I began sputtered into premature endings. I felt like I'd wasted my time on trivialities - no one read what I wrote, and now the therapeutic effects I'd enjoyed from writing had worn off. I gave up on the whole sorry enterprise.
After the first six months of a new way of life in the public sector, I began to consider how I could scrape together the threads of this project. While I remained occasionally gripped by imposter syndrome in my new job, I was assured that almost all of us did. I also found myself in London far more frequently and looking upon a view of The Shard shattered by the mullions of my office windows, I realised that until I dealt with the remaining fragments, I couldn't begin afresh. The virus-tainted, fear-tinged demi-walks of the last two years need to be recorded, however incompletely. My fastidious attempts to document every detail need to be suspended, and I need to adopt a more pragmatic approach. These fragmentary visions of walks could have languished unfinished forever in the limbo of the document management system, but perhaps they are as finished as anything which emerged from that staccato world of freedoms lost, regained and lost again.
Over the coming weeks I will dust off the incomplete accounts of meanders, and rehabilitate them as far as I can. They are not pretty, nor are they well-written or particularly erudite. But they record a period of my life that I am already forgetting - the trauma of the times being squeezed out of consciousness to aid survival. The reader will probably enjoy the fragments almost as little as I do - but perhaps, at least, the pictures will be nice.