Posted in Highbridge on Monday 28th July 2008 at 7:12pm
---
By the time I got into work today, a little later than usual, the clouds of smoke had all but dissipated and there was almost nothing left of Weston's Grand Pier. It was interesting to watch reactions to a fire which affected the community in a similar - perhaps more dramatic - way to our own conflagration at the Highbridge Hotel. Early on, the conspiracy theories started - the pier had recently been taken over by new owners who'd had to do lots of improvement work, perhaps they'd bitten off more than they could chew? An insurance job, after all the cash they'd spent, surely not? And so it rolled on, with claims both plausible and outlandish aired in the absence of hard fact.
The simple truth is we've lost another key piece of our heritage, and Weston has suffered a bigger blow. The town is in a kind of binary state just now, flip-flopping between family seaside holiday destination and a town built around stag- and hen-night debauchery. This fire may just have tipped the balance. Not today of course, as trainloads of day-trippers arrived to watch the fire or it's smoky aftermath. Roads closed and traffic chaos as rubberneckers attempted to get a glimpse. Was the west tower still standing? Isn't that where the deep fat fryers were? Are they saying that's what started it? A colleague pointed out that the tide would soon be washing away any evidence that had fallen through the superstructure. We decided not go and look today, it didn't seem right.
But there are key differences to Highbridge's situation. Within hours the owners of the site had said that despite this monumental setback, they would rebuild the pier. Local councillors were offering 'moral support' straight away (no cash, naturally) and people seemed to be getting behind the unlucky owners and supporting their local heritage. Suddenly it seemed OK to express a sense of loss, of childhood memories burned. Having lived in Weston for a few less than happy years, I was amazed at this sudden outburst of community spirit, in what has been a centre-less, disjointed and divided town for years.
Perhaps we could never have excited the local population here about a pub, particularly one which was declining in popularity and had seen better days in many senses. However, our tiny group of supporters remain committed to finding out what happened, and more importantly to doing all we can to secure a future for the Highbridge Hotel. We simply can't afford to lose any more of our heritage, our links with a quite recent past which seems impossibly distant to those who live in the town in 2008. As the people of Weston will discover tomorrow and beyond, once the strange gut-twisting thrill and disbelief of seeing flames leaping from a building has gone, a strange sense of loss sets in.

Posted in Railways on Saturday 26th July 2008 at 11:07pm
---
Up and out early into a grey but sweltering Lancaster morning. The station was just waking up to another weekend of disruption on the West Coast Main Line, with people turning up for trains which weren't running. Stirred into action by the sound of 66193 rattling through with some empty wagons. Had expensive but welcome coffee and waited for the 08:50 train, one of the few that travel via the Cumbrian Coast. It was well-loaded, with plenty of enthusiasts on board. Considering it was due to arrive a full hour before gates opened at the former Steamtown site, it was clearly going to be a busy day. Arrived at Carnforth and followed the crowds via the Station's Heritage Centre where a number of trade stalls had been set up, and out of the rear of the station. A little way along the road was the gated entrance to a rusting footbridge which we'd tried to access years back - but today it was open, and we were soon on the bridge trying to figure out what the etiquette around queueing was likely to be. In the event, we were just waved through with a cursory glance at our tickets. Perhaps in the current climate none but the journalists and professional photographers could afford the steeply priced 'early bird' entry fee. So, inside the site a full hour earlier than expected I set about exploring.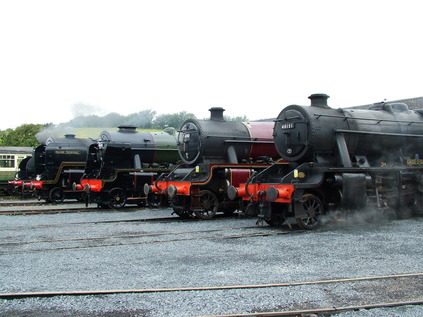 Immediately on entering, people were flocking to the steam shed - and perhaps understandably so since there were some truly fine examples of preserved locomotives here to 'celebrate' the 40th anniversary of steam's demise in the UK. Perhaps most significant was 70013 'Oliver Cromwell' veteran of the final steam railtour in 1968. The plans to restore the loco to mainline running are a little behind, but it looks set to perform in the anniversary year. It's hard to imagine that this loco is only a few years older than many of the diesel engines which regularly grace this page. As more punters arrived, the competition for photographic angles became as usual, rather heated. The idea that thousands of fairly socially deficient types could play nicely and observe polite turn-taking never quite works out that way. Wandered further into the vast yard to escape some of the ranters with their step-ladders and tripods.
And I'm glad I did. Buried at the back of the yard, lurking behind rakes of stock in various states of repair which hide it from the mainline, was a treasure trove of locomotives. These had clearly been purchased to support West Coast Railway Company's own fleet with parts and some of them were showing signs of neglect, heavy robbing and decay. However, there was much interest in such delights as a soon-to-be-scrapped 47972 and a brace of Loadhaul liveried 37s. Spent a good while having an excellent coffee, chatting and photographing the scrapline.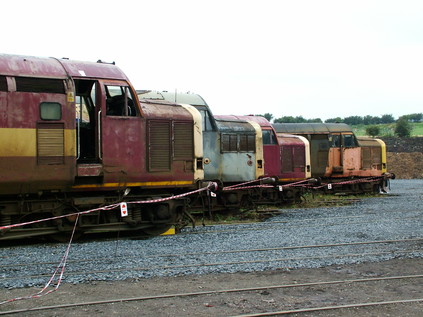 A wander back up the site to the turntable found the visit locomotives - including a line of DRS owned examples of each of the classes they operate parked under the huge coaling towers which have become the icons of Carnforth. EWS had sent their recently repainted for charitable purposes 60074 'Teenage Spirit' which bears the ominous 'DB Schenker' name - perhaps the shape of things to come now? A surprise here was Intercity liveried 37685, an absolute star of the show for me, not even upstaged when 55022 'Royal Scots Grey' was thunderously started up and trading horn blasts with 26010, a visitor from the Boness and Kinneil Railway. Even more locomotives were to be found lurking at the back of the sheds, some tucked away behind stock or trade stands in the building where someone had altered the sign to read 'Welcome to Diseltown'.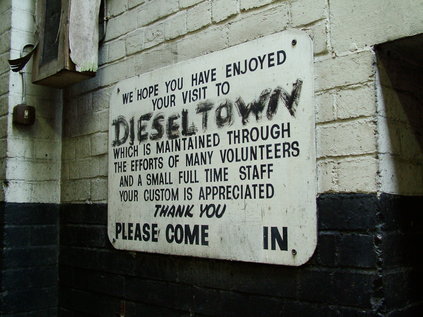 After a bite to eat and a final wander of the now crowded site, I left and walked back into town for a pint at the Royal Station Hotel. Nice to be in a cool place with a chance to flick through the many photographs I'd taken. Back to the station, now in blazing sunshine, to find it packed with people and a thoroughly wedged 142 sitting at the platform while the guard summoned assistance for the overcrowding. He finally persuaded enough people to wait the 50 minutes or so for the next train to be able to close the doors and leave. Figured there would certainly now be a scrum for my train at 14:55 so positioned myself and waited impatiently. Got to my booked seat with no problem, and had a much more comfortable ride than some back to Preston in a truly packed 185. The conductor announced that "passengers should have their tickets ready for inspection", followed by a brief pause as groans filled the vestibules, then "just kidding". Good to see a sense of humour still operates up here! Quick change onto another 185 which took a diversion via Wigan North Western, Crows Nest Junction and Westhoughton to avoid the engineering work at Chorley. Despite a delay at Birmingham New Street, a smooth journey back.
Attending today was an afterthought, but I'm glad it worked out because this was a cracking event, and possibly the best of the year so far - well-organised, plenty to see and lots of space to wander. The unsorted pictures are in a gallery here for the moment. The open day has been billed as a 'one-off' event. Given the excellent organisation and turn-out, I hope that's not the case.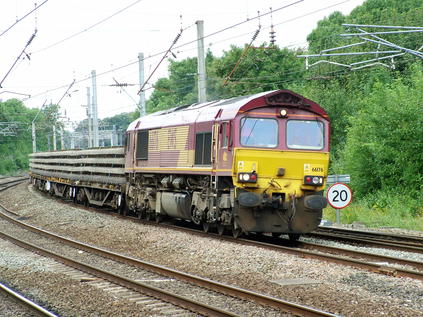 Posted in Railways on Friday 25th July 2008 at 9:39pm
---
A couple of end-of-term days off when I imagine I can't miss too much and won't be missed. The plan had originally been Pathfinder's 'Cwm and Go' to South Wales - but with that postponed a while back, switched plans in order to attend the West Coast Railway Company open day at the former Steamtown site at Carnforth. This meant an opportunity to travel up today and stay in the area - and to cover a bit of track I need, given that technically the routes to Heysham Port and Morecambe work as separate lines from Bare Lane. I also wanted the opportunity to wander around a bit without needing to worry about others being entertained, which my last visit to Morecambe didn't achieve.
So, set off on my usual commuter train and switched to 1E39 at Weston for a nice, quiet ride up to Birmingham. Felt hot and bothered and a little distracted at first, but enjoyed the ride nonetheless. A swift change at New Street onto the 11:03 to Glasgow Central. Not for the first time, cursed the idea of ending direct services from the South West to the North West. Again, a quick ride up with the tilting mechanism very obviously working hard as we negotiated the twists and turns of the West Coast Mainline.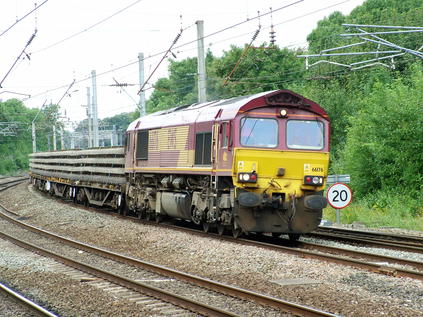 Arrived at Lancaster, sorted out my hotel and headed back to the station to get a train to Morecambe. Having missed a few key freight workings which passed us (including the legendary '
Malcolm's
') delighted to see 66176 creeping around the curve on a departmental working. Ironically, once onboard the Morecambe unit with doors closed, 57313 crept by with the log train from the West Highland Line! Amazed to have once again managed to completely miss this train (having
documented previous attempts
). Consoled myself with a trip to Morecambe, covering the bit of track I needed.
My previous visit to Morecambe wasn't a success. In fact, it occurred in surreal circumstances and didn't fill me with a great liking for the place. However, I did get a glimpse of the Midland Hotel and the former Promenade station buildings, which I wanted to see more of today. Arrived at the rather bleak, windswept island platform in Morrisons car park. There was a ticket office with a symmetrically arranged Tourist Information Centre in a similar building on the other side of the road. They achieved further similarity by both being closed. Trekked to the prom to get my pictures, feeling uncharitable towards the surprisingly few holidaymakers who had parked in the huge empty swathe of former railway land cutting the Promenade station off from it's lines.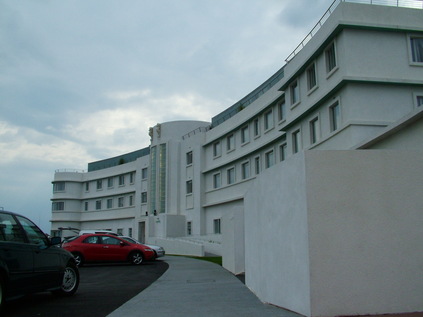 I couldn't get the pristine artistic aspect of the hotel I wanted. Real life got in the way in the form of people, cars, seagulls. I suppose that life isn't like books of art - but this hotel is like a huge modernist artwork on the seafront of an otherwise unassuming coastal town. Its' demise, regeneration and protection a story that developers nearer to my home could learn lessons from. Having given up on that perfect shot, I turned my attention to the abandoned fairground buildings nearby, totally unregenerated. A little pretentious and 'artschool' maybe, these abandoned seaside relics - but interesting pictures nonetheless. Perhaps I'll dump the lot into a gallery on here soon?
Back to Lancaster to find the station in disarray. An earlier fatality between Lockerbie and Carlisle had caused a few problems, and huge numbers of travellers were trying to fit onto late running services. A strange signalling decision - sending a 185 up the mainline to set back into the apparently rarely used platform 1 - caused it's own problems too. Left to find beer in the pleasant little city of Lancaster. Somewhere else I'd seen in a new light today, having finally had a chance to make my way around on foot. After all, you never really get to understand a town by getting a taxi to the driver's favourite Chinese restaurant.

Posted in Updates on Wednesday 23rd July 2008 at 10:38pm
---
The Colas Class 47 visiting the bay platform at Weston spurred me to write an entry for this blog earlier which I mentioned in a post to the South West Rail Gen Group. I also indicated my dismay that I had no idea what date I took the picture on. Photography wasn't a big hobby for me then and I was three years away from owning a digital camera which would free me from the frustration of waiting for a film to be developed.
Amazingly, the message elicited a response from Tony Hughes, a local who posts regularly to the group, giving the date as 2nd May 1997. This fits into my memory of a strange time - I'd just fought an election campaign, stayed up all night at the Wells Constituency count and turned up at Bridgwater Town Hall for the local election count which I lost - but not desperately embarrassingly. I was on my way to my grandmother's house in the Midlands. When I got to Redditch station I was so exhausted I got a taxi to her house, which caused quite a stir on Batchley estate! I can't remember why I had my camera, perhaps I'd wanted to capture something of the atmosphere that night?
A lot has changed, but how amazing that this history is all out there in the information democracy.