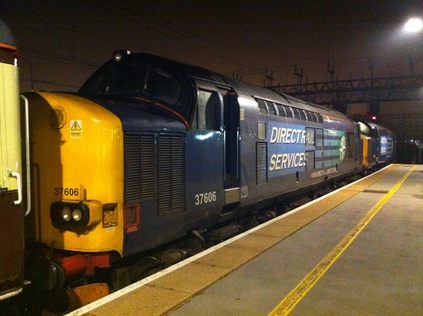 Posted in Railways on Saturday 24th March 2012 at 10:36pm
---
After a bit of an absence, it's back to the railtours with a vengeance these next couple of weeks. With a BLS trip to Immingham next weekend, and Pathfinder's long-awaited redate of their 'Coal Grinder' trip today, it's going to be a bit of a festival of red lines in the atlas. Given that it's been something of a low-mileage year to date too, and because Premier Inn had offered a free night I had to take soon, I'd also elected to head up to Crewe yesterday to do this tour from the start. As I stomped down to the station at 04:30 I doubted the logic of this. I could have been getting on three hours later at Bristol Parkway and have had at least an extra hour or so in bed, but instead I was wandering bleary-eyed around a very misty station with a bunch of very odd people indeed. Pleased to see a couple of familiar faces before long, and I was soon settled into the seat I'd hardly leave all day as we sped into the fog.
After an early breakfast to avoid the queues and picking up the rest of our as ever, lively party we continued towards Bristol and the Severn Tunnel. I realised that this was my first Class 37 haulage of the year - a rather unusual situation in itself, but also that I was travelling behind a member of the dwindling class I'd not had before. With a new 66 on the back too and some pretty big track on offer this promised to be a good day out. As the fog burned away the sun rode high above south wales. Enjoyed some new ales and chatted sleepily as I tried to maintain consciousness for the interesting bits - never easy on a warm, beery day. Eventually we curved off the mainline and headed for Tondu. The length of our train meant that the planned reversal in Llynfi loops was out, and we used Garw instead. I'd been here once before on a previous Pathfinder job. Making sure we headed right to the end, we continued this year's tradition of trying to do as much as possible on these trips - a welcome change from the era of 'paperwork issues' and lost track. Reversing we used the Ogmore Vale Extension to head past Parc Slip and Margam Yard, before a last fast run along the mainline via Cockett into Llanelli. Here things got interesting, with a reversal onto the Genwen Loop near Trostre Steelworks, then a brief chug along the bottom of the Central Wales line before heading away and climbing towards Gwaun-cae-Gurwen. This route, for which we'd received a special dispensation to travel, has only recently come back into freight operation and we were clearly a novelty with many folks coming out to see the train. Noted special notices fixed onto crossings announcing our presence today too, such is the rarity of trains passing. Finally at the top, near the opencast workings, we pushed as far as we could before coming to a rest. Mission accomplished at last, many months after originally planned!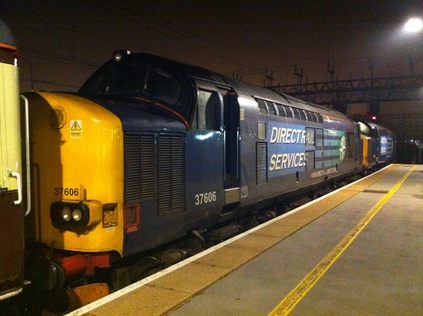 After heading back down the branch we took the rather unusual curve onto the district line at Hendy Junction, then turned south at Jersey Marine and took a long slow trip along the line to Burrows Sidings. Now a site reserved for crippled wagons, we pushed as far as we could to the boundary of ABP property before reversing once again and taking the line between the chords from the district line. At Neath and Brecon Junction this divided again - one branch tantalisingly heading for Onylwyn while we took the eastern fork and climbed, rather gingerly towards Resolven. At a crossing we came to a halt, and the pair of 37s didn't quite get us moving. The tail loco was swiftly powered up and gave a mighty shunt which got the heavy train moving again. We finally made it to the top of the line, bathed in beautiful sunshine and again drawing the attention of crowds of locals, including one rather gruff looking woman in her dressing gown who leant on her wall and surveyed us with disdain until we left her in peace. Back down to Jersey Marine to reverse again and take the third arm of the junction and regain the district line. Only a little late now due to some very odd timings, we sped up and headed east along the mainline. Through the centre roads at Cardiff Central, and then onto the relief lines in order to take the Bishton Flyover, there was no stopping us, and we arrived at Bristol Parkway a little early, and in plenty of time for my connection.
As I used the familiar trains home, I had chance to ponder the day - an early start, a long day and no photo stops or off-train breaks at all. Some were grumbling about it online, others just excited to have done the very rare track as advertised and planned. These are just the sort of tours I find myself enjoying more and more as time goes on - and combining these with more regular trips keeps me moving and exploring. That can't be a bad thing.

Posted in SHOFT on Tuesday 20th March 2012 at 9:03am
---
I seem to be surrounded by single releases at the moment, and catching up on them is a huge pleasure - but inevitably means that I'm going to keep writing these increasingly lengthy 'catch up' posts about seemingly random collections of music. Today however there are a couple of potential themes - firstly all three of these acts have some connection with Edinburgh. While not always quite as productive or dynamic as Glasgow which houses the machinery of the Scottish music industry, there is a sense of something stirring on the east coast among a clutch of young bands just seeing their first releases. Secondly, these releases are by bands which are right at the start of their journey - a fragile and eventful time which often produces some of the most interesting recordings of a band's career. All of these releases deserve a listen, and ideally for you to part with the few quid necessary to get hold of them. They may just become little pieces of pop history after all!
Morris Major - Can't Go Back EP
It's been a productive winter in Edinburgh it seems, with a whole host of bands coming up with new things in the next few months. Since their debut EP graced these pages what seems only a short while ago,
Morris Major
have clearly been busy too, with a successful
Song, By Toad
gig under their belt and the recording of this new EP following swiftly in a period which for most acts is the fallow season before the year starts in earnest. This sense of urgency may come from the fact that
Morris Major
are racing against the clock - real lives bearing down on their ability to play and record together, and there is a sense of this in both the urgency of the music and
Matthew Harrison
's jaded but defiant lyrics here. As winter seems to have returned this morning, "Intrepid" is a suitable soundtrack. Its oddly summery cascade of ringing guitars are a contrast to a lyric which hinges on a journey through wintery conditions which dares to ask "
why does a nation stand still?
". There's a little nod to the notorious lack of resilience in the capital too, with the wry observation that there is a "
crisis in London town/some white stuff is falling down
".
Title track "Can't Go Back" has a pensive feel, a strange eastern European flavour adding to the air of paranoia. The guitars skitter playfully around the strangely foreign sounding tune as the lyric relates a tale of anonymity and flying under the radar - with Harrison claiming "I don't want to be seen/for reasons I just can't explain". Finally "Mines, Mills and Factories is a clever and measured post-industrial hymn to lost empire, forgotten prosperity, and dissolved pride - the work of "ignorant minds with reckless hands". Like most political songwriting this could all be very clumsy and dogmatic, but it comes across as gently human and considered, with Harrison expressing regret and frustration but never slipping into impotent rage. The churning guitars and complex basslines drive the song on with quiet insistence, just like the message here. The ability to write intelligent, captivating lyrics about something beyond love and lust is rare, and to couple it to deftly played, addictive tunes is a triumph. There may well be some changes coming up in the Morris Major camp over the next few months with members of the band scattering to the winds, and I can only hope that somehow, the inventive songwriting at the heart of these gems continues and that they resurface in some new form soon. In the meantime, download both this and their previous EP and marvel at how beautifully direct pop music can still be exciting and relevant.

Morris Major - Intrepid
The "Can't Go Back EP" will be available at Bandcamp from 1st April. Morris Major also appear at Edinburgh's Wee Red Bar on Friday 23rd March and Bannerman's on 4th April.
Letters - The Halfway House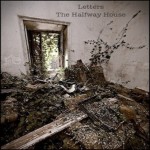 It's strange how some bands receive so much early press that they seem to have been around for a very long time, when in fact - like
Letters
their earliest recordings are probably about a year old. After being tipped as one to watch in lots of influential places around the turn of 2011,
Letters
have done their growing-up as a band in the gaze of the often congratulatory but sometimes harshly critical blogosphere. But more positively, the latest fruits of this process of public maturity can be heard on "The Halfway House" which is a taste of what's to come on their debut EP "Older Motion Pictures" due later in the spring. The basic premise here is good old fashioned, anthemic pop music. Big soaring choruses, dynamic shifts and changes in pace, and vocals which ache with commitment. That alone would make this dark, noisy pop music pretty interesting in my book. The twist here though is the cello playing of
Georgie Williamson
. Throughout the song the instrument appears in several guises - firstly acting as part of the solid rhythm section and sawing out a moody undertone, but later in it's own moments of spiralling glory as the song builds to a rousing ending.
"The Halfway House" is heartfelt, chest-swelling stuff with a lyric which switches from tiny, detailed observations to sweeping descriptions of places and journeys, the opening few lines in particular being a masterclass in scene-setting - but I'll leave those to delight you on first listen as they did me. As such this is darkly pretty, stirring and sneakily catchy stuff. You're going to see those terms crop up a lot in reviews of Letters over the next year I'm sure - but it's not lazy journalism, it's just about the best description I can string together of this gem of a song. Any early concern that Letters palette was limited by their approach and their reliance on the cello is unfounded - they have the ability to conjure with moods and tones which makes me long for the EP and eventually the album to finally hear what they're capable of. If the point of releasing these songs is to hook us in, then mission accomplished.

Letters - The Halfway House
You can buy "The Halfway House" for just a pound on iTunes, the proceeds of which will help Letters to record their debut album. If ever there was a musical cause worthy of your quid, this is probably it. Letters are touring right now with Where We Lay Our Heads, appearing at The Captains Rest in Glasgow on 22nd March before heading into the Highlands.
Radials - Radials EP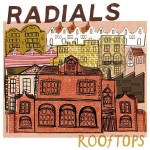 One of the first records I reviewed here was the debut album by Edinburgh based
Come On Gang!
. It was a tough one to write in many ways, as the band had already performed their farewell show and it was as much a historical document as an exciting new release from the outset. It was however a fine album of lyrically reflective, punky pop songs which has lasted well and still gets played here lots. The various members of the band have scattered to other places, such is the Edinburgh music scene, but
Radials
sees the reappearance of vocalist and drummer
Sarah Tanat-Jones
in London as part of an entirely new band. On the surface at least, things are similar to the
Come On Gang!
blueprint, with
Sarah
's wonderfully wistful, dynamic vocal gracing these four urgent, delicate tunes. Opener "Ships In The Night" burns slowly but brightly,
Sarah
's vocal reaching incredible heights over a complex pulse of bass and a beautiful tangle of indie-pop guitars. Next up "Hands" is musically equally driven, but with an almost folky vocal which keeps the song from exploding for most of it's length - but when it does so, it reaches a scorching, drum heavy ending.
"Rooftops" is a quieter proposition, delicate and restrained, but delighting in some of the most intricate guitar work to be found here. This showcases perfectly the variations in tone, pace and colour which Radials can achieve despite taking the form of a fairly traditional trio completed by Matty Saywell's guitar and Al Baker's almost superhumanly deft bass work. Finally "Dashboard" manages to deliver that most elusive of things - an English road song. The Americans have always had this cornered with their long straight highways and epic coast-to-coast journeys but Radials were built for this, with tarmac and tyres embedded in their name. A rumble of distorted bass and Sarah's regret at reaching the edge of the city and losing the open road see this fade into the distance. It's easy to forget that Radials have only existed since last Autumn, and in that time seem to have become an industrious three-person arts collective with beautiful DIY sleeves and posters, and now this EP packed with tight, complex and spiky tunes. I can't wait to hear more, and I hope I manage to see this band play live very soon.

Radials - Ships In The Night
Maintaining the DIY ethic, each CD is hand-painted and comes in a 7" single sleeve with a fold out print cover featuring four separate artworks - one for each track. Time, thought and effort have gone into producing this - from the cover, right through to the intelligent pop music which graces the disc. It seems only right you buy a copy soon, by visiting the bands online store. Radials are playing all over London, and will be appearing an Manchester's Night and Day Cafe on April 19th, and Sneaky Pete's in Edinburgh on April 20th.

Posted in Railways on Saturday 17th March 2012 at 11:03pm
---
More than ever, the last week had been a challenging and long one with little opportunity to look ahead to today's trip. Thus, I had a long day in London with nothing planning. I decided to delight in this, and spent the trip up happily listening to music and watching the world go by. It was almost light on leaving Weston for the first time in months, and despite the weather being less than fantastic, it was good to see a glimmer of silvery sky rather than the pitch black which has characterised this journey over the winter. Having had a few leisurely arrivals in London over the past several weeks, I'd almost found myself in something of a routine. Breakfast, then a bus east being the usual start. Didn't stray far from that today, feeling that I was in fact relaxing for the first time in days. Having received the really curious and interesting "Stone Tape Shuffle" recordings by Iain Sinclair earlier in the week, my mind had wandered to some of the poems and images - not least those first, odd words about Hawksmoor churches which had resonated so much. So, taking a slow and much diverted No.23 into the City, I dived off at Bank and found coffee in the shop adjoining St.Mary Woolnoth. I don't think I'd been here before, with it usually closed at weekends in the past - unless perhaps I'd drifted in one Lord Mayor's Day when the city was a little more open. Moving on, and not feeling great pressure to do so swiftly, I made my way to Fenchurch Street and then out to Limehouse. The weather had turned wet now, and as I descended from the viaduct and turned east onto the A13, I was getting soaked. A quick detour down to the canal before finding my way to St.Anne's Church once again.
It had been years since I was last here, and not much had changed. The white ashlar was a little more discoloured, some of the benches gone from the windy curve of the churchyard, but otherwise all was as it had been before. Braver than my first visit, I picked my way over to the pyramid - glimpsed for the first time in a long time on the sleeve of the LP - and touched it. A damp, mossy feeling, surprisingly not cold and rather ordinary. I fantasised that if this really did wield any power, how I might use it. Sadly, but perhaps predictably, work issues sprang directly to mind! After a little wait in the hope the rain would stop, I headed for the main road. It was time to haunt the buses again, a favourite hobby of late. Unplanned, I headed onto a D3 going to Bethnal Green and the Chest Hospital - which was to rather coincidentally feature in the rather shocking on-pitch collapse of soccer player Fabrice Muamba later too. This took me around the sweep of Wapping, near the stair which took me down to the Thames on a sunnier occasion. Then, crossing Whitechapel Road near the Royal London Hospital, we progressed into the fuss and confusion of Bethnal Green. I bailed out here, near the station and found my way to the stop for the 106. Having done a quick look up, I noted this would take me deep into Hackney, completing the Sinclair-connection, before curving north into Stoke Newington, past Abney Park and to Finsbury Park station. I settled in for the journey, watching the wet day drying somewhat as we stop-started our way along Mare Street, then into Clapton before picking up a little speed. At Finsbury Park I headed directly up onto the platforms in time to get a non-stop train into Kings Cross. I noted that the new concourse was due to open on Monday, but that there still seemed to be an awful lot to put right before it could!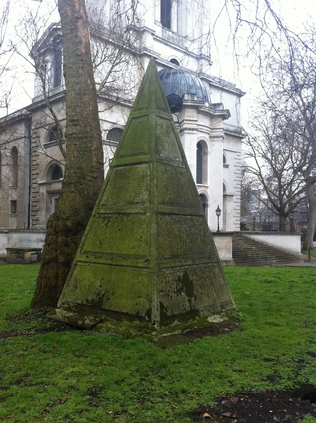 On leaving the station here I was a bit at a loss, so I leapt onto virtually the first bus I saw. This took me south, along the Fleet Valley and over Blackfriars Bridge. Instead of getting off here as I had a week or two back, I plunged into the uncharted south-of-the-river environs. Except that they weren't at all! Familiar from a work visit, Elephant and Castle gave way to Camberwell and then to the parts of Lambeth I'd wandered eight years ago looking for the shade of William Kent. Then into Brixton, familiar from the viaduct looking down, the streets seemed tighter and more cluttered down below. The bus had been busy for the last mile or two and I welcomed the chance to stretch my legs in the now rather pleasant afternoon warmth while pausing for a train into Victoria. Here I could have quit and loafed around the station until heading home. I'd heard there was an NHS protest on Whitehall despite a media blackout, and I didn't have the stomach to get entangled - so instead, on a whim having seen a 436 bus and recalled it's route, I decided to grab the next fast train to Lewisham. This meant a pleasant run out over the viaducts in the sun, then a dash around the roadworks near the station looking for a bus stop, watching a couple of obliviously loved-up youngsters trespassing alongside the Quaggy River. Finally found a 436, headed for the top deck, and had a long and pleasant run - passing not far from where a bus had caught fire earlier - through Peckham and back into Camberwell before circling the Oval and heading up Park Lane back to Paddington. It had been an unexpectedly busy and varied day and I was ready for a relaxing run home.
But I wasn't to get one. After an on-time start from Paddington, 1C27 ground to a halt at Swindon with brake issues. Eventually it was announced as cancelled, and I contemplated a wait for the 21:00 and a change onto a now inevitably busy unit from Bristol home. In the event, I decided to get the 20:30 and to wait at the comparatively interesting Temple Meads instead. As it goes, I'm glad I did - as Control had authorised this to run as an unadvertised additional to Taunton, almost unheard of these days! They'd tried to call Train Manager several times to convey the message, but didn't get him until moments before arrival at Bristol. Having swapped back to the original crew of 1C27, we were due to leave at 21:30, but in the event left around nine early and had a pleasantly quick run home, regaining about 30 minutes of time I'd have lost. Good to see some forward thinking and ingenuity from First Great Western on this.
So the last of my aimless weeks for a while proved to be fully of oddities, coincidences and unexpected incidents. It will almost be a relief to return to the unpredictable world of railtours!

Posted in SHOFT on Wednesday 14th March 2012 at 11:03pm
---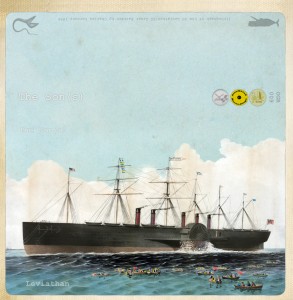 It hardly seems like a year has passed since the mysterious and much anticipated debut album from The Son(s) appeared to an expectant crowd of bloggers who seemed to have been talking about it for a very long time. In that year, having lived with the record through good times and bad, there are songs which have stood the test of longevity with ease, and most often it's those which were perhaps the more downbeat on that otherwise glossy slice of pop perfection which have aged best of all. Way back then I hinted at a touch of Americana in those more wistful, considered pieces on the record - and interestingly considering it's birth in a frozen Edinburgh winter, its hard to find a mention of "Leviathan" which doesn't make some passing hint towards America. This is I suspect, because we just don't make this kind of wide-screen, technicolour music here between our cramped, uneasily polite shores. But if last years debut was the sound of the self-assured west coast, this is the Midwest of broken and deserted places. The glamour here is faded and bitterly contemplating its grand past at the bar, and there are moments where the near-anonymous vocalist and multi-instrumentalist K.P.Son sounds worn down by life and heavily burdened by experience. In short this is another side to The Son(s) which we've perhaps only glimpsed so far. And it's nothing short of wonderful to behold.
Beginning with bright guitar chords and swooning backing vocals, "Roaring Round The House" relates a tale of battening down the hatches and hiding from the world over an incongruously optimistic musical backrdrop. As the tune shuffles gracefully into its stride, I find myself drawing comparisons with The Pernice Brothers quietly soulful finest moments. The songs here are on the whole, surprisingly brief affairs which manage to span a dizzying range of styles and instruments. Delighting in one of the finest song titles yet coined, "If I Hear You Talk Apostrophes Again..." is a wholly different beast. A relentlessly pummelling bassline and knife-sharp guitar slashes support a menacingly troubled Son, apparently out for revenge. It's all swaggering, bravado and implied threat hovering just out of the picture. After a keening guitar solo which has arrived directly from late 70s AM radio, the song closes with a malevolent chant of "When I'm king, you're first against the wall...". There is a return to the shimmering beauty of that debut album on "Cocksure Boys", where Son croons through a tale of the kind of man "who likes taking things apart/but can't put 'em back together". A plucked ukelele, dabs of brass and exotic percussion build the kind of detailed, lovingly constructed soundscape which made The Sons(s) eponymous debut an absolute must-hear on it's release.
Some kind of accommodation is achieved with "Half Lived" where the cracked Americana collides with assured, slick classic rock sounds to produce a slowly simmering anthem of frustration and dismay. Peppered with echoing guitar breaks and swathes of atmospheric keyboard, it's hard not to imagine this soundtracking a lonely night-time driving scene in the movie for which this should undoubtedly be the soundtrack. The more downbeat "Shot Out A Cannon" is a perfect showcase for the range and fractured beauty of the vocals, which climb to seemingly unscalable heights around a sparse arrangement which ebbs and flows gently from the song. Mercurial and lyrically complex, this is the longest piece on the record by virtue of an extended instrumental end section centred on flecks of simple but very effective guitar. By "There Is No-one To Thank" Son sounds redeemed, in control and with his resignation channelled into a bitterness which suits this brief, mostly acoustic finale. Gut-wrenchingly sorrowful guitar lines twine around the vocals, as finally a gentle glockenspiel seems to tap out the closing theme from "We Have All The Time In The World". This is music as last refuge in the style of Mark Eitzel, and as such it is painfully lovely - and so this all too brief EP ends with a tense ache and a sonic shrug of the shoulders as you reach for the bottle and hit play once again.
It's inspiring to hear the progression that "Leviathan" demonstrates, seeing The Son(s) comfortably growing into their unique, layered and detailed sound. But there is a darker twist to the raw material behind these songs, and a sense of disenchantment and regret which lingers around them. For us though this is no bad thing - and while it sounds somewhat uncharitable perhaps, Son's loss is our gain in the form of these six wonderfully crafted, slightly bleak compositions.

The Son(s) - There Is No-One To Thank
The "Leviathan EP" is released by Olive Grove Records on 7th May. Meanwhile you can download a free track from the EP from Soundcloud.