Posted in Railways on Saturday 17th March 2012 at 11:03pm
---
More than ever, the last week had been a challenging and long one with little opportunity to look ahead to today's trip. Thus, I had a long day in London with nothing planning. I decided to delight in this, and spent the trip up happily listening to music and watching the world go by. It was almost light on leaving Weston for the first time in months, and despite the weather being less than fantastic, it was good to see a glimmer of silvery sky rather than the pitch black which has characterised this journey over the winter. Having had a few leisurely arrivals in London over the past several weeks, I'd almost found myself in something of a routine. Breakfast, then a bus east being the usual start. Didn't stray far from that today, feeling that I was in fact relaxing for the first time in days. Having received the really curious and interesting "Stone Tape Shuffle" recordings by Iain Sinclair earlier in the week, my mind had wandered to some of the poems and images - not least those first, odd words about Hawksmoor churches which had resonated so much. So, taking a slow and much diverted No.23 into the City, I dived off at Bank and found coffee in the shop adjoining St.Mary Woolnoth. I don't think I'd been here before, with it usually closed at weekends in the past - unless perhaps I'd drifted in one Lord Mayor's Day when the city was a little more open. Moving on, and not feeling great pressure to do so swiftly, I made my way to Fenchurch Street and then out to Limehouse. The weather had turned wet now, and as I descended from the viaduct and turned east onto the A13, I was getting soaked. A quick detour down to the canal before finding my way to St.Anne's Church once again.
It had been years since I was last here, and not much had changed. The white ashlar was a little more discoloured, some of the benches gone from the windy curve of the churchyard, but otherwise all was as it had been before. Braver than my first visit, I picked my way over to the pyramid - glimpsed for the first time in a long time on the sleeve of the LP - and touched it. A damp, mossy feeling, surprisingly not cold and rather ordinary. I fantasised that if this really did wield any power, how I might use it. Sadly, but perhaps predictably, work issues sprang directly to mind! After a little wait in the hope the rain would stop, I headed for the main road. It was time to haunt the buses again, a favourite hobby of late. Unplanned, I headed onto a D3 going to Bethnal Green and the Chest Hospital - which was to rather coincidentally feature in the rather shocking on-pitch collapse of soccer player Fabrice Muamba later too. This took me around the sweep of Wapping, near the stair which took me down to the Thames on a sunnier occasion. Then, crossing Whitechapel Road near the Royal London Hospital, we progressed into the fuss and confusion of Bethnal Green. I bailed out here, near the station and found my way to the stop for the 106. Having done a quick look up, I noted this would take me deep into Hackney, completing the Sinclair-connection, before curving north into Stoke Newington, past Abney Park and to Finsbury Park station. I settled in for the journey, watching the wet day drying somewhat as we stop-started our way along Mare Street, then into Clapton before picking up a little speed. At Finsbury Park I headed directly up onto the platforms in time to get a non-stop train into Kings Cross. I noted that the new concourse was due to open on Monday, but that there still seemed to be an awful lot to put right before it could!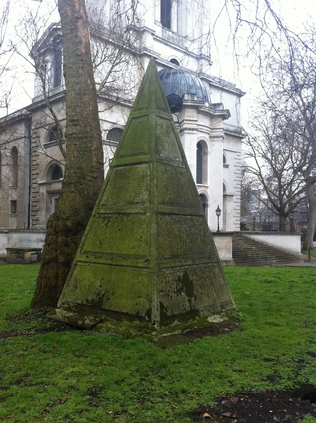 On leaving the station here I was a bit at a loss, so I leapt onto virtually the first bus I saw. This took me south, along the Fleet Valley and over Blackfriars Bridge. Instead of getting off here as I had a week or two back, I plunged into the uncharted south-of-the-river environs. Except that they weren't at all! Familiar from a work visit, Elephant and Castle gave way to Camberwell and then to the parts of Lambeth I'd wandered eight years ago looking for the shade of William Kent. Then into Brixton, familiar from the viaduct looking down, the streets seemed tighter and more cluttered down below. The bus had been busy for the last mile or two and I welcomed the chance to stretch my legs in the now rather pleasant afternoon warmth while pausing for a train into Victoria. Here I could have quit and loafed around the station until heading home. I'd heard there was an NHS protest on Whitehall despite a media blackout, and I didn't have the stomach to get entangled - so instead, on a whim having seen a 436 bus and recalled it's route, I decided to grab the next fast train to Lewisham. This meant a pleasant run out over the viaducts in the sun, then a dash around the roadworks near the station looking for a bus stop, watching a couple of obliviously loved-up youngsters trespassing alongside the Quaggy River. Finally found a 436, headed for the top deck, and had a long and pleasant run - passing not far from where a bus had caught fire earlier - through Peckham and back into Camberwell before circling the Oval and heading up Park Lane back to Paddington. It had been an unexpectedly busy and varied day and I was ready for a relaxing run home.
But I wasn't to get one. After an on-time start from Paddington, 1C27 ground to a halt at Swindon with brake issues. Eventually it was announced as cancelled, and I contemplated a wait for the 21:00 and a change onto a now inevitably busy unit from Bristol home. In the event, I decided to get the 20:30 and to wait at the comparatively interesting Temple Meads instead. As it goes, I'm glad I did - as Control had authorised this to run as an unadvertised additional to Taunton, almost unheard of these days! They'd tried to call Train Manager several times to convey the message, but didn't get him until moments before arrival at Bristol. Having swapped back to the original crew of 1C27, we were due to leave at 21:30, but in the event left around nine early and had a pleasantly quick run home, regaining about 30 minutes of time I'd have lost. Good to see some forward thinking and ingenuity from First Great Western on this.
So the last of my aimless weeks for a while proved to be fully of oddities, coincidences and unexpected incidents. It will almost be a relief to return to the unpredictable world of railtours!