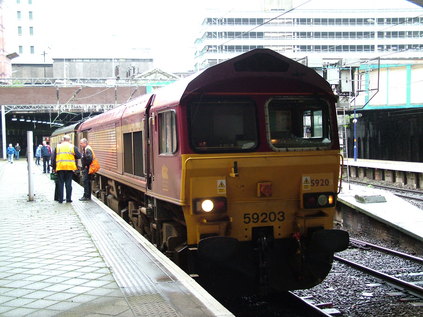 Posted in Railways on Monday 28th May 2007 at 11:54pm
---
Having hardly left home except to work for an entire month, I can hardly describe how much I was looking forward to getting away on this trip. So excited that I didn't even mind the fact it meant an 0500 start and a night in Bristol before the trip! The weather was not expected to be great, and the howling wind and driving rain which greeted me on checking out of the hotel was evidence enough that for once the forecasters seemed to be right. To add to the general feeling of trepidation about the trip, I walked to Temple Meads to find a large crowd of miserable looking cranks locked out of the station. Clearly things don't start this early on Bank Holidays. Once finally in, we watched the stock shunt from the Up Through road into platform three with 59203 at the head of the train. Found my seat in the freezing cold stock and settled in for the run up to New Street - which is always a chance to doze and daydream. The 59 performed rather well, with some impressive starts betraying it's capability to deal with far heavier trains than ours. Informed after Cheltenham of a freebie coffee-trolley deal for genuine first class passengers on the basis that some of the stock in use meant that standard class passengers had first class seats for free. Much advantage was taken of this throughout the day. After sailing uneventfully up the Lickey we arrived at Birmingham New Street with a chance to stretch legs and watch our first locomotive change of the day.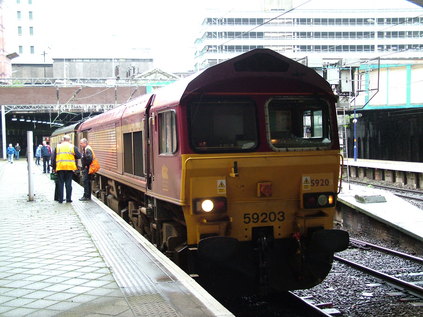 With 60024 attached and the weather looking a little better, we set off towards Derby and our final pick-up of the morning. The final timings showed us taking travelling via Tamworth instead of Lichfield, and the route was further amended at the last minute by an over-eager signaller, as we missed out the section via Whitacre Junction in favour of a dash along the Up Fast. We seemed to be holding to time exceptionally well, and following a couple of minutes in Sheffield, we were soon taking the tight curve at Nunnery Main Line Junction and heading for Worksop. Much confusion about where we would finally stop here, with South Sidings in the timings but fairly obviously not going to happen. We crept along the sidings north of the running lines, finally coming to a halt somewhere on the Up Reception No.1 line by my reckoning. Our next loco was nowhere to be seen, but soon appeared behind the train and may well have been lurking on the South Yorkshire Joint line which was our next destination. A quick loco change saw 56303 on the front - a new one for almost everyone on board I'd guess and a popular choice.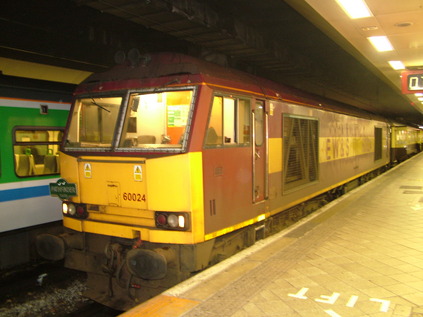 Soon after setting off we turned northwards at Brancliffe East Junction and headed onto the South Yorks Joint Line. This line which provides a freight route bypassing Doncaster was new track to me. The weather being a little better here, and sitting with a fellow traveller who had a good knowledge of the area made for an interesting trip - even if much of the narration seemed to be a tale of colliery closures and declining traffic. Passed the lines into Maltby Colliery which is still open and remains served by rail - something of a pleasant relief after all the tales of closure and cutbacks. After passing over the East Coast Main Line we skirted Hatfield and Stainforth station, preparing for our reversal just short of Thorne Junction.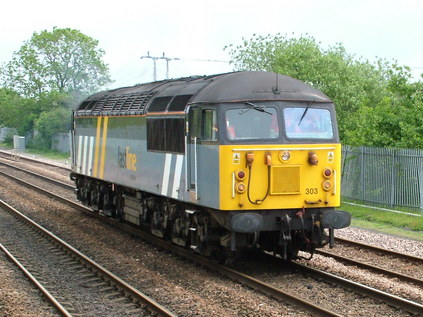 Here we plunged into the mass of fascinating but (to me at least) confusing lines in West Yorkshire. Firstly we traversed the freight-only line from Stainforth Junction to Applehurst Junction, taking the curve to Joan Croft to very briefly join the ECML as far as Selby Canal Junction where we took the also rather unusual curve to Selby West. Further progress to Gascoigne Wood where we swung left and joined the line to Ferrybridge, where lines converge from almost every direction. After passing the modern but apparently almost abandoned Diesel Depot here, we took the curve to Pontefract Monkhill and rejoined more familiar passenger lines for a run into Leeds via both Wakefield stations.
Somewhere during our break in Leeds I realised that I felt pretty grim and suspected hayfever. Shopped for lunch and wandered around the immediate environs of the station. Its a while since I've ventured out into the city - a place I liked very much when I first visited some years back. The station itself remains a pleasant spot - a light and airy concourse with an interesting and frequent flow of trains. Found a vantage point and watched events, including a visit by one of Transpennine's 170s which have been strangely painted to resemble their 185s! Back to Platform 11 in time to watch 40145 arrive with the stock, confusing a large crowd of normals awaiting a southbound Virgin service. A bit of an altercation ensued between on-train staff and Network Rail managers, and we lost a few minutes here - but after a storming start and a clear run we were soon making good time.
The routes across the Pennines have always fascinated me, and in my case Copy Pit is the road less travelled. Enjoyed the pleasant scenery and improved weather as we sped west. 40145 made a brave assault on the climb, breasting the summit at a little over 28mph! An exciting performance from a well-maintained locomotive which is a credit to it's owners. This leg of the tour was the highlight for many, and the reason they booked - not perhaps for me, but in the event I thoroughly enjoyed the performance! Downhill into Lancashire from here, passing through the rather gloomy Accrington and Blackburn before our last bit of unusual track of the day - the curve from Lostock Hall to Farrington Junction which took us onto the WCML and a high speed run into Crewe.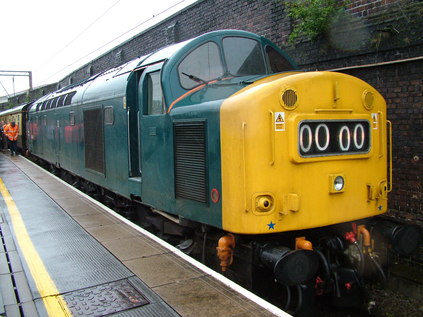 A much swifter loco change at Crewe than usual - perhaps because we were blocking platform 1 which is used by terminating Manchester services! Our new traction, 92030 didn't really get a chance to stretch it's legs as we followed a stopping unit (with an enthusiastically gesturing driver!) onto the Stoke-on-Trent line, and as a consequence staggered fairly slowly along much of this leg. We kept time however, and the 92's solid performance meant a timely arrival at New Street. Feeling pretty grim now, I realised I'd picked up a summer cold rather than just a nasty bit of northern pollen! Struggled out to view 59203 rejoining the train before settling in for the run back to Bristol.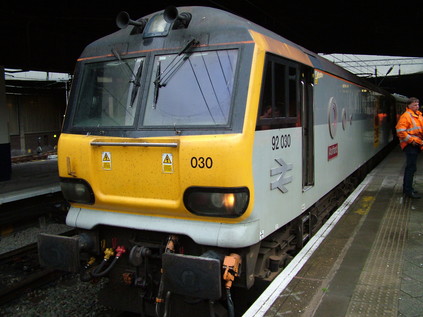 No farce with signalling either at Gloucester or Bristol which broke the tradition for railtours, but meant arriving in good time for the train back to Highbridge. Despite ending up feeling pretty sick, an enjoyable and varied day revisiting some old haunts and discovering some new track into the bargain. Looking forward to the next
Pathfinder
spinner with interest.

Posted in Highbridge on Sunday 20th May 2007 at 4:21pm
---
Once again I've spent the weekend at home. Whilst the dust settles on work troubles of career-shattering proportions, it's been good to have some security and stability - not to mention being within walking distance of a couple of fine public houses. This weekend my uncle visited. Like me, he walks almost everywhere and can't drive a car, and I've always seen him as something of a kindred spirit in that he seems to experience places very directly and differently to others. He would scoff at the idea of analysing his walks of course, and would find the idea of theorising place or walking quite ridiculous. Nevertheless, his observations and comments are always welcome.
Over the course of the weekend we made a couple of excursions locally. Usually our walks occur as brief detours on an otherwise purposeful outing, but on Saturday I proposed a wander to the site of the new ASDA supermarket on Springfield Road. There is really very little left to see here. The vast plot of land taken is now bare, and the skeleton of the new store has risen in the southeastern corner of the site. The waste transfer station, the owner holding out for a council ransom, still obscures much of the store. There is no sign of development of the shopping mall and offices which were promised, but work seems to continue apace on the seemingly enormous car park.
Slicing through the centre of the site, Springfield Road survives - just. Its western end is now a parking area for site officers and security staff, who made a huge scene when I appeared with a camera last week. As the lane progresses towards the railway, it regains its quiet and overgrown origins as it passes the waste transfer site, where ASDA have no interest in the road any longer. The iron gate to the railway tracks still creakily swings in the wind. Quite what will become of the Public Right of Way once ASDA control the approach is beyond me. Turning back, the open views from Bristol Bridge to Grange Avenue are both surprising and rather shocking. Like a huge strip of the town has been swept clean and flattened. The presence of the site staff make this once tranquil spot quite menacing and unwelcoming. We head back to civilisation, with no police involvement this time.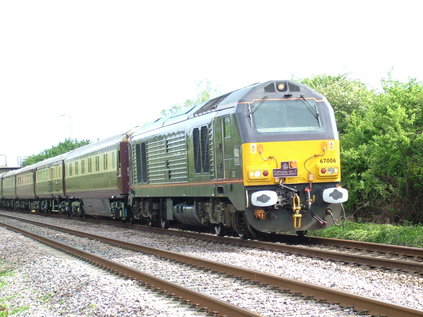 Posted in Updates on Saturday 12th May 2007 at 10:14am
---
There is quite a bit going on around here just now, and the chances to get away are few and far between. The up side is of course seeing more of my family, but I miss the distance and freedom I experience on my travels nonetheless. Since planning summer excursions has been equally difficult for the past week or so, I've had to content myself with watching what's happening locally.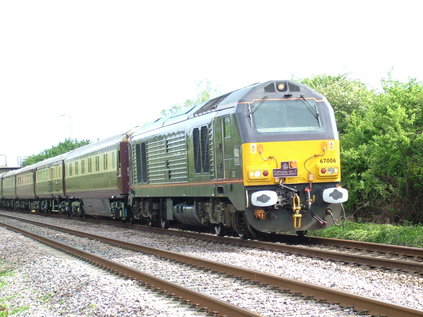 The next excursion is likely to be a railtour on the upcoming Bank Holiday Monday. Just now, and in the midst of all that's happening, it seems an awfully long way off.