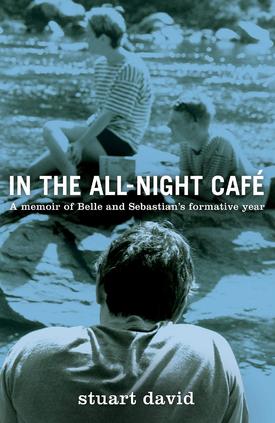 Posted in Reading on Sunday 19th April 2015 at 7:04am
---
Books about music are always a little troublesome to me. I love books and I love music, but somehow attempts to mix the two are fraught with disappointment. As I've discovered and developed what I think is fairly respectable and eclectic musical taste over the years, I've often dabbled with the surrounding biographies and histories, but they've never quite filled the mysterious gaps for me. To be entirely fair, the reverse is often true too - music written around literature can feel awfully forced at times. I've often wondered though, why I'd develop such an aversion to the typical musical biography - and I think I can finally isolate my distaste: there are only two modes available to the musical biographer - building the mystery or knocking it down. Either drawing ethereal shrouds around a personality or a band, or promising to peel away the layers and leaving them - sometimes unfairly - exposed. Neither seems particularly satisfying to me, and neither produces much in the way of great writing.
However, Stuart David's account of the first year of Belle and Sebastian's stuttering, uncertain existence does neither of these things, and as such, it's an unusually charming and readable account of a band's formative steps. That said, the band doesn't really exist for a good part of the story, at least not outside of the unusually specific vision of David's former bandmate Stuart Murdoch, who is presented as a quietly eccentric but determined bandleader, bringing together a disparate and unlikely bunch of musicians around him to realise his plans. In any other setting, this would sound uncomfortably like the planned assembly of a manufactured band, but set against the backdrop of early 1990s Glasgow with its damp, foggy streets and crumbling bedsits it becomes a much more inspiring tale. Not least because it all seems so incredibly unlikely. As Murdoch's vision solidifies and the strength of his songwriting is slowly recognised, the rest of the band circle in the ever-complicated Glasgow music scene. David himself spends much of the book hedging his bets on a couple of other bands he's playing in finally 'making it' before finding to his surprise that Belle and Sebastian have attracted the attention of the outside world. Indeed almost accidentally the band have achieved what he's been struggling to pull off for years - which isn't always an entirely comfortable feeling for him it seems. As the band's seminal "Tigermilk" is released, the book ends with David wondering how he can have succeeded but failed all at the same time? This sense of quiet bemusement and surprise pervades his writing about the period, with the supporting characters from the government sponsored Beatbox scheme - along with a couple of veteran Glasgow musical luminaries - drawn as itinerant but amusing judges of the band's earliest missteps.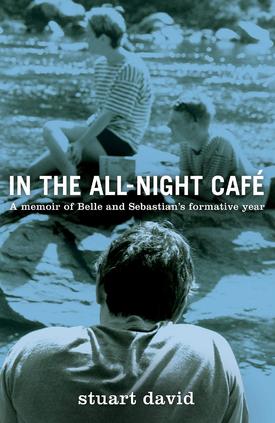 My own entrance to this odd world came a while after the book ends, but the descriptions of Glasgow in the fading years of the last century accord with my own happy, slightly awestruck memories of early visits to the city. Indeed, In The All-Night Café stirred recollections which I didn't realise had become memories just yet: picking up the album in a Birmingham record shop in 1997, buying it on a whim after a good few years of being utterly disillusioned with music, and stepping off the train at Glasgow Central a little later that summer feeling a little nervous and excited to be in the city. David's book is a celebration of these tiny memories - the small, at the time insignificant events which rarely enter musical folklore but seem awfully important to how Belle and Sebastian began. Key to this story is the tension between the two Stuarts - David clearly hugely impressed by Murdoch's innate grasp of melody and songcraft, but equally aware he is compromising his own creative endeavours to be part of the band. The clarity of Murdoch's vision and his urge to be heard by the right people in the right places occasionally jars with David's more traditional time-serving approach to finding recognition. Murdoch is presented as knowing his audience from the outset - understanding the bowlies and their tastes and expectations, and persistently seeking their ears. This utterly does away with the claims of 'wilful obscurity' or 'tweeness' which were sometimes levelled in the press of the day. Murdoch - and ultimately the band which coalesced around him - wanted to be heard and understood despite the prevailing view of how bands ought to form, slog tirelessly away and gradually earn their slice of success in 'rock music'.
Stopping as it does on the very brink of the band's early successes, just before the national recognition which would propel them towards creating two of the finest records of the late 90s, this book feels tantalisingly incomplete. Ultimately, Stuart David's road would soon diverge from the band and his own creative urges would see fruition in his novel 'Nalda Said' and in Looper. So, it's very likely that the next chapter won't be written - or if it is, will be written by a different voice, from a very different viewpoint. So this sits, rather like David's contemporary 'ink polaroids' - tiny chapbooks filled with snippets of descriptive prose - as a charmingly downbeat but amusingly drawn permanent record of fast-moving times, prone to shifting and reshaping to fit history. As he states at the end of the book, the inscription on the reverse of "Tigermilk" stating that the band formed over the course of three days in an all-night café had already begun to collapse into the myth of "one night". It will always be tempting to mythologise a band which, for a brief period during those late years of the last century seemed almost perfect.
But then weren't the Glasgow summers always sunnier back then too?