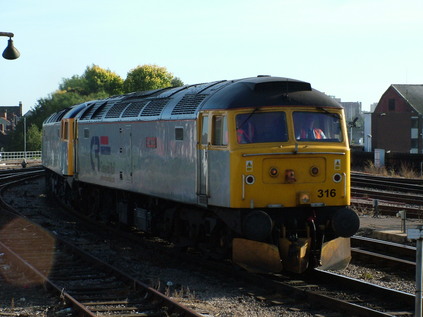 Posted in Railways on Saturday 24th September 2005 at 5:39pm
---
For the past month or so, there has been something going on each weekend. No bad thing, as this has helped me to cope with the huge amounts of change going on just now. This week however, I was exhausted and after a trip to the pub last night to celebrate our first week in the Town Hall, not in the mood for an early start. Luckily, there was a lot going on locally - 47s to Minehead, 50s and 67s to Penzance and D1015 heading for South Wales.
Set out earlier than I'd planned for Bristol. Bright sunshine, in the wrong place for photography, but nice nonetheless. Planned to watch the 47s arrive, then hop on a Cardiff-bound train. Temple Meads very quiet, but bumped into a couple of regulars just in time for the ailing 47316 to lead 47828 on a rake of ex-West Coast Mk 3 stock which included Cotswold's newly liveried buffet car.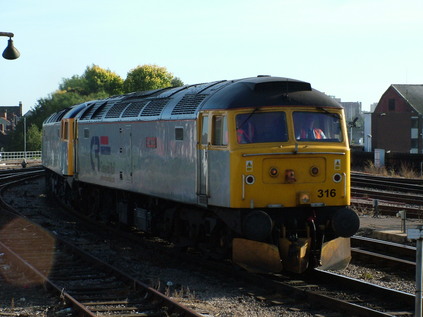 Spent too much time chatting and watching the locomotives swap positions for the remainder of the journey down to Minehead. By my calculations I ought to have been able to meet the Western at Newport. As I left for Wales, noted the rather strange Hereford-Paignton charter (formed of two 158s) pass slowly through the station. Arrived to find I'd missed the Western by minutes! Felt very silly. Stayed for a look at Godfrey Road and some reinstated 60s. Even the usually reasonably good buffet at Newport let me down today!
Arrived back in Weston, and decided to make a dash around town trying to pick up photo frames, books and some other things I'd meant to buy all week. Ended up feeling utterly frustrated by crowds of lingering holidaymakers, and bought the wrong things. A strangely irritating day.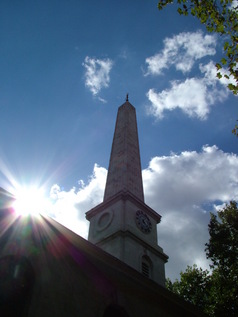 Posted in London on Saturday 17th September 2005 at 11:44pm
---
Before the strange and unexpected work events of the last few weeks, the plan was to be in London for a long weekend to coincide with the Open House weekend. In the event, I decided to travel up today returning this evening. My plans had further altered as I was to meet some friends and lead a tramp through some of the places I felt were more interesting and less crowded. So I set out early, and travelled happily through autumn mists and sunshine. Arrived to find the Circle Line out of action, so headed to Blackfriars then to Kings Cross Thameslink. Time to kill until people arrived, so got a haircut from an Italian barber who was really very angry with Sven Goran Eriksson. Also time to buy perhaps the best bacon roll I've ever eaten practically next door to the station. My colleagues stepped off the train into a predictable Pentonville morning - a carpet of drunks and litter, but amazing sunshine and a slight chill - ideal walking weather. So we struck out towards the Fleet and to Clerkenwell via Exmouth Market. Unsure of how much of a guide I was expected to be, I hung back and apologetcally suggested decomissioned points of interest - The New River, Penton Mound, Coldbath Fields, The House of Detention. A fair observation - why was everything I remarked on no longer extant? A couple of sites visited here - the Marx Memorial Library and the Old Sessions House. Both provided interesting tours - and despite having visited before I thoroughly enjoyed revisiting.
The next stage was to strike out east, to St. Lukes on Old Street. After marvelling at the oddity of Hawksmoor's obelisk we stepped into a modern, ultra high-tech but not unsympathetic music space built for the LSO . The Gamelan was particularly interesting - a shame we didn't get to hear it played. Exchanged contrary views on Hawksmoor with the staff before leaving. Throughout our journey today his reputation took something of a battering.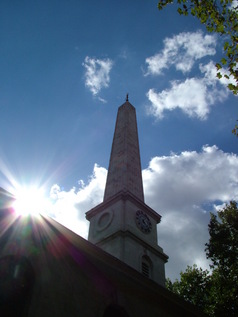 After a walk down Whitecross Street, recalling associations with George Gissing and Workers in the Dawn, we turned east again via a pint at the Artillery Arms, and through Bunhill Fields to Wesley's House and Chapel. An interesting talk in the deserted chapel saw me expound on the significance of pelicans in Christian religious art - which I don't think anyone believed, followed by a strange conversation with the Mayor of Islington's driver. East and south now, with the intention of heading for Spitalfields - an area which one of my friends was casually researching. Approached via Shoreditch High Street, Bishopsgate and Brushfield Street for the maximum impact of Christ Church and its awe-inspiring frontage. A brief refreshment stop was enforced as I'd failed to account for people's personal needs, before exploring the church itself.
Perhaps I made a mistake in my next selection. After walking through the curious houses of Fournier Street and Wilkes Street, we joined the queue at 19 Princelet Street. A different clientele here to reflect the latest wave of immigration to wash over Spitalfields - the young profressionals. Whilst I think the building intrigued and appealed as much as it always does for me, the message behind its current usage was perhaps too politically motivated for others in the party. Perhaps they coped better with Marx and Lenin because they could pass them off as dead ideology? Things took a strange turn - as they always seem to in this part of the city. We escaped via alleyways towards Devonshire Square.
We were the last party to leave the slightly disappointing Osborne House - home of the National Association of Flower Arrangement Societies - not on my personal itinerary. There followed a long, rather surly search for beer. As the Open Houses began to close, so did the local facilities. Back west, into the city via Leadenhall, Bell Inn Yard and Cornhill. We looked for a particular view of St. Pauls recently described to one of our party, and finally found it in Watling Street where we rested and enjoyed the peace and quiet of the closing city.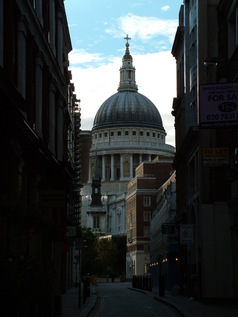 After a quick visit to Paternoster Square and Temple Bar, time for a final pint at the Black Friar before heading back to Paddington for the last train home. Not quite the weekend, or indeed the day I had planned. Still interesting however, and proof positive that I am not a tour guide. When I can perhaps get my head out of the clouds and learn not to project my own strange meanings on to the City, I may find myself better able to explain it to others.

Posted in Railways on Saturday 10th September 2005 at 10:09pm
---
Arrived on the 06:48 from Weston to find a whole bunch of the Somerset contingent already aboard and clearly more awake and alert than I was. Obtained much needed coffee and settled in for an uneventful but very entertaining journey up to Crewe, with one member of our group asking 'are we on the Lickey yet?' from Gloucester onwards! Train became wedged at Birmingham, as the guard suddenly realised there was something going on at Crewe. Even the surrounding normals were reasonably amused by the crank antics onboard - I think today did a lot for rail enthusiasts public relations in fact.
Arrived under grey skies at Crewe to find the station teeming with enthusiasts. The arrival of a series of specials, along with a predicted 30,000 traveling to the open day meant bumping into familiar faces all over the place. Took a while to get to the bus queue with all this happening around us. Finally aboard an Arriva double decker and off to the works. Whilst Crewe changes little, lots of new development on railway lands around the works site since my last visit in 1996. Since a couple of us had advance purchased tickets, fast tracked in and explored a line of AC electric locos whilst waiting for the others.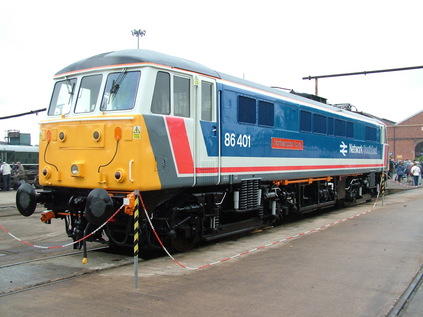 Despite the much discussed non-arrival of locomotives from EWS, GBRf and DRS there was a great deal to see. Disappointed that some of the exhibits were indoors and behind the sales stands, including 47402 'Gateshead' which I'd been looking forward to seeing at close quarters. The outdoor exhibits were spaced well, and generally in photographable positions despite large crowds on site. A series of loco movements around the site, using the traverser added some interest. A pleasant surprise to exit one of the sheds to find pet duff 47826.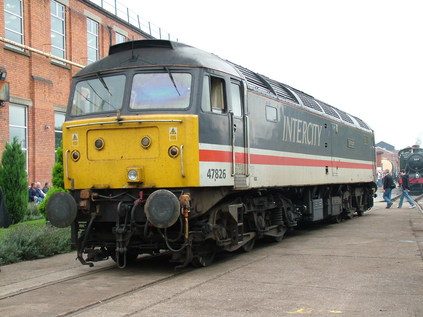 Lots of chances to spend money too, with endless stall selling memorabilia, models and books. Spent some time browsing, and then went for a lunch of Welsh Lamb burgers which were actually very good despite the reservations of some of our party. Headed over to the large variety of preserved steam locomotives, and on the way discovered another Somerset regular at the works for attention since it's mishap at Nailsea last October - still rather forlornly displaying it's destination!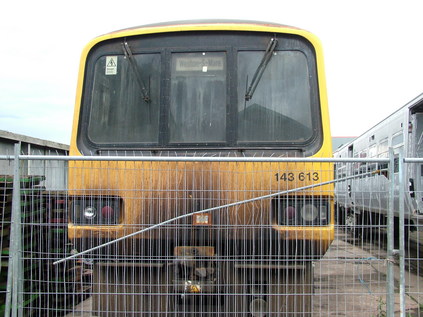 Said goodbye to some of our party who were heading back early, and made our way back to the station to see the returning special workings. Spent several hours chatting and enjoying the sociable atmosphere. Tours hauled by steam locomotives, a pair of 33s, 67s and lots of Virgin Thunderbird activity going on. Highlight of the evening workings must be 37425 on an additional working to Cardiff sporting a headboard and in immaculate large-logo livery.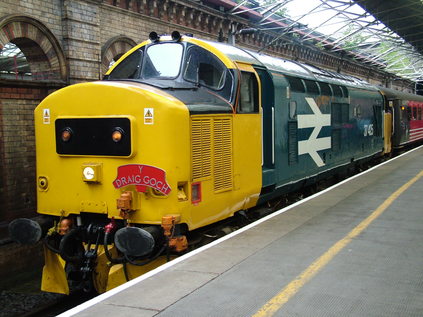 Eventually left to find food, and opted for an excellent indian then a couple of pints. On the way back to the hotel, noted several freight workings disappearing into 'the muck hole'. Despite some disappointing absences from the day, we had a great time and enjoyed bumping into old friends once again - in that sense the 'Great Gathering' tag applied perfectly.
Some unsorted photographs - including Lee's head sticking out of 33108's cab - are available here. I will at some point do some labelling and quality control on these!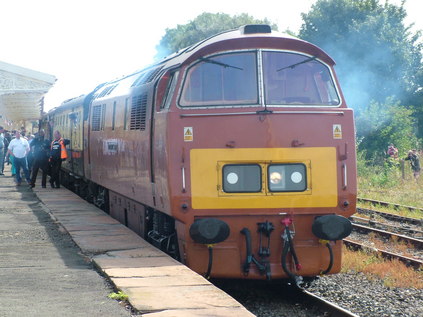 Posted in Railways on Saturday 3rd September 2005 at 11:51pm
---
Up early for a lift up to Bristol, arriving only just in time for the 06:20 departure of D1015 'Western Champion' on Pathfinder's The Western Heights tour. Settled into a slightly cold carriage, and I must confess dozed a little on the first leg of the journey. Woke in time for a quick, reassuringly noisy ascent of Lickey with none of the problems we experienced on D1015's previous outing. Noted the first of many Virgin Thunderbirds during the day at New Street.
Rapid progress via the West Coast Main Line as far as Crewe where a surprisng number of locomotives seemed to be around - including 45960 Leander on a steam tour and several more Thunderbirds. Continued to Preston where D1015 ran around. Stretched legs and took pictures for a while, before exploring the Real Ale Bar on board. Reversing at Preston we headed via Cherry Tree and Blackburn to Hellifield - we had been scheduled a stop at Garsdale, but since a tour hauled by 71000 Duke of Gloucester travelling south had planned the same, an all too brief stop at Hellifield was substituted.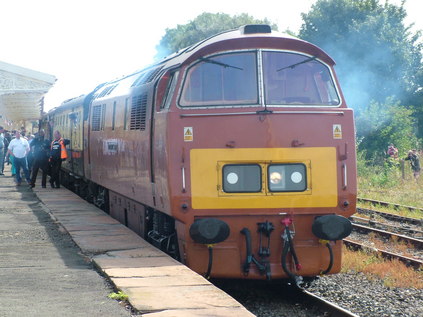 Once underway we proceeded onto the Settle and Carlisle line. D1015 performed flawlessly on the stiff climbs and the views of the loco as we crossed Ribblehead Viaduct were stunning. Warm sunshine meant more sleepiness, and I dozed a little more from Appleby onwards, waking in time to see 47709 and 47355 stabled outside Carlisle with the stock of another tour. Off the train and onto the road bridge to watch D1015 depart for refuelling. Quite a crowd in evidence. Next back into the station, where the pair of 47s passed through light.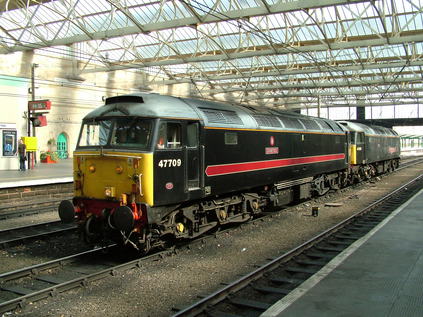 After a brief wander into town, and a wait for the loco to return we set off around 13 minutes down. Some fantastically quick running on the WCML saw us make up much of this time, and even an extended stop in Preston couldn't prevent us from getting into New Street early. Change of driver at Birmingham evident by the explosive start, but all our advantage was lost by a bizarre move at Gloucester, where we were signalled onto the wrong line to let a Voyager pass, then held awaiting permission to recross! Finally rolled sleepily into Temple Meads around two minutes early at 22:03.
Once again, a stunning day in the company of D1015.