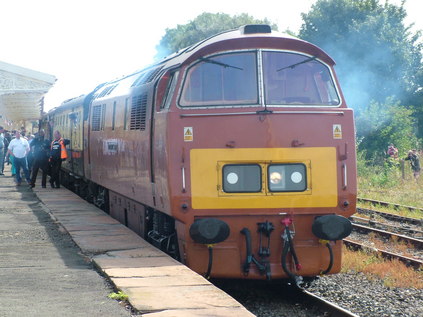 Posted in Railways on Saturday 3rd September 2005 at 11:51pm
---
Up early for a lift up to Bristol, arriving only just in time for the 06:20 departure of D1015 'Western Champion' on Pathfinder's The Western Heights tour. Settled into a slightly cold carriage, and I must confess dozed a little on the first leg of the journey. Woke in time for a quick, reassuringly noisy ascent of Lickey with none of the problems we experienced on D1015's previous outing. Noted the first of many Virgin Thunderbirds during the day at New Street.
Rapid progress via the West Coast Main Line as far as Crewe where a surprisng number of locomotives seemed to be around - including 45960 Leander on a steam tour and several more Thunderbirds. Continued to Preston where D1015 ran around. Stretched legs and took pictures for a while, before exploring the Real Ale Bar on board. Reversing at Preston we headed via Cherry Tree and Blackburn to Hellifield - we had been scheduled a stop at Garsdale, but since a tour hauled by 71000 Duke of Gloucester travelling south had planned the same, an all too brief stop at Hellifield was substituted.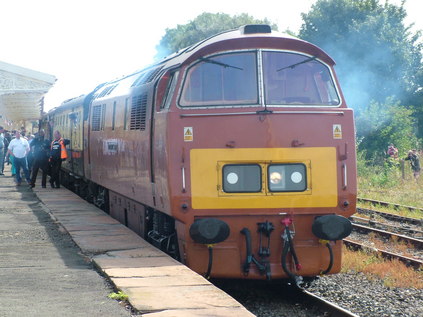 Once underway we proceeded onto the Settle and Carlisle line. D1015 performed flawlessly on the stiff climbs and the views of the loco as we crossed Ribblehead Viaduct were stunning. Warm sunshine meant more sleepiness, and I dozed a little more from Appleby onwards, waking in time to see 47709 and 47355 stabled outside Carlisle with the stock of another tour. Off the train and onto the road bridge to watch D1015 depart for refuelling. Quite a crowd in evidence. Next back into the station, where the pair of 47s passed through light.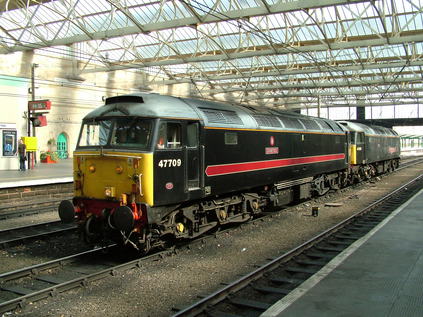 After a brief wander into town, and a wait for the loco to return we set off around 13 minutes down. Some fantastically quick running on the WCML saw us make up much of this time, and even an extended stop in Preston couldn't prevent us from getting into New Street early. Change of driver at Birmingham evident by the explosive start, but all our advantage was lost by a bizarre move at Gloucester, where we were signalled onto the wrong line to let a Voyager pass, then held awaiting permission to recross! Finally rolled sleepily into Temple Meads around two minutes early at 22:03.
Once again, a stunning day in the company of D1015.
Lost::MikeGTN
I've had a home on the web for more years than I care to remember, and a few kind souls persuade me it's worth persisting with keeping it updated. This current incarnation of the site is centred around the blog posts which began back in 1999 as 'the daylog' and continued through my travels and tribulations during the following years.
I don't get out and about nearly as much these days, but I do try to record significant events and trips for posterity. You may also have arrived here by following the trail to my former music blog Songs Heard On Fast Trains. That content is preserved here too.
Navigate Lost::MikeGTN Find articles by category
Search Lost::MikeGTN
Other Places...