Posted in Railways on Monday 31st December 2007 at 5:04pm
---
I've resisted posting about the events of last Saturday so far. Partly, because I felt incompletely informed and didn't want to add to the spiralling conspiracy theories already being spun by some of the usual suspects. Also because I'm still rather angry about how things happened, I felt I'd probably end up sounding like a petulant little chap who'd had his Saturday ruined. In essence, there are several hundreds of us who all feel the same and one more bleat will be insignificant. For the record though, here is how the day developed from my perspective...
Woke early, still feeling crappy and wondered about the wisdom of doing this trip with a nasty dose of some virus which has been doing the rounds. The thought of a few hours in Glasgow soon got me moving and down to Redditch station for the 06:27 to New Street. Arrived in good time to get coffee, suppress a violent coughing attack and locate the platform with the help of customer services, since once again the charter had not made the screens here. After finishing my coffee, noted that platform 7 was looking rather empty so wandered back up to the concourse to find much confusion and many groups of gibbering enthusiasts providing entertainment for the locals. Noted the tour now on the screen and 'delayed'. Ominous, but not disastrous by any means, and a driver working to a tight schedule means a spirited run! Since talking hurt, listened in to some of the circulating gen - the stock remained at Oxley due to faults, but it was unclear whether the loco was a failure. Suddenly the cry went up "To Wolverhampton!". After checking that my medications hadn't plunged me into some delirious black country version of Braveheart, got myself together. Tried for the 07:57 to Shrewsbury which appeared to be full of frothing bashers, but my tired legs didn't make it - and since Virgin had announced that the 08:03 would connect I wasn't too concerned. So, unexpectedly continued my journey on 390024 and soon found myself on the chilly platforms at Wolverhampton only really a few minutes after the train's booked time here, which was 08:12. All seemed optimistic again. I didn't bother to get a drink - since I'd soon be on the train.
Two hours later, platform one was a sea of discontented folk milling about. The tour was on the screen, still delayed, and bits of gen were circulating - the main one being that the train was not yet cancelled. There was some problem with the stock, which was being sorted. I was convinced people would work on getting this train out - being a finale and all - and whilst the wait was inconvenient and rather painful, it would all be worth it eventually. Found myself near a group of people I took to be Spitfire employees, who remained buoyant - so why shouldn't I? Soon after, a little more positive news via one of the few announcements made regarding the train - 87022 would lead the stock south from Oxley on a test run, looping back around to Birmingham. We watched the rake pass - the loco gleaming, radiating quiet power as it purred by. The DRS stock equally resplendent behind, before giving way to some rancid purple stuff on the back. Not long now, we all thought - much encouraged to have seen the train move. Only at this point did I remember not seeing any labels on the carriages, which I took to be odd. This haunted me a bit, as we settled in to wait for the train to return, but perhaps that would be put right on the test run?
At almost departure +3 hours, people began to get restless again. The gen was that the tour was around the corner at Crane Street, that it would run, and that all being well we'd still head for Glasgow despite a much reduced stopover. It meant my symbolic wander to the Molendinar Burn would have to wait - but I wasn't really in any condition for it. By now I was aching and cold, and my nagging cough assured me of plenty of space on the otherwise packed platforms. We were going to see the 87s off in style, that's what counted. The Spitfire people seemed almost jolly, and we were all rewarded with the sound of a horn and the sight of 87022 creeping forwards into the platform. At last.
The events of the next sixty seconds remain less than clear to me now, so I apologise if I overdo the journalistic tone here. With the stock heading towards me in reverse formation, I started walking back to where First Class would end up. There were still no labels, and I didn't want a scrap for a seat or a struggle through a seething rake of Standard Class coaches doing the same. As I walked, the Customer Information System comfortingly showed the tour, it's original departure time and proudly announced the 'Farewell Electric Scot'. Relieved it was all going to happen, even if it was a little later than expected. Now out from under the canopy I saw a DRS steward in impeccable uniform leaning from the droplight of a beautifully turned out dining coach. He was shaking his head in disbelief, and waving his hands at a small group of punters. "I'm sorry" he was saying "we've been on this train getting ready since 05:30. I just don't understand". Much confusion - word was people were getting on at the front but being asked to leave. The announcer stated that the fault hadn't been rectified and that the train was not ready for boarding yet. The steward, clearly devastated insisted it was all over and how disappointed he was. Suddenly, the Spitfire people were gone - likely swamped by enquirers.
And then the announcer gave the news the train was cancelled and would return to Oxley. As the stock passed slowly out of the platform, I realised I'd not even got a picture of 87022. In one of the First Class coaches, someone sat with his head in his hands, being comforted by a colleague. As the taillight passed me, I thought I better try to find out what was happening. Platform 1 was in chaos - no tour staff, few Virgin staff and a lot of confusion about what to do or where to go. I asked a Virgin staff member about getting back to Birmingham, and he stated that unless I had a valid National Rail ticket I should now leave the station. I showed my tour ticket and he said "No good, sorry". I decided to get the tram back to Birmingham Snow Hill because arguing didn't seem like a good idea just now. I've heard that others had much more sympathetic responses from Virgin though, so perhaps I was just unlucky - or my gravelly voice and unkempt appearance worked against me!
So today, a whole host of non-OTMR fitted locomotives become stored. Some, like the 87s will go on to have useful lives elsewhere, others will of course be scrapped or move into preservation. A great deal has been written about this tour since Saturday - some of it useful insights into the stock faults which appear to have been the main reason for the failure, some of it less helpful frothing about 'the old days'. Overall though, there are a lot of unhappy people out there who feel cheated of a chance to say goodbye to a bit of railway history. We railtour passengers take the reschedulings, re-routings and changes of motive power in our stride, sometimes voting with our feet - but mostly just complaining a bit and getting on with it. I'm sure if this hadn't been such a final opportunity it would have been the same for this tour - but it can't happen again. Spitfire's conduct after the event has been exemplary. Lots of info, promised refunds, much concern and understanding - and people appear to have genuinely accepted that they hate how this has ended more than anyone. It's a shame that on the day they weren't a little more communicative, but that's not entirely down to them - and getting station staff to give explanations is never easy of course.
So that was how things were for me. Bitterly disappointing, and a rather sad end to a sparse year of travels. I won't have nearly the opportunities to get out I have in the past this coming year - and I just hope that I do get the opportunity to travel with Spitfire again sometime.

Posted in Updates on Tuesday 25th December 2007 at 10:54pm
---
It's become customary over the past few years for me to update the old daylog on Christmas day. Not so much because of any specific significance of the day - but it's served as a marker, and a rare moment of peaceful reflection. It's been a much more settled festive season for me this year - with work issues finally less directly painful, a few fantastically funny nights with good friends, and despite the persistent coughs and colds, almost all of us healthy. Naturally this didn't stop me finding the whole occasion particularly emotional where my nephew was concerned - and his ever growing understanding of the world, sense of comic timing and social confidence continue to make me proud and honoured by his presence. Most of all, I'm excited by the thought of the next addition to the family because I think he'll make a fantastic big brother!
So, as I face a year of potential financial upheaval amongst other challenges, my immediate thoughts turn to a number of planned excursions - not least those to Glasgow - and the soundtrack of Belle and Sebastian's rather wonderful Are You Coming Over for Christmas? seems appropriate. Despite the aches and pains, coughs and sneezes and trials and tribulations which led us here, it's been a calm and peaceful day.

Posted in Railways on Saturday 15th December 2007 at 11:12pm
---
My penultimate trip of the year, and a rather bittersweet one as I realised today that these excursions may be a much more rare prospect in the future. The proposition was simple - not a lot of new track but plenty of locos and an interesting destination. The good old fashioned 'spin and win' has become a feature of the festive season, and this one promised to be as interesting as ever. After finding my way to Barnt Green in freezing temperatures, I was relieved to see some familiar faces gathering. A cryptic indication on the screens that the service to WMBDEP was on time was also welcome! A little after the due time in fact we saw a headlamp appear over the brow of the incline as 66170 crept from the gloom, leading a dead 66703. Pleased to find the heating on full, and soon settled in for the day with a good supply of paper towels to mop the condensation from the windows. Noted a rather unusually normal looking couple who boarded and sat adjacent to me. He was clearly not happy, and soon got to the stage that every slide of the carriage end door moved him to incandescent anger. She appeared to tolerate his displeasure, but said she now understood why someone's wife 'never came on these trips'. He didn't like the people, the coaching stock, the duration of the tour, the view from the window...anything at all really. By the time we made our scheduled stop at Birmingham International, despite having eating their sandwiches from real china plates which they'd brought along, the couple were no happier and after lots of hushed but angry debate, bailed moments before departure. By my calculations, the best part of £200 wasted! And enthusiasts are supposed to be strange...
More interestingly, International saw our first change of traction - with 66170 coming off the train and giving way to 66703 which was to take us forward. A very swift loco swap and a prompt departure ensued - not at all like the usual pace of events on these tours.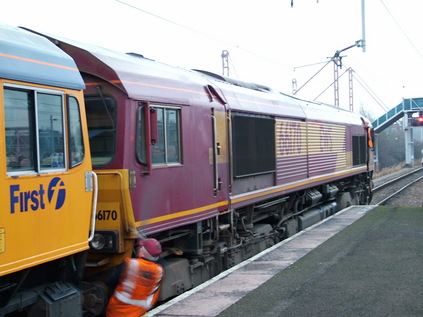 Dozed a bit as we headed out via Kenilworth, with a booked pathing stop at Banbury on the Up Goods. Had a look out of the window and noted some hurried and rather destructive looking maintenance going on a few coaches ahead as Riviera staff pulled great lengths of wiring from the underside of a coach. Prepared for the worst, but was pleasantly surprised by a timely departure, apparently with no bits left behind!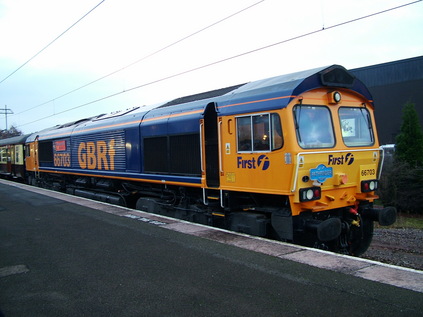 Snaked into London via a convoluted route through Greenford where we took in the rare West to South curve, then Acton Wells and so on to access Wembley EUFOC where 92029 was waiting. This loco took us via an equally torturous route onto the Southern at Factory Junction. Having done this bit fairly regularly over the last couple of months, enjoyed the view and the pleasant atmosphere on board rather than obsessively noting which line we were on. Also noted this was my first 92 haulage to stray into third-rail territory too. Some surprise among passengers too, as we passed 66009 Union of South Africa steaming around the capital on a VSOE luncheon trip. Through Denmark Hill and Nunhead and on towards deepest Kent once again, the third time in as many months in fact - despite my statements that it's not a place I often choose to travel to.
Arrived at Dollands Moor to find it strangely quiet and deserted. There are few freights through the tunnel at present, and it's evident as the yard was empty but for a few locos, some of which had tripped down from Willesden as we'd been winding our way around London. 73209 and 205 soon appeared seemingly from nowhere, and a further change of traction saw them join the rear of the train for a reversal via Ashford then to Tonbridge. Some very spirited running on the 'race track' section of flat straight track saw us making excellent time via Godstone to Redhill. Things slowed to a crawl here, as a fatality at East Croydon was sending everything via Stoats Nest Junction, leaving us queuing for a path through the area. After some worryingly slow running, we continued at a quicker pace via Crystal Palace and Clapham Junction, gaining back most of the ten minutes delay we'd notched up. Once again negotiated the curves at Old Kew and Kew East Junctions to find our way onto the WCML at Willesden for a timely arrival at a very chilly Euston.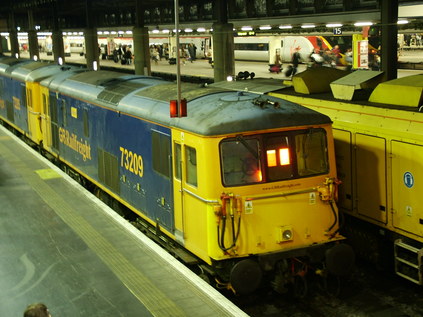 A quick trip onto the concourse to buy food, then aboard again with Freightliners' 90016 at the head of the train. Photography near impossible in the dark evening. Soon away with some nifty work from the 90 achieving a largely on time run up the WCML despite a slightly delayed departure. Then a slight detour via Hanslope Junction to Northampton - again a regular visit of late. After a few sections of slow running, gathered pace again after Rugby and found our way into Birmingham New Street a minute early! I had a choice here, wait onboard and hope for a quick loco change, or bail and get the next Redditch train. The plan was to stay on the tour, get the last loco for the run to Barnt Green via Camp Hill and to meet the very same Redditch service at Barnt Green a few minutes after we arrived. Decided to stick with it, and despite there being no sign of it when we arrived, 66158 soon appeared and was attached in time for a one-minute early departure. Made Barnt Green with minutes to spare, with the headlights of my homeward train in the distance as I watched the tour disappear over the bank and head homeward to Gloucester.
This was a nice, easy tour - not complicated and run within seconds of the right time - a rarity these days. As I said, it's a rather glum time for me and I wonder if I'll see many of these tours for a while. This reminded me what I'll miss - decent people, interesting places and unusual traction. It's a fine way to spend a Saturday, whatever the couple who bailed at International think!

Posted in Highbridge on Monday 10th December 2007 at 9:33pm
---
This morning, as the new railway timetable wreaked havoc on my working day, the mournful sounds of the cattle market drifted across Highbridge for the last time. From next week, the farmer's carts will no longer clog the roads on their way to the market near the Highbridge Hotel. Instead, they'll trek down to the new facility at Huntworth, provided by our local regeneration specialist, Mead Realisations. The Rural Business Centre is a bold and exciting move which will provide state-of-the art facilities - but the loss of the markets in Taunton and Highbridge will be grievous - particularly for our little town.
When locals talk about the corner of land between Clyce Road and the hotel, stretching back as far as the former wharf, they mutter about 'more flats' and shuffle off in dismay. It's probably exactly what will happen - the one positive being an undertaking to restore and improve the Grade 2 listed hotel to it's former glory. Once again, the character and balance of the town has changed - not necessarily for the better. It's been a little harder to get here since the bridge was narrowed, but the lack of farm traffic slowly heading into town each Monday will be yet another blow to local businesses. If the promises are kept, and regeneration turns from an admirable paper scheme into a reality, then maybe all this won't be for nothing?
As another huge truck rattled by a few moments back, I instinctively turned to the window and found myself gazing directly into the face of a cow likely facing it's final journey. Strange to think these will be some of the final journeys in another sense.