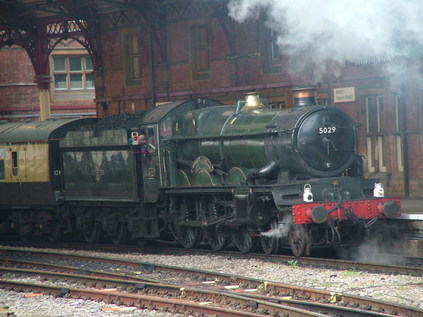 Posted in Railways on Monday 28th March 2005 at 7:47pm
---
As I managed to get out during the week, and since I'll soon be spending an extended period on the rails, I've not minded being busy elsewhere. Plan to photograph passing permenant way trains at Taunton on Friday was cut short by a water leak at the flat, and I spent most of Saturday and Sunday with family. Decided today then to take a quick spin around my local area.

Since it's usually quiet hereabouts on Bank Holidays where rail is concerned, planned my wanderings around the arrivals of 5029 'Nunney Castle' working this year's set of 'Avon Branch Explorer' tours. Sort of wish I'd booked on to the last couple of trips of the day, since one was routed via St. Phillips Marsh, and the other was a fast run down to Taunton. Arrived at Bristol on the 0832 from Weston, just in time to see 67012 haul the stock in. Soon after, Nunney Castle appeared from the mist.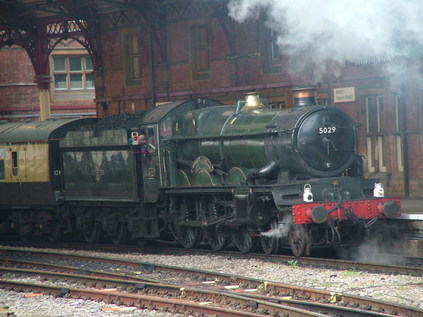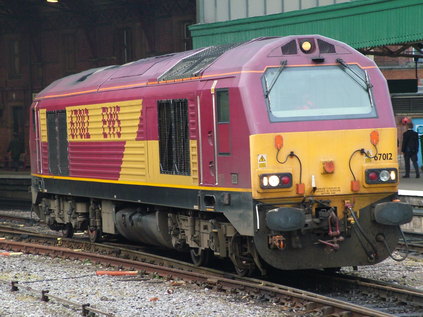 Left for Westbury on the delayed 0922. Intended to make a quick survey at Westbury before heading back to Newport, but the delay kept me there for around an hour. Very misty and eerily quiet. 66088 passed on a short engineers train, and 60048 set off from the yard leading a convoy of two class 66s and a short rake of ballast wagons. Unit back to Bristol packed solid as ever. On arriving at Temple Meads, fully intended to stay on for Newport but spotted 47829 in its unique 'British Transport Police' livery arriving in the bay near platform 5 having worked a driver training run around Filton and Avonmouth. Disembarked just before departure, and got a couple of shots despite the dull conditions.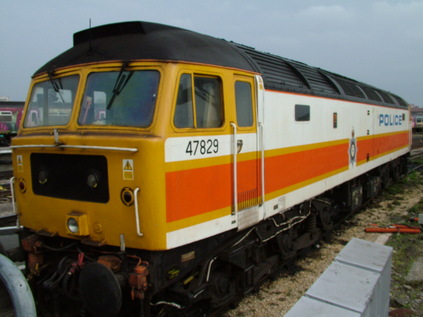 Watched another Nunney Castle departure before heading for Newport where again, not much was happening. Up to Cheltenham - with the sudden appearance of sunshine along the banks of the Severn. Refreshments, then onwards to Swindon via the Stroud Valley. Swindon was perhaps the most utterly forsaken location of the day. It's usually quite a dull spot, but today the silence was oppressive. Glad to head back to Bristol for a pleasant wait in the evening sunshine for Nunney Castle. Chatted to a few regulars, who had been on the earlier steam-hauled trips and said it had been flawless - but not, of course, as eventful as last year when we failed in Tytherington Tunnel.
Back to Weston to pick my way through the aftermath of another Bank Holiday, where a pair of exhausted looking security guards couldn't even manage the effort of asking to see my ticket.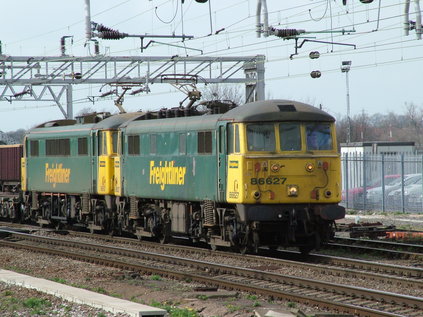 Posted in Railways on Wednesday 23rd March 2005 at 9:46pm
---
Today was to be Strike Day for Local Government, but things got miraculously fixed - must be election year! Since I'd agreed to head for the Midlands, took a day off instead. Set out a little later than I would have liked this morning, and had a reasonably smooth run despite another incursion of livestock near Cheltenham - sheep this time! Arrived at a very sunny, but surprisingly quiet Rugby station a little after midday.

Aside from the usual steady diet of Pendolinos, things seemed to dawdle until mid-afternoon when plenty happened to keep me busy. First off was 87013 passing hauling a couple of Royal Mail 325 EMUs, which was soon followed by a pair of 86's on a southbound liner.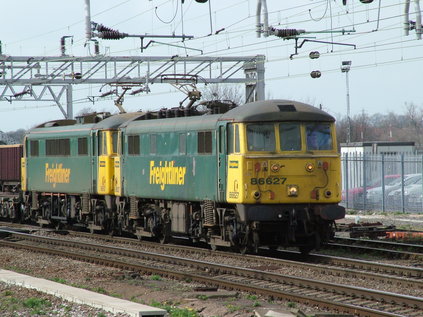 Further Class 325s passed southbound heading for Willesden, which was heartening. Mail by rail makes sense and I can only hope that the current trial involving GBRf will be continued.
No Class 87 hauled passenger workings today unfortunately, but as a bonus 87028 showed up on the reliable 'Malcolms' leading 66410. Unfortunately it was (apparently uniquely) routed via the platform line due to a passing Pendolino taking the fast line. Hence the picture is nothing special.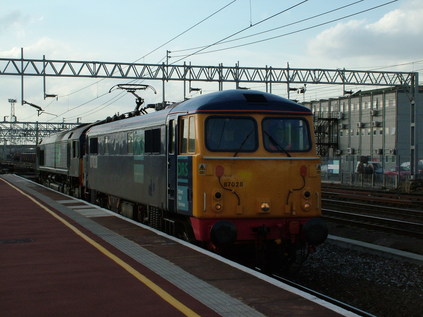 Plenty of GBRf action too, which pleases me because their attractive livery is a rarity in my part of the world. In addition to the booked trains, 66715 passed southbound hauling on-track plant machine 73930, then returned northbound through the station just a few minutes before I left for home - seconds before the Birmingham train 66706 also ambled in from the north.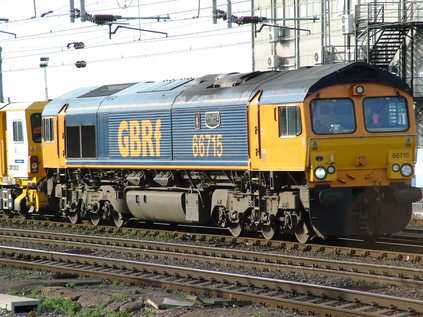 Still light and pleasantly warm when I left Rugby. Again a smooth journey back, arriving early at Temple Meads and making a quick connection for home.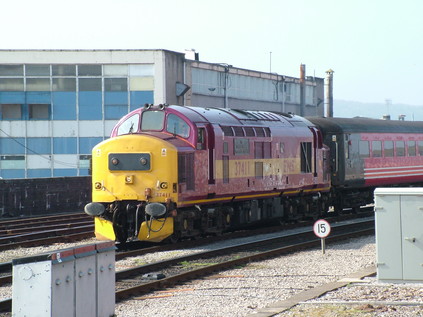 Posted in Railways on Saturday 19th March 2005 at 6:44pm
---
Woke to a thick mist - not optimistic about photographic opportunities. Out for the 0830 Virgin service to Bristol, and a quick change onto a Cardiff bound service before the crowds began to assemble for today's rugby match. Spotted some familiar faces at Newport as we passed and tried to make contact, but no reply. Cardiff city centre already appeared busy at around 10am. Staked out a spot at the end of platform 3 and 4, despite a sudden and unwarranted outburst from a grumpy member of platform staff. Started the morning with a steady stream of the usual units, along with 37425, 37408 and 37411 working the Rhymney services.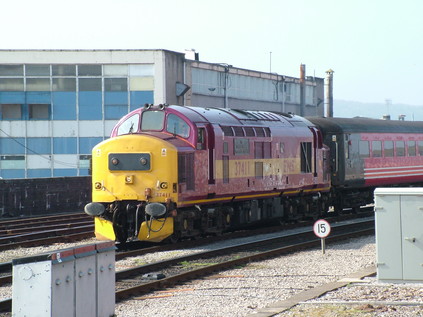 Each arriving service deposited increasingly large quantities of rugby fans, along with a good number of cranks. By midday, services were near dangerously overcrowded, and with the sudden appearance of bright sunshine, passengers pouring from them were very hot and bothered. A little later than planned, and in quick succession, the first two specials arrived in the hands of Class 67s. Highlight of the day for me however was the top and tailed Class 47 hauled Carmarthen-Cardiff service, which then went ECS to Newport and worked back to Cardiff again.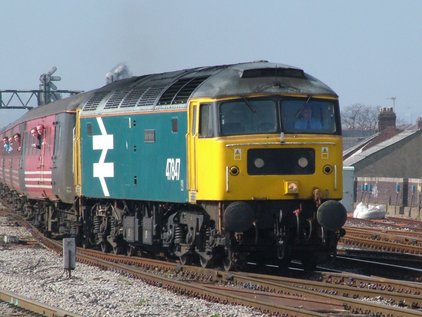 A fair amount of freight for a Saturday at Cardiff too including a number of steel workings, some light engine activity, and both loaded and empty coal workings relating to Aberthaw power station. Deep in conversation at one point I failed to notice a fast approaching convoy of two Class 60s and two class 66s which passed at speed with my camera pointing entirely in the wrong direction.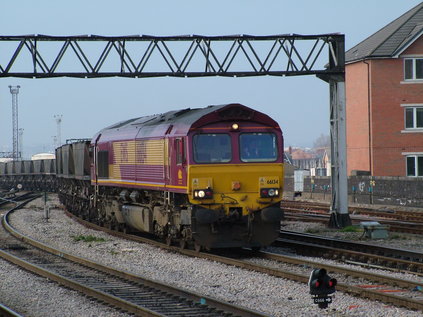 One final 67 hauled special and it was back in full sunshine to Newport to meet up with the people we'd tried to call earlier. Realised that despite the misty start I'd almost developed a nasty case of sunburn. Left the others to wander up to Barton Hill whilst I collected some tickets and headed back for a dinner appointment. Overall, a busy and entertaining day - and the best weather of the year so far.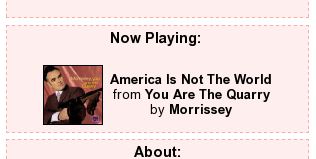 Posted in Computers on Friday 18th March 2005 at 9:38pm
---
A little while back, my first delve into C# code was to try to persuade Muine to output the currently playing song via a signal from the command line, for use in XChat "now playing" scripts and suchlike. I almost got things working how I wanted, but my haphazard approach was flawed and I've long since abandoned the attempt.

So I was extremely pleased to find muine-shell which achieves exactly what I wanted and more rather elegantly, via clever use of DBus. First project was to adapt a script to post the current song Muine was playing to my website. Obviously if I'm not playing anything, it won't appear, so here is a screenshot: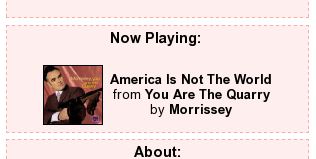 Some rough edges to knock off here - replacing the cover image with a default when the album has no cover for example. Fun to play with for an afternoon, and even more pointless personal information now available via this site!