Posted in SHOFT on Sunday 26th December 2010 at 9:14am
---
I agonised over the wisdom of posting a list like this. The drawbacks were of course very apparent - I open myself to accusations of whimsy or elitism with some of my choices, or I miss out something I really liked and realise too late. However, since 2010 is the year I've purchased more music than for any in the preceding decade, it feels important to mark the occasion. I've tried to list things I've listened to most - because that seems like a fair test of how much impact they've made. This does of course miss the acts which have released less music this year but have been very much on my list - honourable mentions to White Heath and French Wives for instance. Also, there are many others just outside the top twenty who I'd love to have included - but there have to be some self-imposed rules or these things would never work.
I make absolutely no apology that this list is largely of Scottish musicians. I've spend an inordinate amount of the last year north of the border on a variety of trips and missions, and this has left it's mark. Also, there is a genuinely supportive network of musicians in Scotland who, as one starts to explore, suggest and link to countless others. That this sprawling and sometimes incestuous network functions on a genuinely human scale is amazing and inspiring to me. Before I knew it, my old preferences for things Scottish had reawakened with a whole host of new talent. There are of course some remarkable artists from elsewhere around the world on the list. There is also an equally impressive network of Scottish blogs which serve this diverse scene - including Peenko, Aye Tunes and the truly inspiring Glasgow PodcART - all of which nurture and promote talent with fervour and humour.
I also make no apology about the downbeat, often acoustic bent of this selection. It's the kind of year it's been - and while there have been some fantastic released by louder or more electronic acts, they've just not achieved the place in my heart that these have.
So, here then are the things which have inspired, delighted and consoled me during the year. Wherever possible, I've tried to link them to a place where you can hear the music almost straight away and completely for free. This has sometimes meant using bands' Myspace pages - which are now rendered pretty horrible by the new platform, but at least allow access to the music. I hope there's something in here which others find equally entrancing...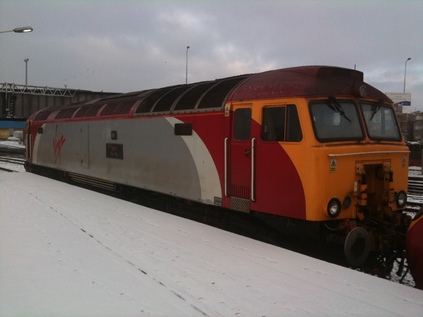 Posted in Railways on Saturday 18th December 2010 at 11:45pm
---
The advice was, of course, not to travel. This is never advice I've taken - not even when the earthquake hit Los Angeles in 1994, or when I struggled up to see Bob Dylan in Hammersmith despite the tremendous storms of 1990. In recent times, I've come to need these strange weekend journeys to give me perspective, a bit of certainty and a chance to observe life as others see it. This would be the last chance to get out before a patchy and lazy festive season where, despite a couple of trips booked, I could easily go for some days languishing at home. On that basis, I once again decided to ignore the advice and see how Britain was coping with the cold weather. This started with me stepping out into around seven inches of fresh, crisp snow. I didn't mind snow - it was easier to deal with than the ice which plagued the country last February, and despite being a tiring and slow walk I enjoyed being one of the first few to venture out into the strangely silent morning. As ever though, First Great Western had fallen at the first hurdle. The 05:48 was at Taunton, and as National Rail Enquiries assured us, definitely not cancelled! However, it wasn't moving - despite trains heading south, the expresses spraying us with snow from the rails. The snow had driven a few passengers from their cars and they began an amusing attempt to get information from the Help Point - I've determined that these are essentially people reading from National Rail's website and utterly unable to assist, and they proved this to be the case admirably today. As a predicted delay of 1 hour and 17 minutes finally appeared to replace the laughably optimistic 'On Time' I slipped home to get a coffee and warm up. Eventually underway, albeit slowly as we were the first train to head north, I settled in for what could be a very interesting day...
The next potential issue was dealt with quickly and simply. A quick word with the Train Manager on the 08:00 CrossCountry service about the delay and he was happy to honour the ticket. So, having recovered a bit of time, I set off for Birmingham with the sun just about rising. Noted that the snow wasn't quite so deep north of Bristol. Contemplated my next move on the warm, lazy trip to the Midlands, thoroughly enjoying being on the move again. Paused to get breakfast at New Street, before heading down to the slightly delayed 09:36 to Crewe. Lots of services seemed to be delayed on their inward journey's no doubt because of staff having trouble getting into work. Pondered that it was a shame FGW couldn't have been more honest about this - just attributing delays to "the weather" felt lazy, untrue and seemed to feed the almost paranoid approach that is developing here to inclement conditions. The 350 was very warm, and I settled in for a sleepy hour's trip. Again, things didn't seem nearly as bad up here, but the sky had turned a baleful purple-grey and the light behind the fog seemed to have dimmed. At Crewe, I found chaos. In common with elsewhere, there had been early delays, but things were running fairly well. The passengers however were milling around, griping and moaning, being utterly selfish and failing to follow staff instructions. There had been a failure on a Voyager which had necessitated some changes of train, and it appeared that most of the world was waiting for the 10:43 to Holyhead with me! When the Pendolino arrived, checked to see the locomotive heading in to be coupled up, and dived into the vestibule. At least with the crush of passengers this would be fairly warm! The coupling process was slow and noisy, leading to a few alarmed glances from my fellow travellers. Finally away, late but back on track - with my last mainline locomotive haulage of the year underway.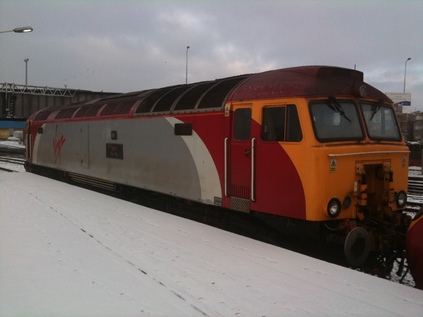 Arrived at Chester to more snowy scenes, and took the opportunity to get a quick snap of 57308 before it headed off to North Wales. The station was busy, but a little more sensible than Crewe. Grabbed a decent coffee from the shop which has popped up since my last visit, and headed for the bay platform where the Voyager to London was due shortly. Thinking back, it was exactly year ago I did this same trip. The direct Chester-London service had recently been introduced, and I liked the idea of an end-of-year spin down the West Coast Main Line. Last year, too, snow had fallen in the Midlands, though we'd seen none of it in the south west. Thus, the snowy scenes in Warwickshire and Buckinghamshire had been rather quaint. Back to the present and I was largely sick of snow, but I was to see plenty more of it as we set off for the capital. After a stop at Crewe, we headed onwards via the Trent Valley, non-stop to Milton Keynes. I snoozed my way through the early part of the journey after my early and frustrating start, but woke to see we had plunged into a blizzard. Beside the line, the roads were in chaos, with cars abandoned at crazy angles and people milling about on the carriageway. We plunged onwards, keeping fairly good time. A bit of a hold-up at a congested Milton Keynes Central - scene of my horrible weekend early in the year - then onwards to Euston. We seemed to be in a fairly long queue of trains, but made slow progress south. I'd allowed plenty of time for my cross-london transfer in the hope of some fill-in moves like last year, but having heard the Underground was not functioning well, I'd decided to just head across town. Euston was surprisingly calm - Virgin seemed to be conveying the message "we'll get you there, but you might be a bit late" pretty well, and incoming trains were being turned around swiftly, with few cancellations - and those confined to the most intensively served routes. Given the criticism of the railway over the last couple of weeks - and my earlier experience with FGW, this was good to see.
A surprisingly quick Circle Line ride to Paddington followed, having to flag only one packed train for another a minute behind. Paddington was, sadly, not quite as organised as Euston, with staff pretty much in hiding and the service in a confusing mess! The plan of running a broadly hourly service on routes which were open was working well, and after killing a couple of hours with reading, writing and coffee-drinking, I found my way onto the set which would work the 18:00 as per my booking. We we're going to be a bit late - but no problem. Then, rather rudely, a platform attendant barked into the carriage "Get off! This isn't going to Bristol now!". I packed my things and wandered out, asking him what the plan was. He suggested that this would form a Cheltenham service as they'd just started running trains via Stroud again, and that the 18:30 to Bristol was a definite runner. I returned to the concourse to spot a flaw in this plan - there were no other HSTs in the station, and no arrivals due before about 19:00. A further problem had developed at Didcot where a set had failed. I pointed this out to the platform staff, who professed total ignorance of any problem and asserted that the 18:30 would run. I asked "with what?" and was reminded that they "didn't need to be told how to run a railway". I hung around until the service was, inevitably, cancelled - delivering my hardest stare at the rather sheepish looking staff before wandering over to the gates in front of Platform 5, where the next arrival was due. Indeed, the incoming train was quickly called as the 19:00. This was a bonus as it went directly home to Highbridge. Also spotted a fairly senior FGW manager already onboard, so it looked like a runner. And so, about twenty minutes late, and packed to the gunnels with several trains full of people, we were off!
However, FGW had not yet served up their last indignity of the day. At Bristol, the Train Manager confessed that the staff to work the service forward had not materialised off another service. We sat for some time, until around 21:30 he announced that due to "a serious incident onboard the train" it was now cancelled. Rumours of violence and sexual assaults were rife, but I couldn't see any police activity around the train, and the staff seemed to content to let us all wander off without summoning any witnesses. Pondered this as I froze on the platform, then froze again on the defective 158 which formed the now very busy 21:55. The train had another unit attached to the back, but the guard didn't open it up - meaning we all froze, and most people had to get off on the icy, uncleared platform ends. Another fine bit of FGW planning.
Whilst trudging home, I pondered the day - it had been a mixed bag of some fine efforts to run a service despite the challenges, and a for our local operator, a total capitulation to circumstances. I also had the uneasy sense that FGW had chosen to bury some fairly bad decision-making and poor operating in the snow. Once again, information was incredibly poor - and while the online resources were excellent, people on the ground and on the end of the 'phone didn't have the tools or the skills to use this information well. But, I managed 517 miles today when in theory the critics would suggest I shouldn't have bothered. I never felt stranded or worried, and with a bit of determination I got where I was headed and home. It's the only way to travel, folks!

Posted in SHOFT on Thursday 16th December 2010 at 11:12pm
---
It was something like six years between my first two Belle and Sebastian shows, and on the cold bus ride to Bristol tonight I calculated it was something like four years since I'd last seen them. Across the numerous performances in between my first desperate dash to London and last time, at the same venue as this evening, they've variously sparkled and plain sucked. Tonight, quite a bit felt like it had changed - I was struggling up to Bristol from the new office in Clevedon for starters, and a cold and strange journey it was too - not really knowing where I was, which was an unusual experience for me. The bonus was to be dropped directly outside the Colston Hall - it's new spacious entrance building full of city types enjoying jazz and cocktails. Once inside, despite a bit of a refit it was essentially the same municipal concert hall it had always been. Found a seat in the corner and settled in for the support act Daniel Kitson and Gavin Osborn. I'd been prepared to be unhappy with this - a story teller and a singer performing together sounded a little bit too staged and corny for starters. What I wasn't prepared for was the razor sharp delivery and witty, clever prose which Kitson provided. Gavin Osborn's songs worked too - not just illustrating or adding colour to the story, but moving on the narrative. This allowed a fairly complex story to be told with genuine pace and humour. Kitson looked like Allen Ginsberg but oddly sounded like Dave Gorman, whilst Obsorn's gently folky voice and guitar were ideally suited to the format. The audience who bothered to wander in were in parts, utterly delighted by the whole performance, as was I. A great choice of support act.
So, with the lights up, and disappointingly the tradition of girls selling ice cream now dispensed with here, I surveyed the audience. They were a mixed bunch - a fair number older folks like myself, who'd probably grown up with the band and were genuinely eager to see their old heroes once again. Mixed in were a larger group of younger people - far too cool for their own good, they kept their scarves on indoors and posed, hands on angled hips whilst chatting and guffawing about tuition fees and tweeting casually on their 'phones. I was of course tapping away on mine too - answering work emails - I have clearly aged a lot in the last four years.
So, Belle and Sebastian took to the stage in their usual ramshackle way. A full string section again added to the sound, and seemed to bode well for the evening - except that they were largely inaudible amongst the flabby sound. Somewhere in the first few songs, a shift in the balance seemed to have occurred... Always by far the most conciously 'cool' member of the band, Stevie Jackson seemed to be stepping forward to lead the proceedings. This left a slightly sick and rather subdued Stuart to verbally spar with him and not managing much in the way of engagement with the audience. Luckily, the recent record didn't get too much of an airing, with only the strongest few songs making an appearance - "I Didn't See It Coming" and "I Want The World To Stop" retaining their glamour, whilst "Write About Love" sunk without trace - all too easy and not at all convincing. This betrayed the strange set of song choices in the set. With a now extensive back catalogue to plunder, a good few oddities were unearthed to varying effect. Luckily this archaeological dig also provided some highlights including "Dog on Wheels" and "The Stars of Track and Field".
As the long and rather slow set dragged into it's final stages, I found myself getting frustrated with the band. This group of people have inspired such genuine admiration in me and many thousands of others over the years, but seemed to coasting. It was of course, the end of a very long tour. It was also clear that many of them weren't feeling great. Only Stevie, ever professional but strangely turning into Bob Dylan circa 1966 with his wild curly hair, managed to retain any of the geeky and shy star quality which this bunch usually exude. After a disappointly rushed and subdued "If You Find Yourself Caught In Love" - which had been so fantastic here last time - the band managed a pretty decent take on "Sleep The Clock Around" before disappearing from the stage. As they shuffled wearily back to kick off an encore with "Judy and The Dream of Horses" I shuffled away too, to catch the train home earlier than I needed to. It's hard to tell if I've grown out of Belle and Sebastian or whether, tonight at least, they've just stopped caring themselves. This was patently the least impressive they've been since the achingly shy and quiet Shepherd's Bush Empire gig. I felt weary and old heading home, and rather like I'd had a silly argument about nothing with an old friend. Lets hope we can make up sometime soon?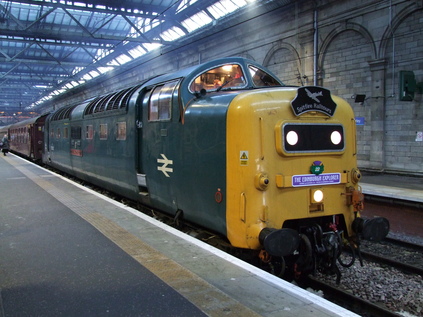 Posted in Railways on Saturday 4th December 2010 at 11:46pm
---
The year has flown by, and it seemed like only yesterday that I was ankle deep in snow and slithering into work absurdly early as part of our emergency response. So, eyeing the forecasts with trepidation I'd expected this trip to fall victim to the weather. In particular, Scotland seemed totally paralysed by heavy snowfall, and it seemed unlikely we'd get anywhere - let alone north of Edinburgh. However, against all the odds and thanks to the persistence of Spitfire I found myself speeding up to Preston yesterday under cold, blue skies and with some amazing wintry scenes to enjoy. It seemed that the east had taken the brunt of the weather, and I was amazed to find the pavements of Preston clear and dry. It was a little different this morning though, as a night of rain and fog had left a carpet of slippery half-frozen snow underfoot. Allowed lots of time - which meant an even earlier start - and headed down to the station. The stock arrived soon after, and I was horrified to find "The Green Knight" in the rake. This coach, some sort of hybrid of First and Standard Class, is horrible. Narrow seats with no leg-room, but with full size tables which take all the available space. It was also very, very cold. Soon rectified, with a bonus move right to the front of the train, next to the loco. News from the east was that others had made the slog through deep snow up to Huddersfield. Things were going to plan!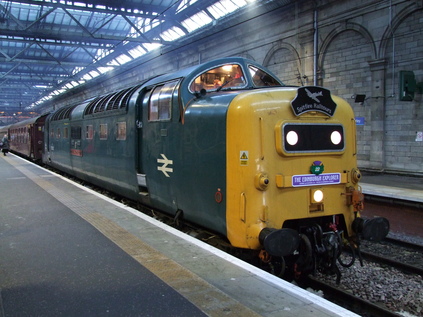 The morning began with a fairly good run through Leeds and York to reach the East Coast. Services were heavily disrupted here, and we didn't see many trains at all on our northward journey. On some stretches, speed was limited to 80mph but this didn't seem to unduly affect things, and the locomotive performed perfectly given the challenging circumstances. Once the sun rose, it was clear just how much snow had fallen over this side of the country - but despite this, the word was that we were still permitted to head for Dundee and wouldn't need the contingency plan. Feeling sleepy and a little rough, I decided on a quiet morning and a snooze here and there.
Woke as we approached Edinburgh, amazed at the scenes. Cars hadn't moved for days, and the city was unrecognisable under it's white carpet. The station was a little chaotic, with replacement buses queuing down the ramp and turning on the concourse. Made a dash for a photo, then over to the shops for sustenance. Didn't really feel good by this point, but the idea of pressing on over the Forth kept me going. Soon back on board, and with a spirited start, passing Haymarket Depot and turning north towards the bridge. Fife in the snow was stunning, but it was clearly pretty cut off too. Taking the longer route through Cowdenbeath, we learned that rather than attempt a double run-around at Dundee with potentially frozen couplings, we would turn at Thornton Junction, with 47500 leading us into our destination. This would position 55022 for the long journey home. We arrived at a deserted and snow-bound Dundee station to find staff fairly amazed to see us. As the display told us "All Trains are Cancelled", but even this quiet scene didn't deter one jobsworth from trying to prevent photography on the station!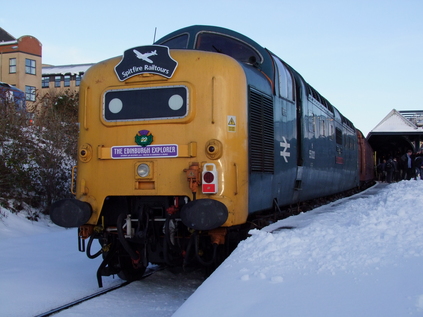 Slithered briefly into town, got a drink and had a quick look around. The pavements were treacherously icy, and surprising crowds were out taking advantage of the dry, sunny but freezing cold day. Tried to slog over to the supermarket but the road was pretty difficult to negotiate so settled for a wander back to the station to watch our train come back from the sidings. Feeling really grim now, and I suspect having fallen victim to the bug my nephews had been suffering from - although another theory about the exhaust fumes from the neighbouring loco had some currency for a while when others started to get sleepy! We were soon off again, heading into the slowly sinking sun and showering clouds of snow on the trackside as we headed back by the more direct route. A chance to catch up and chat on the return journey, between attempts to sleep off the sickness and headache which had developed. Again, no trains around until Edinburgh, where once again the station seemed to be in panic. I settled in for a sleepy journey south and by York had begun to feel a little better. Enjoyed the last leg of the journey watching Yorkshire and Lancashire pass by as we sped back to Preston.
Despite feeling grim at times, this was a fitting end to the touring year. It was good to make it up to Scotland again too, when it seemed almost no-one else dared to try! It's been a long and varied year on the rails, with lots of really remarkable trips achieved due to no small effort on the part of the organisers. There have been one or two disappointments along the way too, but many of the most the memorable things - over 2000 miles of Deltic haulage, a fantastic weekend in the Highlands and a truly groundbreaking trip to East Anglia - have occurred thanks to Spitfire. Thanks folks, and I hope to see you next year!