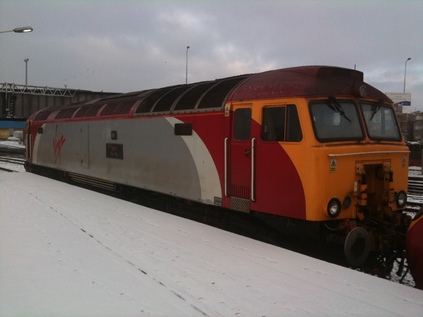 Posted in Railways on Saturday 18th December 2010 at 11:45pm
---
The advice was, of course, not to travel. This is never advice I've taken - not even when the earthquake hit Los Angeles in 1994, or when I struggled up to see Bob Dylan in Hammersmith despite the tremendous storms of 1990. In recent times, I've come to need these strange weekend journeys to give me perspective, a bit of certainty and a chance to observe life as others see it. This would be the last chance to get out before a patchy and lazy festive season where, despite a couple of trips booked, I could easily go for some days languishing at home. On that basis, I once again decided to ignore the advice and see how Britain was coping with the cold weather. This started with me stepping out into around seven inches of fresh, crisp snow. I didn't mind snow - it was easier to deal with than the ice which plagued the country last February, and despite being a tiring and slow walk I enjoyed being one of the first few to venture out into the strangely silent morning. As ever though, First Great Western had fallen at the first hurdle. The 05:48 was at Taunton, and as National Rail Enquiries assured us, definitely not cancelled! However, it wasn't moving - despite trains heading south, the expresses spraying us with snow from the rails. The snow had driven a few passengers from their cars and they began an amusing attempt to get information from the Help Point - I've determined that these are essentially people reading from National Rail's website and utterly unable to assist, and they proved this to be the case admirably today. As a predicted delay of 1 hour and 17 minutes finally appeared to replace the laughably optimistic 'On Time' I slipped home to get a coffee and warm up. Eventually underway, albeit slowly as we were the first train to head north, I settled in for what could be a very interesting day...
The next potential issue was dealt with quickly and simply. A quick word with the Train Manager on the 08:00 CrossCountry service about the delay and he was happy to honour the ticket. So, having recovered a bit of time, I set off for Birmingham with the sun just about rising. Noted that the snow wasn't quite so deep north of Bristol. Contemplated my next move on the warm, lazy trip to the Midlands, thoroughly enjoying being on the move again. Paused to get breakfast at New Street, before heading down to the slightly delayed 09:36 to Crewe. Lots of services seemed to be delayed on their inward journey's no doubt because of staff having trouble getting into work. Pondered that it was a shame FGW couldn't have been more honest about this - just attributing delays to "the weather" felt lazy, untrue and seemed to feed the almost paranoid approach that is developing here to inclement conditions. The 350 was very warm, and I settled in for a sleepy hour's trip. Again, things didn't seem nearly as bad up here, but the sky had turned a baleful purple-grey and the light behind the fog seemed to have dimmed. At Crewe, I found chaos. In common with elsewhere, there had been early delays, but things were running fairly well. The passengers however were milling around, griping and moaning, being utterly selfish and failing to follow staff instructions. There had been a failure on a Voyager which had necessitated some changes of train, and it appeared that most of the world was waiting for the 10:43 to Holyhead with me! When the Pendolino arrived, checked to see the locomotive heading in to be coupled up, and dived into the vestibule. At least with the crush of passengers this would be fairly warm! The coupling process was slow and noisy, leading to a few alarmed glances from my fellow travellers. Finally away, late but back on track - with my last mainline locomotive haulage of the year underway.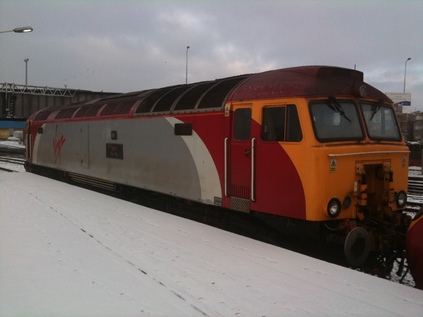 Arrived at Chester to more snowy scenes, and took the opportunity to get a quick snap of 57308 before it headed off to North Wales. The station was busy, but a little more sensible than Crewe. Grabbed a decent coffee from the shop which has popped up since my last visit, and headed for the bay platform where the Voyager to London was due shortly. Thinking back, it was exactly year ago I did this same trip. The direct Chester-London service had recently been introduced, and I liked the idea of an end-of-year spin down the West Coast Main Line. Last year, too, snow had fallen in the Midlands, though we'd seen none of it in the south west. Thus, the snowy scenes in Warwickshire and Buckinghamshire had been rather quaint. Back to the present and I was largely sick of snow, but I was to see plenty more of it as we set off for the capital. After a stop at Crewe, we headed onwards via the Trent Valley, non-stop to Milton Keynes. I snoozed my way through the early part of the journey after my early and frustrating start, but woke to see we had plunged into a blizzard. Beside the line, the roads were in chaos, with cars abandoned at crazy angles and people milling about on the carriageway. We plunged onwards, keeping fairly good time. A bit of a hold-up at a congested Milton Keynes Central - scene of my horrible weekend early in the year - then onwards to Euston. We seemed to be in a fairly long queue of trains, but made slow progress south. I'd allowed plenty of time for my cross-london transfer in the hope of some fill-in moves like last year, but having heard the Underground was not functioning well, I'd decided to just head across town. Euston was surprisingly calm - Virgin seemed to be conveying the message "we'll get you there, but you might be a bit late" pretty well, and incoming trains were being turned around swiftly, with few cancellations - and those confined to the most intensively served routes. Given the criticism of the railway over the last couple of weeks - and my earlier experience with FGW, this was good to see.
A surprisingly quick Circle Line ride to Paddington followed, having to flag only one packed train for another a minute behind. Paddington was, sadly, not quite as organised as Euston, with staff pretty much in hiding and the service in a confusing mess! The plan of running a broadly hourly service on routes which were open was working well, and after killing a couple of hours with reading, writing and coffee-drinking, I found my way onto the set which would work the 18:00 as per my booking. We we're going to be a bit late - but no problem. Then, rather rudely, a platform attendant barked into the carriage "Get off! This isn't going to Bristol now!". I packed my things and wandered out, asking him what the plan was. He suggested that this would form a Cheltenham service as they'd just started running trains via Stroud again, and that the 18:30 to Bristol was a definite runner. I returned to the concourse to spot a flaw in this plan - there were no other HSTs in the station, and no arrivals due before about 19:00. A further problem had developed at Didcot where a set had failed. I pointed this out to the platform staff, who professed total ignorance of any problem and asserted that the 18:30 would run. I asked "with what?" and was reminded that they "didn't need to be told how to run a railway". I hung around until the service was, inevitably, cancelled - delivering my hardest stare at the rather sheepish looking staff before wandering over to the gates in front of Platform 5, where the next arrival was due. Indeed, the incoming train was quickly called as the 19:00. This was a bonus as it went directly home to Highbridge. Also spotted a fairly senior FGW manager already onboard, so it looked like a runner. And so, about twenty minutes late, and packed to the gunnels with several trains full of people, we were off!
However, FGW had not yet served up their last indignity of the day. At Bristol, the Train Manager confessed that the staff to work the service forward had not materialised off another service. We sat for some time, until around 21:30 he announced that due to "a serious incident onboard the train" it was now cancelled. Rumours of violence and sexual assaults were rife, but I couldn't see any police activity around the train, and the staff seemed to content to let us all wander off without summoning any witnesses. Pondered this as I froze on the platform, then froze again on the defective 158 which formed the now very busy 21:55. The train had another unit attached to the back, but the guard didn't open it up - meaning we all froze, and most people had to get off on the icy, uncleared platform ends. Another fine bit of FGW planning.
Whilst trudging home, I pondered the day - it had been a mixed bag of some fine efforts to run a service despite the challenges, and a for our local operator, a total capitulation to circumstances. I also had the uneasy sense that FGW had chosen to bury some fairly bad decision-making and poor operating in the snow. Once again, information was incredibly poor - and while the online resources were excellent, people on the ground and on the end of the 'phone didn't have the tools or the skills to use this information well. But, I managed 517 miles today when in theory the critics would suggest I shouldn't have bothered. I never felt stranded or worried, and with a bit of determination I got where I was headed and home. It's the only way to travel, folks!