Posted in SHOFT on Wednesday 28th September 2011 at 10:09pm
---
One of the side-effects of the computer catastrophe here has been the inability to buy music. Given that times are tight, and it's difficult to squeeze another notch on the belt, this isn't all bad - but it did delay my access to two eagerly awaited releases.
King Creosote & Jon Hopkins - Honest Words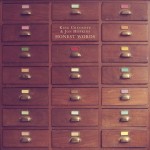 And as if to tease me for my reliance on soulless, compressed digital products,
King Creosote & Jon Hopkins
's "Honest Words" slides in against a backdrop of tape hiss. Almost immediately,
King Creosote
's voice ascends into gorgeous, clear high notes while
Hopkins
provides a dramatic backing based around a sonorous, doom-laden organ which eventually dissolves into a twinkle of shattered electronics. The lyric is intriguing as once again
Kenny Anderson
elects to demolish the 'fourth wall' and bring the listener in on the songwriting craft. Listening to him singing about the process and the pain of writing is a little voyeuristic, a distant ache in the third person. As the song ends, the cycle begins again as the backing fades leaving
Kenny
rewriting his own ending.
Supporting this King Creosote tradition of revisiting and reworking songs in new situations and contexts, the next two tracks take the rewriting process of "Honest Words" as a model. "Aurora Boring Alias" originated on the "Love + Hate = Hate" collaboration with HMS Ginafore and here is supported by a surprisingly gentle, almost absent touch of atmospherics from Jon Hopkins. Just a music box piano tinkling and the subtlest of drones shimmer in the background whilst Kenny floors me once again with one of those lyrics which grasp a mood and hold it up for inspection as he intones "a magnet at my very core pulls me northwards". With eyes turned skyward the song agains becomes self-referential with the revealingly honest claim that 'I'm aware it's me that I describe in code'. Finally a reworking of a recent reworking features in "Bats In The Attic (Unravelled)". I've never quite shaken off my love of this "Bits of Strange" song in any of it's forms, but here it becomes a gentle but powerfully phrased construction. A bit of regret, a little bitterness, some bile even. The simple melody here is reduced to a background shimmer and a quiet clanking rhythm drives the song onwards. Stripped back to this degree, King Creosote's voice is revealed even more than usual as a delight. My only sorrow is at the loss of the line about "Fife council" before song echoes away, fittingly into nothing.
The critical acclaim which "Diamond Mine" has enjoyed seems to have caught this unlikely duo completely unawares, but this brief addendum to their slight but affecting and already much loved canon continues the story. I hope there is more, because I genuinely don't think I'll ever tire of listening to them.

King Creosote & John Hopkins - Honest Words
"Honest Words" is available from Amazon, iTunes and local record stores near you.
Mogwai - Earth Division EP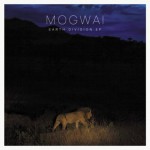 Coming surprisingly soon after the superbly titled "Hardcore Will Never Die But You Will" album earlier this year, I had something of a sense of dread about this EP. Often these rapid follow-up releases are nothing better than studio-floor salvages, and I didn't want that to happen to a band which has been part of my musical landscape for more years than I cared to remember. I need not have worried, because "Earth Division" is a work made entirely on it's own terms. "Get To France" opens, with poise and tension which would ideally grace the opening titles of a movie. An insistent piano refrain echoing with noirish portent. If this is the opening scene, then the closing credits could easily be delivered over the wistful and delicate "Hound of Winter". It's rare a
Mogwai
track features vocals in the traditional sense, but here they are just that - and allied to a surprisingly gentle folk melody complete with harmonica and accordion. The lightest wash of strings fade in and out of the track, occasionally delivering the kind of life-affirming lifts in mood which I've always associated with the band, even at their most uncompromising and impenetrable.
And that is perhaps where "Drunk and Crazy" comes in...never has a song been more appropriately named as a shuddering low fidelity rhythm stutters in behind distorted guitars and a sheen of white noise which suddenly, almost clumsily gives way to an unexpected and beautiful string quartet mid-track. A stark piano accompaniment picks out the melody which just about survives from the opening section, and eventually the two halves of the track are reunited in a jagged but epic closing section. This is uplifting, wide-screen brilliance which builds on the more varied textures of the recent album by reuniting them with Mogwai's sense of the dramatic and absurdly epic which were less in evidence on "Hardcore...". Finally, the sombre "Does This Always Happen?" strips the instrumentation back to strings and piano, with a delicate and considered weave of guitar and bass slinking in mid-track. The insistent melody, the atmospheric strings, the spacious and dignified ending signify the new Mogwai. No need for explosions or hackneyed post-rock loud/quiet cliches. This is the sound of a band confident in it's own skin. Experimental and inventive, but utterly, compellingly beautiful.

Mogwai - Does This Always Happen?
You can purchase the "Earth Division EP" from Amazon or iTunes.

Posted in SHOFT on Sunday 25th September 2011 at 11:09pm
---
It had been a surprising sort of day in all kinds of senses, and having set out for Bristol in the ubiquitous and mundane fashion of catching a slow, lazy sunday afternoon train but ended up completing the journey in a sports car driven by a attractive young woman, I figured anything was possible. As I wandered through a warm, damp Bristol evening to The Cooler I pondered how all my visits here were a little bit unusual and wondered how this evening would work in this odd little venue. After trying to tackle the steep hill of Park Street nonchalantly and not to appear too hopelessly knackered by the time I reached the end of the already growing queue for entry to the venue, I exchanged playful age-related insults with the owner of the venue who stood at the door checking ID. This was a very young audience, which is of course good to see however old it makes me appear. But, there were also a few faces here who I suspected had come expecting a rather sedate evening of charming folk songs, and having had the newly released "Paradise" on fairly constant rotation over the past week, I speculated that they might perhaps not quite get what they wanted from Slow Club tonight. It was going to be an interesting evening...
Sweet Baboo performed in the same three-piece setup which took the stage at Homegame. However, things have been tightened up and honed considerably over the months - not least perhaps because audiences around the country are a little more demanding of support acts than the preaching-to-the-converted exercise of Anstruther. None of this however makes Stephen Black any less nervous as he breathlessly addresses the crowd after completing the opening "The Morse Code For Love Is Beep Beep and Beep Beep and the Binary Code is One One" - a title I'll never get tired of repeating. It's a jagged, bass heavy and full sound which suits the louder numbers, but adjusts surprisingly sensitively to the quiet elements of the set. A romp through "I'm A Dancer" is a crowd pleaser for sure - and it's good to see Sweet Baboo capturing the imagination of the sometimes troublesome Bristol audience. The set meanders around both the album and the more recent "Girl Under A Tree" EP, including a fair selection of more up-tempo numbers. When the band swings into these, it's with a confident, timelessly retro edge. This classic pop is reinforced with a storming cover of Simon and Garfunkel's "Keep The Customer Satisfied". The heads of the more serious folk element of the crowd starts to bob a little here, whilst the youngsters who are almost entirely oblivious to the pedigree have a bit of a dance up the front.
Despite his nervous demeanour, Black is always an engaging frontman to watch - and his urgent stage direction keeps things flowing through a non-stop set which sees the band veer oddly across genres, before alighting on the infectious pop of "Bounce" which the audience seems to take fairly literally. Things come to a close with a more reflective air on "If I Died Would You Remember..." and to be honest I think the band could have happily carried on. Bristol audiences can be terribly unforgiving to support acts at times, but the strange generation-spanning crowd tonight seemed to really enjoy the unpredictable, idiosyncratic world of Sweet Baboo.
I thought that the days when bands strode on stage to epic intro music had long since disappeared, but that's exactly what Slow Club do tonight as the opining bars of "Paradise" thunder around the stage as Charles and Rebecca are joined by two thirds of Sweet Baboo to provide the extra edge which features on songs from the new album. It was an unsurprisingly "Paradise" heavy set tonight, and the backing track soon subsided into the clarion call of "Where I'm Waking" with its swaggering introduction. Any sense that Rebecca's mid-tour lurgy might have prevented her voice from hitting the spot is soon dispelled as she soars and dips around the jagged guitar lines. The band is tight, focused and manages to deliver the new songs alongside subtly reinvented takes on old favourites, as "All Our Most Brilliant Friends" illustrates ably. There is a quiet tension in the older songs too - a bit like the strange creeping unease I sense during David Lynch films. And when Rebecca says they're going to play a couple "...because we'll complain" they deliver faultless, spectrally pared down takes on "Come On Youth" and "I Was Unconscious It Was a Dream".
However it's encouraging to see such a strong response for the new material and personal highlights of the album "Never Look Back" and "Hackney Marsh" both receive a fantastic reception from a crowd either already familiar with the songs or more than willing to be taken along by the occasion. The harmonies on the latter are jaw-droppingly good and the now appeased folksters behind me are spotted swaying gently as Rebecca's voice hits the staggering high notes. Things just keep getting better as Steven Black turns in a surprise saxophone solo, before the band rips into a high-energy take on "Giving Up On Love". There's not a lot of banter, with Rebecca saving her vocal chords for the songs, and Charles' rather shy on-stage presence. Letting his guitar speak makes sense though, and he cranks out some surprisingly chunky, driven playing during the night. Happily there were no awkward yells of "Judas" or other Dylan goes electric moments, and everyone appeared to be won over by the bigger, feistier sound on offer. For a final encore - just when you'd think another old song would seal the deal completely, "Gold Mountain" is unveiled - and it's a revelation. A slow-burning and rather quiet interlude on the album, it is transformed into a swaying, crowd-pleasing epic here tonight.
Slow Club are never a band who take the easy path, and the gamble paid off tonight with relatively new material sitting well with an adoring crowd. So, as I wander off into the weird atmosphere of a Sunday evening with desperate revellers literally falling over themselves to get the last ounce of fun out of their weekend, I'm struck by how both of these bands manage that curious trick of getting the audience on side almost effortlessly. As you see these folks singing their hearts out on stage, it's impossible not to want them to succeed.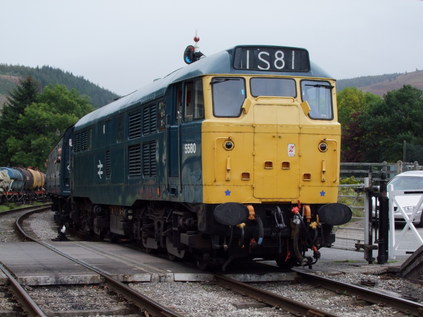 Posted in Railways on Saturday 24th September 2011 at 10:42pm
---
There are a whole range of preserved railways I used to consider impossible targets. The idea of integrating infrequent rail and bus services, and spending the entire visit worrying about getting back on time used to paralyse and attempt to go in the first place, unless of course they decided to put on a bus service of their own - which Barrow Hill and The Churnet Valley Railway both should claim some credit here for doing this admirably and reliably, which is of course a whole other challenge! One of these targets written off as impossible for many years was the Llangollen Railway - a very sparse service between Shrewsbury and Wrexham, meeting a two-hourly bus was just not going to get me there. But with a diesel day announced for today and knowing the service was much better these days I decided to have a look at my options.
And the good news is, it's incredibly simple and quick to get to Llangollen by public transport now. A quick, early morning run up to Wolverhampton via CrossCountry where I switched to the Arriva Trains service to Holyhead, taking me all the way to Ruabon. Out into the yard near the attractive station building which is no longer in railway use, and yards away was a bus stop, with a digital "next bus" display on the flag. Every 15 minutes, a service runs from Wrexham to Llangollen, with some heading out further to serve the villages along the valley. Bang on time it arrived. I settled in for the short run through rather stunning countryside to Llangollen, with the bus delivering me to a stop beside the river, just feet from the Town Centre station site. The station itself bears some exploration - snugly squeezed into a site beside the River Dee, the additional arch of the Mediaeval Town Bridge which brought the line in from Ruabon is now stopped up. The station is long and curving, with attractive stone walls along its approach and some fine buildings. Both platforms remain in use, with a very substantial footbridge linking them, and a sizeable refreshment room near the foot. Purchased a ticket and made a dash over the bridge to catch the DMU service up the valley. I'd made some very rough plans to ensure I travelled with most of the locos out today, but I wasn't entirely confident of the crossing points, so my first run was as far as Glyndyfrdwy, where I took some pictures as the trains crossed, then explored the site with its manually operated crossing. The valley was peaceful, and despite a few spots of rain it was pleasant to just sit and relaxed in the station. Access across the platform was via the crossing, as the footbridge awaits restoration, currently having no flooring. Took the next train up the valley to the current terminus at Carrog - another substantial station with an excellent little cafe - and watch the process of running around and attaching locos while the DMU left once again on the intensive service.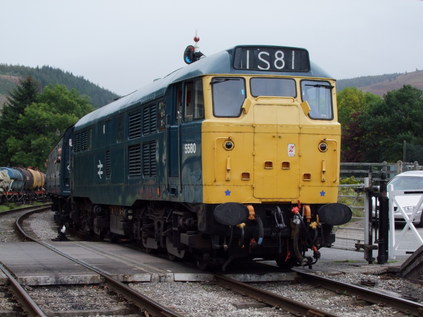 Figuring that it will of course be necessary to revisit once the railway manages to complete it's extension to Corwen, I spent a very happy couple of hours shuttling back and forth to Glyndyfrdwy and taking pictures of the crossing trains, before settling on a Class 37 hauled run back down to Llangollen. Enjoyed the splendid views over the river near the Chainbridge Hotel with its curious modern architecture alongside an older building. The bridge itself is currently unsafe I was sad to see. On arrival, wandered over the bridge towards town. The weather had brightened and Llangollen was busy with trippers and locals. I shopped a little before heading for the bus stop and back to Ruabon, arriving a little earlier than planned which allowed some wandering there too. I then retraced my steps home via a change at Wolverhampton onto a surprisingly quiet Voyager heading for Bristol.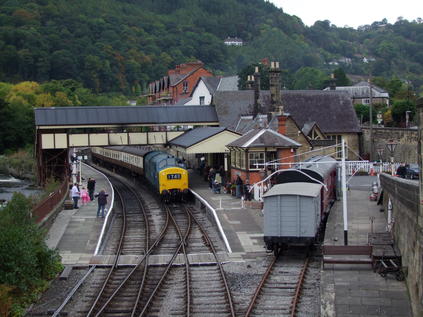 Today was just the easy day out I needed, and I was incredibly impressed with how well the transport worked. So, its now clear that a day trip to Llangollen is entirely possible. Ironically, having visited the town, I can't help but feel an overnight stay might be needed to fully appreciate this fine little railway and indeed the town itself. The Dee Valley is a curious spot, full of mysteries and oddities. It's almost no wonder they didn't like to make it too easy to get here in the past perhaps...

Posted in SHOFT on Thursday 22nd September 2011 at 9:09pm
---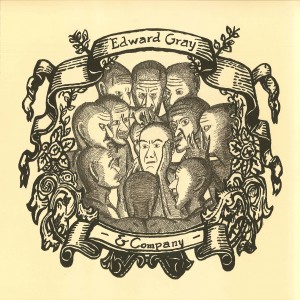 Having suffered a fairly catastrophic computer situation here last weekend, I've had incredibly limited time to listen to music lately and an even more limited range of things to easily play. In the midst of this frustrating, tiresome and starkly tuneless week I received Edward Gray's album. It would have been easy to overlook it in the mess of things to fix and missed deadlines to catch up on, but instead I found myself returning to it again and again. Perhaps because, despite coming late to his music I feel a strange kinship with Edward Gray. For starters "The Old Bending River" is his first release for five years and having spent much of that same period wondering if I was ever really going to get excited about music again, it's easy to draw a parallel with his time in the wilderness. Starting in around 1989, making music largely never far from his Iowa City home, there is a sense of quiet industry against the odds of fierce self-critique here which appeals to me too. The singer-songwriter and self-styled noisician's wayward, outsider spirit is amply illustrated here over the course of eight simply constructed, often humbly short but surprisingly hard-edged compositions.
Opening with "Chafe", Gray's voice is immediately striking. A warm, low burr which draws instant and probably tiresome parallels with Bill Callahan - but Gray manages to be at once more playful and less affected somehow, delivering these curious lyrics with a hint of humour - often of the self-deprecating variety - and a frankness which is incredibly appealing. On occasion, when faced with an impending chorus, Gray manages to soar to cracked, lonesome highs more akin to Mark Eitzel. This voice is allied to a delicate, understated backdrop which marries a swaggering rhythm section to a gentle country backing with beautifully deft licks of pedal steel. Next up "Samson" is a markedly stranger affair, a countrified polka full of lyrical drama. As the tension ramps up towards the conclusion, a violin sweeps in and dances around the song rather mournfully. Considering the simple instrumentation deployed here, the range of approaches Edward's band manages is staggering.
There are points here too, where Gray displays a surprising gentleness of touch in his writing, such as "Away" which couples the simplest of melodies to some affecting, emotive vocals and a chaotic squall of guitar. It's light, easy on the surface listening, but hidden under here is emotionally complex stuff - which still manages to support just the tiniest hint of bitter humour as Gray gruffly observes "you got some brass ones, buddy" with a wry smile before wringing a wonderfully chaotic racket from his guitar. This incredible talent for shifting the mood of a piece around occurs again on the initially playful "Egg Timer Man" which is all pretty straightforward until Gray's vocal dips to a menacing, rumbling whisper to close the track. The versatility of Gray's voice, the dramatic twists and turns in his songwriting and the slick band which backs him all coming into alignment to deliver songs which reward on a scale which belies their humble origins. The album reaches a climax with the tortured, twisted yarn of "Bone" where Edward's voice is paired with a tangled, scratchy guitar line which winds around a sinuous bassline. Occasionally the guitar explodes into life with a tortured howl of melody and noise, before the song returns to it's nagging hypnotic refrain. Toughening into a menacing swagger, the song clocks in somewhere near seven minutes, Gray's voice reaching a pitch of anger and pain before sinking into resignation. This is blistering, visceral music which caught me quite unaware on my first listen. Finally "Cold Cold Man" creeps in with a sinister organ supporting quietly, menacing vocals which invoke Leonard Cohen at his playfully miserable best. Whoops of saxophone add to the atmosphere as the song shudders and stutters towards a riotous conclusion, as Gray begins to bark out the song's title over a bar-room choir of backing vocals.
I'm indebted to Luigi from Almost Halloween Time Records for letting me hear this music as he prepares to painstakingly individually illustrate the lyric sheets of a very limited vinyl edition of this album - and once again, he's picked an incredible record to work on. Playful and surprising, but sometimes discordant and challenging, Edward Gray's work deserves to be far more widely known. This is an accomplished work from a veteran of two decades of self-recording, but who sounds like he's still enjoying every second of it. Long may he continue to do so. I can't urge strongly enough to ensure you get to hear this.
You can purchase "The Old Bending River" from Bandcamp, but I'd recommend that you check out the very limited, hand illustrated vinyl version available from Almost Halloween Time Records. More information, including a fairly extensive back catalogue can be found here.

Edward Gray - Chafe