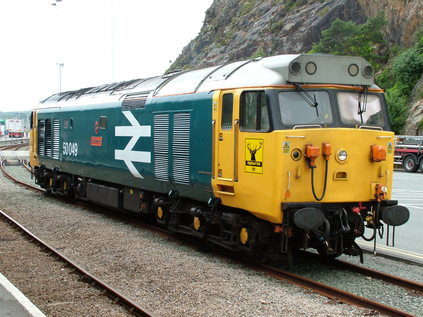 Posted in Railways on Saturday 24th June 2006 at 8:48pm
---
A lot of miles have passed under the bridge this year, but so far it's been short of real events - no open days or galas have stood out as essential visits, and there have been few unusual passenger workings around here. So the return of locomotive hauled services to Fishguard for the Summer is notable - and well worth a trip to West Wales.
A fairly late start by my usual standards, hampered somewhat by festivities during the previous evening. Joined a small group of local cranks onboard the 0816 from Highbridge and half-dozed my way to Temple Meads. Over to platform 7 for the 0923 to Cardiff - a very hot journey which sent me snoozing again. We arrived at Cardiff Central in blazing sunshine to find a small but growing group of fifty bashers assembling on platform 4. Realised with some surprise that I hadn't been to Cardiff in over six months. Of course, besides the new ticket barriers nothing much had changed here.
My last Fishguard trips however, were in the Summer of 2004. Four trips in all - two of them abject failures, and two more successful attempts at locomotive hauled trips to the coast. The journey always seemed long and rather sweaty in the tired Arriva stock where the aircon rarely worked. The progress over the District Line is plodding at best. But for some reason, knowing this would be the first class 50 to make it out to Fishguard made this an occasion worth turning out for. More than pleased to see 50049 arrive at Cardiff, confirming that the trip was on.
Not much about the journey has changed over the last couple of years. The locomotive performed perfectly throughout the trip and we made steady progress - perhaps a little better than I recall the 37s making over the same ground. The sections of track alongside the coast made for good running and fine views, and rather sooner than expected we were slowing for arrival at the Harbour.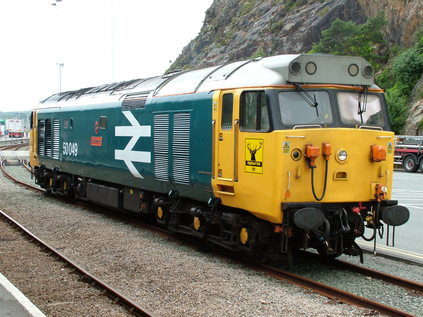 The station here was much as remembered, but the cafe was closed, leaving us with a rather longer wait for lunch than planned. Lots of photo opportunities during the running round of the loco as usual, with a slight delay due to 50049 initially refusing to be removed from the stock. Noted lots of cranks running around for a shot of the off-side of 50049 which had been repainted to masquerade as 50012 for some reason connected with the recent Scottish tour. Once the loco was off and running alongside the road, made the customary dash to the other end of the platform to get the close-up as the loco thundered over the crossing to rejoin the train. Always an exhilarating and slightly scary proceeding!
Back on board with slightly more passengers from the ferry than on previous runs. Raided the buffet trolley, but generally left rather unsatisfied with the catering arrangements. Should have purchased provisions at Cardiff. One or two of our group started to get a little cranky due to the heat, the lack of comestibles and the fact that we were being attacked for much of the journey by a five-year old boy in an adjoining seat! Again, some solid running throughout the return journey. No long wait outside Cardiff this year, so straight through to Central without a change at Bridgend this time around.
On to a boiling ex-Central unit at Cardiff, for a slow and drawn-out trundle into Bristol. Some strange noises from under the floor convinced us we might not make it in fact! Arrived at Temple Meads to find 6024 'King Edward I' awaiting a somewhat delayed departure on The Bristolian tour. Time for a few unsatisfactory pictures before an impressively noisy departure. Over to platform 15 for the HST back to Highbridge. A surprise ending to a day which went entirely to plan!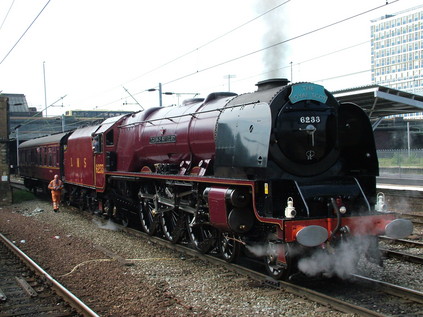 Posted in Railways on Saturday 17th June 2006 at 9:42pm
---
Another bewilderingly busy week, and another hastily arranged trip. In these kind of circumstances when I have no idea where to go and need to make a decision quickly, the lure of new track is often the easy option. So, continuing my bid to visit lines in Lancashire and Merseyside, I decided to head under the Mersey today and onto the Wirral. My profound fear of escalators has always prevented me from exploring the underground sections of the Merseyrail network, but recent visits have given me confidence in other ways of getting back to the surface at most of the stations!
A slight change to the routine this morning, running with 2M02 all the way to Bristol Temple Meads as 1S42 doesn't operate it's Weston stop in the Summer Timetable. Arrived on time and found the 07:28 waiting at Platform 3. Boarded, found my favourite seat and before we'd got to Parkway I'd managed to harass the RSM to sell me breakfast, despite him not really being quite open for service yet! An uneventful cruise through the Midlands and a rather busy New Street station, with Crewe the first port of call for me.
I know that for non-enthusiasts, Crewe is the ultimate joke at the trainspotter's expense. Why go to a rather tired, gloomy Cheshire town if not for the trains? Even though it is in many ways a shadow of its former self, Crewe continues to be an interesting spot. Today, it was the pleasant surprise of wandering up platform 11 awaiting the Pendolino to Liverpool, and finding the Duchess of Sutherland waiting for her train to arrive. Soon enough the coaches rolled in behind 47826 Springburn - another celebrity as far as I'm concerned!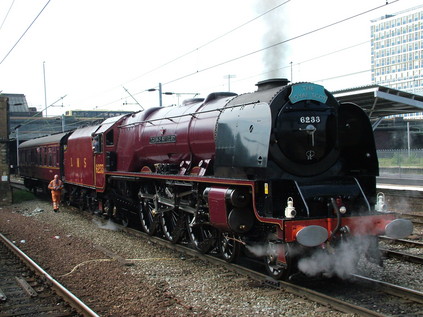 No time to linger for further pictures as the Liverpool train, now on platform 6, crept in quietly beside us. Despite some of the Pendolinos in the Midlands being dragged by Class 57s today, we were unassisted. Found a nice seat next to the aircon in the quiet coach. Unfortunately found myself seating next to some irritating Liverpudlian revellers on their way back from London who were clearly still under the influence of something. Mildly amused by their weirdly self-obsessed behaviour at first, but soon tired of it. Last saw them wobbling around the concourse at Lime Street mumbling that everything was "mad" and wondering "what's going on 'ere like?". I wonder if they made it home - one of them was planning to 'borrow' a van I think!
It was stiflingly hot under the glass roof at Lime Street, and incredibly busy. Lime Street is up there on my list of 'real railway stations' where I could happily spend hours just watching people. No time today however, because the lift to the Wirral Line was out of action, which meant a swift walk to Central Station if I wanted to keep to my schedule. The city was heaving with people, and I notice the highlight of the entertainment seemed to be the chance to make rude gestures at yourself on the huge video screen in the centre, usually reserved for rolling news or sports events! Rebooked and descended into the thankfully cool tunnels under the city to await the train to New Brighton - the tiny seaside resort which sits at the northern tip of the penninsula. Once through the cavernous James Street station, we were in the long tunnel section which passes under the Mersey and deep into Birkenhead. Most of the stations have a strangely time-warped feel - with lots of brown plastic moulding. Tried to fathom out the junctions at Hamilton Square without a map and got confused. Soon enough we were out in the sunshine again, and passing the Merseyrail depot at Birkenhead North where a fair number of the Class 507 and 508 units were stabled. Arrived at the tiny seaside terminus and sorted out onward tickets. Briefly lured out of the station by the inviting aroma of a small cafe near by. Struck by the sleepy air to the streets around the station. Having played with the timetable, realised I could do the trip slighly more quickly and get back to Lime Street in time to shop for a Father's Day present, so decided to head back out on the next service.
Next destination was West Kirby - which meant retracing my steps to Birkenhead North. Over the rather decayed footbridge in blazing sunshine and only a couple of minutes wait for the next service. West Kirby seemed from my brief visit like an interesting little town - a small station with a sizeable concourse surrounded by shops, and a town centre immediately outside with some interesting Victorian buildings. No time to explore however, as the plan was to complete the final missing link on the Merseyrail network this side of the river. It's many years since I travelled on the line from Chester to Port Sunlight in order to explore the fascinating village. I recall wondering at the long, straight railway stretching into the distance above the rooftops of the village. Today's visit was short - after plunging back into the tunnels at Hamilton Square, changed and headed south through Birkenhead Central. Spotted the telltale architecture of Port Sunlight village after leaving Bebington, and wished I had more time to explore. Instead, only time to mark off the track and book a ticket back to Liverpool before the 1309 service from Chester appeared from the haze. This service would take me back under the Mersey, and around the deep-level loop line to Liverpool Central. Noted the odd arrangement at James Street, where the inbound platform is in a 'tube' separate to the imposing older station I passed through on the outward journey. Made a note to find some sort of history of the railways around here.
After wrestling my way into a packed lift and upsetting some pushchair-wielding mothers, made for Lime Street through a heaving city centre. The station was still baking hot, so having done the necessary shopping retired onto the already waiting 1438 to Birmingham a good few minutes early - just to take advantage of the air-conditioning. A quick and smooth ride back on the semi-fast Central Citylink service, using one of the neat Class 350 Desiro units. A slight air of chaos at New Street however, with lots of platform swapping and delays. Noted the 1642 Bristol service getting later and disappearing from it's platform - and I'm sure a fair number of passengers intending to catch it went unwittingly to Cardiff Central! My own choice of service, the 1712 Plymouth was unsurprisingly delayed behind the Bristol - all down to 'congestion at Sheffield' we were told. Once finally underway, we made fairly good progress in making up our 20 minute delay until Gloucester. We waited for some time at Barnwood Junction before giving up and passing an apparently stranded empty engineer's train which was blocking the junction. Made a very unusual reversing move at Gloucester Yard Junction, meaning we kept to our booked stopping pattern but increased our delay. Slightly concerned on arrival at Temple Meads to see the 1915 HST leaving ahead of us, but relieved to see it looped for us to pass at Bedminster. A swift same-platform change at Weston and home, only a few minutes later than planned.
A fairly swift, whistle-stop kind of day, but interesting nonetheless. Must get back to Port Sunlight soon for a longer wander around the village.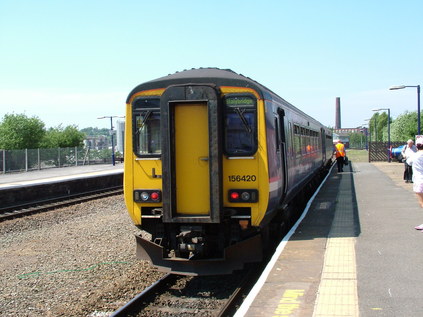 Posted in Railways on Saturday 10th June 2006 at 9:27pm
---
Had the foresight earlier in the week to try to plan something for this weekend. Managed to find cheapish tickets for a circular jaunt up to Stockport and via the Parliamentary to Doncaster. Having had a couple of pretty gruesome work days, set out to enjoy the amazing weather we've been having. The start of the journey went a little more to plan than last week's football-fan interrupted efforts. A quick change at Weston, then a pleasant and unhurried breakfast on a fairly quiet 1S42. All went well until a little south of Bromsgrove, when we were checked at a signal. It turned out that there were reports of trespassers, so we were cautioned past the signal, but except for a couple of dog walkers (who appeared to be safely inside the fence) we saw no-one. Another stop at the next peg to report back, and the damage was done however, as we rolled into New Street about 15 minutes down, just as the 09:20 Manchester train was leaving.
Over to platform 5 via the Customer Reception where I got my ticket endorsed for the 09:48 Pendolino. An on-time arrival meant plenty of time to settle in for the journey. A fairly busy train by all accounts, which filled with a hen party and an unconvincing gang of apprentice would-be football hooligans at Macclesfield. Not sorry to get off at Stockport after an agonising wait for a platform which left me with a three minute cross-platform connection into the 'Ghost Train' to Stalybridge.
The usual bunch of neds and cranks on board for the last Parliamentary of the old timetable. We made a slow start, and seemed to hang around forever at Guide Bridge waiting for another unit to pass, with constant enquiries as to whether we were the Manchester train, given that we were waiting on the wrong platform as usual! Finally into Stalybridge, and oddly signalled into the through platform rather than the bay. Driver and guard appeared as puzzled as the rest of us, but it shortened the walk to the Buffet for a welcome (and this time rather quiet) pint.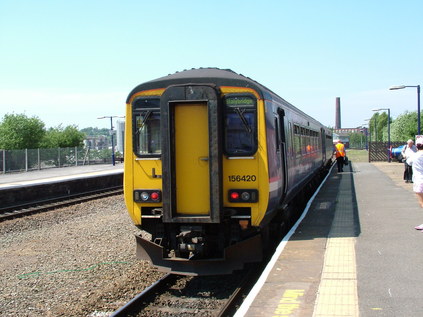 I'd hoped for a 185 through to Leeds, but having not found the Saturday diagrams yet I left it to chance, and got a slightly tired looking 158 through Standedge Tunnel, bursting out into bright Yorkshire sunshine for the descent into Huddersfield and Leeds. A nice run, if not quite the traction I'd hoped for. Leeds was busy as ever, but with the first England game of the World Cup about to start things were thinning out fast! Shopped a bit and took up a sunny spot at the end of platform 6 to watch the world go by and grab a few pictures. Realised I was standing beside the very loco which would get me back to Doncaster on the next leg of my journey.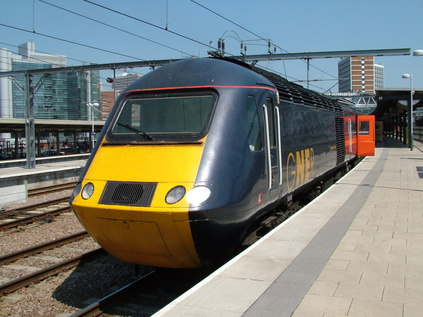 Just time for complimentary coffee before we arrived at Doncaster. Explored a bit to see what was happening - a few locomotives stabled here, but nothing major. Found my platform and settled in for the short wait, half wondering if I should try to get a picture of custom-built maintenance unit 950001. In the end, it was a little two far back from the platform.
Aboard the 14:55 Virgin service for the sleepy and rather too warm run into Bristol. Very quiet in my coach, possibly due to football fever! Some strange signalling choices saw us following not one, but two delayed stoppers en route to Cheltenham. By Bristol we were about 10 minutes down. Also sad that they didn't tuck the Voyager into the bay at platform 1 like last week, which would have been a novelty for me. Just by chance as I ambled past the screens, noticed that 1C50 was running late, and that I wouldn't have to wait for a later train if I made a dash for platform 15. Stumbled into the Coopers a little later for a relaxing pint. A fine day, with great weather and interesting travels.
Posted in Railways on Friday 9th June 2006 at 9:48pm
---
Out of work relatively early in blazing sunshine and a pleasant breeze. Wandered to the shops, popped home to get the camera, and made my way to the station in time for the early running 0Z37 convoy to the South Devon Railway.
I always intended that when the weather got better, and if I was around, I'd try to get some pictures at my local station - today was my first proper chance!