Posted in Railways on Saturday 12th June 2004 at 10:06pm
---
Its been an unlucky week in lots of ways, today sort of summed it up.

Since next week the Filton Abbey Wood diversions begin again making an early connection Cardiff tricky, I decided today I'd have another crack at the Fishguard Harbour haulage. I'd managed to determine that it was 37 hauled last week, and that no-one had posted anything to the contrary for today on the various gen lists. So, feeling relaxed I boarded the 0809 from Weston, absent-mindedly changing at Bristol for a Cardiff service. Figured I'd wake up with the racket of a 37 soon enough.

Stocked up with provisions once again at Cardiff Central and patiently waited for 1016 to tick around on Platform 7. Then, bad stuff began to happen. First, a platform change to 4, then a pretty grimy looking 158826 arrived at the Swansea end of Platform 4. Wandered over, and waited - still prepared to believe this wasn't what I dreaded. The guard stepped off the 158 and asked if I wanted the Fishguard. Confirmed, and he explained - no loco today because there was no shunter available to travel to Fishguard with them to run the locomotive around the stock. He bemoaned the shunters he'd seen offered early retirement or voluntary redundancy by Arriva and its predecessors before wandering off to break the bad news to more waiting cranks.

Now, a 158 in theory is preferable to the farce with a 150 a few weeks back. Sadly however, 158826 was filthy. The air-conditioning had failed, and the set was already warm from sitting in the sun outside Canton all morning. Despite the guard opening the few available hopper ventilators, we had a long, hot and drowsy ride to Fishguard. The threat of a huge storm rolling in from the Irish Sea didn't materialise, and the ride back was, if possible, even hotter as the train was a little more crowded. The rather bizarre timing on this service meant lots of standing at signals too. Not a fun journey.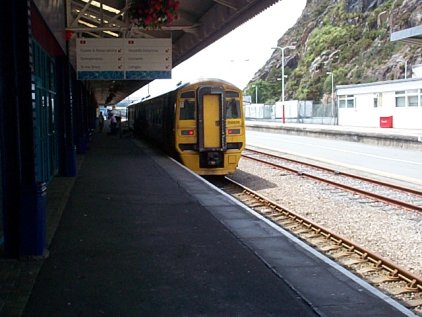 158826 languishes at Fishguard Harbour
Stepping onto a pair of Portsmouth-bound Wessex 158s at Cardiff I remembered what the 158s air-con should feel like - a comfortably icy blast as recalled from summer trips to Bristol back in the early 1990s! Wrote mental letters of complaint to Arriva as we passed back into England, and a jammed 153 back to Weston. The third 153 in the last two weeks with a lack of air pressure to open the doors... more Wessex units heading for failure? A frustrating day, serving only to give me the chance to correct my Welsh - it should have be
Portladd Abergwaun
all along.
Lost::MikeGTN
I've had a home on the web for more years than I care to remember, and a few kind souls persuade me it's worth persisting with keeping it updated. This current incarnation of the site is centred around the blog posts which began back in 1999 as 'the daylog' and continued through my travels and tribulations during the following years.
I don't get out and about nearly as much these days, but I do try to record significant events and trips for posterity. You may also have arrived here by following the trail to my former music blog Songs Heard On Fast Trains. That content is preserved here too.
Navigate Lost::MikeGTN Find articles by category
Search Lost::MikeGTN
Other Places...