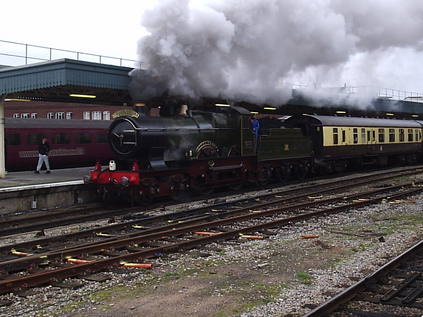 Posted in Railways on Saturday 27th November 2004 at 6:59pm
---
The first week for a while where I haven't had somewhere specific to be at the weekend. It had been an odd week too - as ever, a rollercoaster at the office - so I hadn't really managed to sit down and work out what to do today. As it happened, there seemed to be quite a bit happening out on the rails not a million miles from here.

So, out onto the 0829 Voyager to Bristol. I'd bought a ticket for Newport with the intention of popping over to see what was happening later in the day. First though, was the departure of City of Truro on a one-way trip to Plymouth with the bonus of BR Green 37261 following close behind in case of problems. Arrived at Temple Meads to find 37261 in the bay having shunted the stock in. Finally, after some confusion City of Truro steamed in from the North to join the stock, which was then shunted around to platform 3 by both locomotives.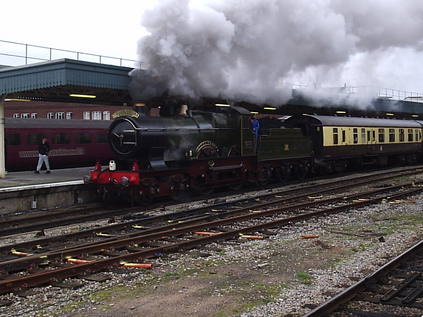 I'm still uncertain why passengers couldn't board the stock whilst it was in the bay. Soon after City of Truro's departure, the unmistakable sound of a Tractor from the other end of the trainshed heralded the coming of 37261, which passed at speed and stormed southwards with lots of noise and clag!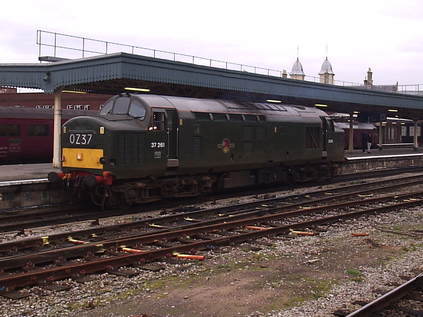 Next part of the plan was to head over to Newport, and hope to spot Wessex's newly formed three-car Class 158 en route - the first of eight such sets intended for the Cardiff-Portsmouth route. Easier said than done, as everything heading towards the tunnel was wedged solid. Finally settled for the 1120 Milford Haven service, which also filled to bursting point a minute before departure.
Not much of note at Newport, so after a quick look at Godfrey Road decided to head back on nicely refurbished 158749. Still no three-car 158, but noticed a convention of Freightliner 66's at Kingsland Road. Arrived back at Temple Meads in good time for the afternoon's main event - 73096 on the Cathedrals Express. Lots of familar faces out and about. Chatted to a few of them whilst waiting. 73096 suprised us by arriving slightly late on platform 7.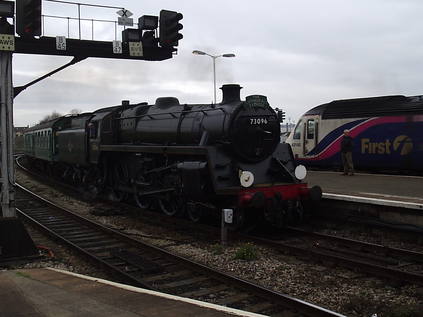 Lurked for a while longer, resisting the temptation to wander up to Barton Hill. With the sky darkening I decided to head back to Weston, feeling strangely sleepy. Refreshing to stay local after a few weeks of being busy elsewhere.

Posted in London on Saturday 20th November 2004 at 11:09pm
---
Another early start, and coincidentally another trip to London with 'Sulis Minerva' at the rear of the 0640. Engineering on the Circle means H&C to Barbican and time for breakfast before heading to the Museum of London for the 39th London & Middlesex Archaeological Society Local History Conference. This years theme being "1400 Years of St. Paul's Cathedral and the Diocese of London".

Excellent attendence, with me possibly one of the younger members of the audience! The speakers covered a range of viewpoints and disciplines. We started with the Bishop of London, Richard Chartres who gave an entertaining overview of the Missionary Work in Victorian Times - often amusing and very well informed.

Other personal highlights were an account of Anglicanism in 18th century London and the many new City Churches which were built, and Dr John Schofield's talk on Old St. Pauls, which remains an object of fascination to me. We were also extremely lucky to have Martin Stancliffe, Surveyor of the Fabric of St. Pauls to talk about the secrets which the current building continues to reveal.

Professor James Raven's talk on the book trade in the precinct of St. Pauls was doubly rewarding. Apart from describing the history of the now long-disappeared Paternoster Row he gave an enthralling account of the historical methods he had used to piece together the changing ownership and usage of the individual establishments involved in the book trade in the area. Had a pleasant if expensive lunch in the Museum cafe and then browsed the bookshop and stalls which many of the Local History Societies from surrounding areas had set up.

Out into the cold damp evening, and decided to head for the pub before travelling back to Paddington, and catching the 1845 home. All well until Reading, where the train moved off before the doors were closed or secured. Chaos ensued. First Great Western staff milling around everywhere, the Train Manager getting increasingly stressed and becoming dangerous flippant and rude to customers, and general confusion. Eventually, they decided to terminate the train. Problem is, whilst we had waited several trainloads of rugby fans had arrived from Twickenham and swelled our ranks.

Managed to get a seat on the next, very wedged Bristol-bound service. Pretty unpleasant atmosphere with lots of angry people in a confined space. Not a pleasant journey. Loaded into a taxi at Temple Meads, along with an acquaitance I only ever seem to meet on the train or at strange and difficult moments! Pleasant, if slightly alarming taxi ride back to Weston. An unusual end to an exhausting but informative day...

Posted in Updates on Thursday 18th November 2004 at 10:13pm
---
Back from a couple of days away at the Capita EMS National Conference. Set off late on Tuesday and spent the evening at Burford, which turned out to be a remarkable little Cotswold village which I'd love to visit again with more time and better weather. Nice food in a quiet and rather ancient pub.

Heythrop House is a fine early 18th century house, with a disappointingly ugly 20th century conference centre tacked on. The facilities were however pretty good. In general, felt happy to be able to attend - the brief chats with other LEA reps indicated that we were doing pretty well by all accounts. Comforting peek at future plans too.

Entertainment was also interesting - rather bland dinner, and an after dinner speaker who was closer to an old-school stand-up comedy act! Didn't hang around too long at the disco. Felt old and tired by now. Sloped off pre-midnight to my colleagues shame.

Day two was equally reassuring. Brief presentation from the DfES representative who has perhaps been most involved in Coordinated Admissions. Again, felt like we were on course, certainly in comparison to some others.

Very sleepy ride home in dark and damp weather. Time to prepare for this weekend, and another conference...

Posted in Railways on Monday 15th November 2004 at 10:24pm
---
Carnival night in Weston. After a long and trying, but ultimately pretty successful day at the office, headed directly to the station. Revenue protection preparations had already begun for the influx of passengers coming to view the parade. Having grown up in Burnham (which always had a slightly superior procession in those days) I've avoided the carnival in recent years. The way it divides Weston in two just makes life awkward. Not sorry then to be heading out of town tonight. Quick wander around Temple Meads, a rather lukewarm coffee, and over to Platform 4 amidst some familiar faces.

The plan was to run the remaining Wessex 31 set to Weston and back as a relief to cater for carnival crowds. I wasn't convinced there would be huge demand. How wrong I was. Started pretty heavily loaded due to delayed passengers resulting from an earlier bridge strike at Swindon. Nailsea, Yatton and Worle produced hundreds of passengers. On arriving at Weston, crowd control measures for exits, buffet and toilets in operation. Swift dash through the melee to change ends - passing my manager with her children struggling to escape the station on the way.

Back to Bristol behind 31601 in slightly less cosy conditions. Plan to have 31s on standby for later relief had been abandoned, and word was it would be an Adelante. Decided to head back on the 2006. A pleasant enough evening, and good to get haulage into my home station once again. Not the best run for the locos - short, with too many stops - but sadly, its a case of enjoying them while we still can.