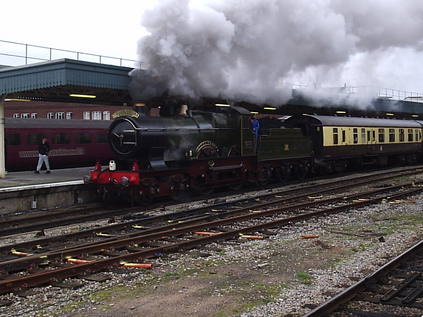 Posted in Railways on Saturday 27th November 2004 at 6:59pm
---
The first week for a while where I haven't had somewhere specific to be at the weekend. It had been an odd week too - as ever, a rollercoaster at the office - so I hadn't really managed to sit down and work out what to do today. As it happened, there seemed to be quite a bit happening out on the rails not a million miles from here.

So, out onto the 0829 Voyager to Bristol. I'd bought a ticket for Newport with the intention of popping over to see what was happening later in the day. First though, was the departure of City of Truro on a one-way trip to Plymouth with the bonus of BR Green 37261 following close behind in case of problems. Arrived at Temple Meads to find 37261 in the bay having shunted the stock in. Finally, after some confusion City of Truro steamed in from the North to join the stock, which was then shunted around to platform 3 by both locomotives.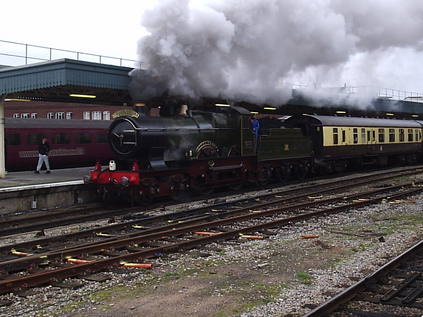 I'm still uncertain why passengers couldn't board the stock whilst it was in the bay. Soon after City of Truro's departure, the unmistakable sound of a Tractor from the other end of the trainshed heralded the coming of 37261, which passed at speed and stormed southwards with lots of noise and clag!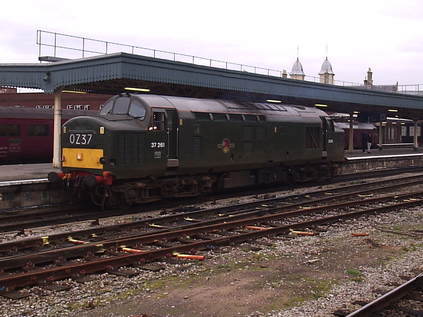 Next part of the plan was to head over to Newport, and hope to spot Wessex's newly formed three-car Class 158 en route - the first of eight such sets intended for the Cardiff-Portsmouth route. Easier said than done, as everything heading towards the tunnel was wedged solid. Finally settled for the 1120 Milford Haven service, which also filled to bursting point a minute before departure.
Not much of note at Newport, so after a quick look at Godfrey Road decided to head back on nicely refurbished 158749. Still no three-car 158, but noticed a convention of Freightliner 66's at Kingsland Road. Arrived back at Temple Meads in good time for the afternoon's main event - 73096 on the Cathedrals Express. Lots of familar faces out and about. Chatted to a few of them whilst waiting. 73096 suprised us by arriving slightly late on platform 7.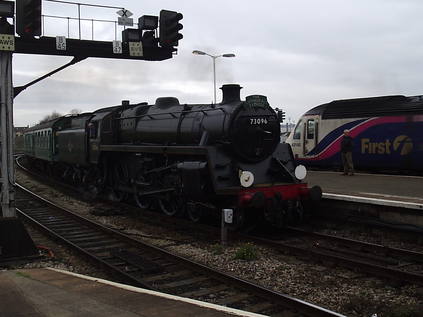 Lurked for a while longer, resisting the temptation to wander up to Barton Hill. With the sky darkening I decided to head back to Weston, feeling strangely sleepy. Refreshing to stay local after a few weeks of being busy elsewhere.
Lost::MikeGTN
I've had a home on the web for more years than I care to remember, and a few kind souls persuade me it's worth persisting with keeping it updated. This current incarnation of the site is centred around the blog posts which began back in 1999 as 'the daylog' and continued through my travels and tribulations during the following years.
I don't get out and about nearly as much these days, but I do try to record significant events and trips for posterity. You may also have arrived here by following the trail to my former music blog Songs Heard On Fast Trains. That content is preserved here too.
Navigate Lost::MikeGTN Find articles by category
Search Lost::MikeGTN
Other Places...