Posted in SHOFT on Thursday 27th October 2011 at 7:10am
---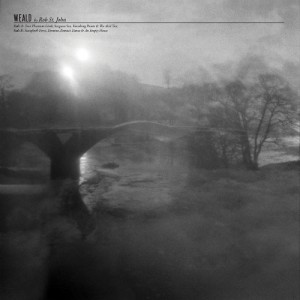 Receiving mail always used to be an event - records from distant parts, written off for but then forgotten, finally arriving. The thrill of unpacking an LP for the first time, examining the sleeve, anticipating hearing it. All these things have changed - reasonably fast broadband means that there's very little time for the suspense to build before music lands in your inbox, and even when there is a physical artefact to appreciate, it usually involves a trip to the sorting office to rescue it from being kicked around the floor by bored postmen who don't attempt delivery until they're certain you've gone out. But rather unexpectedly last week I got a little hint of how it used to be on the arrival of Rob St. John's album "Weald". Unpacking the record is a joy, a beautiful monochrome gatefold sleeve containing a reassuringly heavy chunk of vinyl. There are lyrics, things to read and look at while the record spins. This is how it should be....always. Thankfully, Matthew at Song, By Toad Records gets this. It's not going to make him or indeed St. John an overnight pop sensation perhaps, but in terms of a record release feeling like an event, they've both just about nailed it.
I suppose I should be talking about the music - but perhaps I've been a bit sidetracked by that sense of suspense and anticipation too? Taking a moment to examine the cover, it appears at first to show a pleasant enough image - a misty, chill morning scene in the fens perhaps? But there is a rather eerie loneliness about the image too - and something of this beautiful but stark landscape seems to haunt the album right from the start on recent single "Your Phantom Limb", which sets off with warm analogue hiss and crackle, the tune slowly winding into action. St. John's vocals are quiet, sorrow inflected, quintessentially English in tone and timbre. It's like a traditional ballad dragged forward five centuries, as a winding, clockwork whirr seems to propel this brief, melodic introduction. The chiming guitars of "Sargasso Sea" herald one of the faster paced compositions here, with a sweeping optimistic chorus which is perhaps a little uncharacteristic on the album. There is also a warm, deliciously fuzzy bassline sneaking around the track until the closing instrumental section where it drives things towards a sparkling tangle of noisy guitars. Subdued and mournful, "Vanishing Points" is a return to quieter territory. Delicate guitar melodies and a wash of atmospheric sounds supply a canvas for St. John's lyrical, if somewhat maudlin wordplay as he observes in keeping with the tone of the record that "we're monochrome/we are just vanishing points". It will be an unwelcome comparison for some perhaps, but "Stainforth Force" opens like an early 1970s Pink Floyd epic, with atmospheric drifts of guitar breezing past until understated drums and a drone of harmonium arrive to support Rob's dark and defeated - sometimes near narcoleptic vocal: "not perfect/but yours to keep". There is a pastoral tone here - a sense of wide, sweeping spaces. However, the underlying darkness occasionally reveals the threat of the wilderness too.
The album hinges on "Domino" - a glacially paced blues which has the sonorous presence of a funeral march. An unwilling melody is wrung from the guitar while St. John supplies distant, half-spoken vocals which occasionally leap in frustration or pangs of desperation. A constant harmonium drone provides an atmospheric backdrop, which finally slips into the foreground as the song builds into a keening violin scraping tumult towards the end. I find myself thinking back to the atmospheric recordings from New Zealand artists such as Peter Jeffries and Alastair Galbraith, but Rob's defiantly Lancastrian tones locate this dark beast of a song firmly in an English landscape. Who am I kidding - trying to describe this song is almost futile. It's just very, very beautiful indeed. Following the brief, melodically blues-flecked and delicate guitar instrumental of "Emma's Dance" is "An Empty House", a warmer harmonium-led piece with Rob sounding positively cheery in comparison to elsewhere on "Weald", and joined by some backing voices too. And while the lyrics might be just as introspective and hard-edged as other compositions there is a sense of completion here as the album ends with the same analogue hiss with which it began, the reel-to-reel tape stopping with a satisfying clunk.
It's fair to say that "Weald" is far from an easy listen - it demands attention, draws you into it's dark atmospherics and sometimes claustrophobic gloom, and refuses to befriend the listener casually. But the reward for your persistence is lyrical, dark and strangely uplifting music which somehow belongs to that moment where late night turns into early morning and you realise you're still awake. The shifting landscapes on which St. John builds his songs don't sit easily in any genre - so if you come equipped with blinkers looking for a folk record, a rock album or something akin to his work in other projects like eagleowl you'll probably leave feeling a little bewildered. However, taken entirely on it's own terms as it begs to be, "Weald" is a beautifully gloomy and wonderfully atmospheric record which is quite unlike anything else you're going to hear this year. If you'll take only one bit of advice from this pompous old blogger though, I'd urge you to go to Song, By Toad and buy the vinyl. Even if you just use the free download code to suck the MP3s into your iPod at the first opportunity, there is something very special about holding and examining this record as you listen. A vinyl fetish? Maybe. A proper old-fashioned record release? Definitely.
Rob St. John's "Weald" is available as a gatefold vinyl LP from Song, By Toad Records which is exactly how you should buy it. Reluctantly, I'll also mention that you can find the album on Amazon MP3.

Rob St. John - Your Phantom Limb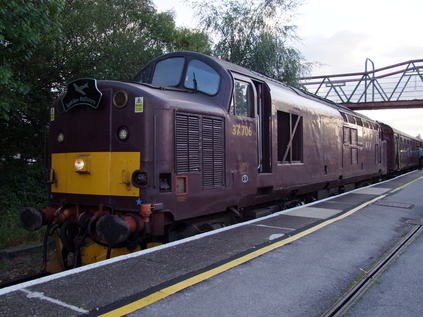 Posted in Railways on Saturday 22nd October 2011 at 11:57pm
---
Watford is a very odd place...arriving yesterday to the most chaotic hotel check-in I've ever experienced, I realised that this 'central' hotel is in a centre which has moved. The almost rural setting, in a site hemmed in by two arms of railway, a distributor road and the course of the diverted River Colne is mere metres from the High Street, but could be a world away. Having spent a somewhat uneasy night anticipating a complicated early journey, I shuffled down to the station - the first customer through the ticket gates in fact. This accommodation was a late choice, and was based on a Euston start and finish. In the event I had to get to Paddington - and for an earlier start that planned by an hour or so. Given my pathological escalator fear and the inevitable Circle Line engineering this mean getting the first Overground train into Euston, a bit of a slog made easier by good music and people watching, then heading over to catch a 205. In the event, we arrived on time and I dashed across the concourse and out onto Euston Road making a +3 connection which got me to Paddington nice and early, and in time for a relaxing breakfast and lots of coffee to prepare for the long day ahead. Chatted with some friends, and then noted when boarding that I was seated with some others I'd not seen for a while. It was going to be a pleasant day.
The route ran much as planned out of Paddington, with the sun rising to reveal a bright wintry morning as we sped west. Having spotted some signalling problems at Basingstoke online earlier, I wondered what the effect would be - and in an extended stop at Reading it was mooted that progressing via Westbury might be the answer, but in the event we went via the booked route, using an unusual crossover to pass a freight just outside Basingstoke station. Here things sped up a little and we headed towards Eastleigh where food supplies were taken on board, before continuing via various loops and goods lines to Southamtpon and beyond. Having passed through a sunny and rather busy Poole, we began to curve away from the line through the disused platform at Hamworthy Station, taking the sharply curved track towards the Quay. Despite a number of crossings we pressed on as far as the line was physically available, with our coach drawing level with the former station platform. A quick reversal took us back onto the mainline, with some frustratingly slow running behind stopping trains which compounded the slight delay we were carrying. However, we made up a little time as we sped back to Winchester to reverse in the Baltic Siding which is used exclusively for ECS moves and may never have seen a passenger train before it seems. On arrival at Eastleigh we headed over the connection into the works, travelling right to the end of the line inside the complex, alongside rakes of stored Class 313s. I think everyone onboard was impressed with this result - and it was odd to be in here on a train, after wandering around the site at the open day a couple of years back.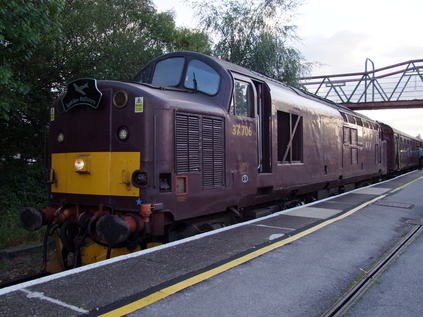 We reversed again into Eastleigh station, before heading out in the Portsmouth direction. A little after the long and rather forlorn brick building of the works, we curved sharply right onto the Depot Reception line which makes a huge loop around the back of the works, through a carriage washer and into a fan of sidings which once held EWS's stored locomotive assets before they were sold, scrapped or shipped off to Toton. Today there was just one largely derelict Class 58, lots of Riviera stock and a couple of their Class 47s around. We pushed on through the sidings, finally exiting in the narrow angle of lines between the mainline to Southampton and the Works entrance. Back into the station with much rejoicing at some excellent track completed - and the first time in many years a train had passed through the works and the depot here. Next we headed for Portsmouth Harbour - disappointingly being denied access to Fratton depot's through lines by a Local Manager despite permissions being in place. A minor loss really, but it did enable us to arrive a little earlier than expected, and thus depart from the Harbour on time, clawing back our delay. For those heading directly back to London this was a bonus, though for any of us staying on for the second part of the trip, this meant that we'd have to sit in Staines Loop for a much longer wait. Swings and roundabouts I suppose. The run into London via Aldershot was slow and dark, and I amused myself by watching the world through people's windows as we scudded through the suburbs - always an interesting trip.
Said some hurried goodbyes to companions at Waterloo, before we headed off again taking a slightly different route to Staines, where we sat in the Up Loop for a while. Whiled away the time chatting to one of the organisers about railtour politics, future trips and matters of interest, before we began our slow traversal of West London in order to gain the slow lines on the WCML which was operating as a two-track railway by now due to engineering possessions overnight. As we passed my hotel in Watford, glowing warmly purple in the now chilly night, I felt the lurch over to the right which meant we were taking the very rare connection to the St.Albans Abbey platform at Watford Junction. Indeed, the unit which is usually locked onto the branch sat in the yard as we crept past and headed onto this elusive bit of track. A brief step onto the dark, cold platform at the end of the line to savour the triumph of finally getting here, before boarding again for the short hop back to Watford Junction where a slightly early arrival meant I comfortably made the last train back to the High Street and didn't have to make the trek on a painfully wonky ankle which I'd developed.
In comparison to the similar Buffer Puffer trip a couple of weeks back, this trip delivered almost all of what it planned to. Some elements fell out early on - not least the now near impossible East Putney curve - but there was lots of interesting track, a friendly atmosphere on board and a real sense of the organisers wanting things to work out - and doing their homework to ensure it did. Strangely, in a time when everyone predicted the rare track tour would die off in favour of top notch lunch trains and excursions, there is a fair bit of competition to get to new places, onto private lines and further along odd branches. Long may this continue, providing people really do try to deliver what they advertise. Spitfire definitely did today.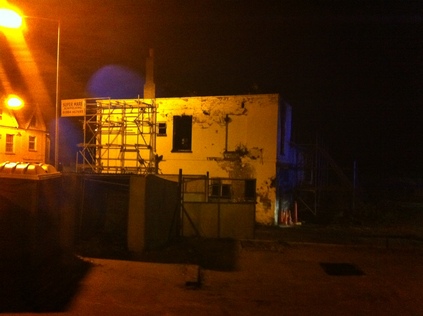 Posted in Highbridge on Thursday 20th October 2011 at 4:25pm
---
Once again on Monday, a pair of apparently disaffected local youths set fire to the remains of the Highbridge Hotel - this time in broad daylight on a busy weekday evening. It was again a pretty serious fire, which given the sodden timbers of the interior must have been generously accelerated to reach the intensity which it appears to have. A huge amount of damage was done to the remains of the interior and the roof. At present, it's not known if any further structural damage has occurred.
It would be so easy, with the fire coming just two days before a public meeting to discuss the site, to invent conspiracies. It might not even be inaccurate to do so, but if yesterday's meeting needed to do anything, it needed to break the three-way impasse between community, developer and Local Authority if it was to move things forward in any sense. The meeting was, in fairness, rather a shambles. A proposed 'drop in' session of three hours, organised during the working day and thus fairly inaccessible, became a formal meeting of just two hours. So I ended up blundering into the room around an hour before the published end of the meeting to hear the chairman say "well, lets start wrapping this up then...". To be frank, I'd been in two minds about attending after the "behave or else" warnings on the town's internet forum from the chair. I didn't think people would be able to articulate what they felt without anger - and I also thought it was important that Council Officers heard it. The developer, less so - he'd already had his serving and seems impassive in the face of it. But after all, the bit of the meeting I caught was temperate and fairly interesting. I also arrived in time to find the thoughts I'd provided for one of our Town Councillors being read to the meeting by someone who did so much more articulately than I would have. I'll reproduce it here, because it continues to sum up what I feel, and I think it struck a chord - however minor - with the SDC officers: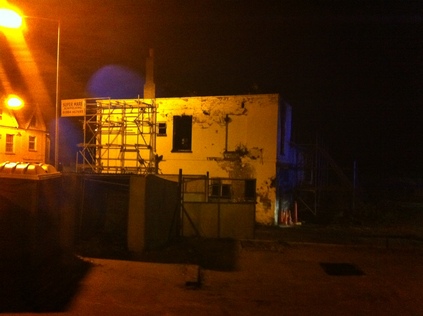 The debate about whether to clear the site or rebuild the hotel is fundamentally not the right one to have. The public should press their council and the developer to come up with a range of proposals for the site, with or without the hotel. We shouldn't be asked to make an impossible choice based on blind faith that "something" will be done with the site in the future – that way we could lose a huge asset to the town without any guarantee of a scheme which will benefit us. If SDC are serious about building positive momentum, real costed proposals for the site with assessments of impact on the area are a start to rebuilding Highbridge's relationship with the council.

We need a solution for the site which links to the economic regeneration of the centre of town. Housing of the right form, quantity and quality quite rightly plays a part in this. But only if the proposal for the site can sustain employment at least for those moving into the homes, and ideally to others already seeking work in Highbridge, is it right to progress it. An unsustainable development which adds to the burden on stretched infrastructure without contributing economically to the town is simply not an option for Highbridge now.

With respect, a community facility is just not needed. We have many such facilities already, and the idea that a building or centre could repair the damage wrought from years of poor planning decisions is frankly insulting. Given that the lead time and partnerships for building schools, health facilities etc. is simply not available I can only think this means a meeting hall. We need to move beyond 1970s views of community development work and start to engage with the evidence about what the community needs – in the Joint Strategic Needs Assessment and elsewhere. The damaged hotel site has galvanised more community spirit than any specific action SDC has taken in years – there is a strong message in that about the value the town places on the site, and the approaches SDC are using to the community.
So, will this lead to change for the site, and more importantly a new attitude to Highbridge? Will a revival of the regeneration partnership manage to side-step the usual political footballers and move the site towards a development which has what Highbridge almost universally told Sedgemoor District Council it wanted (retail, jobs, economic viability) rather than what it expressly doesn't (flats, takeaways, more community halls). What kind of people will volunteer for the partnership? It needs to be a mixture of the usual stalwart local volunteers, and people who can slalom through the obstacles of governance and planning without losing heart or feeling overwhelmed. No mean feat, and potentially a thankless and incredibly time-consuming task.
This of course leaves one final question - what of the building itself? Sadly, I sense the tide is turning and the developer is winning the apparently recession-imposed war of attrition. Plenty of people think he's almost redeemed himself because he's letting the local kids (some of whom he confesses he'd lock up!) paint the new wooden hoardings. Thus, the will to knock it down if it will be expedient is strong. Still though, the building hovers as a pale grey, sinister presence on the maps of the proposed 2008 development which were paraded again tonight - almost defying it's own deletion. Quite whether it will survive the efforts of casual local hooligans, let alone the professional ones is up for debate.

Posted in SHOFT on Tuesday 18th October 2011 at 8:10am
---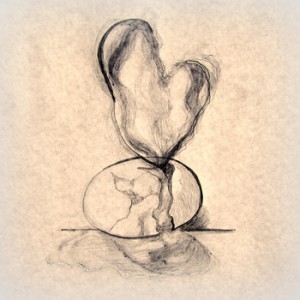 I realise I'm way behind the rest of the blogging world where this record is concerned. The general musical miserableness of returning from a packed week of shows in Glasgow to a rather empty gig calendar, along with a flurry of criticism for the blog has seemed to put me off my stride a bit. I'm allegedly a grown-up who can handle constructive criticism, but I struggle with the idea that a blog - essentially an individual and personal response to music - can be described as "too positive". I have limited time, with real life hovering menacingly over me while I tap out this stuff - but yes, perhaps I could use that time to spit bile and negativity - goodness knows there are plenty of targets out there! However, I'm sticking to my guns and I still plan only to write about things which I love and which excite me enough to put fingers to keyboard in the wish to tell people how great they are. I still maintain this blog is the modern equivalent of how a good few years back I'd be dashing over to a friend's house with a hastily dubbed cassette, exclaiming breathlessly "you've got to hear this...". So you won't find me panning major label releases or doing demolition jobs on individuals in the industry - there's a whole mainstream music press out there just waiting for your attention if that's what you want. But I suppose I've paused a little because I wanted to attach this rant to a review of something which demonstrated what I meant better than my clumsy explanations ever could. Something which summed up those life-affirming qualities, and which demonstrated just how some music is so unconditionally engaging and fantastic that I want to write about it - and just at the right time Beerjacket has supplied exactly such a release with "The White Feather Trail".
Beerjacket is Peter Kelly - in interviews a quiet, wry and almost reluctant character - but by far one of the most dedicated musicians in the business with a remarkable catalogue of support slots for some fairly major acts. Over the course of a growing back catalogue of self-recorded and released albums, he has carved out a style and a reputation which makes the fact that "The White Feather Trail" is in fact Beerjacket's first 'studio' recording as such all the more surprising. The literate, lyrical style which Kelly has developed is perfectly demonstrated on the opening "Blood Roses" which appropriates biomedical imagery to describe an intense analysis of a relationship. Dissection and experimental cures provide an oddly jarring clinical edge to the otherwise tender, heartfelt delivery. In a Glasgow PodcArt interview Kelly was unwilling to expose the circumstances or background to this song in particular, but it's clear just how personal this work is as Kelly's voice dips and weaves around the gently picked acoustic melody with incredible dexterity. The benefits of a more structured recording environment begin to show on "Cave" which adds a banjo and vocal harmonies to a folky stomp of a song with a soaring and naggingly memorable chorus. Louise Connell otherwise known as Reverieme guests on a number of tracks - but in particular duets on fairly equal billing on "Eggshells". Her voice fits neatly into the spaces left by Kelly's sparse instrumentation as he adds archaeology to his scientifically exacting pallette of lyrics with observations like "you are the standing stone gathering moss". This addition of a female vocal counterpoint does a little to soften the sometimes uncomfortably personal intensity of the lyrics, and rather than hitting you head-on with the keenly observed emotive bombshells, phrases and snippets are left to sneak up and catch you blissfully unprepared.
Personal highlight "Island" kicks in with sinister, dark guitar textures and quiet backing vocals from Connell while Peter Kelly's voice soars over the understated musical backing. It's perhaps unsurprising that he is unwilling to give too much insight into the origin of songs, with stark and honest proclamations like "I've always been afraid of truth above all". This perhaps sums up the mood of the record - a preoccupation with honesty, both in terms of external relationships and in self-examination. It could all get very, very maudlin - but given Kelly's ability to neatly and exactingly deploy metaphor, this never quite happens and the listener is drawn, almost unwittingly, deeper into the songs. A lighter mood is created by the increased pace and bursts of melody on "Jack Chasing Jill", but the lyric is no less obliquely self-critical. This song does however amply illustrate Kelly's talent for mastering a range of styles - delivering an incredibly catchy, pop-influenced sensibility within the confines of just an acoustic guitar and voice as Louise Connell assists in closing the song with sweet, impossibly alluring harmonies. The almost traditional accompaniment and lilting delivery of "Crooked Finger" is deceptive, hiding a bitter and desperate tale, with Kelly delivering lines such as "you should take a hammer to both knees just to be sure" with a surprising relish. We'll probably never get to know quite who or what this is all about, but the painfully dark, withering sentiment is something with which we can surely all identify - even if we wouldn't perhaps be brave enough to deliver quite as starkly as this? Closing with the shuffling, upbeat road-song of "The Monsters", Kelly returns to his default position of resignation "we'll run from all the right answers/and we'll blow all of our chances". Again it's a little grim and an uncomfortable truth to face, but Kelly and Connell's vocals make it easier to bear.
And perhaps that is the key to Beerjacket? These are simple, honest stories which have a ring of truth for all of us, presented with a heart-on-sleeve openness which makes avoiding emotional engagement impossible. There is no doubt that this is lyrically a dark, compelling and bittersweet clutch of songs, tempered by remarkable musicianship and beautifully simple arrangements. I set out here trying to explain what makes me want to write about music, and this represents exactly the reason - intelligent, crafted records like "The White Feather Trail" simply deserve to be heard as widely as possible, and this is my enthusiastic, personal exhortation to go out and track it down. You could waste time sneering at the lack of honesty and authenticity in the music industry, or you could listen to Beerjacket and find something faith-reaffirming. It's your choice - but I know which course I'm going to follow...
"The White Feather Trail" is available via Beerjacket's Bandcamp as either a physical CD or a digital download. Peter's impressive back catalogue can also be found at the same site.

Beerjacket - Island