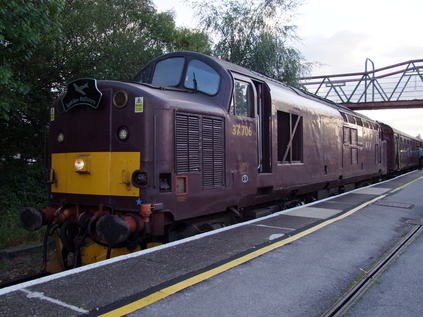 Posted in Railways on Saturday 22nd October 2011 at 11:57pm
---
Watford is a very odd place...arriving yesterday to the most chaotic hotel check-in I've ever experienced, I realised that this 'central' hotel is in a centre which has moved. The almost rural setting, in a site hemmed in by two arms of railway, a distributor road and the course of the diverted River Colne is mere metres from the High Street, but could be a world away. Having spent a somewhat uneasy night anticipating a complicated early journey, I shuffled down to the station - the first customer through the ticket gates in fact. This accommodation was a late choice, and was based on a Euston start and finish. In the event I had to get to Paddington - and for an earlier start that planned by an hour or so. Given my pathological escalator fear and the inevitable Circle Line engineering this mean getting the first Overground train into Euston, a bit of a slog made easier by good music and people watching, then heading over to catch a 205. In the event, we arrived on time and I dashed across the concourse and out onto Euston Road making a +3 connection which got me to Paddington nice and early, and in time for a relaxing breakfast and lots of coffee to prepare for the long day ahead. Chatted with some friends, and then noted when boarding that I was seated with some others I'd not seen for a while. It was going to be a pleasant day.
The route ran much as planned out of Paddington, with the sun rising to reveal a bright wintry morning as we sped west. Having spotted some signalling problems at Basingstoke online earlier, I wondered what the effect would be - and in an extended stop at Reading it was mooted that progressing via Westbury might be the answer, but in the event we went via the booked route, using an unusual crossover to pass a freight just outside Basingstoke station. Here things sped up a little and we headed towards Eastleigh where food supplies were taken on board, before continuing via various loops and goods lines to Southamtpon and beyond. Having passed through a sunny and rather busy Poole, we began to curve away from the line through the disused platform at Hamworthy Station, taking the sharply curved track towards the Quay. Despite a number of crossings we pressed on as far as the line was physically available, with our coach drawing level with the former station platform. A quick reversal took us back onto the mainline, with some frustratingly slow running behind stopping trains which compounded the slight delay we were carrying. However, we made up a little time as we sped back to Winchester to reverse in the Baltic Siding which is used exclusively for ECS moves and may never have seen a passenger train before it seems. On arrival at Eastleigh we headed over the connection into the works, travelling right to the end of the line inside the complex, alongside rakes of stored Class 313s. I think everyone onboard was impressed with this result - and it was odd to be in here on a train, after wandering around the site at the open day a couple of years back.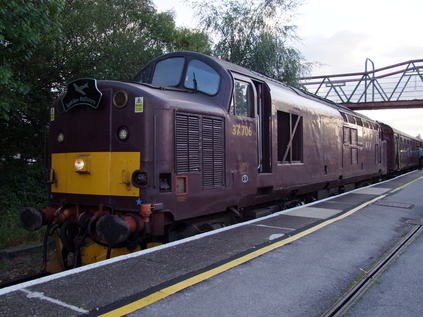 We reversed again into Eastleigh station, before heading out in the Portsmouth direction. A little after the long and rather forlorn brick building of the works, we curved sharply right onto the Depot Reception line which makes a huge loop around the back of the works, through a carriage washer and into a fan of sidings which once held EWS's stored locomotive assets before they were sold, scrapped or shipped off to Toton. Today there was just one largely derelict Class 58, lots of Riviera stock and a couple of their Class 47s around. We pushed on through the sidings, finally exiting in the narrow angle of lines between the mainline to Southampton and the Works entrance. Back into the station with much rejoicing at some excellent track completed - and the first time in many years a train had passed through the works and the depot here. Next we headed for Portsmouth Harbour - disappointingly being denied access to Fratton depot's through lines by a Local Manager despite permissions being in place. A minor loss really, but it did enable us to arrive a little earlier than expected, and thus depart from the Harbour on time, clawing back our delay. For those heading directly back to London this was a bonus, though for any of us staying on for the second part of the trip, this meant that we'd have to sit in Staines Loop for a much longer wait. Swings and roundabouts I suppose. The run into London via Aldershot was slow and dark, and I amused myself by watching the world through people's windows as we scudded through the suburbs - always an interesting trip.
Said some hurried goodbyes to companions at Waterloo, before we headed off again taking a slightly different route to Staines, where we sat in the Up Loop for a while. Whiled away the time chatting to one of the organisers about railtour politics, future trips and matters of interest, before we began our slow traversal of West London in order to gain the slow lines on the WCML which was operating as a two-track railway by now due to engineering possessions overnight. As we passed my hotel in Watford, glowing warmly purple in the now chilly night, I felt the lurch over to the right which meant we were taking the very rare connection to the St.Albans Abbey platform at Watford Junction. Indeed, the unit which is usually locked onto the branch sat in the yard as we crept past and headed onto this elusive bit of track. A brief step onto the dark, cold platform at the end of the line to savour the triumph of finally getting here, before boarding again for the short hop back to Watford Junction where a slightly early arrival meant I comfortably made the last train back to the High Street and didn't have to make the trek on a painfully wonky ankle which I'd developed.
In comparison to the similar Buffer Puffer trip a couple of weeks back, this trip delivered almost all of what it planned to. Some elements fell out early on - not least the now near impossible East Putney curve - but there was lots of interesting track, a friendly atmosphere on board and a real sense of the organisers wanting things to work out - and doing their homework to ensure it did. Strangely, in a time when everyone predicted the rare track tour would die off in favour of top notch lunch trains and excursions, there is a fair bit of competition to get to new places, onto private lines and further along odd branches. Long may this continue, providing people really do try to deliver what they advertise. Spitfire definitely did today.