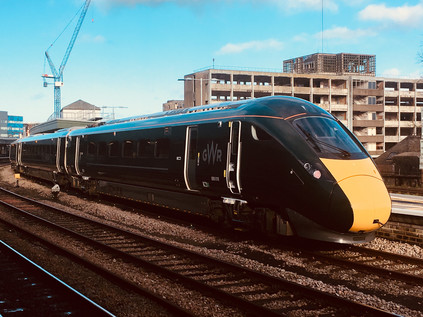 Posted in Railways on Friday 29th December 2017 at 6:12pm
---
It's a long time since I've set off aimlessly on a train, just for the hell of it. These odd days between Christmas and New Year have, traditionally, been an ideal time for this however - peak fares relaxed, trains quiet, and little else to do has meant I've often disappeared around the network on some sort of largely unplanned excursion. On a few occasions I've picked up one of the more local Rover tickets and spent a few days zipping around the local lines which I'd generally neglected in favour of more exotic trips during the year. In short, until I curtailed my rail-borne activities a few years back, this had been a time to escape from the sense of ennui and restriction which the festive season often brought with it.
Times change, and life here certainly has - but this year I found myself with three days off between Christmas and our new year trip. The house was empty save for me and two very sleepy cats, and so somewhere during the first day or so I realised I'd very swiftly finished the run of little jobs I'd assigned for myself and was twiddling my thumbs. Too restless to read, I began to think about a trip - and one immediately suggested itself. I'd wander up to Bristol to have a look at the stock move bringing a short rake of former Virgin 'pretendolino' carriages north to Crewe in preparation for a contractual-obligation run on New Year's Eve, then I'd try to get a first ride on one of the new Class 800 trains operating on the Great Western Main Line. If I could squeeze in a trip on one of the not-even-nearly-new Class 166s which have now been handed down to be used in the West, that would mean I hadn't completed the year without experiencing the changes on the network in my local area at least... I was slipping - my wife had already had one of her commutes on a Class 800 - but maybe I could catch up?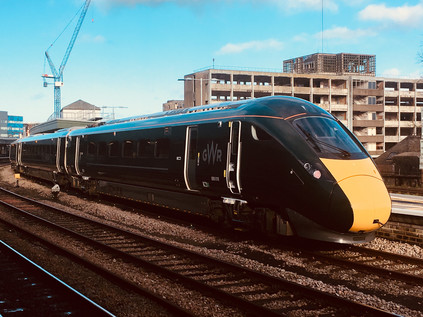 I didn't decide I was definitely heading out until this morning, and I did so in such haste that I set off earlier than needed. My journey to Bristol was on tidy and freshly green-vinyled 150244, which was also rather well refurbished inside with wifi, sockets and USB points throughout. It was a bright, cold morning - a good time to be out and about - and so I settled in for a long, chilly wait at Temple Meads with coffee. It was, in some ways just like the old days. My over-eager start meant quite a considerable fester on the platform, and I began to feel conspicuous as I wandered around to keep warm and see what was happening. There was a time I'd have been confident enough that I was well-known to not care too much, or would at least have felt like I was acting less furtively. I also realised that I'd not brought a proper camera, so the passage of the convoy from Laira to Crewe wouldn't get recorded. As it happened, low winter sun from the south west filled the cutting just before the moment of arrival, and any picture would have been a challenge. A few moments early, 57303 led 37059 rather ponderously through the station with four gleaming silver coaches in tow. I understand that these coaches have yet to be converted electrically for use with the Class 68 locos which will haul them - so anyone who does brave the short 'unadvertised' working between Manchester Airport and Manchester Piccadilly on New Years Eve will be very cold indeed!
During my wait, a pair of Class 800s had silently crept into Platform 13 and waited to form the 13:30 departure. The various published diagrams for these new trains have gone to pot due to the holidays, slow progress in driver training and initial teething troubles - so I hoped this cycle would repeat on the 14:30, which I planned to catch as far as Swindon. I was curious to try the Class 800 for a number of reasons - not least because the Great Western Main Line is one of the few routes I use regularly, and my comfortable and relaxing trips to London have become an essential part of keeping me on the straight and narrow in recent years. I wanted to know how the trip would feel in future, and how to navigate the new trains. I also wanted to acknowledge the beginning of an important transition - the High Speed Train has been such a feature of my travels over the last few decades that I almost can't believe we'll see the end of it here sooner than elsewhere. The Class 800s have earned derision for the Department for Transport, for GWR and for Hitachi due to teething troubles - but how often has any new stock arrived which hasn't struggled at first? I wanted to make my own mind up - from the point of view of a traveller as well as an enthusiast - which is sometimes a challenging shift to achieve.
But, it wasn't to be... I was relieved to get off the wedged HST I took out to Swindon, stepping over students lurking in the vestibule rather than taking seats which meant sitting next to other punters. Perhaps they did this in some sort of tribute to Jeremy Corbyn's own vestibular antics? Swindon station hadn't changed - a long windy platform with a tired and sleepy buffet on the platform and a deserted WH Smiths concession. I crossed to the newer Platform 4 and lurked in the warm of the long waiting room, popping out for each westbound train as it was due. Each one was a HST - with the parade of Class 800s which had passed towards Bristol regularly passing the other platform. I had one more opportunity before I needed to be back at Bristol - and yet again, it was a HST. I settled into the warm seat, put on my headphones and relaxed into the journey - it was good to be out and about as the sun sank behind the rolling Wiltshire scenery. It had been a good day - a reminder that even when I'd meticulously planned things in the past, they'd sometimes not worked out. I reminded myself that it was all a little like fishing - and sometimes you didn't get a bite...
Back at Bristol, I headed for the Taunton-bound train my wife was catching home from work, shuffling along with the trickle of unfortunate commuters working in these strange days between the holidays. I thought of the trip we were taking in a few days and of the excursions to London I'd already planned - the adventures have changed a little, and now they're ours rather than just mine. When the time comes, I'll be interested to try out the new trains - but I know I'll miss the smell of hot brake pads and the slamming doors of the HSTs...
...and the train home wasn't a Class 166 either!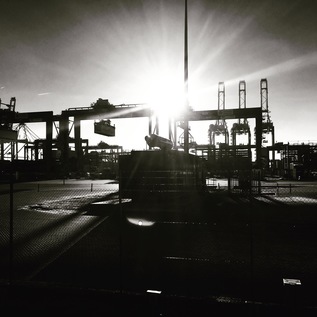 Posted in Railways on Thursday 29th December 2016 at 10:12pm
---
There was just a little hint of the old days - rising early and heading out in the dark to get to the beginning of a railtour used to be a fairly commonplace happening. But today it felt like something of a rarity - and I surprised myself by being pretty excited about the trip despite the early hour. After a quick walk from Hoxton to Liverpool Street station I boarded a No. 11 bus which soon set out across the dark, quiet City of London. As we snaked between the Bank of England and St. Paul's Cathedral, only the very earliest denizens of the streets were out and about. These days between Christmas and New Year, while technically working days, were clearly not going to see a lot of business transacted and the financial district had more cleaners and dustmen than money-launderers in evidence today. The bus swung south from the Strand onto Whitehall, passing Downing Street and heading for Parliament. I was almost sorry when the impromptu tour of the awakening city ended amidst the building site fronting Victoria Station. I was less sorry to have the chance to get coffee though - and despite a bizarrely misunderstood part of the transaction when I incidentally asked if their was a Post Box nearby, I was happy to be served a large steaming cup of coffee and to sit watching the vast station beginning to bustle with incoming commuters. Among them though, a different crowd was evident: eagerly flitting along the gateline, heads arcing over the crowds for unit numbers, backpacks bursting with nutritionally questionable snacks for the day ahead. The Neds were arriving! Forced to concede that I could pass as normal no longer, I joined the procession to Platform 2 where our train waited. These, after all, were my people.
We were soon underway, emerging into a day which had dawned surprisingly bright but still frosty. The route took us around the familiar loop of the North London Line to Stratford where colleagues joined for a sociable day on the rails. From there we headed out into Essex, using the connection to the London Tilbury and Southend railway at Forest Gate to cross into very familiar territory to me. As we scudded over the flat marshes around Rainham and out into the borderlands of Purfleet I spotted locations from my perambulations alongside the tracks - small, insignificant details to the wholly railway-focused bunch on board, but immensely satisfying to me to see how my wanderings had joined up this territory. From the train I glanced down at the broad green walkway beside the Mayes Brook from my most recent ramble, and wondered if the old gent and his dog were out this fine, frosty morning watching our unusual train speeding east? Peeling away from the mainline west of Stanford-le-Hope our first call was at London Gateway - the vast, and still growing, new container port at Thames Haven. My last visit here was to a largely derelict fuel refinery, sitting close to the estuary waters. While some of this landscape remains extant, the edge of the river is now a vast plain of concrete stacked with containers and presided over by computer-controlled cranes. Our train drew along the arrival line, as far as we could practically travel - while beside us the cranes continued their work. Few other humans could be seen aside from the crew of our train walking back to reverse out of the complex. It was a strange mixture of impressive and oddly creepy here.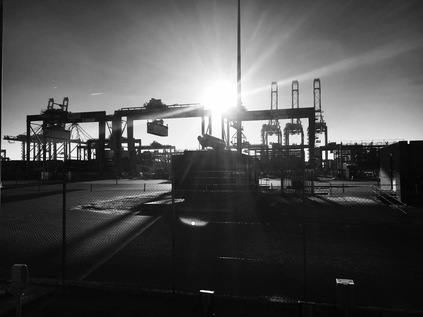 Reversing, we headed back to Grays where again I could see locations from my still-to-be-completed A13 walk. Another reversal took us back towards Tilbury Town, then onto the curve towards the former Riverside station. It seemed odd that this somewhat anachronistic location closed to passengers as recently as 1992 - now serving as the terminal for cruise ships, but still providing the boarding point for the ancient Gravesend ferry. This was where the former British Empire washed against the island's shores - bringing subjects looking for a new life to London and beyond. A point of arrival, but of departure too with the shade of Joseph Conrad and Dracula haunting these reaches of the river. Now it was a forlorn spot - the building separated from the tracks, and the rails serving only a small container depot. The Thames lay out of sight, beyond the clock tower bathed in strong winter sunshine - but it could be sensed and smelled too. A further reversal took us back to Tilbury Town, passing alongside it's beleaguered and tired High Street, and then retracing our steps through South Essex. I realised as we passed through the flat marshland, running parallel with the A13 on its low viaduct, that this area had become a place I felt strangely attached to over the past years. I felt oddly comfortable out here in a place which, on my earliest passings by train, had felt strange and bleak.
Retracing our loop around London, we passed under the line we'd used to depart from Victoria and into the complex network of lines serving North Kent. A recent inspection of the allegedly temporary bridge which had been swiftly installed by the British Army following the disastrous Lewisham Rail Crash in 1957 had left it impassable by locomotive hauled trains, and while it looked like urgent work over Christmas may have remedied this it was too late for this trip which had been replanned to work out to Swanley and effect a complex reversal between two closely-spaced signals. This was managed professionally and we were soon heading east again to Hoo Junction via the rather uncommon Lee Spur. The afternoon shadows were growing long, and the desolate Hoo peninsula was bathed in a golden light as we took the now freight-only line towards the Isle of Grain. The landscape was flat and marshy, riven with creeks and inlets. The tiny settlements on the island were out of sight entirely, only the cranes of the now quiet Thamesport on the horizon. We halted for a road crossing before passing the site of the former branch to Allhallows and creeping forward towards Grain Old Station where we halted for the Fire Brigade to top up our water tanks as the sun finally began to set. Looking south, the tall bridge connecting the Isle of Sheppey with the mainland could be seen catching the last golden flecks of daylight as we prepared to reverse and head back to London.
It's been good to get back out on the rails this year - but this trip was rather special with it's traversal of territory so close to my area of interest and so connected to my reading, writing and thinking in recent times. With good company, a well-planned itinerary and trip which actually pulled off all it set out to cover, it turned out to be fantastic day. I even managed to avoid waxing too lyrically about the estuary and the territory we covered I think, but perhaps my tour colleagues should be the judges of that!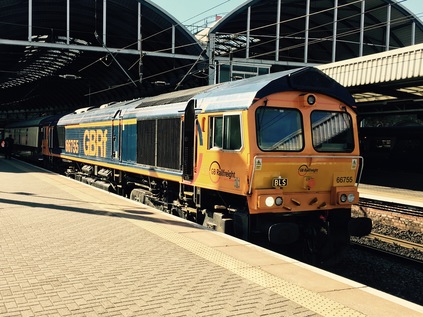 Posted in Railways on Monday 29th August 2016 at 10:08pm
---
This year has been full of surprising twists and turns, not all of them for the better. But one perhaps unexpectedly good thing among an oddly bittersweet period is my cautious return to the railways after an economically enforced absence of almost four years. Way back in February I graced a fairly local railtour with my presence, and I had plans to do the unthinkable and join a DMU tour of my own backyard in May - which was sadly eventually cancelled. With nothing else planned, the year could have ended with just one tour under my belt - still a return, and something to build on. But a welcome alignment of the stars saw our planned holiday colliding with this Bank Holiday outing to rare track in the north east. I made enquires, jiggled dates and booked ahead...
And so, I found myself on a sunny platform at York at a very sociable 10am, listening to the gripes and groans of the local enthusiasts with a big grin on my face. It had been a good long while since I'd done any rail travel in these parts, and while they clucked over the details of what we'd cover - and naturally what they'd already resigned themselves to not covering - I was just pleased to see some old haunts again. As 66755 rolled quietly into the station and I took my seats near to some old friends and new faces, I relaxed into the comfortable Mk 2 seat. Even the air-conditioning was playing ball for a welcome change! As we sped along the East Coast Mainline, heading for our first reversal in the yard at Ferryhill I chatted happily and caught up on railway gossip and future tour plans. It was good to be back on board.
Our first reversal was promising, with a traversal well into the depths of the yard in order to take the Stillington line. My last trip out here had been an excursion to Seal Sands - a site where much of the railway is just a memory now. This time we curved towards the Durham Coast, with its unique mix of post-industrial decline and beautiful views over the North Sea, as far as Ryhope Grange where we slowed and branched carefully onto the line to the Port of Sunderland. Going was slow as we passed the scrap loading facility and headed over the private lines within the port complex. The plan had been to proceed along the dock as far as possible, but the state of the track and the nature of the curve soon put paid to this plan and we came to rest just onto the curve leading to the dockside. We were running a little behind time here, but avoiding the need to reverse into a siding meant we could exit the port a little quicker than planned - and besides those bowled for their photograph of the industrial shunters by a passing female vicar, everyone seemed happy with the progress.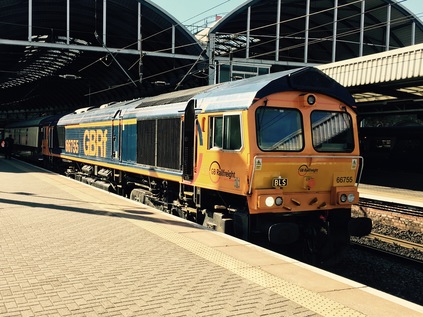 Reversing again at Ryhope Grange, we were soon heading north over the River Wear via a neat zig-zag to achieve wrong-line running through Sunderland, and turning towards Newcastle on tracks shared with the Tyne & Wear Metro. A little after passing Pelaw we took the eastern leg of the triangle at Boldon which led to the short branch to Tyne Dock. Again we pressed on beyond the Network Rail limits, coming to rest alongside the coal terminal, and adjacent to the site where an additional biomass hopper was being constructed. A quick pause for photographs of the crew to mark the charitable donation raised, and we were underway once again, taking the western curve at Boldon to return to the mainline and head into Newcastle from the south. Our break here was to be curtailed to allow us a chance to make up time, but communication between Network Rail and the VTEC station staff had apparently broken down - and as soon as we disembarked the train we were summoned back on board for a 16:18 departure as planned! In the event, the train left at the newly negotiated time of 16:35 as announced on board, and as planned we headed east and over the High Level Bridge over the Tyne. Once over the Wear again at Sunderland - via the opposite wrong-line manoeuvre - we settled in for a leisurely and sunny jaunt back to Ferryhill along the Durham Coast. With almost all of our objectives achieved, including a fistful of loops, crossovers and wrong-way traverses of lines, everyone on board seemed pleased with the day - aside from a couple of shed bashers who wanted different Class 66s of course!
Our final triumph came at Ferryhill where, during our reversal a mysterious 'issue with a windscreen wiper' required the driver to take the train to a safe place to inspect. Said safe place was a line deep into the complex, adjacent to the signal box and not far from the stub of the former line to Coxhoe. With this final extra under our belt we reversed again and 66735 led us back home to York arriving almost exactly on time. There was even a chance for a celebratory drink at the York Tap before we parted ways with friends until the next time. It was certainly good to be back!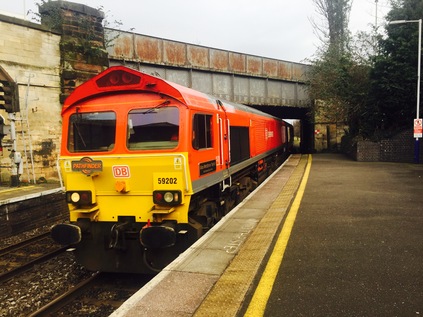 Posted in Railways on Saturday 20th February 2016 at 6:02am
---
In some ways it felt strangely familiar to be heading out at the crack of dawn, on the very first possible train of the day in pursuit of new track, joining the surly nightworkers and early airport crowd. But in many ways it was far from it - deposited at the station via a warm car ride, and knowing I'd be picked up at the end of my day was quite a new experience. So too was doing this directly from home, rather than from a bolt-hole somewhere else in the country - a hotel room in Crewe or Birmingham seemed to be almost home for a good few years of my life. It was though, surprising how quickly the sense of excitement and contentment of a day on the rails returned. I think I'd almost worried I'd lost the thread of this hobby somewhere - but with the sun just rising as I was deposited in Bristol it promised to be an interesting day. I settled into my familiar seat on the Cheltenham-bound 1M21 like I'd never been away.
Arrival at Cheltenham was absurdly early. I'd not quite believed the timings when they were tentatively announced and then withdrawn, so I'd gone for an excellent cheap fare on my old stalwart services. This meant a pleasant linger over coffee and breakfast in the station buffet, watching the world go by. I've missed this a lot I think, and in some ways I replace it with my local coffee shop jaunts or time in London, but there's nothing like watching people going somewhere - some are agitated by running to a schedule other than their own, some are excited - a first trip for a young, wide-eyed youngster on a train perhaps. Some are clearly upset, bewildered or just beaten down - and there are a fair few intriguingly mysterious types too. Perhaps I read too much into the faces of people impatiently waiting for watery lattes in Cheltenham? Perhaps though that's one of the things which has always fascinated me about travel - who are these people, and why are they out here doing this today? As I started to get myself organised for the trip - copied Quail pages, Baker atlas to hand etc. - I realised there was a really excellent independent coffee shop a stones' throw from the station. Next visit, I reassured myself, and headed out to the platform.
It's equally interesting how similar the platform felt as we waited for the tour to arrive. Bewildered normals wondered why all these odd, excitable folks had suddenly appeared, tripods were assembled at the platform end. At the north end, where messages had told me our coach would be, there was a more subdued and discerning crowd. They all seemed to know each other - and I felt out-of-the-loop. Of course this is because I was boarding at a station I used very little. If I'd appeared at Crewe or New Street, I'd probably have ended up in a spirited conversation with someone who didn't realise I'd been away from the rails for three years or more and just assumed it had been a while since we'd crossed paths. But just now I felt a little pang of panic. How would today pan out? Before I could get too deep into that concern, the familiar whisper of anticipation passed around the platform. In the distance, a red speck shimmered on the horizon. 59202 was approaching with the tour almost exactly on time. It's like I'd never been away after all.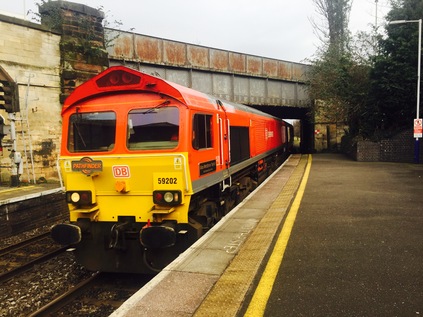 It was great to catch up with the folks on board - people who I'd spent countless hours with over the years in all kinds of places - sometimes interesting, sometimes hilarious, sometimes whiling away boring scoots back to Crewe or Doncaster in the dark after a day out. Things hadn't changed much - and we were soon discussing the day, the railway scene and catching up on events pretty effortlessly. The tour had extremely lazy timings, and aside from some interesting shenanigans switching lines around the curve at Westerleigh, all went smoothly and I was soon back at Temple Meads. A break here to attach 59001 to the front meant a chance to grab coffee, take a picture and to enjoy the atmosphere of the station with a 'proper' train for a change. We were soon back on board, and heading towards Bath in gloomy and damp conditions. Taking the curve to Westbury and negotiating the through line behind the station, we slewed across an unfamiliar connecting line to head for Frome. I was really only a few miles from home at this point, but I felt like I'd travelled more today than for a long while. Our first call was at Whatley Quarry - new track for me - and after a surprisingly swift run up into the Mendips we soon came to a halt outside the sheds. The Pathfinder publicity machine had - as usual - ground to a halt now, and there was no announcement about what was happening at all. A slow trickle of vestibule-huggers passed through the carriage, and soon we were moving slowly back towards the mainline. Apparently at this point we were being propelled by the resident shunter - but we'd never have known! After a brief halt to detach our additional power, we headed back to Frome, reversing again and heading south through the town's rather quaint wooden train shed on route to East Somerset Junction. From here, it was a slow, wet crawl towards Merehead Quarry. I'd been here before - or at least close by, and we set out by following the same curve towards Cranmore before coming to rest in the long siding beside the through line. Again, no announcement but we were soon reversing between rakes of wagons on the northern edge of the triangle. Apparently, this road was obstructed, so we retraced our steps forwards into the siding, then back around the western side of the triangle. Here, back at the entrance to the complex we forked right and crept around the eastern curve a short way towards the A371 bridge which was our destination. But we didn't quite make it. In fact those at the rear of the train would barely be past the junction. As we sat waiting for a water tender to tank the coaches, an announcement was made about what we'd done and what mysterious engines were on the shed we couldn't see! I shouldn't be surprised - it is perhaps always like this on these trips, but it was a little deflating to sit in the rain for forty minutes when we knew there was track we hadn't done.
The return trip to Bristol was a chance to relax and chat with the folks from up north who I don't get to see too often, a chance to share a few bottles of beer and to speculate on when we might all be out on the same trip again. It had been a fine day out despite the challenges and disappointments - which are of course, all part of the hobby I remembered. Leaving the train at Bristol was tough, the urge to plough on into the night and up the Lickey Incline was strong - but for the first time ever I had a reason to be heading home after a trip. Some things have stayed the same these past few years, but some are very, very different!